A submachine gun available to both Terrorist and Counter-Terrorist teams in CS:GO, the MP7 is certainly not the first choice when it comes to SMG types of weapons due to its hefty weight, long reload speed, and somewhat higher price compared to other weapons of the same kind.
And yet, MP7 is acknowledged for its low recoil and moving spread without compromising the rate of fire. What's more, its damage is sufficient, and this weapon can perform a 2-headshot kill while shooting at fully armored opponents, and it's more of a circumstantial weapon choice.
If you'd like to discover what the most attractive MP7 skins are, check out our ultimate top 10 choice below.
Bloodsport
Description: It has been covered in white logo decals over a red and black hydrographic.
Flavor Text: Space for rent
Added: 16 February 2018
Creator: SLIMEface
Drops from: Clutch Case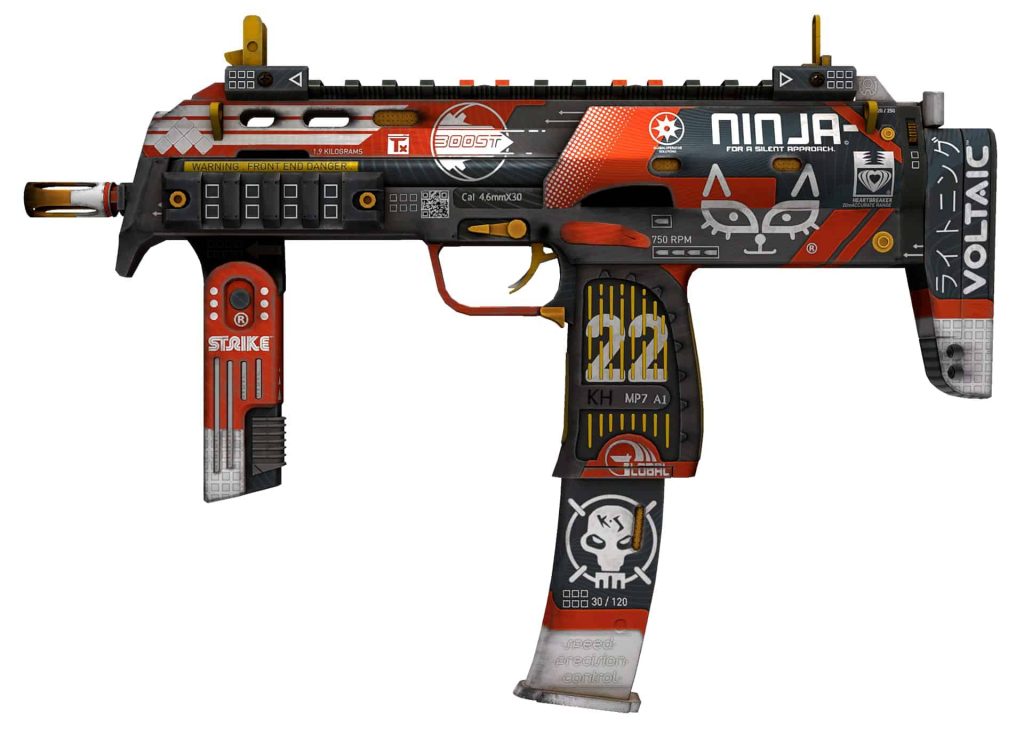 The first skin featured on our top-10 list features an unbelievable amount of details and a fantastic cutting-edge design. Bloodsport merges three colors (red, yellow, and gray) of various shades and some unique prints and patterns, such as the cat's eyes, skull, and even a QR code.
Even though it's a flashy skin, it's relatively inexpensive, starting at only $4.60 on Steam Marketplace.
Neon Ply
Description: It has been laminated and filled with every neon color imaginable.
Flavor Text: "Roy G. Biv? Never heard of 'em."
Added: 19 November 2019
Creator: PTP
Drops from: Shattered Web Case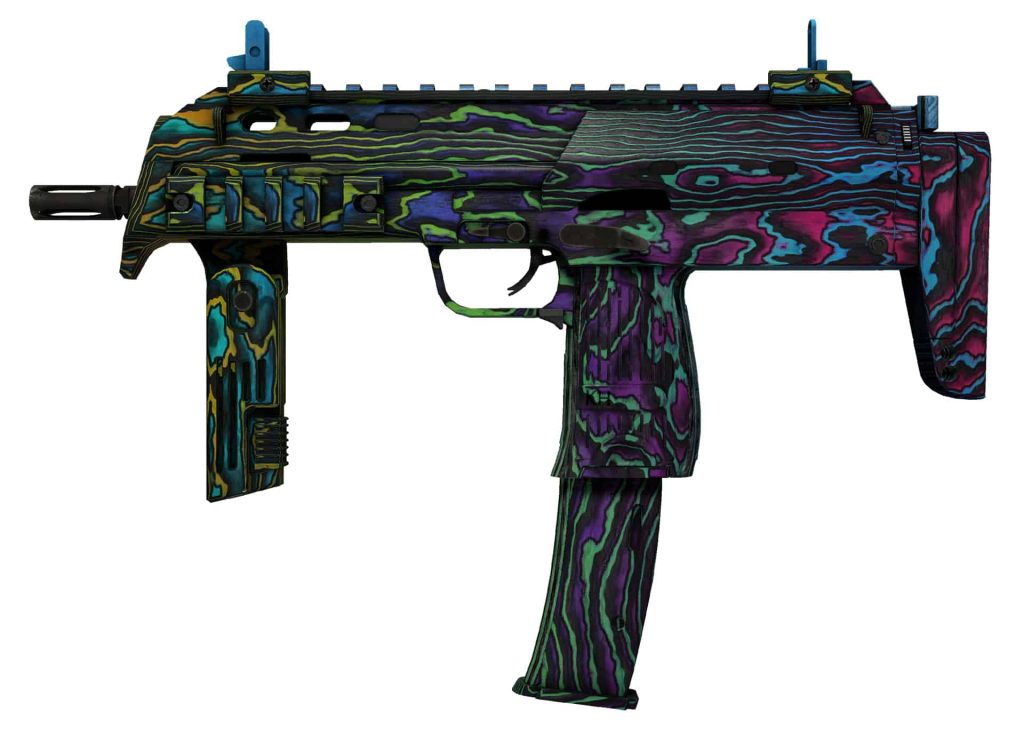 A skin perfect for those looking to have multiple colors and unique patterns, Neon Ply definitely doesn't seem like it belongs in CS:GO, due to its fantasy-like appearance. What we truly appreciate about Neon Ply is that the entire MP7 features colors and patterns without leaving any part of the weapon "barren." Hats off to the designer!
Finally, you can get this skin on Steam Marketplace for $4.60 only.
Urban Hazard
Description: It has been custom painted with urban camo and orange accents.
Added: 1 July 2014
Creator: RaekenTheRock
Drops from: Operation Breakout Weapon Case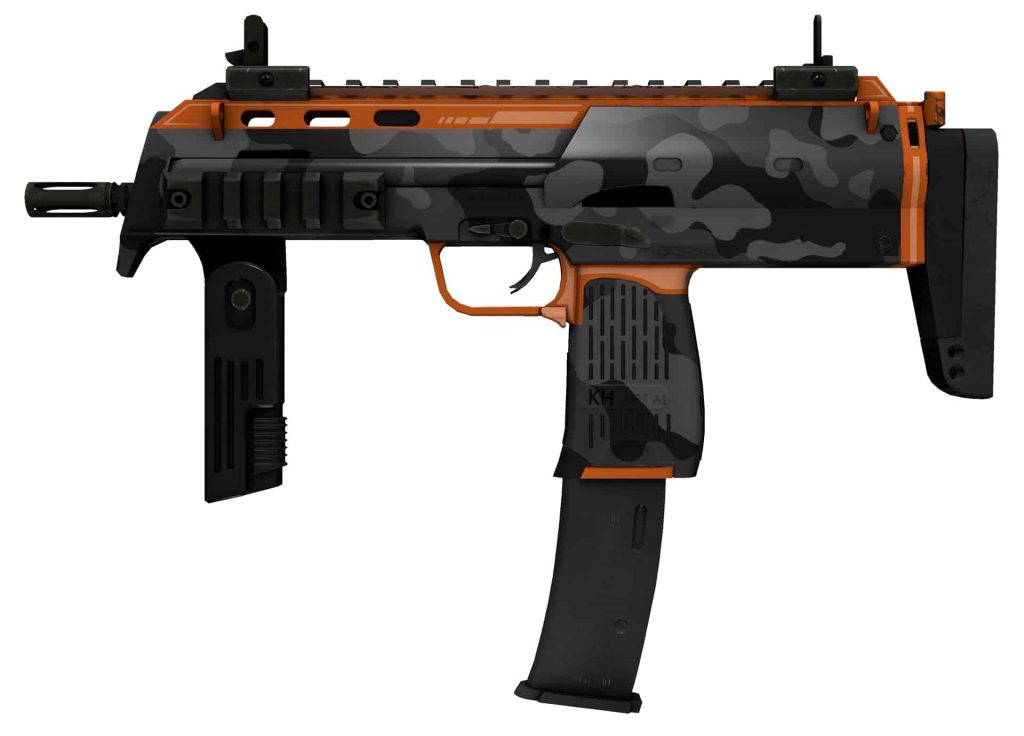 Just look at this combination of metallic urban camouflage with glossy orange outlines. Quite beautiful, isn't it? Urban Hazard is more suitable for players looking to have more minor skin details but without looking too minimalistic. This skin certainly meets this criterion and also manages to transform a dull-looking MP7 into a modern-looking weapon. Furthermore, Urban Hazard is a very affordable skin, costing only $0.25 on Steam Marketplace.
Abyssal Apparition
Description: This custom paint job depicts abandoned souls falling into a pit of nightmares.
Flavor Text: You cannot escape your destiny
Added: 21 January 2022
Creator: Niran
Drops from: Dreams & Nightmares Case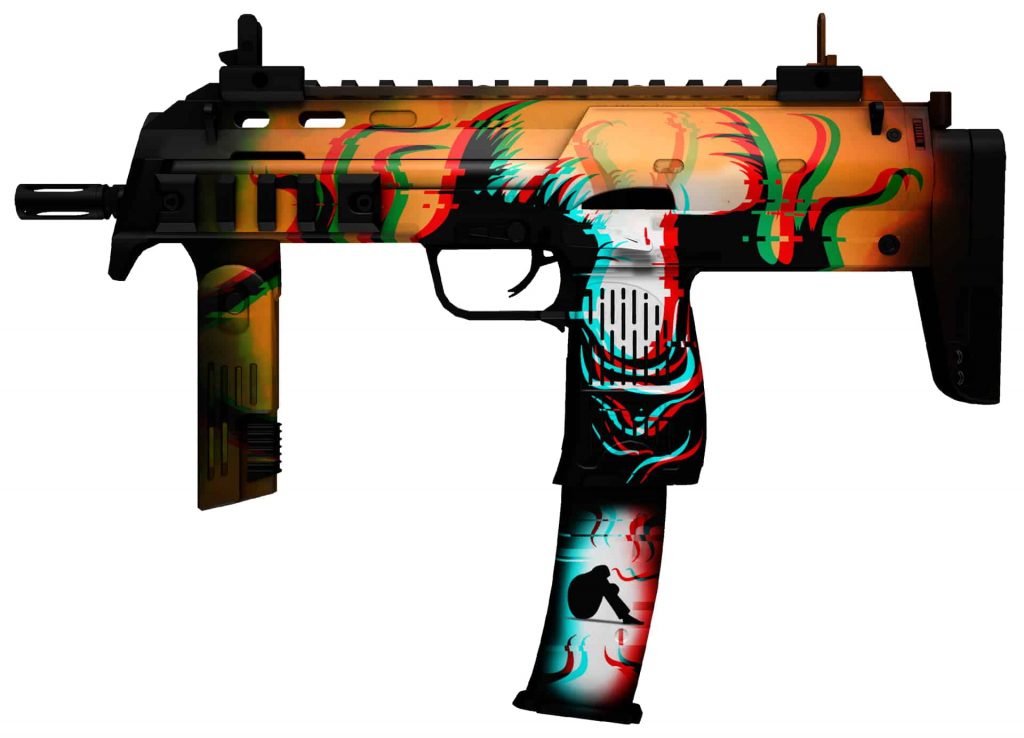 Part of the Dreams And Nightmares Collection, Abyssal Apparation surely fits into that portrayal. This skin features matte black as the primary color, with several other colors and color fringing effects. Its primary focus is the scary tentacle monster surrounding a terrified man and the soul-swallowing abyss. Currently, its price on Steam Marketplace starts at $12.58.
Nemesis
Description: It has been custom painted with the image of a metallic monster.
Flavor Text: It's coming for you
Added: 26 May 2015
Creator: Puffin
Found in: Falchion Case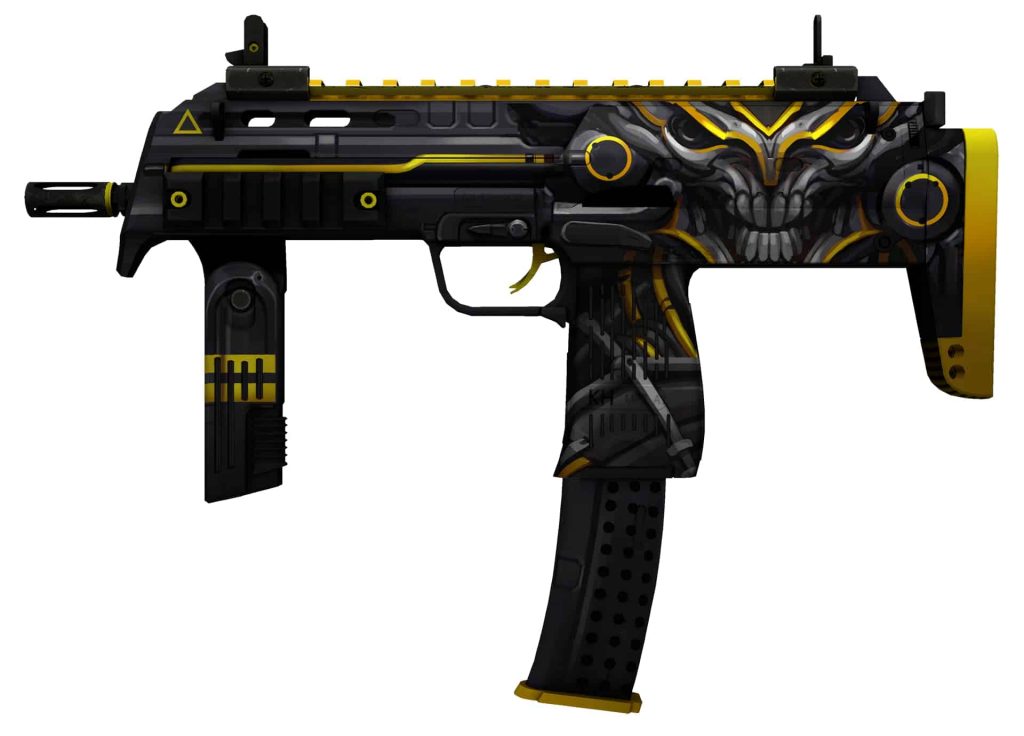 Nemesis definitely stands out from other MP7 skins featured on our list as a skin that highlights some sort of a scary sci-fi monster. It mainly consists of black color supplemented by vivid yellow accents throughout the entire skin. What's more, the tiny pitch-black circle patterns placed on a magazine are just marvelous. Finally, nemesis is a mid-price range skin, costing $9.52 on Steam Marketplace.
How To Get MP7 Skins For Free?
Fortunately for you, if you'd like to come into possession of every single skin featured in our list (and any other CS:GO skin, for that matter), you won't need to spend a cent to accomplish that! Instead, you can use Freecash to complete some online tasks and obtain CS:GO skins and many other available rewards that we offer, including the cryptocurrencies!
Simply register on our service for free (available on mobile apps, too) and start collecting Freecash Coins - our virtual currency, which you can trade in for rewards. With Freecash, you'll never have to spend money on CS:GO again.
Powercore
Description: It has been custom painted with a green base and yellow highlights.
Flavor Text: Rule No. 2 – Never clash in public
Added: 3 August 2018
Creator: Endrit
Found in: Horizon Case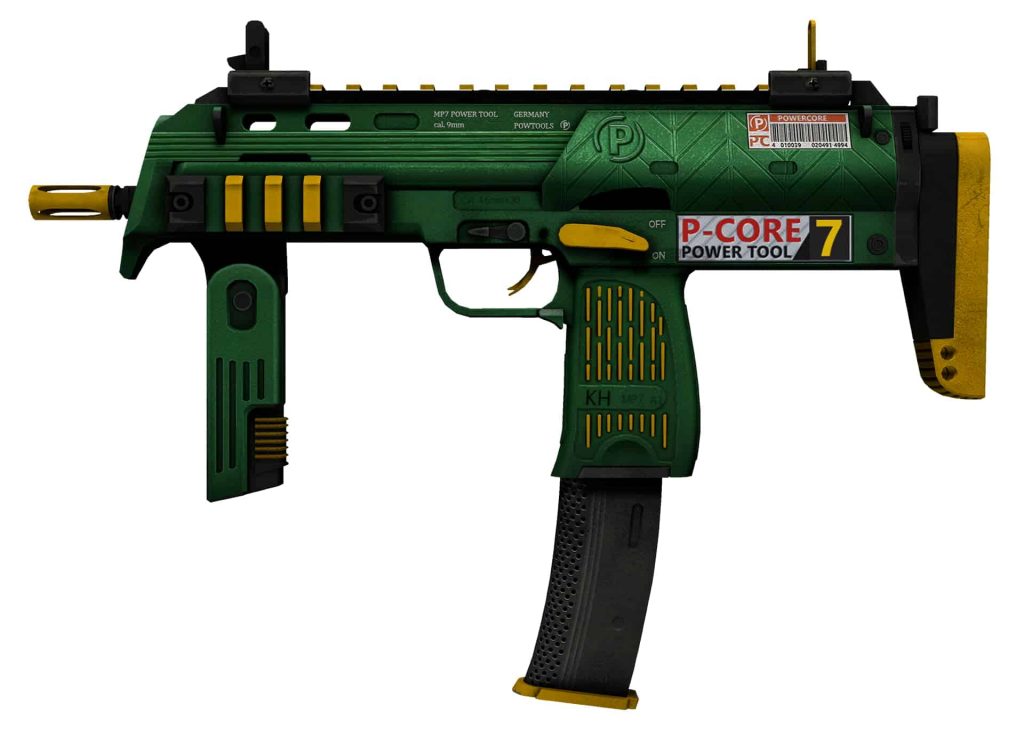 Powercore will turn an MP7 weapon into the cordless nail gun power tool, made in Germany, of course. Most of this skin is painted green, with some yellow outlines and parts of black, which is always the primary color. This skin also features some technical stickers and engravings, as well as the ON and OFF buttons. Currently, its price on Steam Marketplace starts at only $2.54.
Impire
Description: It has been given a hydrographic of a mob of imps,
Flavor Text: Decimation has never been so adorable
Added: 18 February 2016
Creator: TheDanidem
Drops from: Operation Wildfire Case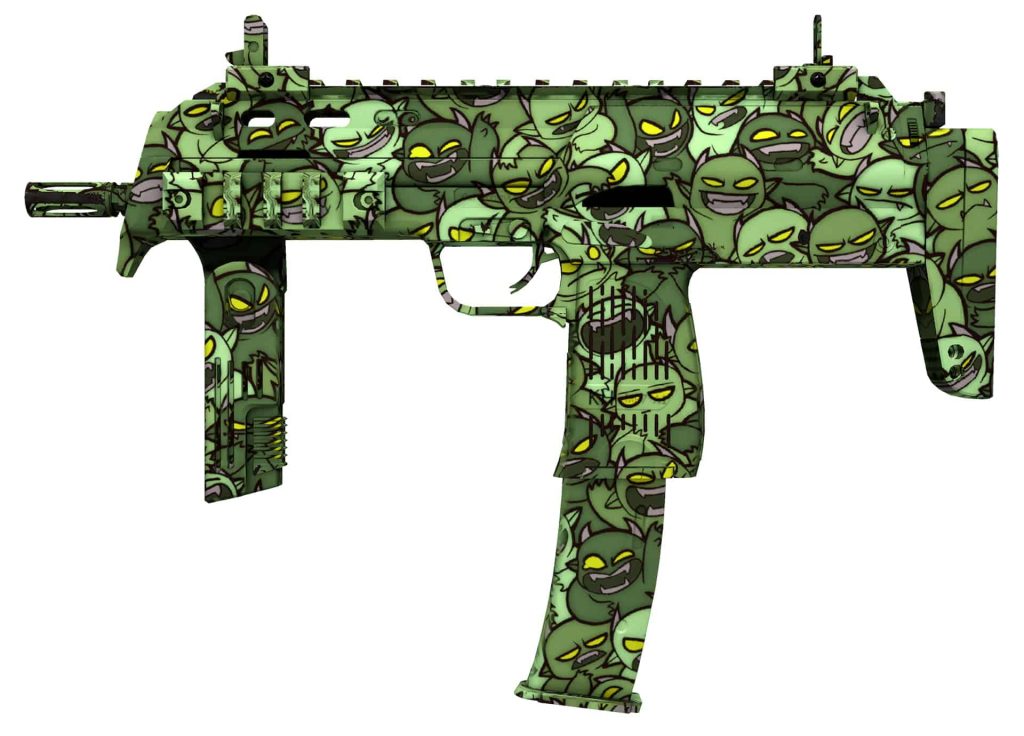 Look at these mischievous little imps; they are all over the pattern of Impire skin, leaving no empty space, which is always a great thing to see. The primary color of this skin is green, which appears on imps in various shades, yellow (on their eyes), and the clean-white color of their teeth. Impire is currently priced starting at $2.76 on Steam Marketplace.
Fade
Description: It has been painted by airbrushing transparent paints that fade together over a chrome base coat.
Flavor text: This isn't just a weapon, it's a conversation piece - Imogen, Arms Dealer In Training
Added: 1 September 2018
Creator: Valve
Found in: The 2018 Inferno Collection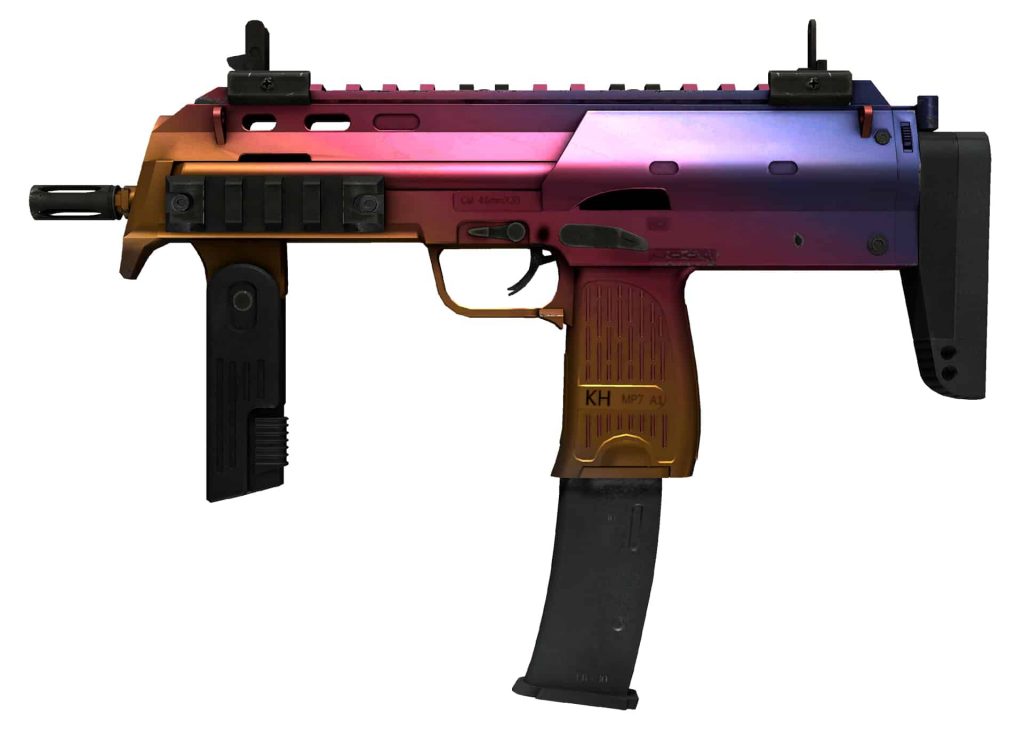 Fade certainly has a proper name due to its gradient transitions and various shades of yellow, pink, and purple found on the central part of MP7. Unfortunately, the muzzle, handle, magazine, and stock aren't painted and are left with a bland black color.
Make Money Online
With Freecash
SIGN UP
Nevertheless, Fade certainly has the ability to turn MP7 into some kind of luxurious weapon, even though it features a few scratches here and there. At the moment, its current price on Steam Marketplace is $12.32.
Cirrus
Description: It has been painted metallic blue and given a skull decal.
Flavor Text: Get your head out of the clouds
Added: 29 November 2016
Creator: vinnyvader
Found in: Glove Case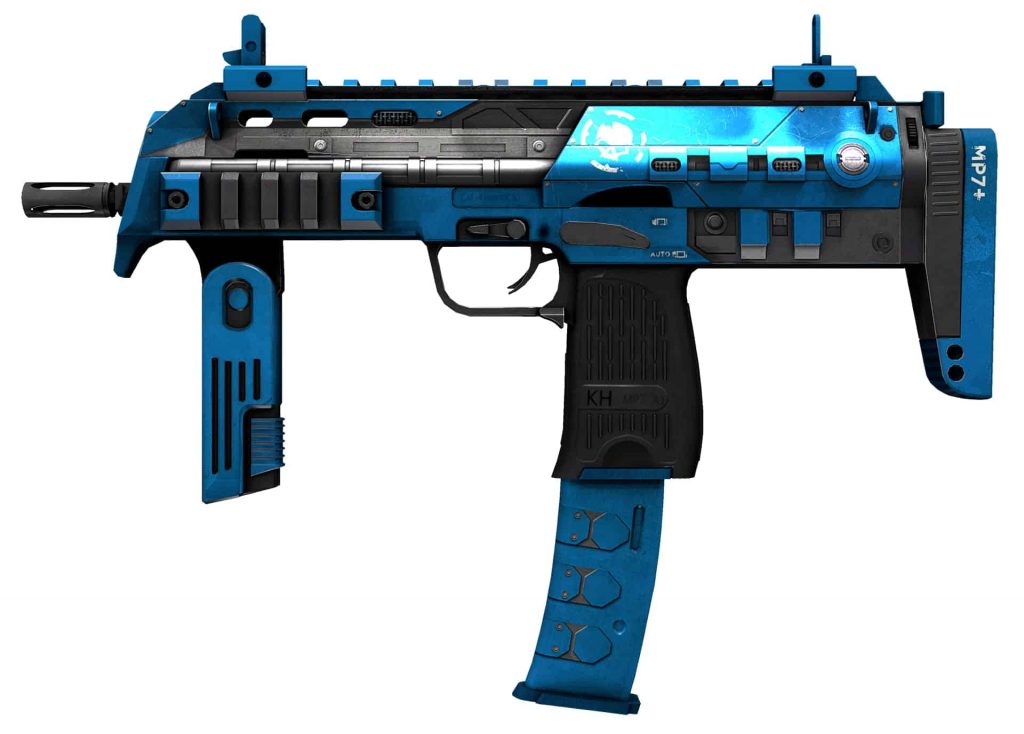 An ice-cold skin that came from the future, Cirrus features metallic blue in different shades, as well as metallic gray in central parts of the weapon. Furthermore, Cirrus has several stamped plates and various engravings, of which the most noticeable one is the skull found above the trigger. This skin is listed on Steam Marketplace for only $0.81.
Whiteout
Description: It is spray-painted all white.
Flavor Text: It looks pure, but looks can be deceiving
Added: 14 August 2013
Creator: Valve
Found in: The Office Collection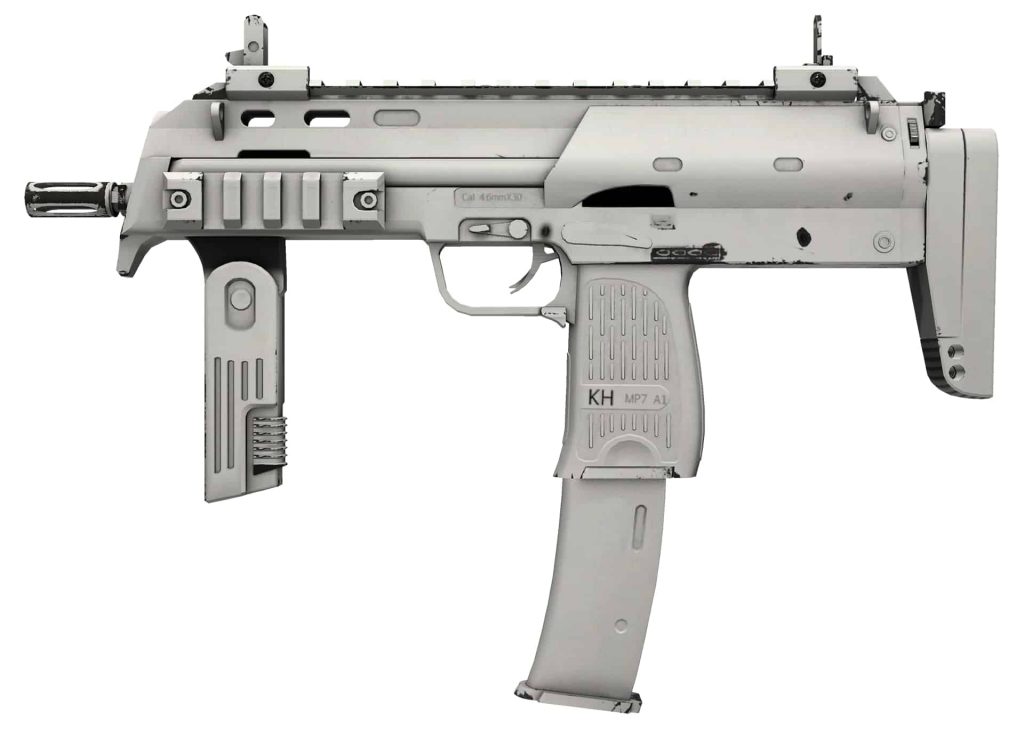 How can skin that only features one color and that looks so simple be so elegant? Whiteout is certainly the most minimalistic MP7 skin out there, and there's nothing much to say about it - it's completely painted in solid white and has some traces of use. What doesn't make sense is its current price, which starts at $34.15, which is a bit overblown if you ask us, considering the plainness of this skin.