A weapon so infamous for being used by criminals that it even got listed in Federal Assault Weapons Ban back in 1994, it's no wonder why Tec-9 is exclusive to terrorists in CS:GO.
This semi-automatic pistol is a pick of the litter during pistol and eco rounds because it has remarkable armor penetration and damage, a magazine capacity of 18 bullets, and an incredible rate of fire.
The most significant drawbacks of Tec-9 are terrible moving accuracy and high recoil, so this weapon is best used when stationary and with tap fire. And if you're looking to improve the appearance of this weapon in CS:GO, here are the top 10 best-looking Tec-9 skins.
Decimator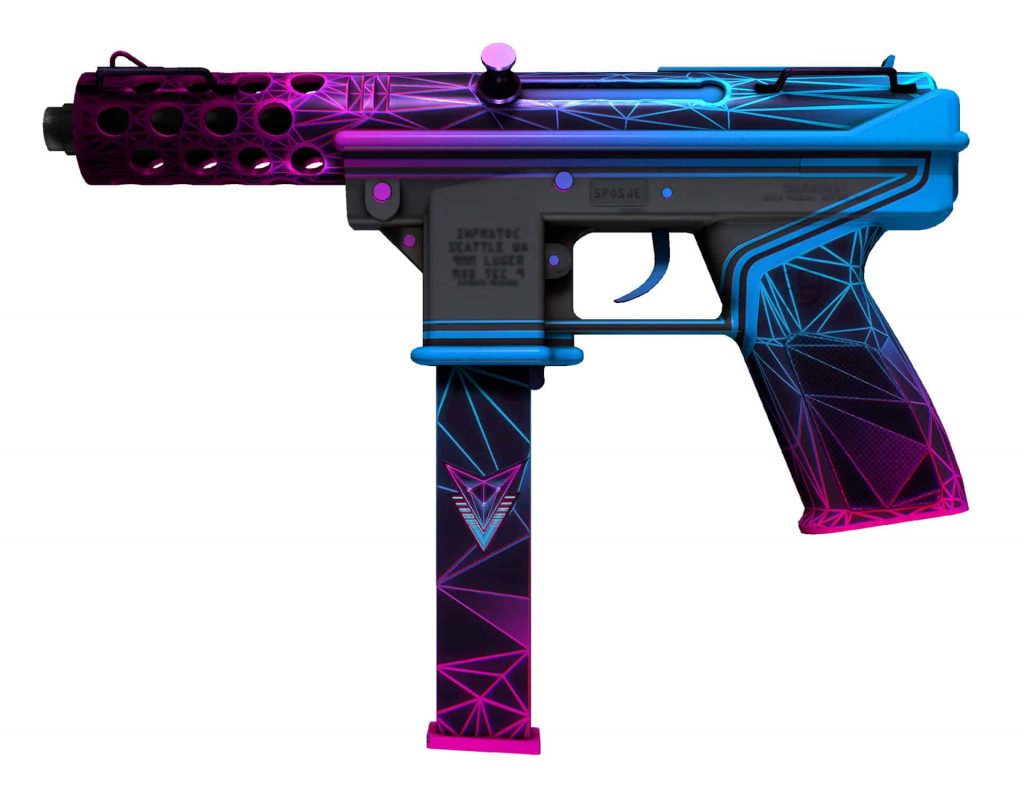 Description: It has been custom painted with totally radical blue and pink highlights.
Flavor Text: Available for 4 easy payments of $124.95!
Added: 19 November 2019
Creator: Coridium
Drops from: Shattered Web case
In many players' opinions, this is the most exquisite Tec-9 skin ever in CS:GO. Decimator blends blue and purple colors, with black as the base color and unique line patterns. The details on this skin are stunning, although the middle (black) part seems a bit dull.
With all of this in mind, the price tag of $34.23 on Steam Marketplace is absolutely justified.
Nuclear Threat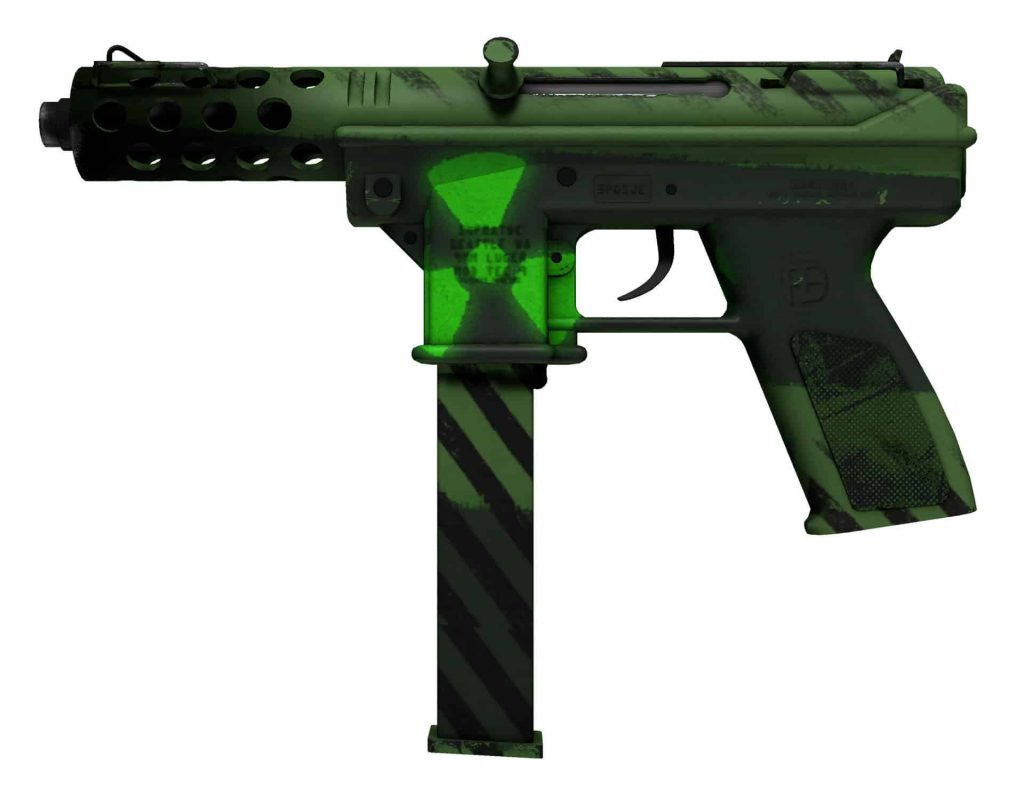 Description: It has been spray-painted with radiological warning hazard patterns.
Added: 14 August 2013
Creator: Valve
Found in: The Nuke Collection
A skin that would be more suited in Fallout games rather than CS:GO, Nuclear Threat is proof that skin doesn't need more than 2 colors (of different shades) to look amazing! Combining black as the base color with green stripes and a flashy radioactive sign, Nuclear Threat would make an excellent choice in the post-nuclear apocalypse. Unfortunately, this is a rare skin, so it has a rather ultra-expensive price of $442.35 on Steam Marketplace.
Fuel Injector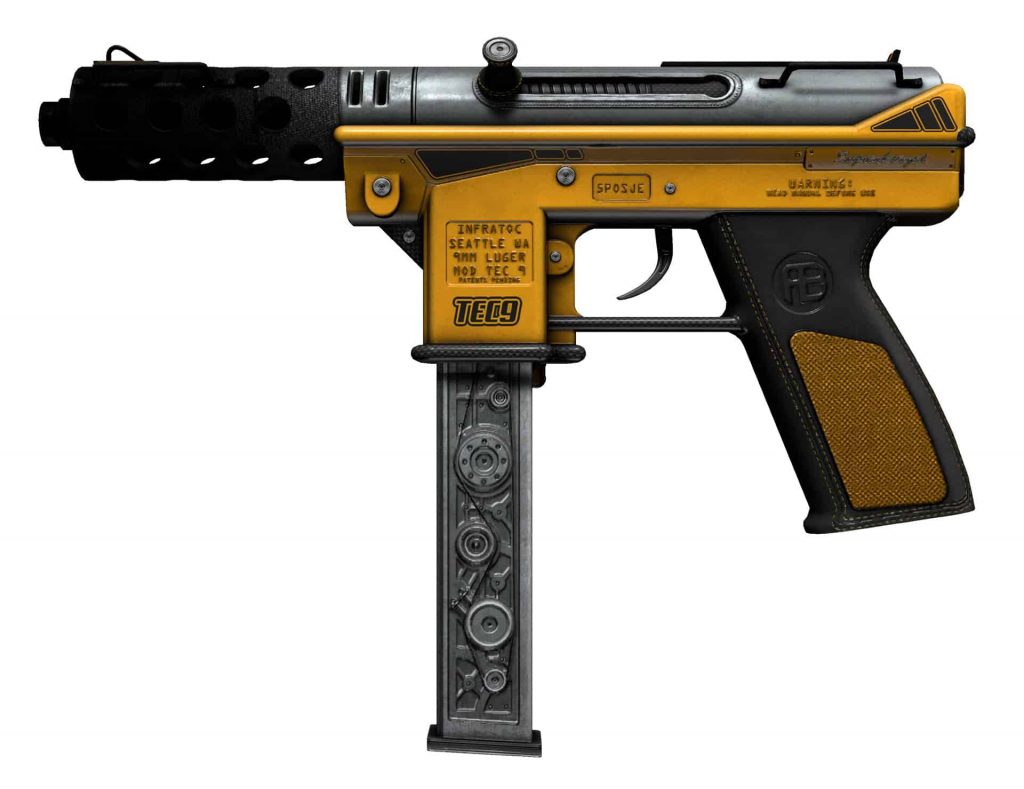 Description: The body has been painted yellow and the magazine has been given a belt engine hydrographic. A hand-stitched leather grip completes this Seattle classic.
Flavor Text: Pit crew not included
Added: 19 August 2016
Creator: emu
Drops from: Gamma 2 case
Inspired by the classic gas station fuel injectors, this skin only has one color - yellow, since the magazine and slide aren't painted, and the magazine grip features a hand-stitched leather grip. Even so, Fuel Injector manages to stand out from other skins, mainly due to details on the magazine with some sort of gears and stitches on the leather grip.
Currently, its current starting price on Steam Marketplace is $9.60, which isn't too bad.
Remote Control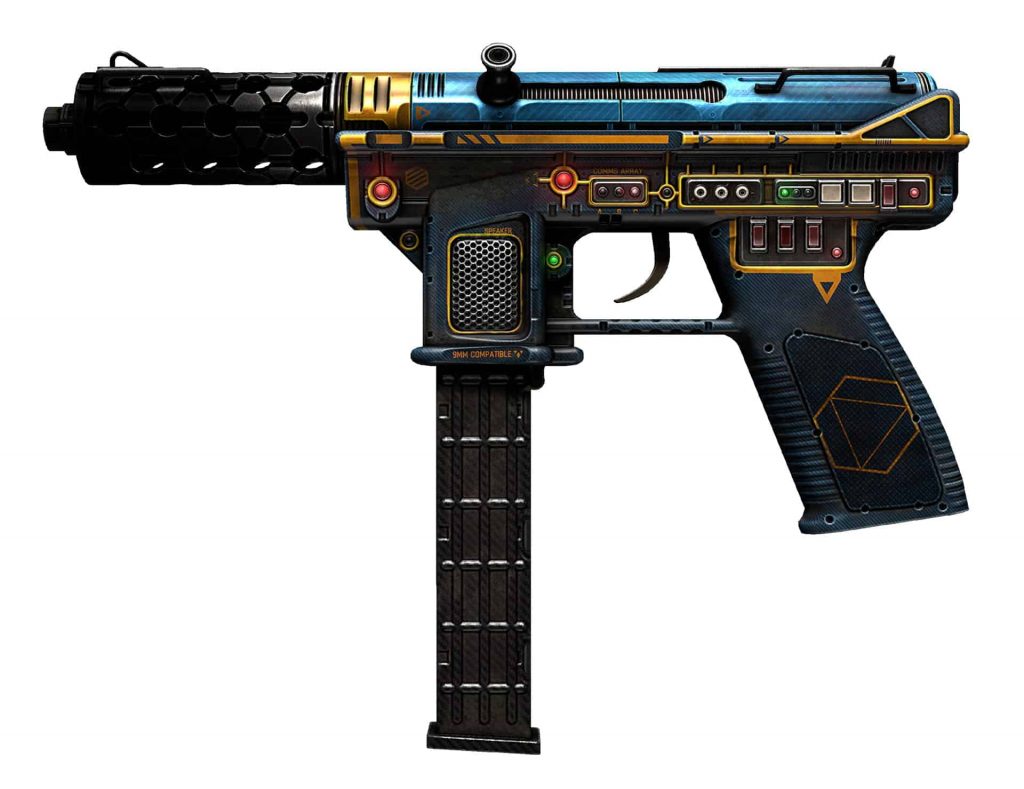 Description: It has been hand painted with colorful dials and switches atop a blue base.
Flavor Text: Don't touch that dial
Added: 1 September 2018
Creator: Valve
Found in: The 2018 Nuke Collection
This time, we got a skin that transforms an ordinary Tec-9 weapon into a multifunctional weapon/tool. Remote Control features various buttons, lights, 3 inputs, and even a speaker! It combines several different colors with a great pattern and finishes, but for some players, this many details can be overwhelming. Oddly, its price starts at only $8.62 on Steam Marketplace, which is definitely not much considering the appearance and attributes.
Blue Titanium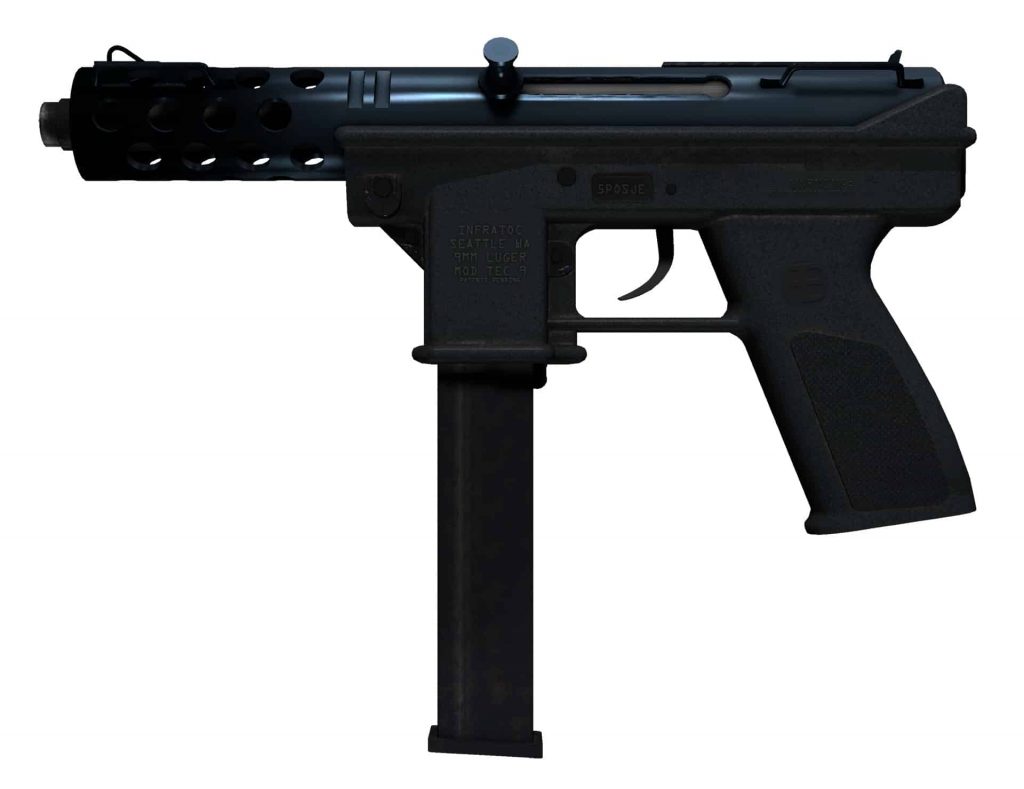 Description: It has a titanium parts whose blue color is characteristic of an oxide layer achieved via controlled anodization at 30 volts.
Added: 8 November 2013
Creator: Valve
Drops from: CS:GO Weapon Case 2
For the first time on our list, we have a Tec-9 skin perfect for those looking for as few details as possible without using the default skin. Blue Titanium doesn't feature any patterns, elements, and prints, but it does have a glossy dark blue color on the barrel, while the other parts are a bit darker. Due to its simplicity and minimalism, its current price on Steam Marketplace starts at only $2.99.
How To Get Tec-9 Skins For Free?
How would you like to get all these and other CS:GO skins without spending money? Believe it or not, it's an utterly possible thing to do with the help of our service - Freecash.
Moreover, you won't need to limit yourself exclusively to gaming-related stuff because you can also get cryptocurrencies, various gift cards, and much more!
If you'd like to try out Freecash and what it has to offer, simply register and start completing online tasks that will award you with Freecash Coins - a virtual currency used for more than 20 available rewards that we offer. It's worth mentioning that these tasks are available regardless of your location, and you can complete as many as you want to get all kinds of valuable rewards.
Terrace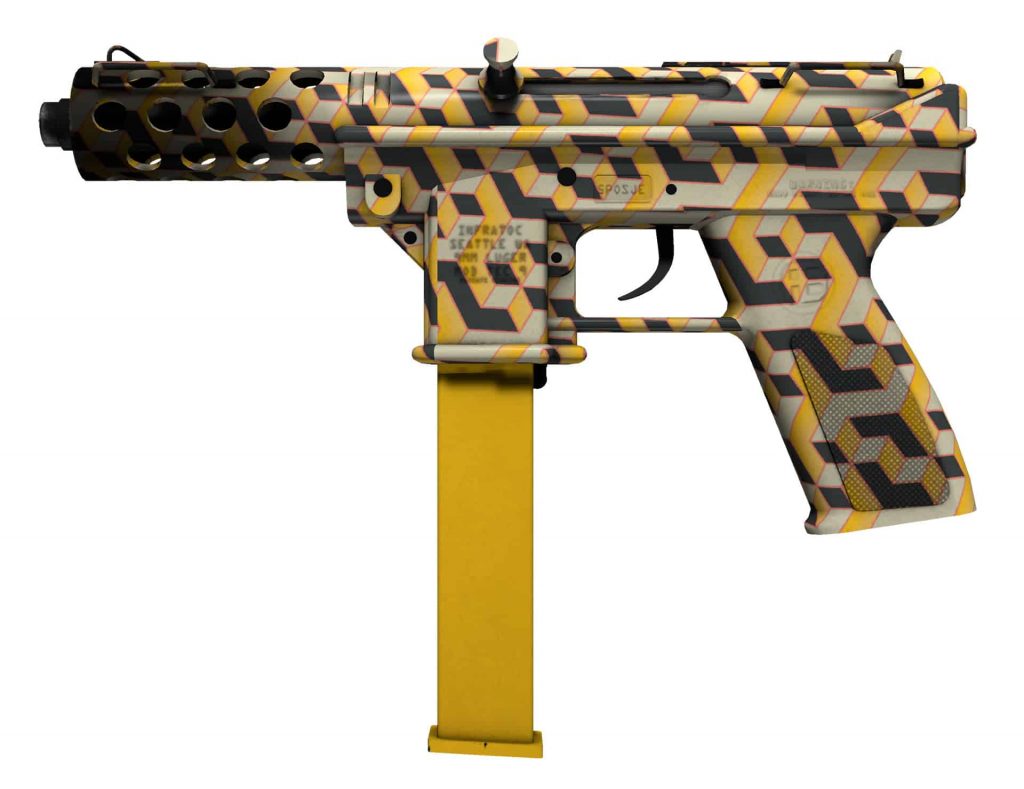 Description: It has been painted with a hydrographic in a geometric motif.
Flavor Text: You're too trusting Valeria... it will get you killed - Franz Kriegeld, Phoenix Tactician
Added: 26 May 2015
Creator: Valve
Found in: The Rising Sun Collection
Terrace features a 3D block pattern that looks like it came out from some kind of indie platformer game. When you think of it, this pattern could totally be used as an asset in level design for such a game. In any case, Terrace features yellow color as the main one, with black block sides, red outlines, and gray-ish "floors." Unfortunately, Terrace falls into the category of costly skins, with a starting price of $82.80 on Steam Marketplace.
Avalanche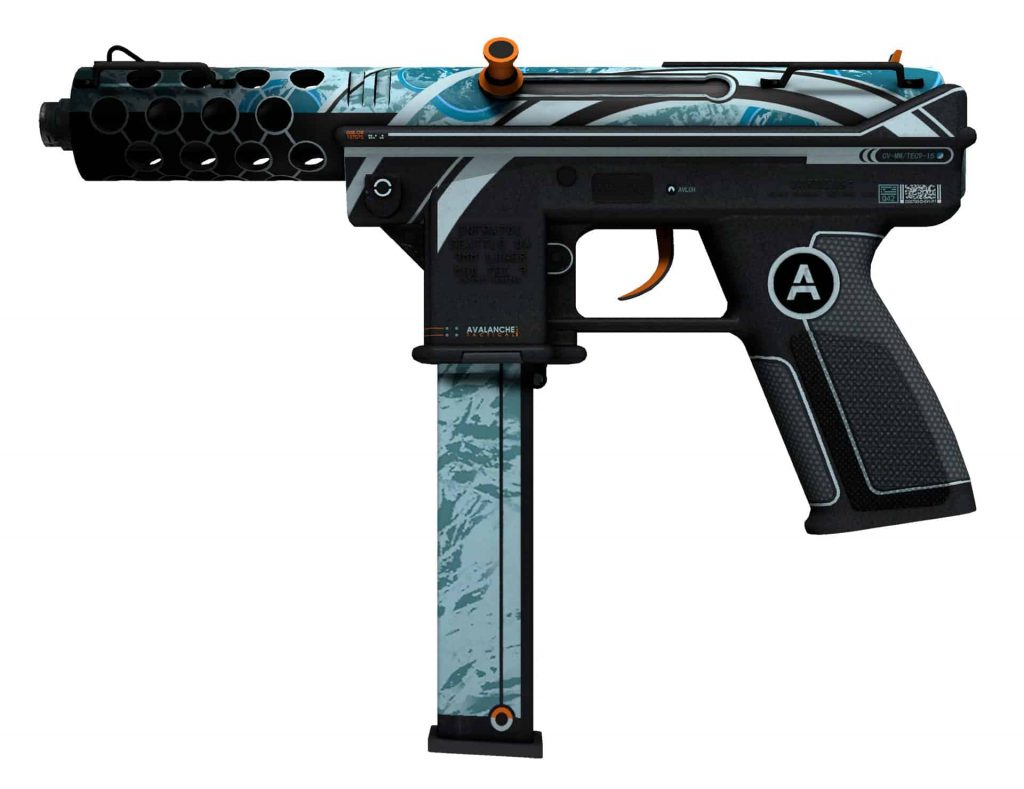 Description: It has been custom painted with a sleek and futuristic hydrographic.
Flavor Text: We must be smart how we move against her, one wrong move and she'll come crashing down on both of us - The Serpent and the Truth Seeker
Added: 8 December 2015
Creator: Guardian Gear
Drops from: Revolver Case
Avalanche is a perfect choice when playing on maps like the Office because, you know, it's a snow-themed skin and these maps feature snow. Anyhow, Avalanche features a snow-camo pattern on a magazine and a barrel, with some great-looking outlines and a dot pattern on a hand grip. Its price is relatively low for a nice-looking skin like this one, starting at only $3.52 on Steam Marketplace.
Bamboozle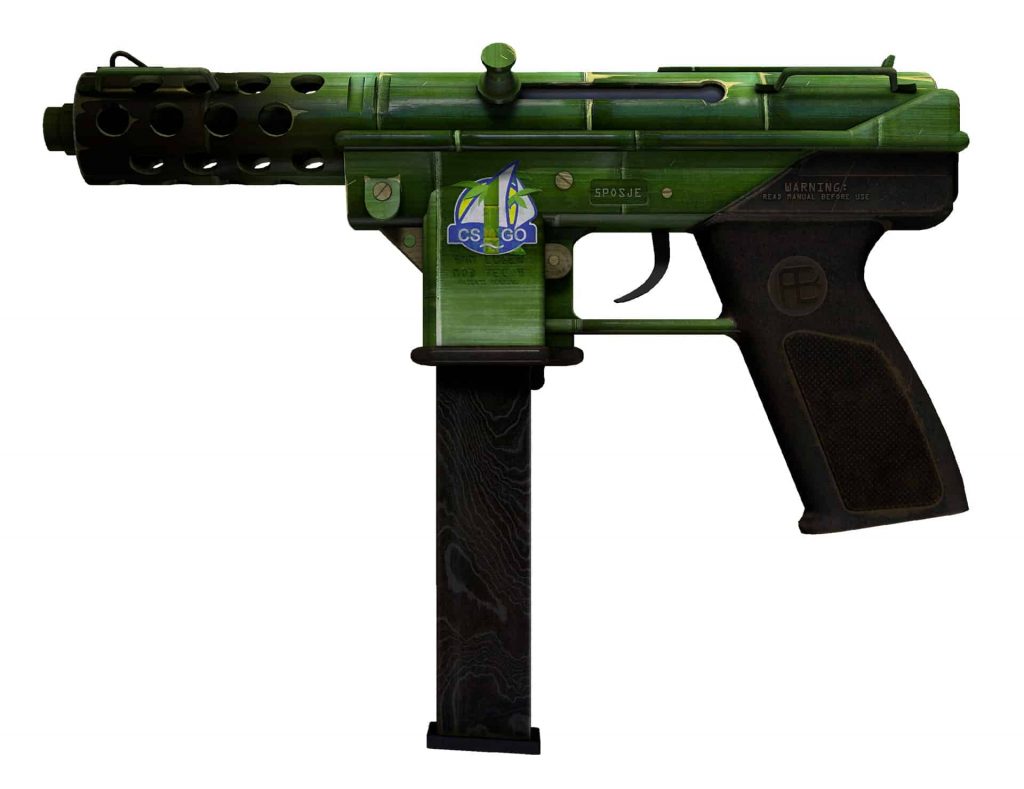 Description: A custom bamboo paint job has been applied.
Added: 14 March 2019
Creator: Graff
Drops from: Prisma case
You won't get bamboozled if you opt for this skin because of its excellent quality-price ratio! Bamboozle will turn a deadly weapon into a decoration made of bamboo, with green as the primary color and a wooden finish for the magazine and the hand grip. The only minus is the tiny scratches everywhere, but considering its low price of only $1.61 on Steam Marketplace, you can't go wrong with it.
Toxic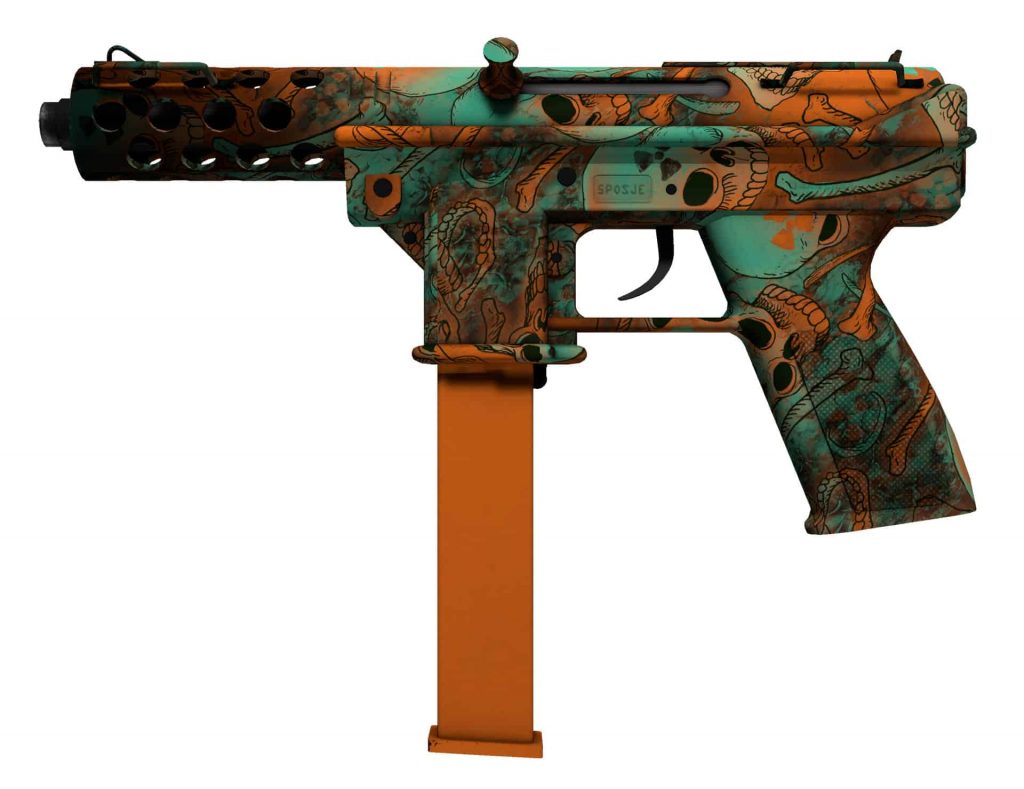 Description: It has been painted with a garish hydrographic pattern of nuclear skulls and bones.
Added: 8 August 2014
Creator: Valve
Found in: The Cache Collection
Toxic combines the uncommon color choice, considering there are skulls on it, with a blend of orange and green, leaving just a bit of black for the eye and nose sockets of the skulls. But these are no ordinary skulls; they are the victims of a nuclear disaster, which is why they have a radioactive symbol on their foreheads.
Lastly, you may get this skin on Steam Marketplace for as low as $6.01.
Isaac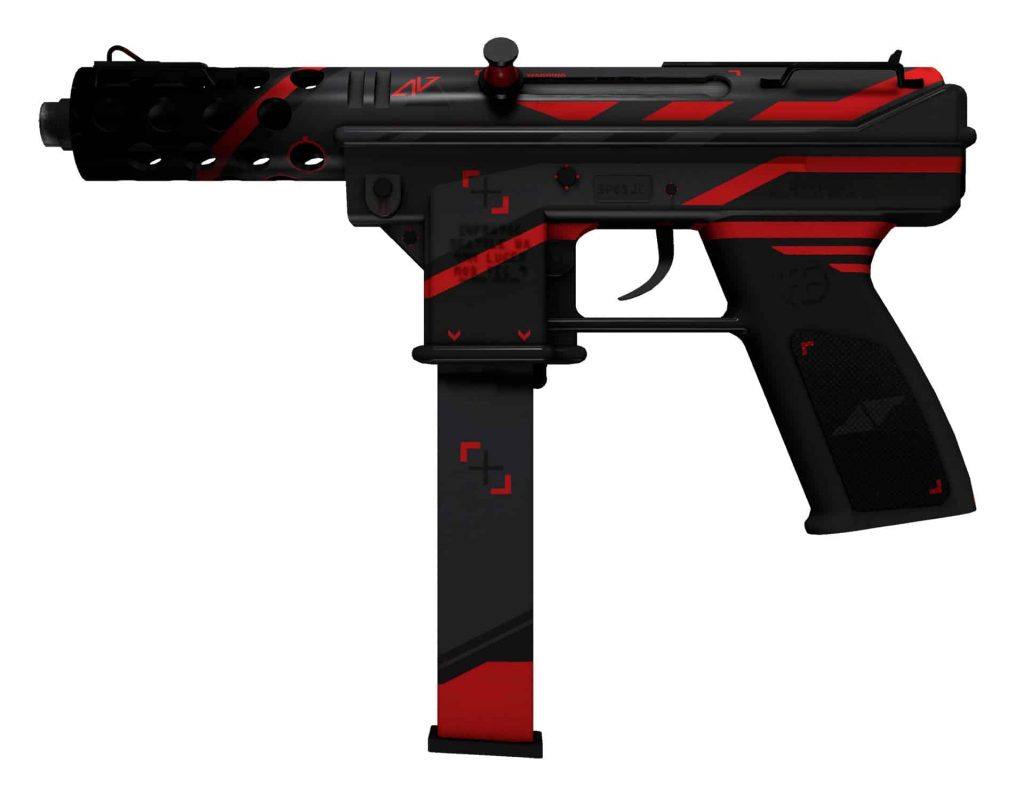 Description: It has been custom painted with a sci-fi design.
Added: 1 May 2014
Creator: Coridium
Drops from: Huntsman Weapon Case
The proof that black and red are a perfect combination is this skin. Isaac is a futuristic skin that genuinely belongs to some sci-fi game rather than CS:GO, with its red patterns placed over the matte black color. This simple yet attractive skin also features crosshairs placed on the entire weapon. As for the price, you can get it for $8.54 as a starting price on Steam Marketplace.