Counter-Strike is a competitive game that requires tactics, precision, and high performance. Before matches, VALVe has decided to include a brief phase known as the 'Warmup.' During the said period, players can interact with one another, discuss strategies, check their game's performance, or warm up their aim.
Only some environments are competitive or in need of warmup. People might fire up a private server to practice or have other players join in on some fun. Playing with friends, discovering new grenade throws or practicing existing ones; whatever the case--the warmup timer is unnecessary. In such cases, you should end it preemptively. We've got you covered with several ways of doing so.
Ending the Warmup Timer in CS:GO
There are several ways to end the warmup phase, all of which require utilizing the developer console and its many console commands. To do so, you will first need to have the console enabled. By default, the game has it turned off.
Enabling the Developer Console
The first way of enabling the console is as follows:
1. Open the Library on Steam.
2. Select the CS:GO icon, then right click it and select Properties.
3. Go to the 'Launch Opt' tab.
4. Type in '-console' and save.
5. Open CS:GO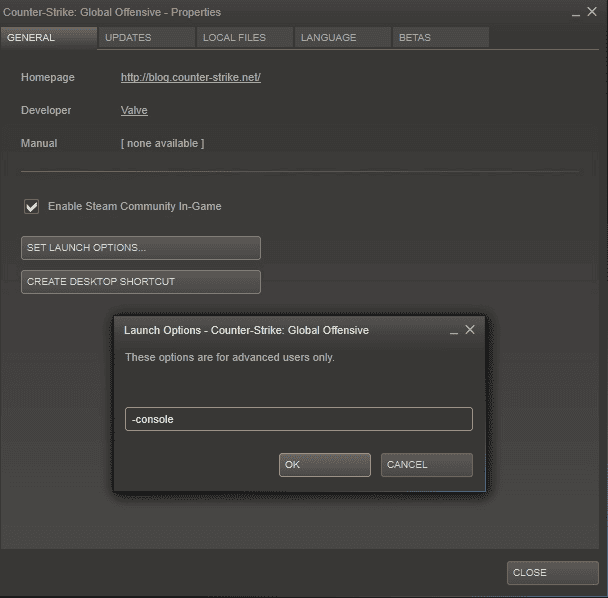 The console should now be enabled and available through the '~' key at the top left of your keyboard. The second way of enabling the console in CS:GO is from the game settings. And the console is now ready to be opened using the ~ key at the top left of your keyboard.
Ending Warmup in Offline Mode
These are commands you can use to disable warmup time completely, and it applies for playing with bots or hosting private matches.
'mp_warmup_end'

You'll need to enter the command to end the warmup every time, by default. There is a way around this: by editing the config.cfg file found in your game's installation folder.
Related articles:
In there, you need to change the following command:
'mp_warmuptime 0'
After you've done so, save the file and restart your game. If you fire up an offline match, you'll notice that the warmup is gone and will stay like that whenever you create a new server.
Disabling the Freeze Time
You may also want to eliminate the freeze time in your offline game. Waiting 15 seconds or more on your own server only makes sense if it's some serious match. Make sure to use the following:
mp_freezetime 0; mp_restartgame 1
These two commands will disable the freeze time and immediately restart the match, applying the change.
Stopping Warmup via RCON Commands
Warmup in Competitive mode lasts for a whopping five minutes, an extended downtime. You can immediately skip or shorten the warmup period as a server owner. RCON commands allow many server aspects to be adjusted, including warmup. Here is a command to end the warmup using the RCON in the console of CS:GO:
'rcon mp_warmup_end'
This simple console command immediately ends warmup in CS:GO servers. Here are RCON commands you can use to completely disable warmup, even after the map changes. In addition, you may use these commands to shorten the warmup period however you want.
'rcon mp_warmuptime 0; rcon mp_restartgame 1'
Here, you can use "0" to disable the warmup or any other number to enable it and set it to any desired length.
An Importance of Warmup in CS:GO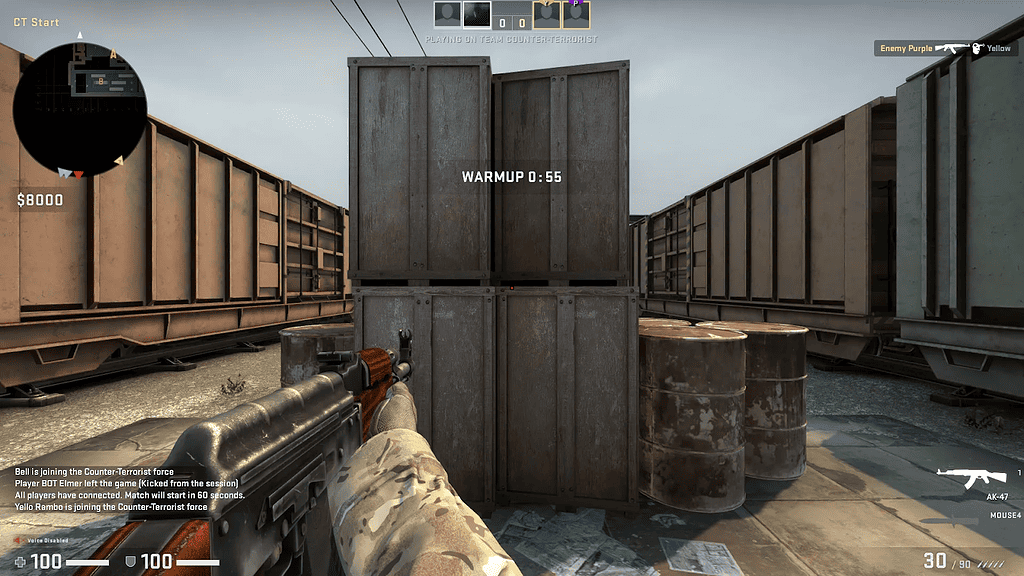 To expand on our initial thought, warming up before matches is pivotal to having your performance at the desirable level. Going headfirst into the first round without checking every box is risky, to say the least. Your mouse might start glitching, FPS dropping, and aim to fail to land on targets. This is why you should utilize the warmup phase to the absolute fullest.
Ignoring this period before the game starts can cause you to go into a game unready, with a buggy game. Therefore, be aware of its importance every time you wish to end, skip or ignore the warmup period. Here is how to end warmup in CS:GO for those who need it.
Warmup in CS:GO comes in many different shapes and sizes. Sometimes, like in competitive games, getting all the players ready and going for an intensive game of Counter-Strike is useful. At other times, such as in offline mode or on your own server, it might be best to skip the warmup time entirely. Whatever your scenario, the commands above will certainly do the trick.