If you are wondering about how to get free credits in IMVU, there are many different ways for you to do so at the moment. Some of them are official and offered directly by IMVU, while others are offered by third-party services. In any case, here are the best ones that you can start doing in order to get quick IMVU credits right away.
Official Ways to Earn IMVU Credits
Completing Affiliate Offers
IMVU is an official partner of many big-name businesses on the market today, catering to multiple interests such as fashion, food, lifestyle, and many more. You can take advantage of the platform's massive selections of offers and receive an average of more than 2,000 Credits in return!
Winning Contests
There are various seasonal contests organized in IMVU, which offer numerous prize rewards including the credits.
Playing the Daily Spin
Feeling lucky? Try your hand at IMVU's Daily Spin game and stand a chance of winning different amounts of Credits for free, besides other potential rewards as well.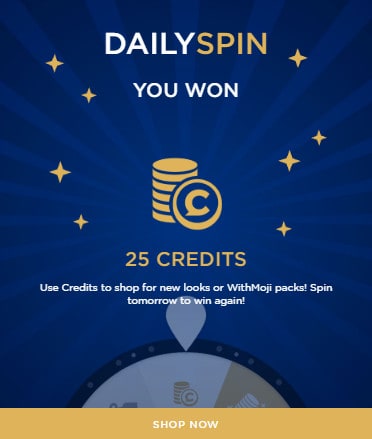 Answering surveys
Another great way to collect big amounts of IMVU Credits is by answering surveys on the IMVU platform. Depending on the market survey in question, you are able to receive up to 2,000 Credits or more just by sharing your opinions or feedback.
Hosting Live Rooms
Ever hosted parties before? If you wish to do the same on IMVU, hosting Live Rooms is the closest thing that you can get to organizing a real-life social event or gathering. By doing this, you are able to provide IMVU Credit tipping options for joiners to reward you for being a great host/ hostess, besides planning the Live Room itself, of course!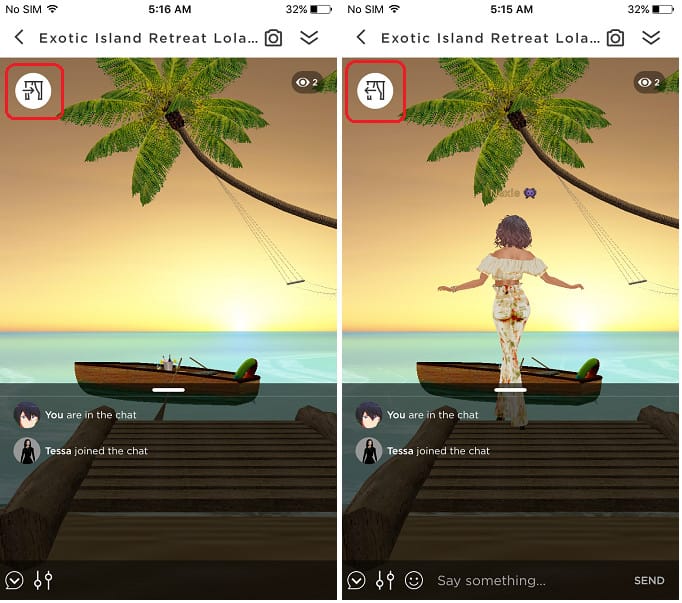 Participating in the peer review program
You can also get IMVU Credits by reviewing content-related products as well, receiving 5 Credits for a review accordingly. If you manage to find legitimate faults or mistaken tags about a particular product, you might even be rewarded with a bonus of 45 Promo IMVU Credits too, so better make use of the chance!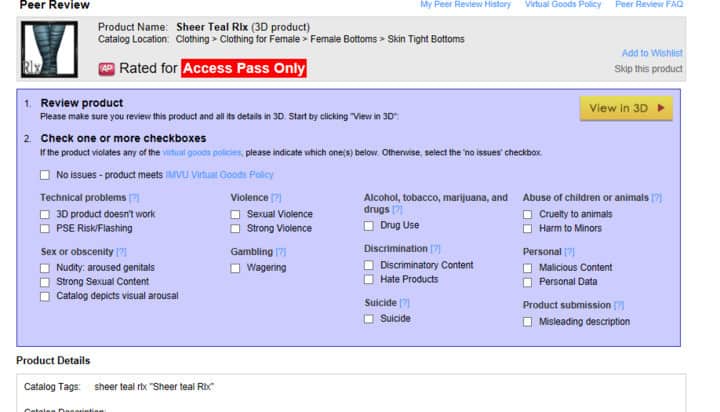 Inviting other people
Referring IMVU to other people can also net you some nice Credits too, besides expanding your circle of connections on the platform too.
Daily login rewards
You can also receive huge amounts of Credits just by logging into IMVU every single day, and that says something about the generosity of the platform creators themselves!
The Creator Program
Just like in the real world, you can even create a sustainable virtual business by using your creative 3D application skills to create new items, clothing designs, and any other examples that will interest other people into buying them inside IMVU.
With almost no capital costs whatsoever, you can even specify the percentages of each in-platform sale made, splitting them between IMVU Credits or real-life cash that goes directly into your own PayPal account!
Third-Party Methods of Getting Free IMVU Credits
Gamegleam
Gamegleam is one of a few reward websites where you can earn IMVU credits as one of the rewards. Unlike standard GPT websites where you can perform various tasks, on Gamegleam, you can do so by playing games and completing various in-game tasks, to receive points as rewards. With sufficient points, you can exchange them for many digital and physical rewards, including IMVU credits.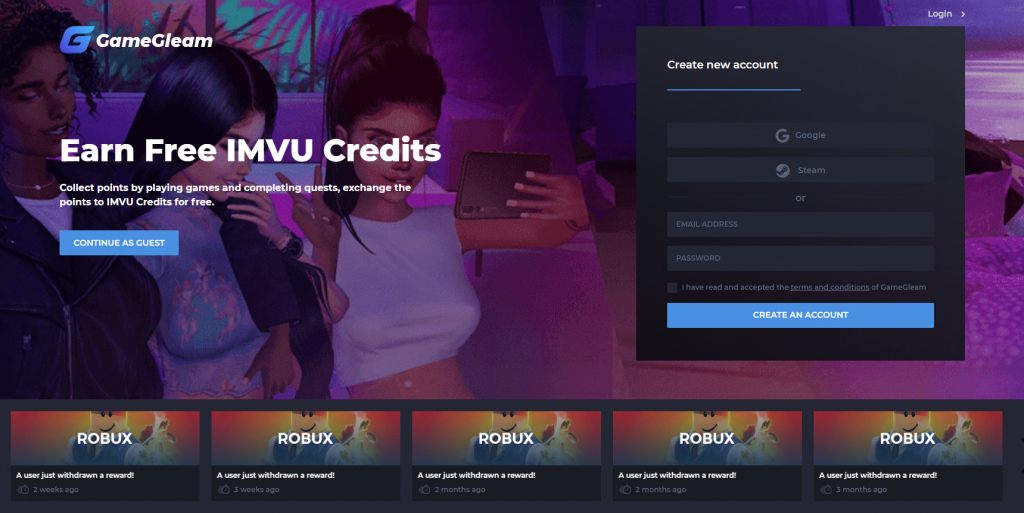 Freecash
Freecash, unlike the previous method, is much more versatile when it comes to selection of tasks. For those who don't want to play games for rewards, we have a wide variety of tasks to offer, including the surveys, watching videos, downloading free apps, and many more.
Completing these tasks will get you Freecash points, which you can exchange for various gift cards that you can use to buy IMVU credits. To begin, simply register on Freecash for free on our website or a mobile app, and start earning your rewards right away.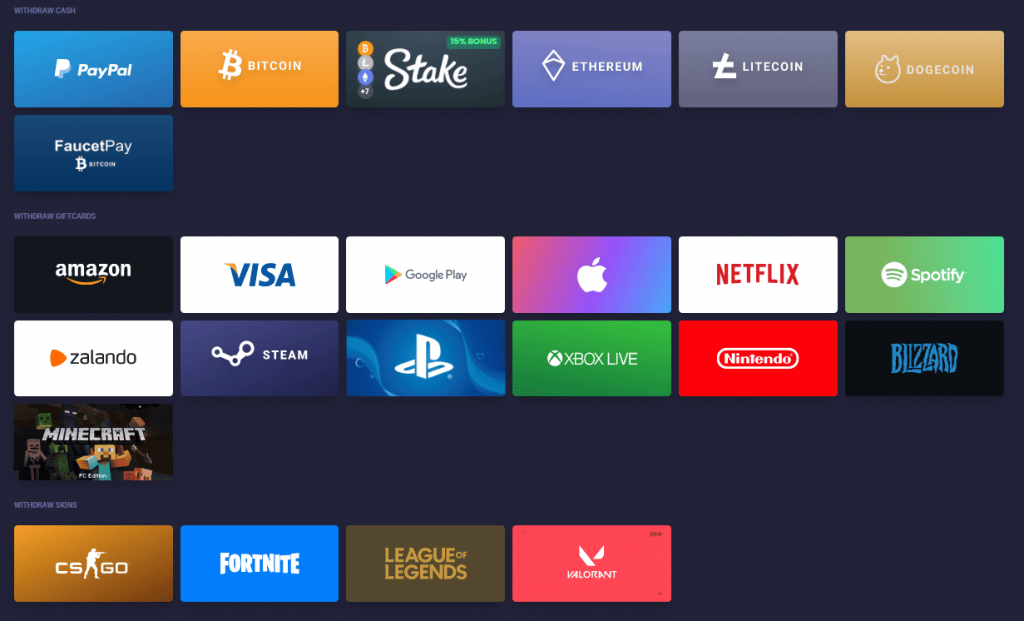 Zoombucks
Finally, you can also get free IMVU credits using the Zoombucks, a GPT website where you can perform various tasks - but with a limited choice. More specifically, you can only complete offers, fill out surveys, or watch videos to earn points. You will need to collect 10 thousand points to exchange them for IMVU credits.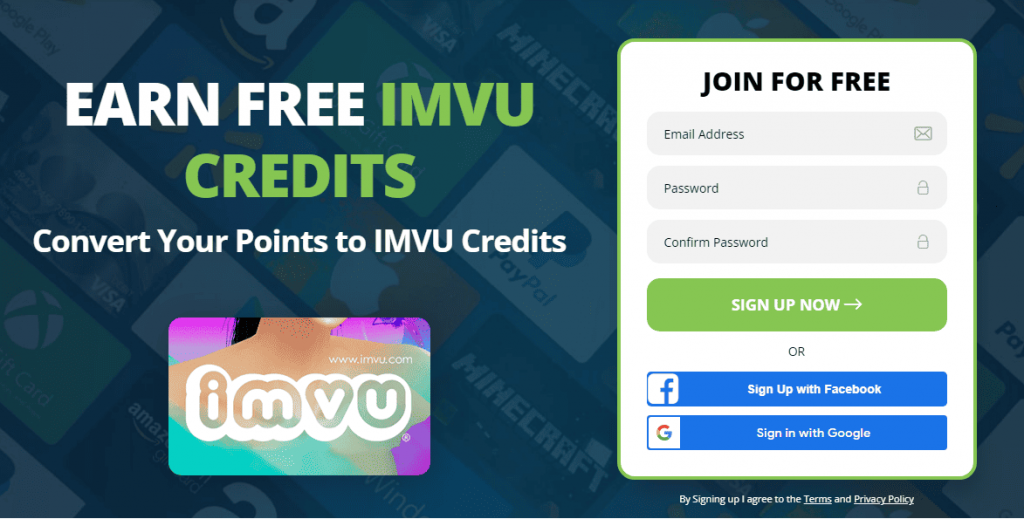 Be Aware of Free IMVU Credit Generators
Credit Generators might sound promising the first time around but these illicit programs do nothing except pose risks to your computer, privacy, and even personal information. Make sure to use trusted and regulated websites instead!
What Can I Do with IMVU Credits?
As the primary virtual currency of IMVU, Credits allow you to purchase loads of different things on the platform, such as:
Exquisite hairstyles
Unique accessories
Fancy clothing
Glamorous skins
Cute pets
Expensive mansion
Tons more!
See how many things you can buy using Credits on IMVU? Gloss up your appearance and upgrade your virtual lifestyle by signing up with Freecash today! With so many easy ways for you to earn Freecash Coins to be converted into Credits, later on, this might be your best bet at becoming rich in IMVU!