Calling all trainers! This step-by-step guide will show you every method you can use to get free Pokemon Go coins (PokeCoins) at no cost. Start earning Pokecoins today or even cash rewards with FreeCash's simple tasks!
What Are Pokecoins in Pokemon Go?
Pokemon Go has only 1 in-game currency you need to know, Pokecoins. They're used to buy items such as Poke Balls; Max Revives, Egg Incubator, or Lucky eggs at the Shop. Most important of all, they can expand your Pokemon Storage space, so you can continue catching new Pokemon as you play!
There are three ways to get coins in Pokemon Go. You can spend real money, pay from your G Pay wallet, or defend Faction gyms for 1 day with your Pokemon.
How To Get Pokecoins
As stated, you can buy PokeCoinswith real money. These Pokecoins can be bought in 6 different amounts with your bank card or Google Pay account.
Prices may differ based on your locale. The number of Pokecoins per bundle is the same:
$0.99 USD for 100 Pokecoins
$4.99 USD for 550 Pokecoins
$9.99 USD for 1200 Pokecoins
$19.99 USD for 2500 Pokecoins
$39.99 USD for 5200 Pokecoins
$99.99 USD for 14,500 Pokecoins
Earning Fee Pokecoins In The Gyms
So now your question is: Can you get free Pokecoins in Pokemon Go? The short answer is yes, but you are limited to only 50 free PokeCoins per day.
The current way to earn coins in Pokemon Go is by defending gyms owned by your faction. For every hour defended, you get 6 free coins per defending Pokemon. This reward stacks up to 50 per day (Max) and can only be claimed once your Pokemon is knocked out.
As any long-term Pokemon Go player would tell you, 50 coins per day is not nearly enough to help you go through the game without facing any inventory problems.
Related articles:
The max number of inventory space and Pokemon Box space to aim for is 4600 and 5600, respectively. Each Bag upgrade (+50 space) or Pokemon Box upgrade (+50 space) costs 200 coins, and you start with 350 and 250 space respectively... you would need approximately $270 USD to upgrade fully. Now that's a huge commitment to make!
With FreeCash, you'll be able to earn while upgrading your Pokemon Go account for FREE. Register today to enjoy top-tier Pokemon Go content by collecting coins immediately!
How Do I Get More Pokecoins With FreeCash?
FreeCash offers you a variety of tasks to complete in exchange for FreeCash coins. As you accumulate enough coins, you'll be able to cash them out as real-world money or Gift card rewards. Simply claim your free Google Play credit and use it to buy Pokecoins.
1. Register
Sign up for a FreeCash account with your google or steam account. You can easily register by signing in directly with your Google or Steam account.
Remember to claim your Free Case to win $250 USD in rewards potentially
2. Complete surveys and tasks in Earn.
Now that you're registered, you can immediately start earning free coins. Head to the Earn tab and check out the money-making offers available.
These offers can vary from:
Surveys or Quizzes
Installing Apps
Playing Games to Certain Levels
Other unique tasks
3. Cash out Rewards
Once you're ready to redeem your free Pokécoins, you can head over to the Cash Out Page to withdraw your coins for various rewards:
Cash: Bank Transfer or Paypal.
Cryptocurrency: Bitcoin, Ethereum, Litecoin, and Dogecoin
Gift Cards: Steam Gift Cards, Playstation Network Cards, Xbox Live Gift Cards, and Amazon Gift Cards.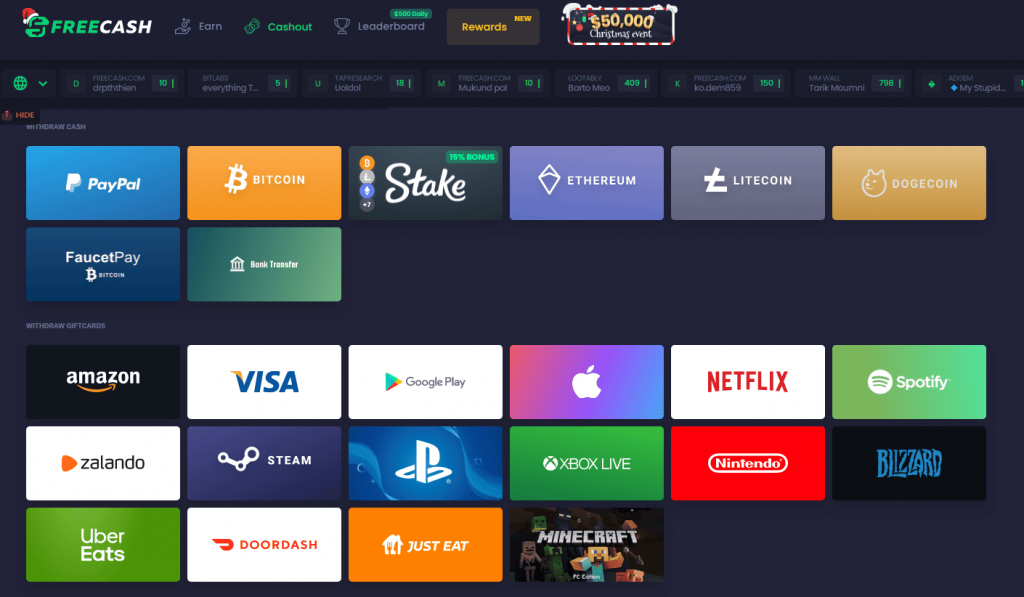 We recommend cashing out in Google Play Credit, because it can speed up your process of getting new Pokecoins.
Choose to redeem a Google Play Gift Card, we offer a range of $5 - USD 50 cards. After confirming your withdrawal, an official code will be sent to your email inbox shortly. You're free to redeem it once received, and we do not charge any withdrawal fees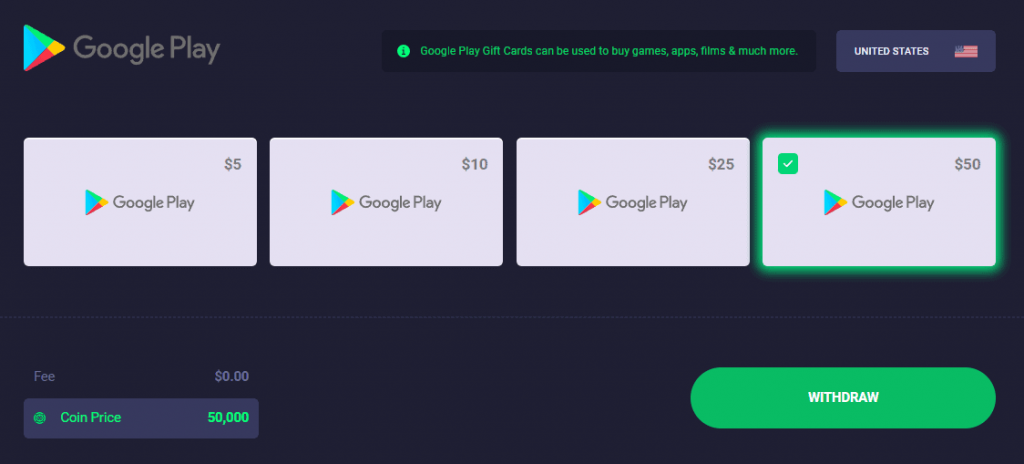 4. Buy Pokecoins with Your Rewards
After withdrawing your cash rewards from FreeCash, you can now finally top up your Pokemon Go accounts with more Pokecoins.
If you topped up your Google Play credit as recommended, then buying more Pokecoins in the Pokemon Go app should be a breeze. Otherwise, you can pay for your desired Pokecoin bundle with VISA, Paypal or any other cash payment options you use.
Note that each offer will have a limited number of participations; once that is full, you will have to wait for a new offer. You can maximize the number of available offers by using PC, Android, and iOS mobile devices to access our platform.
For more details on which tasks are available, sign up first and visit the Earn page.
For more details on what rewards you can claim, visit the Cash Out page.
Can I Buy Items With Free Pokémon GO Coins Redeemed By FreeCash?
Yes, you can buy items with the free Pokecoins acquired from our platform.
With FreeCash, you can acquire free coins on our platform by completing tasks. Upon cashing out, they have exchanged for real-world money or Google Play Credits. Your PokeCoins are then purchased with these rewards claimed from FreeCash.
In short, your Pokecoins will be registered as valid purchases and will not cause any issues with your Pokemon Go, Nintendo, or Google Play accounts.
Do remember to check your inbox for the Google Play codes if you have redeemed a gift card. If you have claimed your rewards with PayPal, direct bank transfer, VISA or in Cryptocurrency, pay for the Pokecoins directly.
What Items Can I Get With My Free Pokecoins in Pokemon Go?
Upon receiving your codes, you can exchange it for free in-game currency. All Pokecoins earned with FreeCash are 100% useable and can be used to redeem any item in the Pokemon Go store.
Lucky Egg (80 coins for 1)
Incense (80 coins for 1)
Egg Incubator (150 coins for 1)
Poke Balls (100 coins for 20 Poke Balls)
Max Potions (200 coins for 10)
Max Revives (180 coins for 6)
Lure modules (680 coins for 6)
Premium Raid Pass (100 coins, Level 35 required)
Bag Upgrades (200 coins, Increases how many items you can keep)
Pokemon Box (200 coins, Increases how many Pokemon you can keep)
Other than Pokemon Go coins, you can exchange your FreeCash coins for a cashout of real world money, cryptocurrency, or other gift cards such as Steam, Amazon or even skins in Fortnite.
Check out the Cash Out page for the entire list of claimable prizes.
FAQ
How do I sign up to earn coins in Pokemon Go?
Simply create an account and you will be in the program.
Can I cash out in other forms of rewards, such as gift cards or cryptocurrencies?
What are the tasks I must do to claim rewards?
Complete surveys, watching vids, install apps, and even playing games to certain levels are all part of the tasks you will be doing.
Am I limited to just redeeming my rewards in Pokemon Go?
No, you are free to redeem your rewards in whichever format we are hosting at the time.
Where to download FreeCash on my mobile phone?
FreeCash is currently available on PC web browsers and as an Android App. Don't forget to
download our App
to receive notifications on the best new opportunities to earn coins!