How To Get Team Fortress 2 Items
Method #1: Through Other Games
Several Steam titles, such as Poker Night 1 and 2, L4D2, and Alien Swarm, will reward you with free TF2 items by completing certain achievements in them. This approach is not worth it, unless you already own these games, as you'll need to buy them, play them to complete the achievement, and get a free TF2 item. It can be costly and time-consuming, so it's better to use alternative methods.
Method #2: Random Item Drops on Steam
For every 30 to 70 minutes you spend in Team Fortress 2, you will get some random items through a random item drop system. However, this system doesn't include idling or being AFK. If you're lucky enough to get a free item like this, you'll get notified about it.
It's worth mentioning that you won't be able to farm TF2 items using this method, as there is a cap set for 10 hours per week.
Related articles:
Method #3: Trading
You can trade any tradable items from your Steam inventory for TF2 items with someone. The best way is to join Steam groups or subreddits and look there - there's always someone interested in trading on Steam.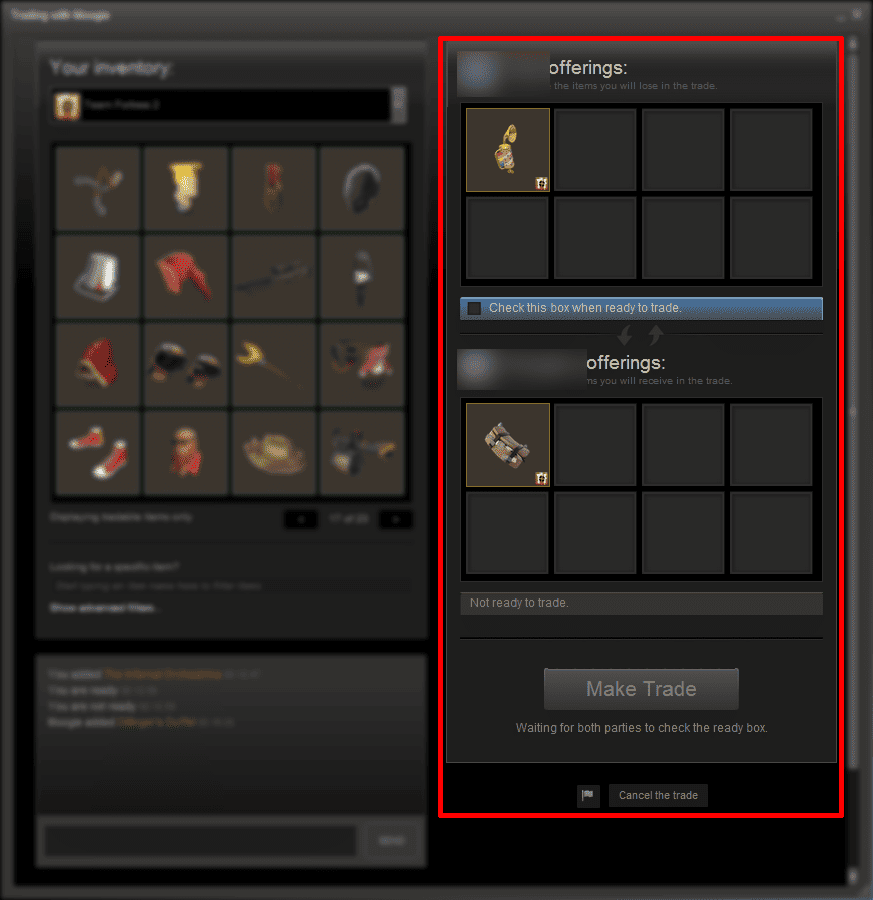 Method #4: Achievements
Completing TF2 achievements will reward you with various items like weapons, cosmetics, and taunts, which you won't able to trade.
Method #5: Crafting
Another way to get TF2 items for free is through crafting, which allows the creation of specific items like weapons, cosmetics, and materials required for crafting (Scrap Metal, Class Tokens, etc.).
Usually, players will scrape duplicate or unnecessary items to collect enough material required for crafting.
But other than materials, blueprints are also required, which can be obtained by having a Premium TF2 account. Unfortunately, those players without TF2 premium cannot craft Rare or Special items and will have to scrap plenty of items to get higher-grade materials. Lastly, there are 156 weapons and 428 cosmetic items available through crafting, making this method an excellent way of getting Team Fortress 2 items for free.
You will receive a Steam gift card code that you can activate on Steam and add funds by clicking "Games" in the upper left corner, then selecting "Redeem a Steam Wallet Code," where you can claim it. With enough Steam Wallet balance, you can visit the Steam marketplace and buy all your favorite Team Fortress 2 items immediately!
TF2 Items Explained
In Team Fortress 2, items are all collectible objects that players may use, such as weapons, skins, taunts, and more.
There are purely visual items and interactive taunts and weapons that can actually influence the game. Every TF2 item has something in common - unique level, quality rating, and various attributes.