League of Legends isn't the brightest when it comes to language preferences. That's because Riot Games only implements a specific number of languages depending on the region your League account is signed up for. So if you wanted to change language, specifically to one that's available alongside the champions' voice lines in other regions, you are technically able to do so. This article will show you how to change the voice language in League of Legends in a couple of easy steps.
League of Legends: Change Language of Voice Lines
First thing first, you must be aware that Riot Games doesn't allow language changes in the game, as It's against their Terms of Service (TOS). Though lots of players who have changed the League of Legends language have reported, they haven't received a ban in years. So enter this process with your caution!
Another thing worth mentioning is that you can't change the voice language of League without changing the whole game's language. This includes the game client, user names, champions, etc. We'll see how you can revert the process as well if you accidentally get lost as well.
Here's how the process will work: you'll change the voice language within the game files. So here's a complete guide on how to change the voice language on League of Legends:
Open the game client
Click on the X button in the top right corner and select "Sign Out."
Go to your Desktop and locate the League of Legends shortcut
Right-click League of Legends on your Desktop and select "Open File Location."
In the opened folder, click on "Riot Games" in the folder path to go back to 1 folder
Open the League of Legends folder
Scroll below until you find the "LeagueClient" file
Right-click the "LeagueClient" file and select "Create Shortcut."
This will create a copy of the new file; drag the new shortcut onto your Desktop
Delete the old League of Legends shortcut
Right-click the new League shortcut and select Properties
In the "Target" field, go to the far right
Now enter a Space and type in "--locale=ja_JP", then click on Apply and OK
Open League of Legends through the new shortcut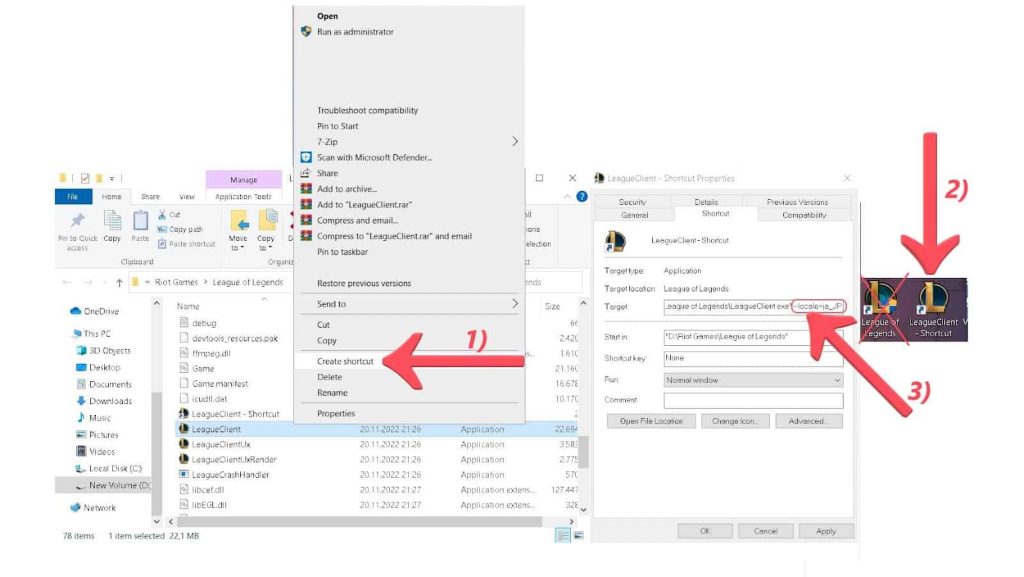 Related articles:
The above language code within the shortcut will switch the in-game language to Japanese. This includes the whole game in itself, alongside all the voice lines. Though if you want to get your desired language, you'll have to change the code after " --locale=." So here are all the language codes you can change into:
| | |
| --- | --- |
| Language | Code |
| English - US, British, and Australian | "en_US", "en_GB", and "en_AU" |
| Japanese | "ja_JP" |
| Korean | "ko_KR" |
| Chinese | "zh_CN" |
| Taiwanese | "zh_TW" |
| German | "de_DE" |
| Russian | "ru_RU" |
| Italian | "it_IT" |
| Polish | "pl_PL" |
| French | "fr_FR" |
| Portuguese | "pt_BR" |
| Hungarian | "hu_HU" |
| Greek | "el_GR" |
| Romanian | "ro_RO" |
| Turkish | "tr_TR" |
| Spanish - Spain and Latin America | "es_ES", and "es_MX" |
So, for example, if you wanted to change to a different language like US English, you will do the above process exactly from step 1. Then go to Properties in the new shortcut, add a space at the end of the Target field, enter "--locale=en_US," and click on Apply. 
With this process, you can change back again to your previous native language that League of Legends used! Remember that you'll always have to sign out first, then create a new shortcut.