MacBook users have always been left wondering if League of Legends is available for their Operating System, i.e., macOS. That's because lots of exclusive games in today's day and age are meant for Windows PCs. But for your luck, Riot Games has created a League of Legends MacBook version! So here we'll see a complete guide on how you can install and start playing League of Legends on your MacBook.
League of Legends System Requirements for MacBook
Before you go ahead and install LoL on a MacBook, you must make sure your device is compatible with the game. Because if you have an older version of a MacBook, you may experience performance issues and FPS drops when you run LoL. So here are the minimum MacBook requirements that can support League of Legends:
| | |
| --- | --- |
| CPU | Intel Core i5-750 |
| CPU Features | SSE2 |
| GPU | AMD: HD 6570 or Intel HD 4600 Integrated |
| VRAM | 1GB |
| Storage Space | 12GB HDD |
| macOS Version | macOS 10.12 |
| macOS System Type | x64 bit |
| RAM Memory | 2 GB |
Be sure that these are the lowest requirements that you need to play League of Legends on macOS. This means that you'll have to lower the graphics of the game to at least have a decent gameplay experience. If you have a newer version, like a MacBook Air with an M1 chip, then don't worry, as many people play LoL on M1 chips and haven't issued any problems.
How to Download League of Legends on MacBook
Now you know what's the bare minimum that your MacBook's gonna need for you to run LoL on it. If you have any higher specifications, then that's even better, as the game will run much better with higher FPS on higher graphics settings! So with that said, here's how you can download League of Legends on MacBook:
Go to the official League of Legends website.
Click on the "Play Now" button in the top right corner
If you don't have a Riot account, enter your email and create one. If you do, though, select the "Click to Download" option below.
Select your designated region in the top right corner
Click on the big "Download for Mac" button and wait for the installation to finish
Open the downloaded installation and go through the process of installing League of Legends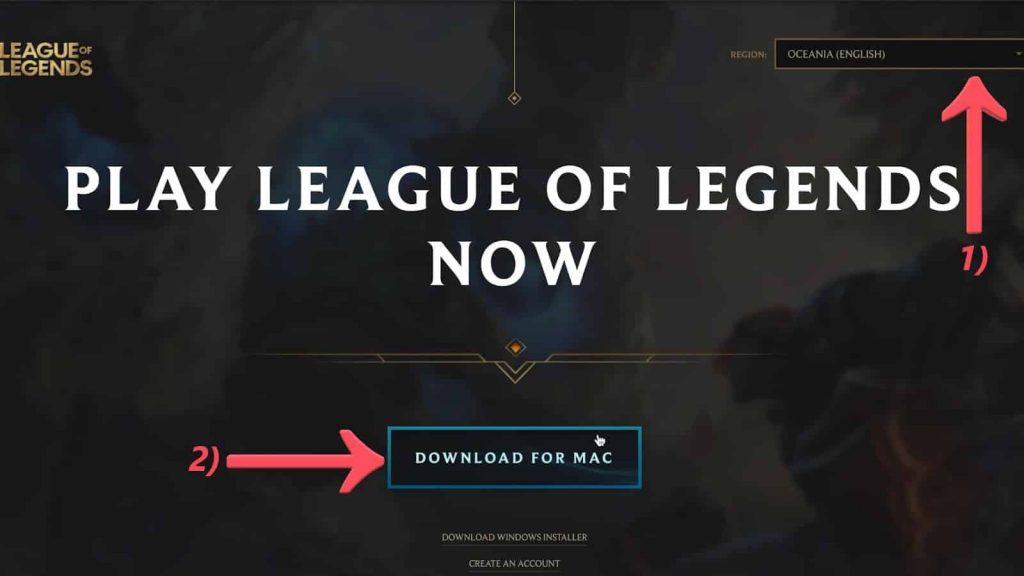 The game installation can sometimes come in a zipped package. In this situation, you'll want to extract the file before you start the installation and run League of Legends.
Related articles:
Once the installation is finished, the game client should open. Now there's one final push where you'll have to wait for the game to be fully installed before you play League of Legends. Wait for this process within the game client, and once the patching up finishes, you should be able to run the game freely!
Although Riot Games has made a version of League for MacBooks, you should note that it does come with its fair share of errors. Especially on newer laptops like MacBook Air, where the game doesn't even install. In these kinds of situations, you'll either want to perform a full reinstallation of League or downgrade to an older macOS. Though be vary, as some players have reported having issues with the Mac Catalina version of macOS on League.