The Deadlock Gang has long been an important part of the Overwatch lore. Many important characters have been associated with the crime outfit. Ashe is a prolific gunslinger who serves as the leader of the infamous gang. This article will list the best Ashe skins in Overwatch 2.
Best Ashe Skins in Overwatch 2
Like all Overwatch heroes, Ashe has seen a fair number of amazing skins being released for her character. From being a Socialite to taking up the character of Little Red Riding Hood, Ashe has done it all. This list will go through some of the best Ashe skins that make her stand out amongst all other Overwatch 2 heroes.
Gangster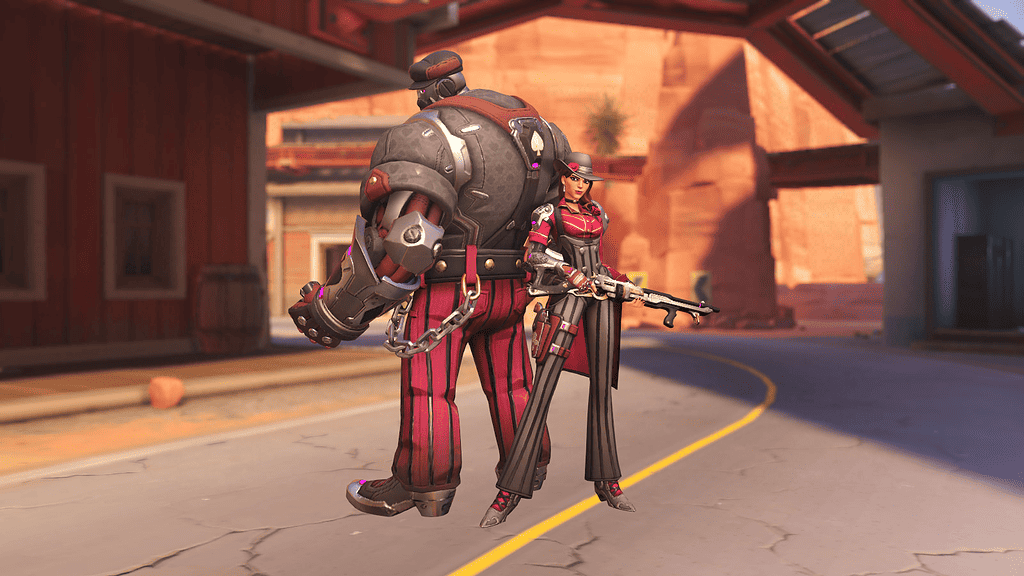 Some of you might be compelled to compare the Gangster skin with Mobster, but the former is definitely better in more ways than one. The Gangster outfit shows a lot more detailing and textures as compared to Mobster, and is a lot more coherent with regard to its color scheme.
Ashe is all dressed up like an elite gang leader, whereas B.O.B. looks more like a stolid henchman, which isn't really that far off from reality. The outfit consists of dark grey stripes in contrast with pink, and the colors fit perfectly well. Gangster definitely ranks as one of the cooler-looking Ashe skins available. This Legendary skin will cost you about 1900 Overwatch Coins or 1000 Legacy Credits.
Posh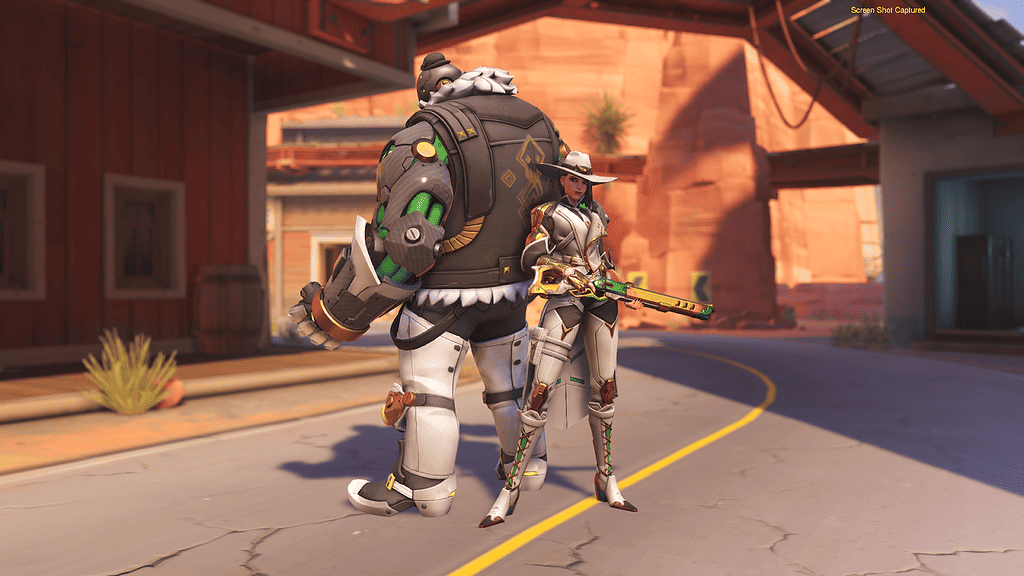 Posh is another great Ashe skin that hints at the fact that she was born into an extremely wealthy family, which she later abandons as per the lore. Hence, both Ashe and B.O.B. are dressed like wealthy noblemen, their costumes designed in gold and white leather.
The design and details on this outfit are amazing to look at. The color scheme sits in good contrast and unerringly gives out a 'posh' look. The skin can easily be acquired for 250 Legacy Credits or alternatively for 300 Overwatch Coins, making it one of the cheaper outfit options available in the game.
Mardi Gras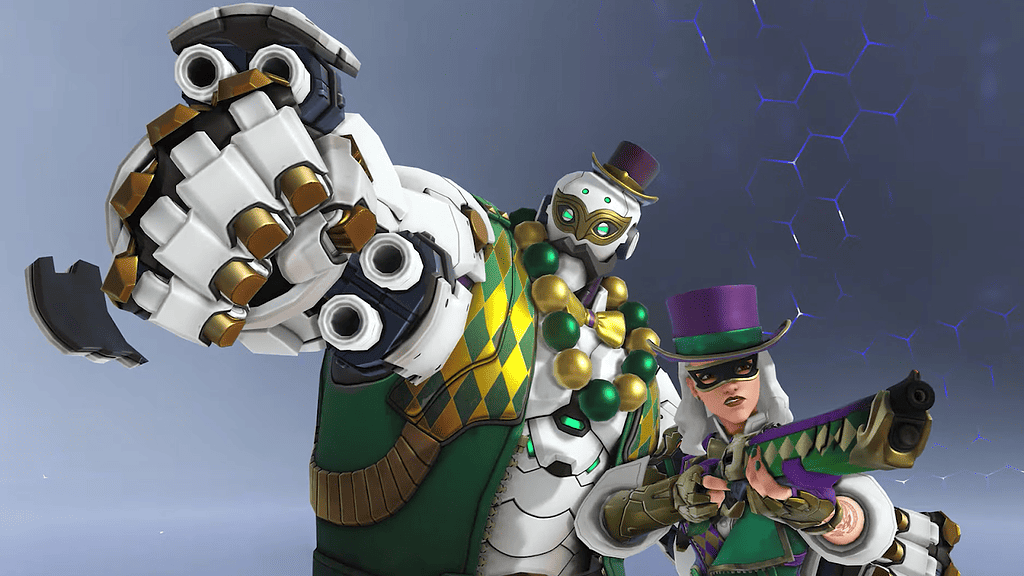 Get ready for a proper festive evening with the limited edition Mardi Gras skin. Ashe and B.O.B. look as if they are ready to have the time of their lives in this flashy, carnival-themed outfit, brimming with a plethora of colors and designs. The outfit is characterized by a mixture of green and purple gradients, marked with reflective textures with a touch of gold on the side. The texturing and the overall outfit design are really something to behold, with masks being a good little addition to the theme.
The outfit was available as a reward only during Ashe's Mardi Gras challenge in early 2020 and cannot be purchased from the in-game store today. So, you're lucky if you have it.
Thorn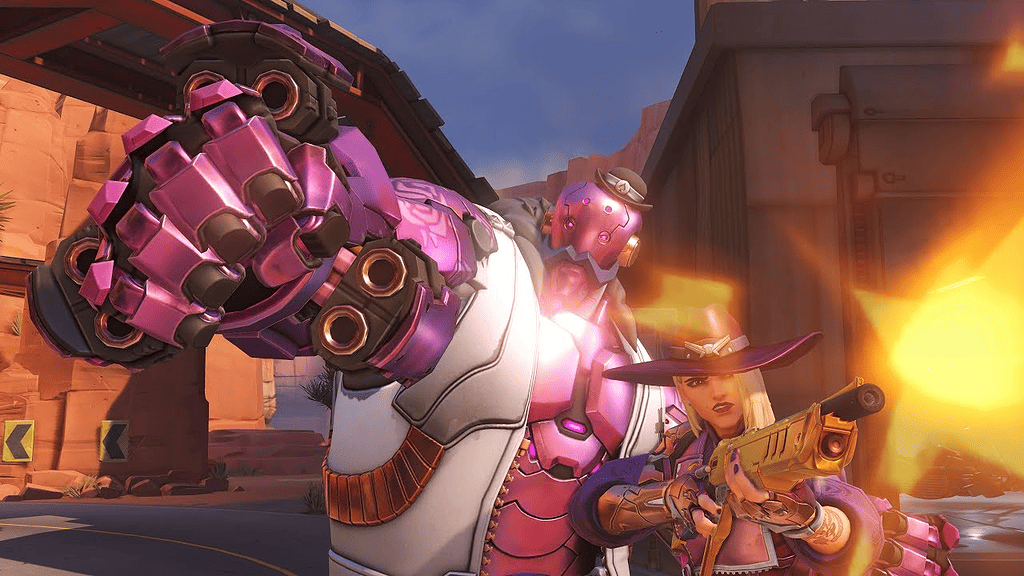 An outfit that is more on the fancier side, Thorn is a visual representation of Ashe's rose aesthetic and essentially a flamboyant redesign of Ashe's default skin. Ashe and her trusty companion can be seen wearing a bright metallic pink color from top to bottom, with B.O.B. donning a white top.
The flashy outfit might seem a bit gaudy at first, but it really makes the character appear to be more unique. You can easily get your hands on the outfit for a low price of 250 Legacy Credits or about 300 Overwatch Coins.
Poolside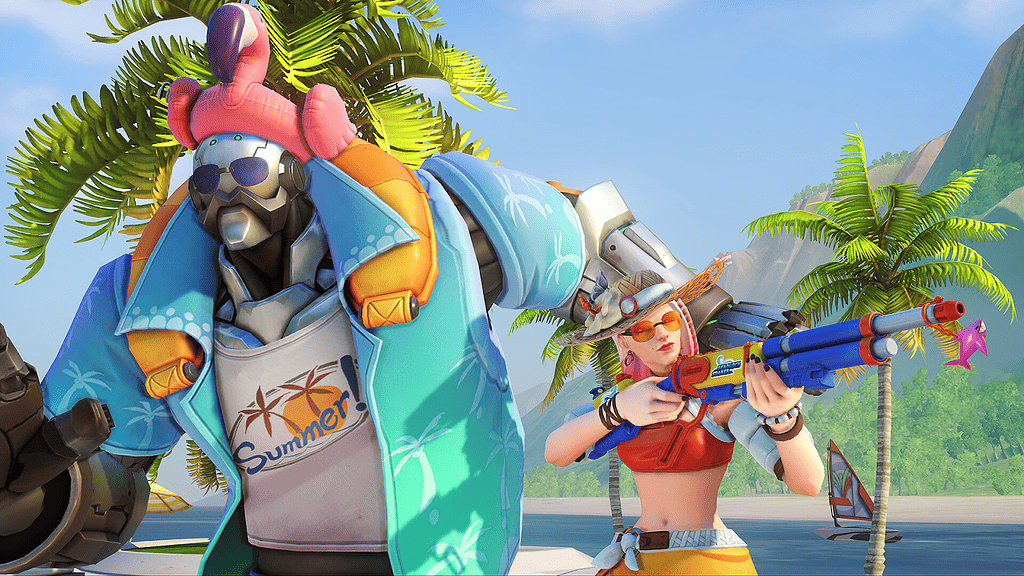 Ashe and B.O.B. are all set up for a beach vacation with their new Poolside outfits. The skin completely redesigns the gunslinger combo and replaces much of their gangster bravado with some conventional, fun-loving beach attire.
Ashe's gun has been traded with a Super Soaker water gun, whereas B.O.B. can be seen wearing an inflatable flamingo hat, both of them look ready to party. The Poolside skin was originally released as part of the Summer Games 2021, it can still be bought at the in-game store for 1900 Overwatch Coins.
Related articles:
Warlock
Warlock is undoubtedly one of Ashe's very best legendary skins available in the game today. Originally released as part of the 2019 Halloween Terror events, the costume transforms the rebel duo into powerful magical entities, where Ashe takes up the character of a demonic witch, and B.O.B. becomes her personal earth elemental.
The costume features a lot of minute details and elements that make all the difference. The runes on Ashe's gun, the skull icon on her forehead, and B.O.B.'S special glowing effect are all nice additions that make the outfit stand out in terms of design. The skin is available to purchase for 1900 Overwatch Coins.
EASY TO GET STARTED AND
EARN TODAY
There is over 10,000,000 website visitors every month and over 14000 five start ratings on Trustpilot. People from all over the world trust Freecash.


In order to start earning money for free, you need to go to the "Earn" page. On the earn page you will have plenty of tasks that you can complete. Choose your desired one.


Read task description and
complete the task


Now you can read the task description and go through every step one by one. When every required step is completed you will get credited your payment for this task.



When having enough coins you can go to "Cashout". Here you can choose from many methods to convert your coins to Cash, Gift cards, Bitcoin & more that you can use right away.