In this list, you will be able to see the top ten shortlisted skins of Cassidy, providing you with an in-detailed overview of each skin along with their pros and cons. After reading the post, you will get to know skins' uniqueness, how they look, and how they can change the way you play.
What Are The 10 Best Skins for Cassidy Worth Buying?
The first one on our list of the best Cassidy skins is Scrooge.
1) Scrooge Skin
Scrooge is one of the most loved skins of Cassidy. This is one of the borderline legendary skins released during Christmas. In this skin, Cassidy has a beautiful black blinking hat and a unique belt buckle. The belt buckle has "GAMF" written, making the hero look more savage.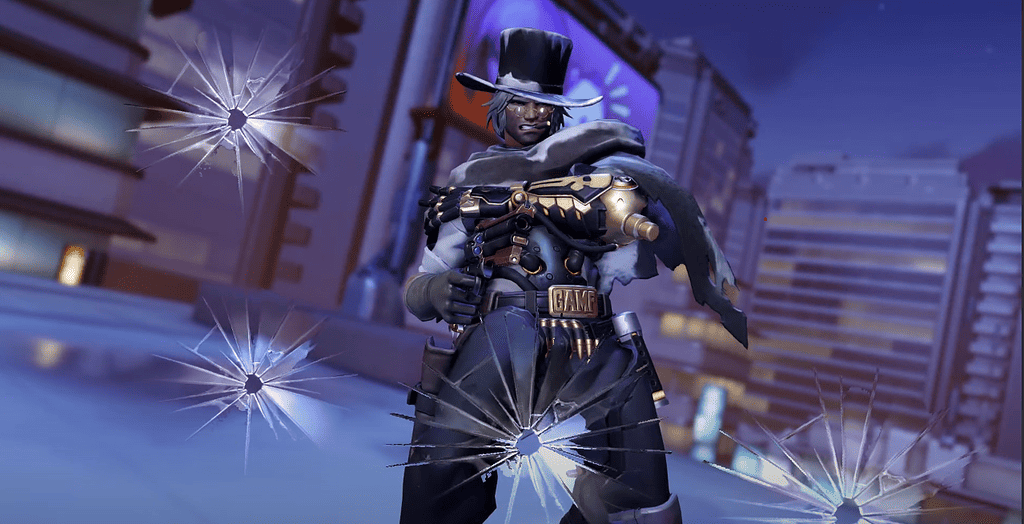 Scrooge is one of the most hyped skins of Scrooge. The reason this skin is so exciting is its availability; Scrooge skin can only be purchased during the winter in the winter wonderland event. You can get this skin in loot boxes or can purchase it during the winter wonderland event from the store for around 250 credits
2) LifeGuard
LifeGuard is a well-designed skin that was launched during the summer games event. This skin is a complete change for Cassidy. The skin is based on the red color theme. In this skin, Cassidy has no shirt but a beach towel on his shoulder with a whistle on his neck. His pants have been changed to beach shorts, and he has got abs that make him look like a stud.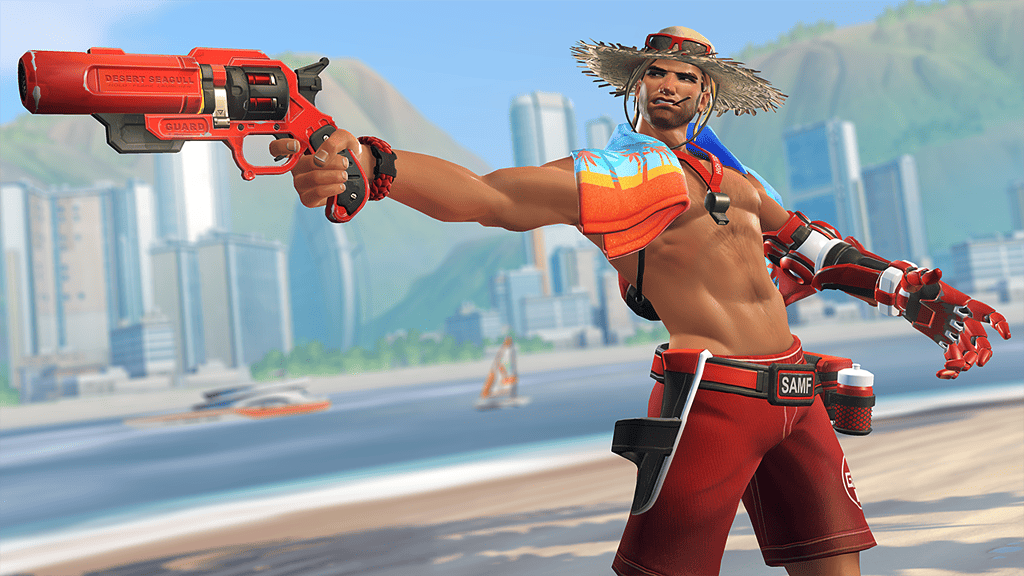 Cassidy, in this skin, is portrayed as a LifeGuard at the beach. This is why his gun looks more like a flare gun. The other best part of the skin is that Cassidy has a postictal stick in his mouth instead of a cigar.
3) American Skin
The American is a patriotic skin for Americans, which is also beautiful and most loved by the players. This is an epic skin and was launched during the summer games event. The American flag is one of a few epic skins that could be counted in the best Cassidy skins.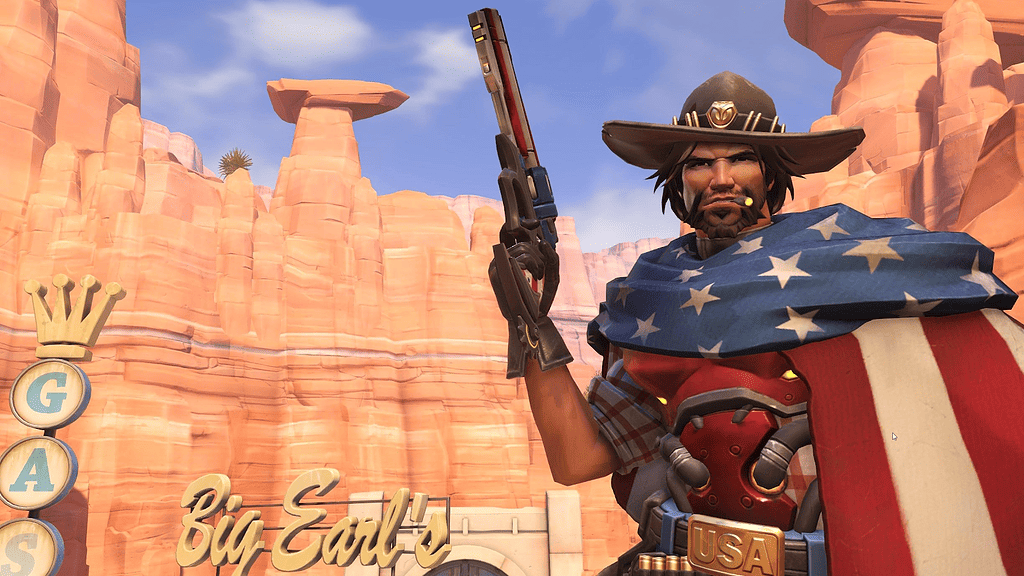 As it is an epic skin, the price is too low compared to other Cassidy top skins. The cost of Americal Flag skin is only 250 Credits. If you do not want to spend a lot of money and get great skin for Cassidy at the same time, then American skin is the right choice for you.
As this skin represents, America Cassidy has an American Flag wrapped around his neck and shoulder. Also, the belt buckle says "USA," which clearly refers to the "United States of America."
4) Mountain Man Skin
This skin portrays Cassidy as a mountain name, and the skin is named after the same. Mountain Man's skin makes Cassidy look much older with white hair and a beard.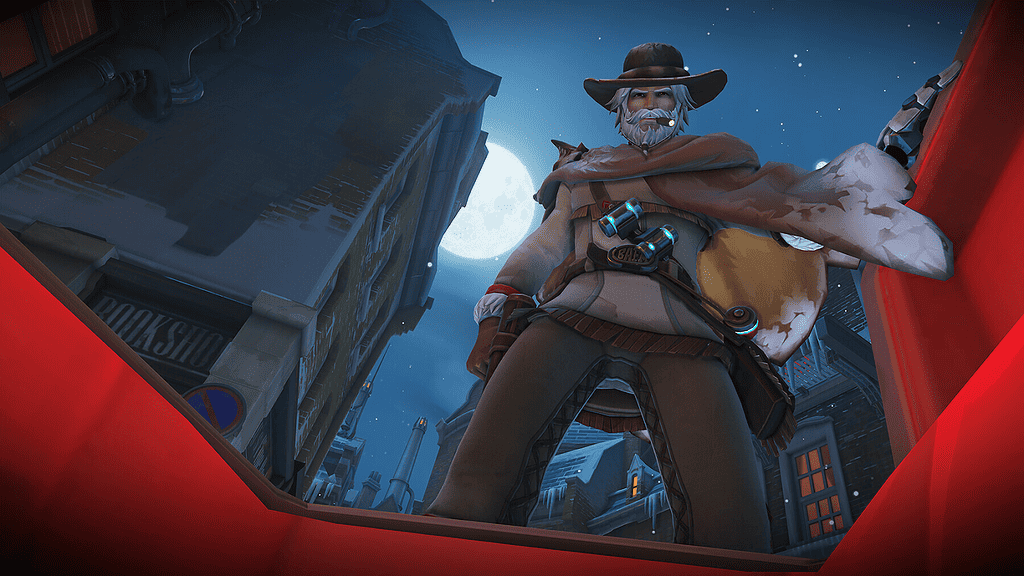 Cassidy, in the mountain man's skin, is wearing winter clothes and has a cigar in his mouth. In this skin, Cassidy looks like an experienced character. This is a legendary skin that can be purchased from the in-game store.
5) Undead Skin
Undead is another epic skin that made it to our list of Overwatch's 10 best Cassidy Skins of all time. This is a flashy skin based on the black and green color. The best part of the Undead skin is Cassidy's appearance. In this skin, Cassidy looks more dangerous and powerful.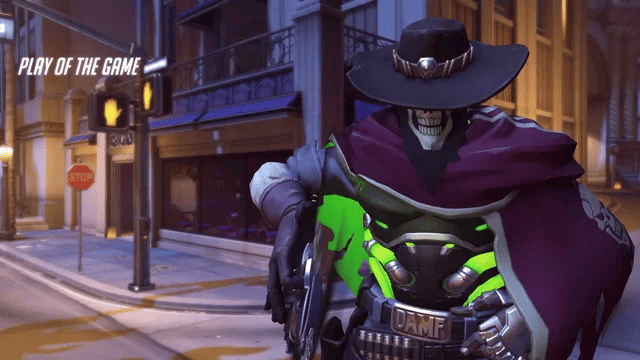 Cassidy's face is not revealed in Undead Skin; it is covered with a black scarf with a skull. The only part of the face which can be seen are the eyes, which have a green glow. This makes this epic skin look even better than the legendary skins of Cassidy.
6) Deadlock Skin
The Deadlock skin for Cassidy was released in Overwatch's Uprising Event, also known as the game's one-year anniversary event. Many other skins were released during this event, but their deadlock skin of Cassidy was the most hyped one at that time.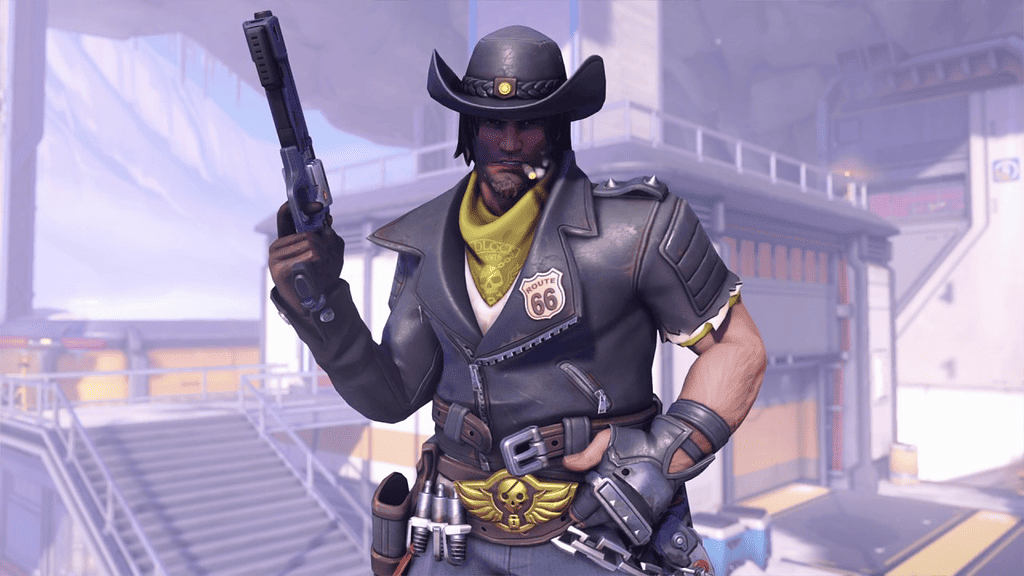 In this skin, Cassidy is wearing a black leather jacket with a green scarf on his neck. The best part of this skin is the belt buckle with a skull representing the deadlock gang. This is the best but not easy-to-find skin of Cassidy in the Overwatch game. Deadlock is one of the rear and legendary skins, which is available only during special events.
EASY TO GET STARTED AND
EARN TODAY
There is over 10,000,000 website visitors every month and over 14000 five start ratings on Trustpilot. People from all over the world trust Freecash.


In order to start earning money for free, you need to go to the "Earn" page. On the earn page you will have plenty of tasks that you can complete. Choose your desired one.


Read task description and
complete the task


Now you can read the task description and go through every step one by one. When every required step is completed you will get credited your payment for this task.



When having enough coins you can go to "Cashout". Here you can choose from many methods to convert your coins to Cash, Gift cards, Bitcoin & more that you can use right away.