There is no denying that D.Va is one of the most popular characters in Overwatch; she is quite memorable with her design and attitude. The line"Nerf This" spread fast in the gaming communities, even outside Overwatch. D.Va has many skins in the game. From common to Legendary, we will be listing her best skins. 
D.Va Overwatch 1 
This might be surprising to see here, considering how this had been D.Va's default skin ever since 2016. Blizzard has made new classic skin for almost all heroes in Overwatch, which is the only reason this skin made it on the list.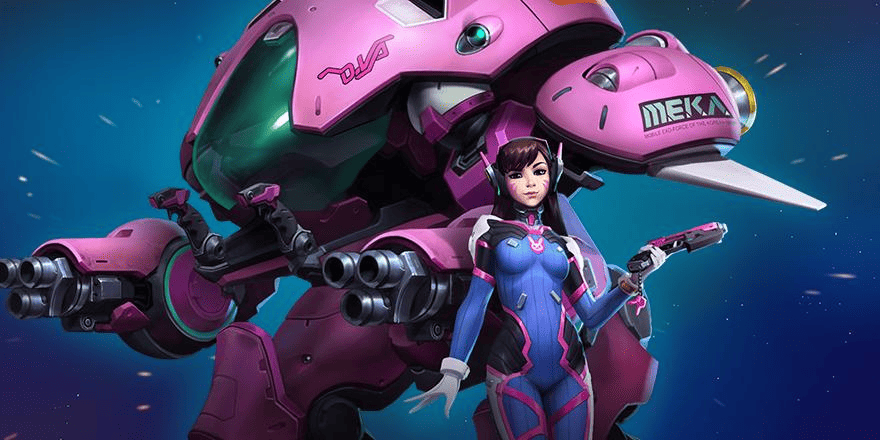 Compared to Overwatch 2 D.Va, the first one remains much more iconic and recognizable. Perhaps Overwatch 2 classic skin appears more polished and modern, but this one has more personality and D.Va aesthetics, like her name tag on the Mech and the bunny symbol on her suit, which are not found in the new classic skin. Many would agree, however, that the new classic skin is indeed cute, but we must not forget the popularity of the true classic one. 
D.va— B.Va Skin
B.Va is a clever skin design for our favorite character here. Wearing a yellow suit with black markings, D.Va has now become B.Va. This skin is one of the best in the game right now. It completely changes her aesthetic and gives her a new look. Her light gun also has its color changed to yellow.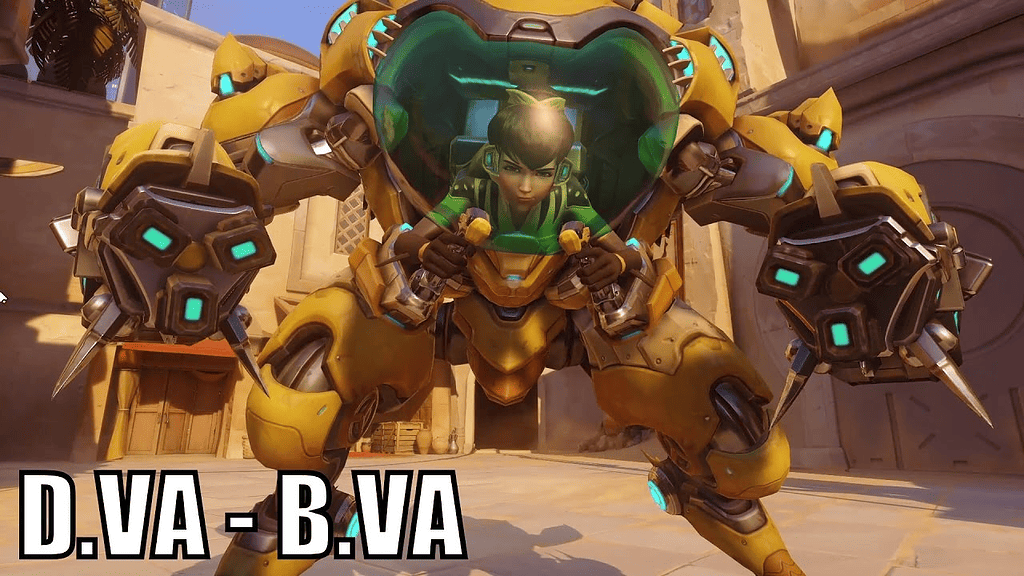 Of course, D.Va's mech should also change, making it look like a big tanky bee. Players can spot honeycomb-shaped parts and extra "wings" on the mech. Although D.Va's hair color remained unchanged, she now puts it in a bun. 
Cruiser D.Va Skin
Bringing back the old 1950s fashion worked super well on D.Va. Inspired by the 50s pinup girls, D.Va wears a checkered shirt that is tied up to show her belly, blue jeans, and red heels. She keeps herself pretty with quite heavy makeup on her face, eyes, and lips.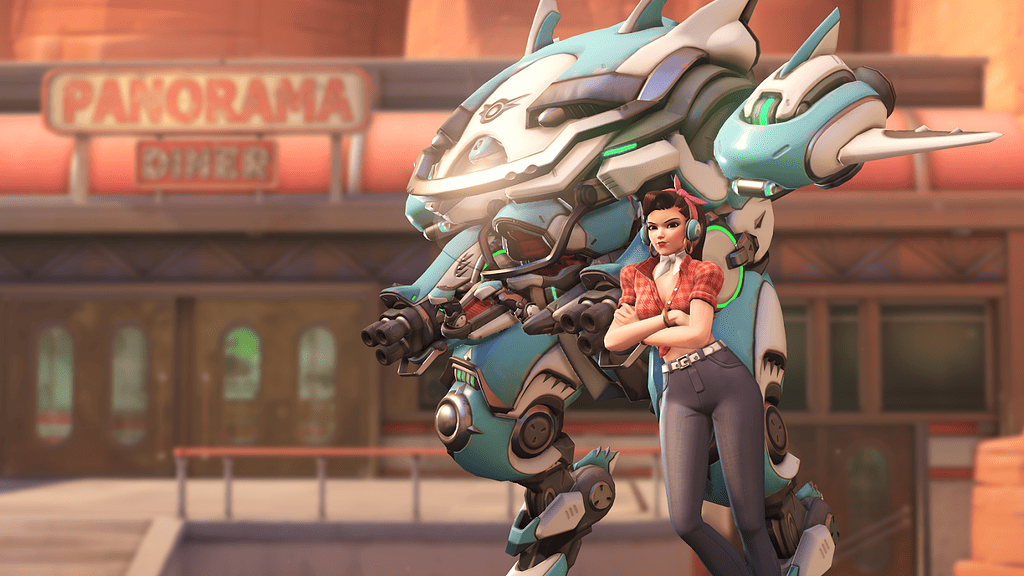 Her hair is put into a ponytail with a cute pink ribbon on it. When it comes to her mech, the skin also changes to reference the 50s car. Both D.Va and the Mech match perfectly into the aesthetics Blizzard intended, making this a great skin, especially with bubble gum. 
Palanquin D.Va Skin
This skin is only available during the Lunar New Year event. D.Va's Palanquin skin has been awarded the 'Hanbok Love' certificate by the Korean Ministry. This certificate means that Blizzard had done a great job representing Korean culture through D.Va, who is of Korean ethnicity, all while matching her classical theme.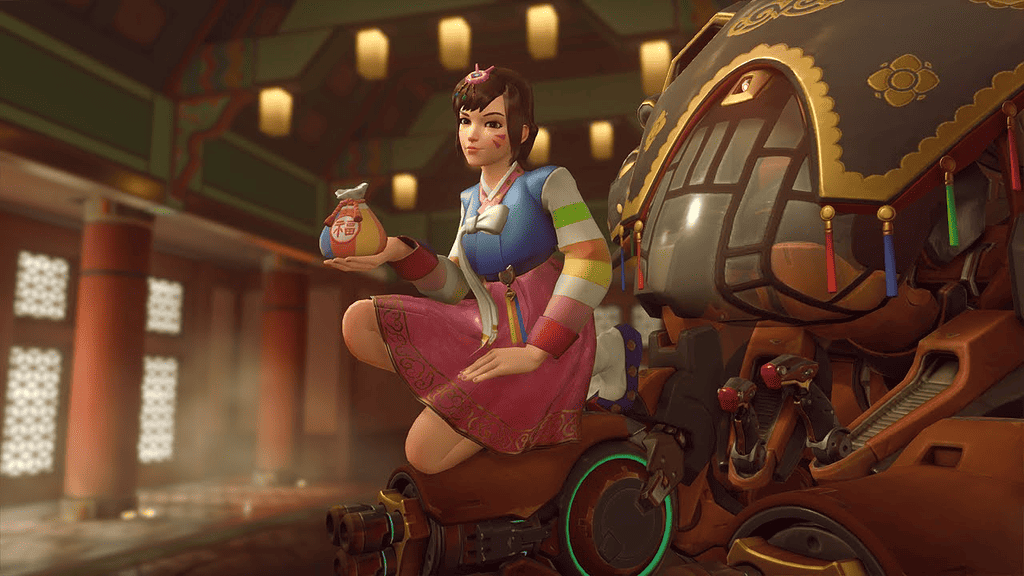 D.Va's clothes kept the same color scheme as her default skin but with the addition of a skirt and extra accessories. Her hair has changed to be braided on the right side of her body. Her mech represented the Korean Palanquin, giving it a wooden look and cultured signs and markings. 
All the D.Va skins listed in this post are the best ones available in the market, but these all cost a ton of money, and not everyone could afford to buy these skins. However, as our reader, you can get all these skins for free using our platform.
Officer D.Va Skin
This skin is accessible right now and can be bought immediately, which is always great. This one has an obvious police theme to it that anyone can recognize. The mech is designed to replicate the aesthetics of a police car, especially with the red and blue lights on top. D.Va on the other hand, is wearing a police officer's uniform.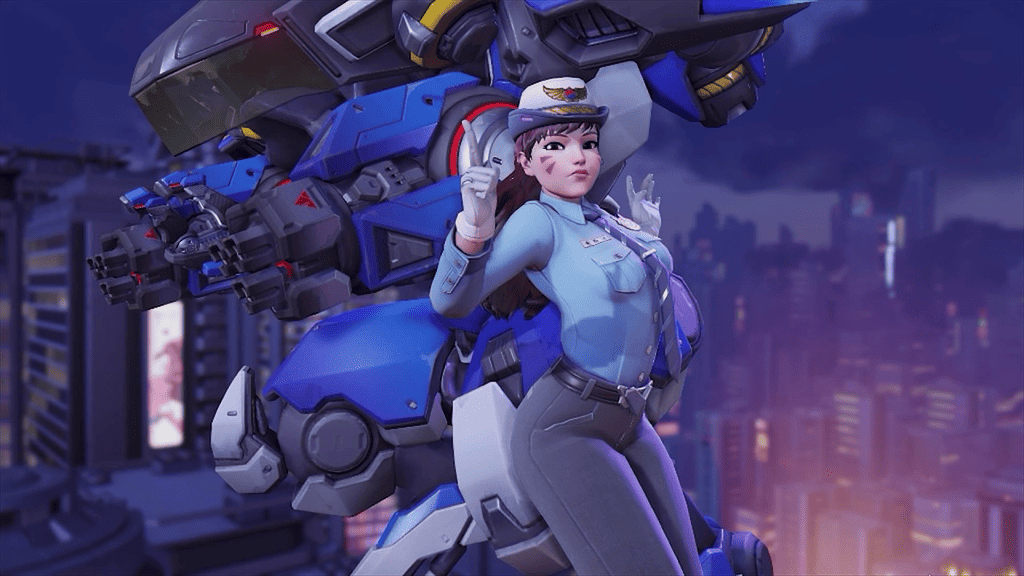 With a long blue tie and black trousers to fit the theme. Her hair remains the same, but she is wearing an officer's hat to cover the top of her head. And her badge? It's no other than her iconic bunny symbol.
Waveracer D.Va Skin
The release of the Summer Games event has raised all Overwatch players out of their seats. Not only did this event feature spicy new skins for many characters, but who doesn't enjoy summer games? Not D.Va. This skin is only available in the Summer Games event, but it is worth the purchase. D.Va is wearing a crop top under a swimming vest, perhaps indicating that she doesn't know how to swim.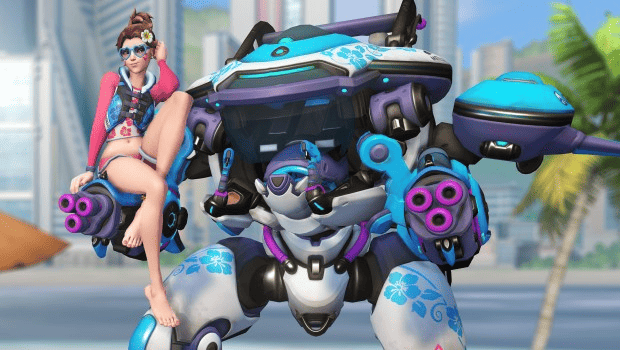 Her bottom wear is cute pink swimming shorts. Her eyes are covered behind light-blue glasses that are shaped like a heart. And finally, her hair is put into a bun with a cute flower added to it. D.Va's mech almost looks like a submarine, reading to dive under the water and submerge to victory. 
EDM D.Va Skin
The latest addition to D.Va's skin line. EDM D.Va can be instantly obtained upon purchasing the premium battle pass. Not only is this skin a masterpiece, but it's also a profitable deal to purchase the premium Battle Pass, as you can obtain a mythical skin for Genji once you complete it. But not to get sidetracked, D.Va is on a whole new level now.
Her hair is pink and put into two ponytails. Her bunny ears are coming from yellow headphones. Her face markings have been changed to lovely small hearts. Regarding her outfits, D.Va is wearing a hoodie with blue and purple as its main colors. She is also wearing white shorts tightened by a big bunny head as a belt.
Her mech has changed to appear more sharp and modern, overhauled with purple colors and golden weapons. Extra parts can be seen on the sides of the mech, one being disco lights and the other one being a sound amplifier. 
Black Cat D.Va Skin
This one is a mix of a gothic theme and a cute black cat theme. Typically more feminine skin compared to other D.Va's skins. Black Cat D.Va has cute blond hair put into pigtails.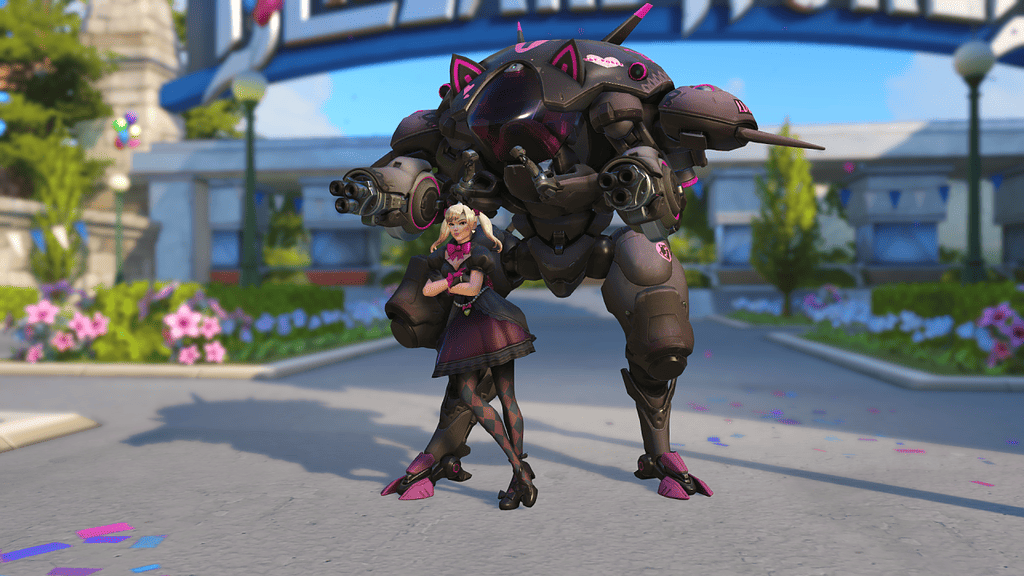 She is wearing a black dress with a puffy skirt, black heels, and chequer-fashioned leggings. Of course, we can't forget the big purple ribbon as a choker. D.Va's mech is black colored with big red cat ears. With this skin, you can turn D.Va from a bunny-themed gamer into a cat-themed one! 
Shin-Ryeong D.Va Skin
Arguably the best D.Va skin in the game so far. Not only is this one too far apart from any previous skin, but it completely changes the vibes for D.Va, giving her more edgy looks while remaining fairly cute.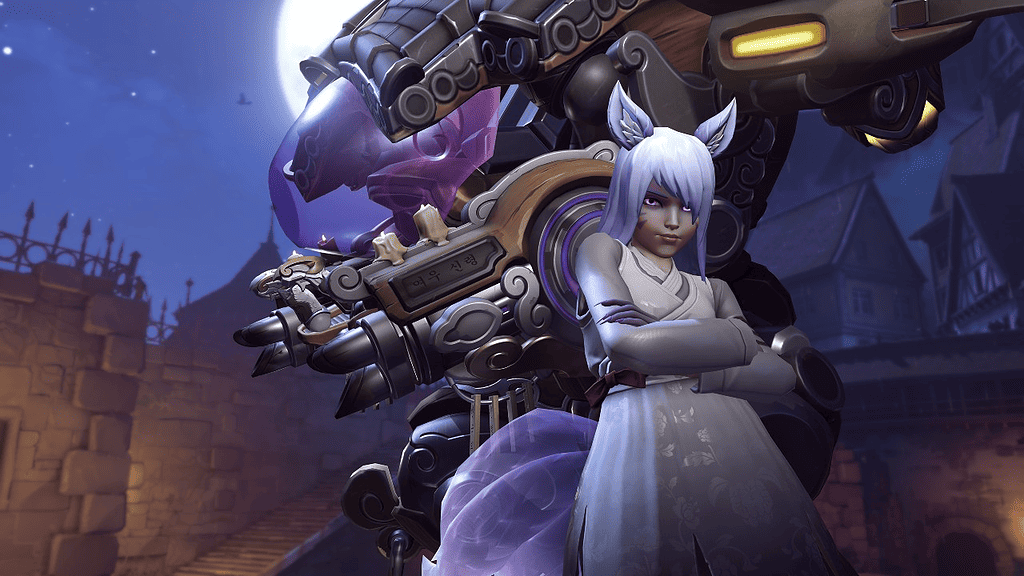 The long bangs that cover her face make it more difficult to see her expression, which gives more ominous vibes. D.Va has animal ears and five transparent tails coming from her back, making her look like a mythical fox. 
Academy D.Va Skin
Academy D.Va is the best D.Va skin in the game. The Design team has done a great job on D.Va, and the popularity of this skin has proved their success. D.Va is wearing round glasses, and her hair is styled into two front braids.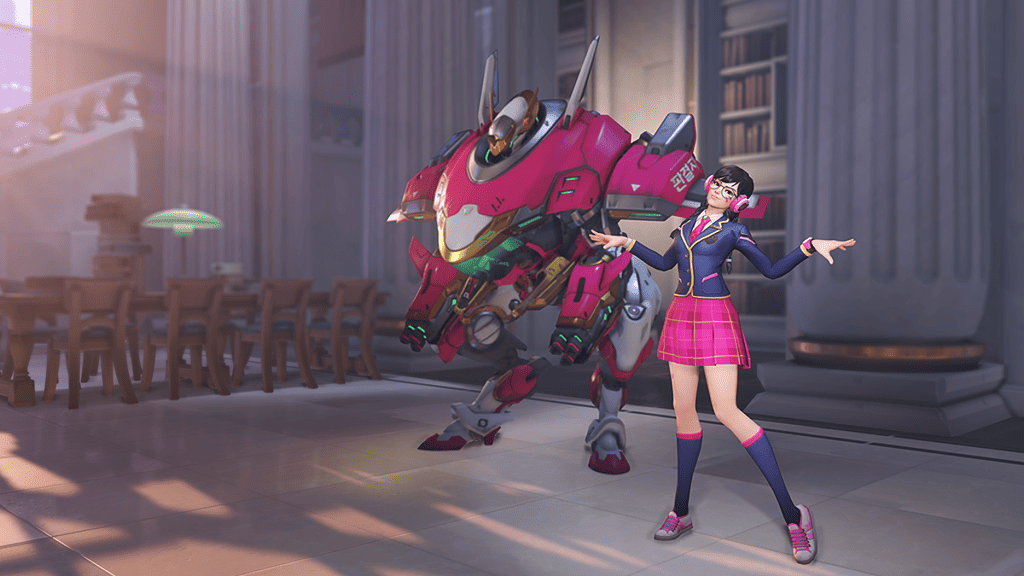 Her outfit is an academy uniform, similar to a school uniform, with a pink tie and a pink skirt. Her Mech, however, is a Mecha now, mainly because of the head peaking on top.