This comprehensive guide aims to provide readers with an in-depth understanding of BlueWallet, its key features, and the multitude of benefits it brings to the table. Whether you are an experienced crypto investor or just starting out, this guide will equip you with the knowledge necessary to make informed decisions about securing your assets.
So, if you are ready to take your cryptocurrency security to the next level, join us as we delve into the world of BlueWallet, exploring its top-notch security measures, usability, and the advantages it offers. Embark on this journey with us as we unlock everything you need to know about BlueWallet - the ultimate secure cryptocurrency wallet solution.
What Is BlueWallet?
BlueWallet is a Bitcoin-only wallet that operates on a non-custodial model and fully supports the Lightning Network. It boasts an extensive range of user-friendly features and incorporates the latest advancements in the world of Bitcoin. Moreover, BlueWallet strives to ensure accessibility for users of all levels, including beginners, by offering a simplified user interface.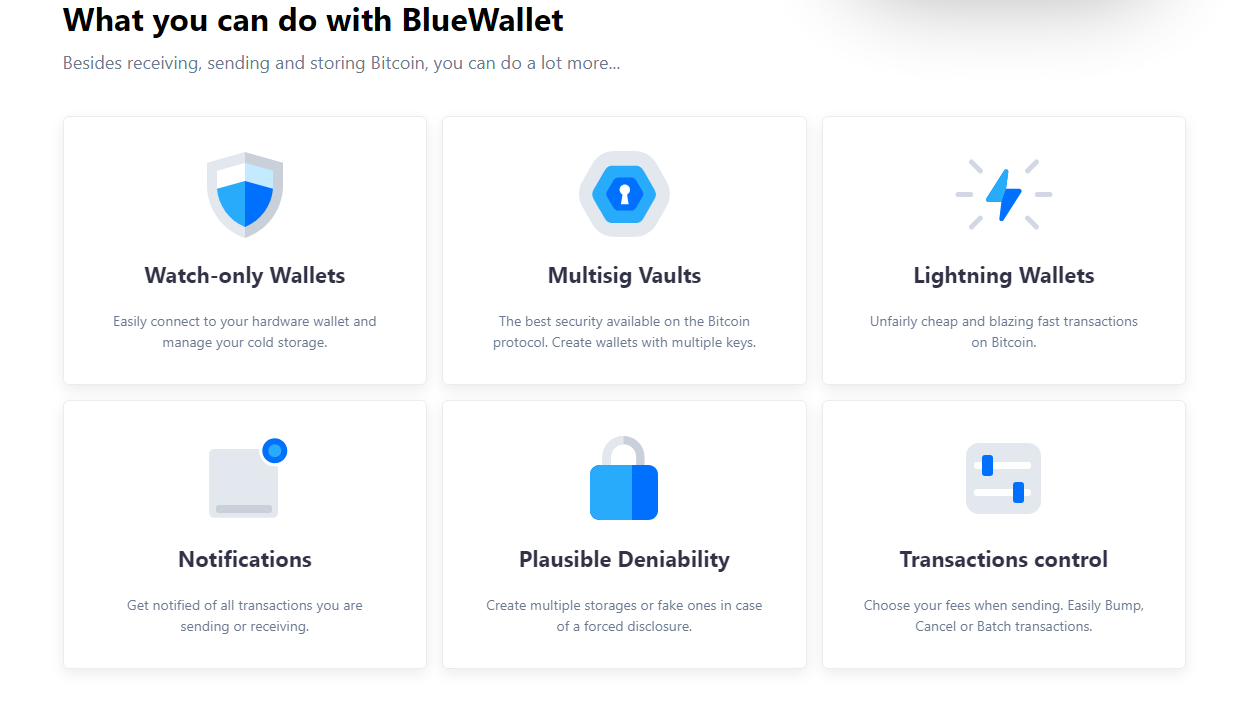 Source: www.bluewallet.io
BlueWallet Key Features
| | |
| --- | --- |
| Feature | Description |
| Batch Transactions | Allows bundling multiple crypto transactions into a single transaction, saving time and reducing transfer costs. |
| Lightning Wallets | Lightning Network Protocol support enables fast and cheap transactions, enabling quick sending, receiving, and wallet top-ups. |
| SegWit | Supports SegWit, a significant upgrade to the Bitcoin blockchain technology, enhancing transaction efficiency and security. |
| Hardware Wallet Integration | Integrates with PSBT-enabled hardware wallets to enhance security and expand the range of supported cryptocurrencies. |
| Offline Transactions | Enables sending and receiving cryptocurrencies even while offline, providing flexibility and convenience. |
| In-built Marketplace | Accesses the Lightning Network's browser and marketplace, allowing users to explore and engage with various offerings. |
| BTCPay Point-of-Sale Integrated | Future integration with BTCPay server point-of-sale system, enabling in-store purchases using Bitcoin. |
How Secure is BlueWallet?
BlueWallet, an open-source decentralized program, ensures the highest level of security by executing regular transactions on the Bitcoin network. To enhance the protection of your BlueWallet crypto balance, you can enable additional security layers such as MultiSig vaults and hardware wallet integration. While it offers various security features, two-factor authentication is not currently available in BlueWallet, and this could be a potential dealbreaker for some
BlueWallet Privacy and Anonymity
When it comes to privacy, there are several features, such as Decoy wallets which can prevent a thief from accessing your "real" funds and also hide your actual balance from them. HD wallet addresses are designed to prevent address re-use, which is a risky practice that exposes your complete transaction history. If you use the same address for every transaction, anyone can use a blockchain explorer like Blockchair to view all the transactions associated with that address.
To further enhance privacy, you can sign a transaction offline and broadcast it later, which helps mask your IP address. Additionally, connecting to your Bitcoin full node using SSL and VPN offers advantages in terms of privacy, as it ensures a secure and private connection. However, it's important to note that BlueWallet currently does not support Tor connectivity. The wallet also implements a multiple wallet architecture, which helps segregate UTXOs and further preserves the privacy of your holdings. Lastly, the development team is actively working on more advanced privacy features such as payjoin and coin control.
Which Cryptocurrencies BlueWallet Supports?
At present, BlueWallet exclusively supports Bitcoin and does not offer support for any other cryptocurrencies. Although Bitcoin remains the largest and most well-known cryptocurrency, there are several other popular coins, such as Ethereum, Tether, and USD Coin, that you cannot store or trade on BlueWallet. It is important to keep in mind that BlueWallet is not a cryptocurrency exchange, so it is not possible to trade other currencies for Bitcoin on this platform.
How To Set Up BlueWallet
Follow these steps to set up your BlueWallet:
Open the app and select the "Add a Wallet" option.
Choose a name for your wallet (optional), and select "Bitcoin" as the wallet type.
Tap on "Create" to generate your wallet. You'll then receive a message with instructions to write down your 12-word mnemonic phrase on a piece of paper.
Write down the mnemonic phrase on a piece of paper and keep it somewhere safe.
Once you've completed the above steps, you'll be able to send and receive Bitcoin using your BlueWallet.
BlueWallet Fees Explained
There is no cost associated with downloading BlueWallet and creating your own wallet - it is entirely free. Furthermore, BlueWallet does not impose fees for regular on-chain transactions, making it a highly cost-effective cryptocurrency wallet solution.
It is crucial to note that while BlueWallet does not charge transaction fees directly, you will need to pay a fee to cryptocurrency miners for processing the transaction. These fees are calculated based on real-time market conditions.
Before completing the transaction, you'll have the option to choose from three different fees, each with its estimated transaction time: 10 minutes, 3 hours, or 1 day. The higher the speed you select for the transaction, the higher the corresponding fee.
BlueWallet Customer Support
BlueWallet provides customer service, although it may have limitations in terms of availability. This sets BlueWallet apart from other open-source software programs that typically lack any customer service support. Despite this, BlueWallet's responsiveness can still be considered better than open-source programs, but not as responsive as for-profit cryptocurrency companies.
To seek support, you can reach out to BlueWallet via email at [email protected]. Additionally, BlueWallet offers comprehensive documentation that includes helpful guides on setting up Bitcoin wallets, enabling cold storage, and activating MultiSig vaults.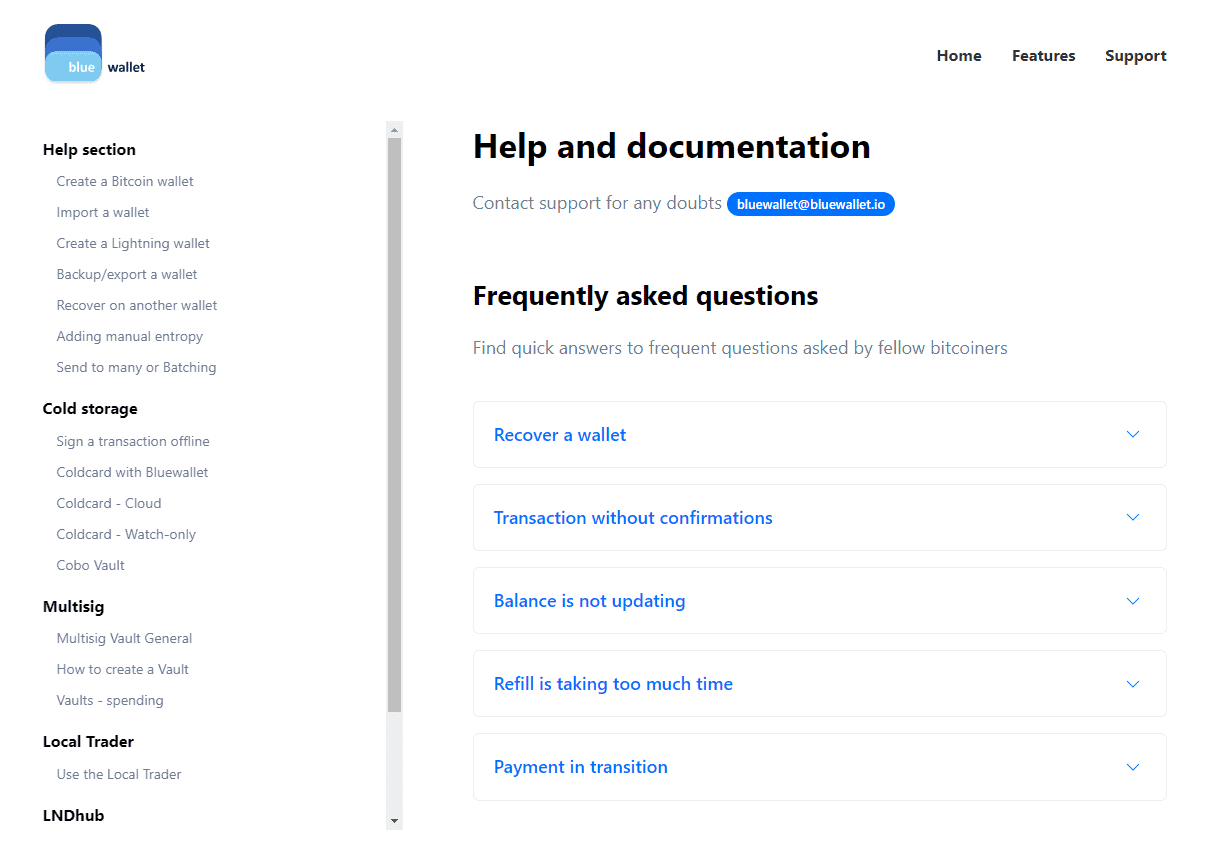 Source: www.bluewallet.io
Furthermore, BlueWallet maintains a community channel and a Telegram group where users can receive relevant notifications, stay updated with changes, and interact with one another. This feature makes BlueWallet an excellent platform for individuals seeking a reliable website that encourages user participation and facilitates the exchange of ideas and questions.
FAQ
What is BlueWallet?
BlueWallet is a cryptocurrency wallet that enables users to store and transact with their Bitcoin and Lightning Network (LN) funds.
Can I store other cryptocurrencies on BlueWallet?
No, BlueWallet only supports Bitcoin and Lightning Network funds.
Is BlueWallet free?
Yes, you can download BlueWallet and create your wallet for free. Additionally, BlueWallet does not charge fees for executing regular on-chain transactions.