Despite the fact that MAC-10 is rarely used in competitive matches in CS:GO, it's still an excellent weapon choice in situations when players are stony-broke.
This SMG weapon has an outstanding rate of fire, but its most significant drawbacks are awful accuracy, high recoil, and very weak armor penetration.
Still, when playing on a Terrorist team, this is a decent choice for the first couple of rounds, and if you'd like to find out what the best-looking MAC-10 skins in CS:GO are, this article will show you precisely that, along with details about these skins.
Neon Rider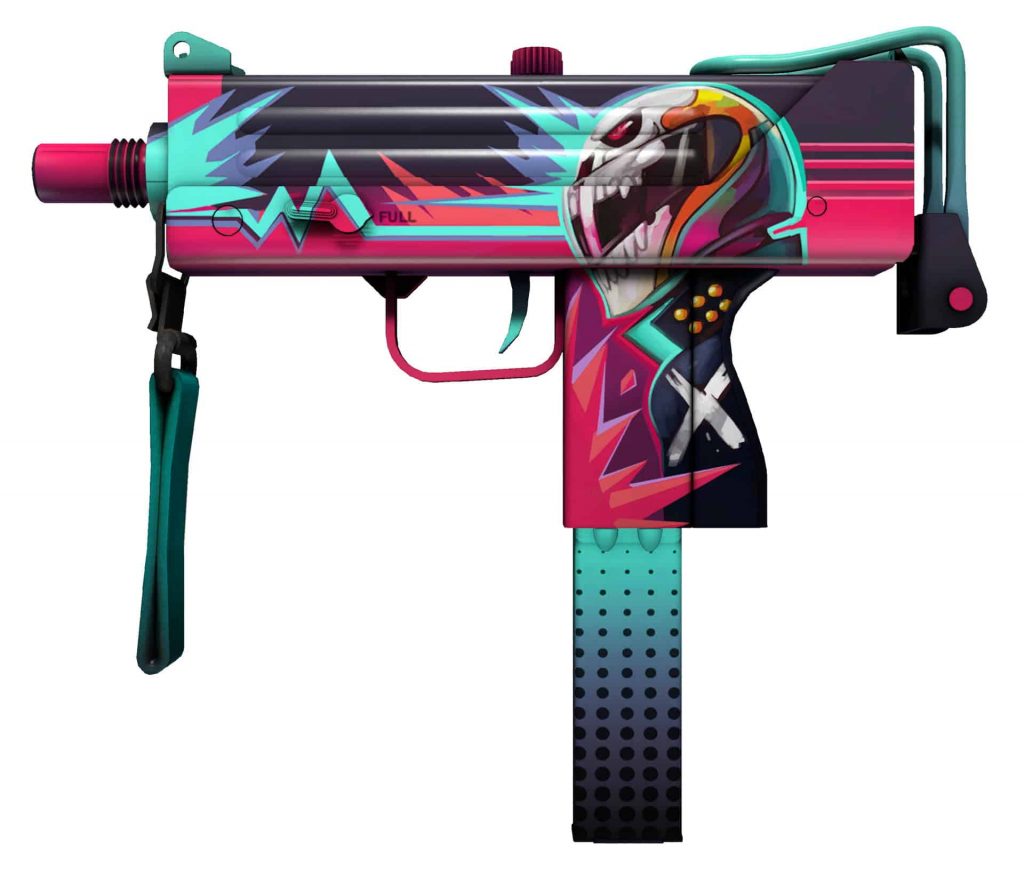 Description: It has been custom painted with the image of a deadly biker.
Flavor Text: One part firearm, two parts Trapper Keeper
Added: 15 April 2015
Creator: Puffin
Drops from: Chroma 2 case
We'll begin our list with the futuristic-looking MAC-10 skin, emphasizing a motorcycle rider and its extremely cool skull helmet. The dots on the magazine are spot on, and this skin can completely transform the weapon that was first made in 1964 into something that looks like it came from 2064.
As for its price, it currently stands at $10.52 on Steam Marketplace.
Hot Snakes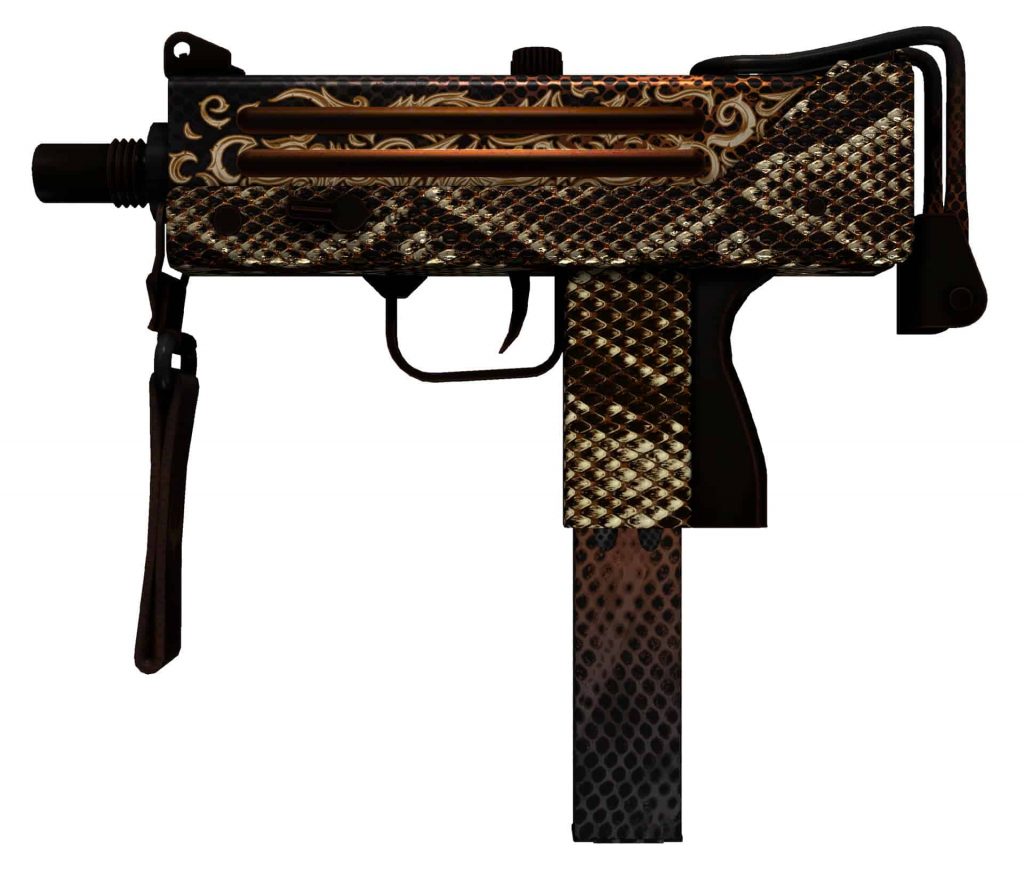 Description: It has been custom painted with a bronze snakeskin pattern and a coiled snake beneath the wire form butt.
Flavor Text: The hissing is bullets flying past you
Added: 3 December 2020
Creator: Valve
Found in: The havoc collection
An excellent choice for all snake lovers, Hot Snakes features the snake skin decal with exceptional attention to detail and luxurious design. If you take a closer look, you'll notice that even the leather below the muzzle features a symbol, and undoubtedly, this skin will attract anyone's attention. However, you may want to sit down before you hear its current price; it starts at $202.65 on Steam Marketplace.
Stalker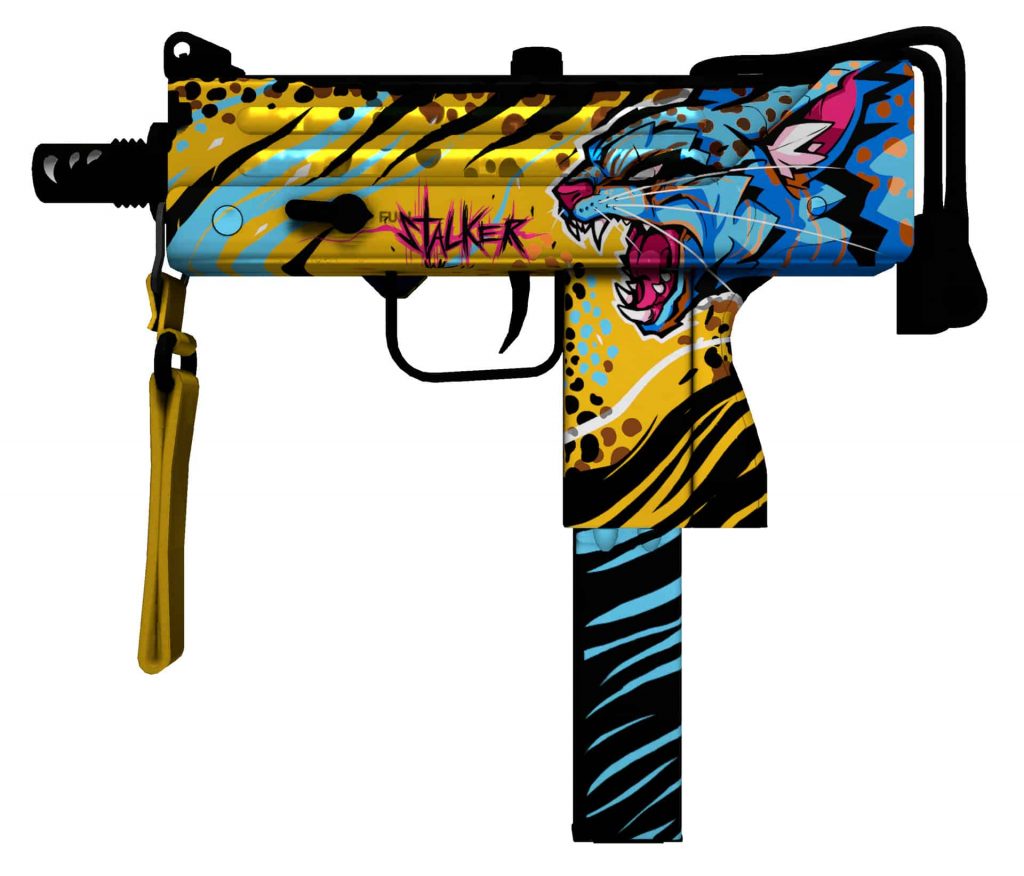 Description: It has been custom painted with a neon blue cat and yellow and black stripes.
Flavor Text: Here kitty, kitty...
Added: 19 November 2019
Creator: Zaphk
Drops from: Shattered Web Case
A very exotic-looking skin with a badass leopard and its claw marks, Stalker emphasizes yellow, blue, and black colors, with a skin name written in the ultramodern font. This is a trendy skin, but its drop rate is so meager, with only a 0.64% of drop chance. Currently, its price starts at $62.05 on Steam Marketplace.
Propaganda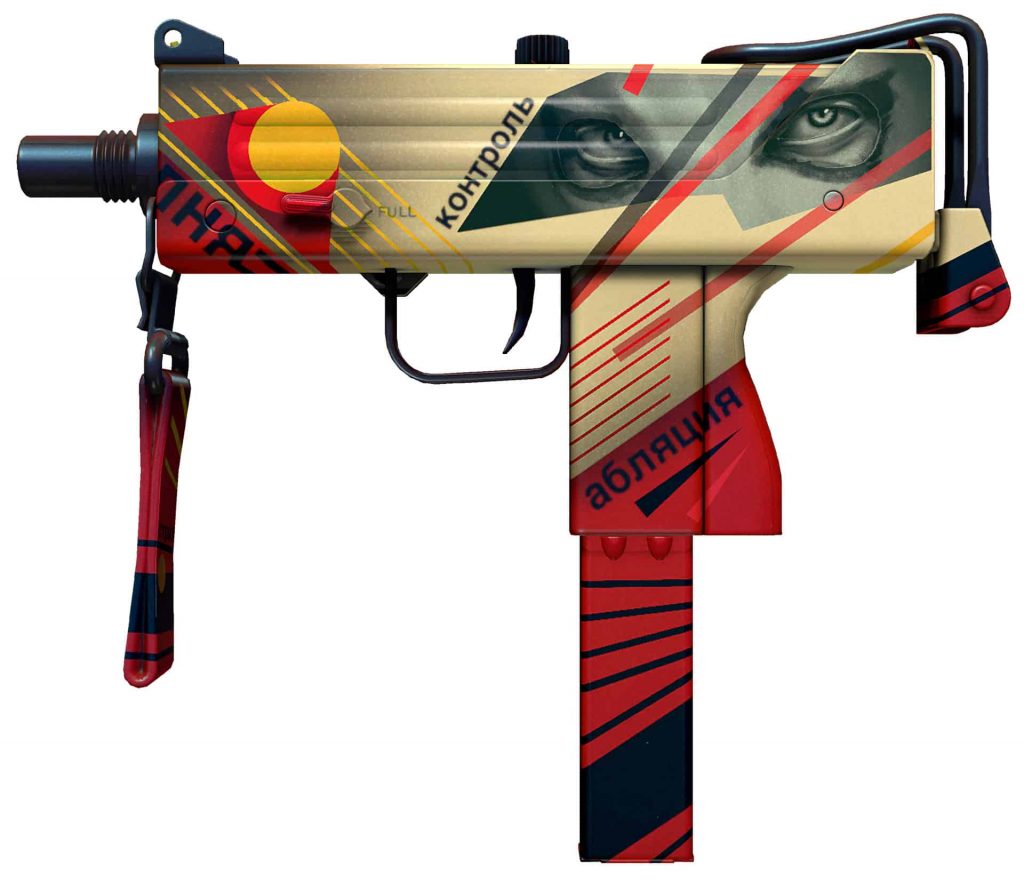 Description: It has been custom painted with a pair of eyes and various words in Russian, including "control" and "fear."
Flavor Text: You don't believe them, do you?
Added: 22 September 2021
Creator: Valve
Found in: The 2021 Train Collection
Probably the only CS:GO skin ever with a political undertone, Propaganda features a combination of red tint with a yellow-ish and black stripes and the "all-seeing" eyes under the terrorist balaclava. One may wonder why there are words "control," "fear," and "ablation" written in Russian. This skin's drop rate is only 3.2%, and its current price on Steam Marketplace starts at $10.77.
Gold Brick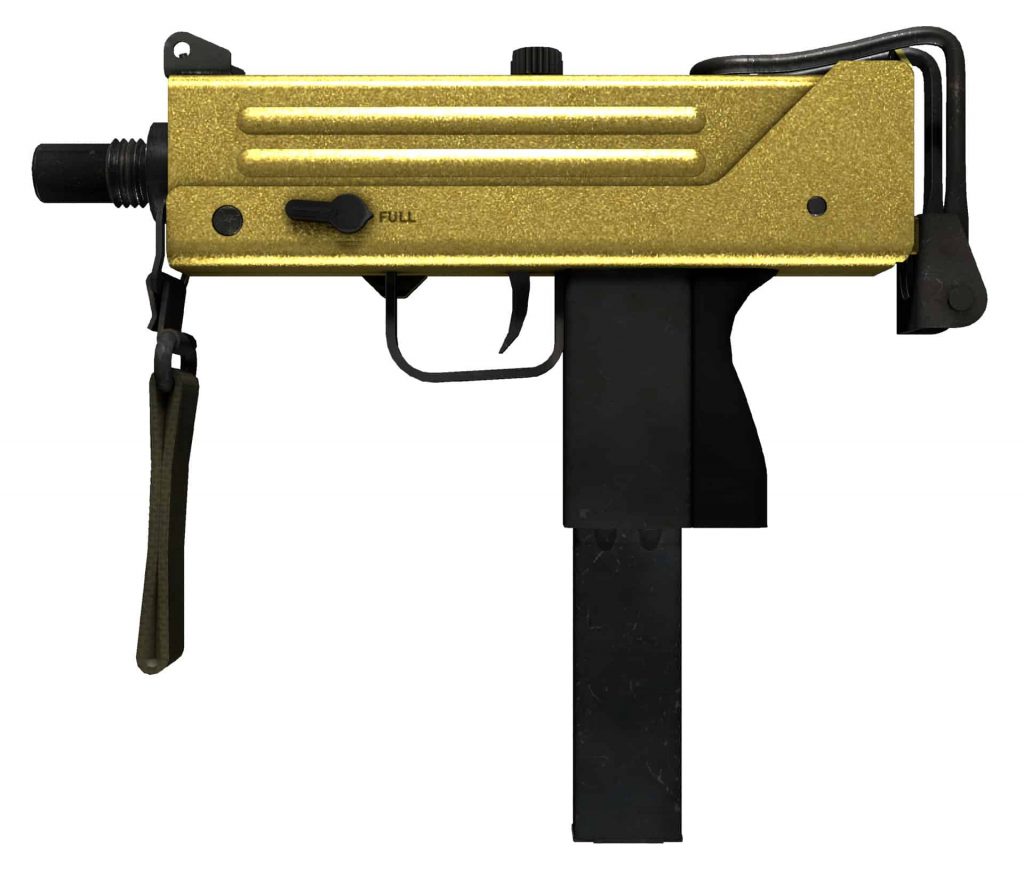 Description: Its gold finish shimmers in the light, highlighting every beautiful imperfection on the weapon.
Flavor Text: All that glitters...
Added: 3 December 2020
Creator: Valve
Found in: The Ancient Collection
So far, this is the only skin we included on our list that only features two colors without any decals or elements. Gold Brick is a very grandiose skin, ideal for those who like the appearance of gold. What we didn't like about this skin were black elements, and it would have been so much better if the entire weapon was coated in gold. Its deluxe appearance doesn't reflect its price on Steam Marketplace, which starts at $38.75.
How To Get MAC-10 Skins For Free?
Regardless of the prices of all these skins we included in this article, you won't need to spend a cent on any of them if you wish to obtain them! This is made possible by Freecash, and our service can not only grant you any MAC-10 or any other CS:GO skin, but you can also get over 20 additional available rewards by simply completing online tasks!
If this sounds intriguing, register on Freecash and start completing any online tasks of your choice to receive Freecash Coins. You can exchange them for any CS:GO skins on our website, which is a more affordable alternative than many other websites, including the Steam Marketplace.
And since there's no limit on how many tasks you may complete, that means you can get as many skins as you want using Freecash!
Disco Tech
Description: It has been custom painted using a pearlescent finish to resemble holographic self-adhesive vinyl. Depending on the light its appearance changes.
Flavor Text: Watch when you point that thing
Added: 31 March 2020
Creator: hexeth
Found in: Prisma 2 case
Another cyberpunk-ish MAC-10 skin featured in our list, Disco Tech (get it?), features a futuristic design with purple and blue colors and some fascinating patterns. Also, look at that grip panel; isn't it amazing? This skin also has a "Made in USA" brand, along with the serial number and the weapon's name. Lastly, Disco Tech currently costs $12.61 on Steam Marketplace.
Nuclear Garden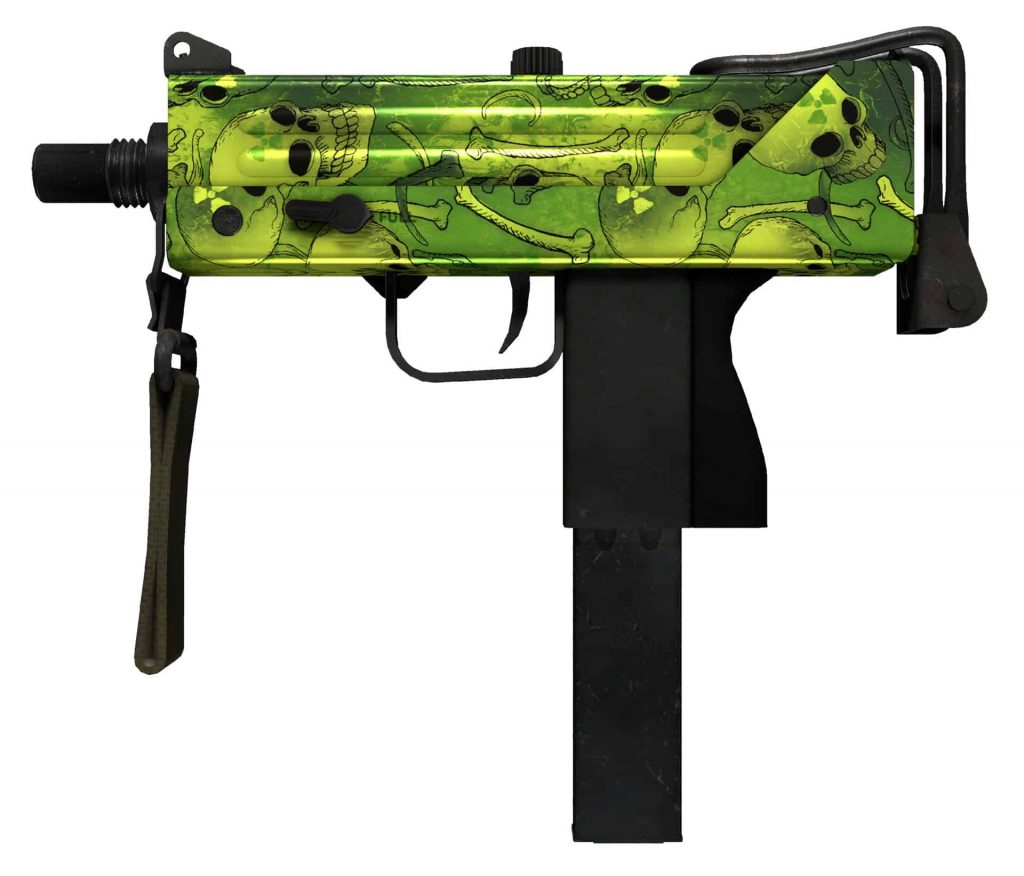 Description: It has been chromed then overlayed with a semi transparent hydrographic pattern of nuclear skulls and bones.
Added: 8 August 2014
Creator: Valve
Found in: The Cache Collection
Nuclear Garden features what looks like radioactive materials with many skulls with radioactive symbols on them. Unfortunately, this pattern is only applied to a slide rather than the entire weapon. Still, this weapon has a very common drop chance of 79.92%, and it can be purchased for only $7.89 on Steam Marketplace.
Allure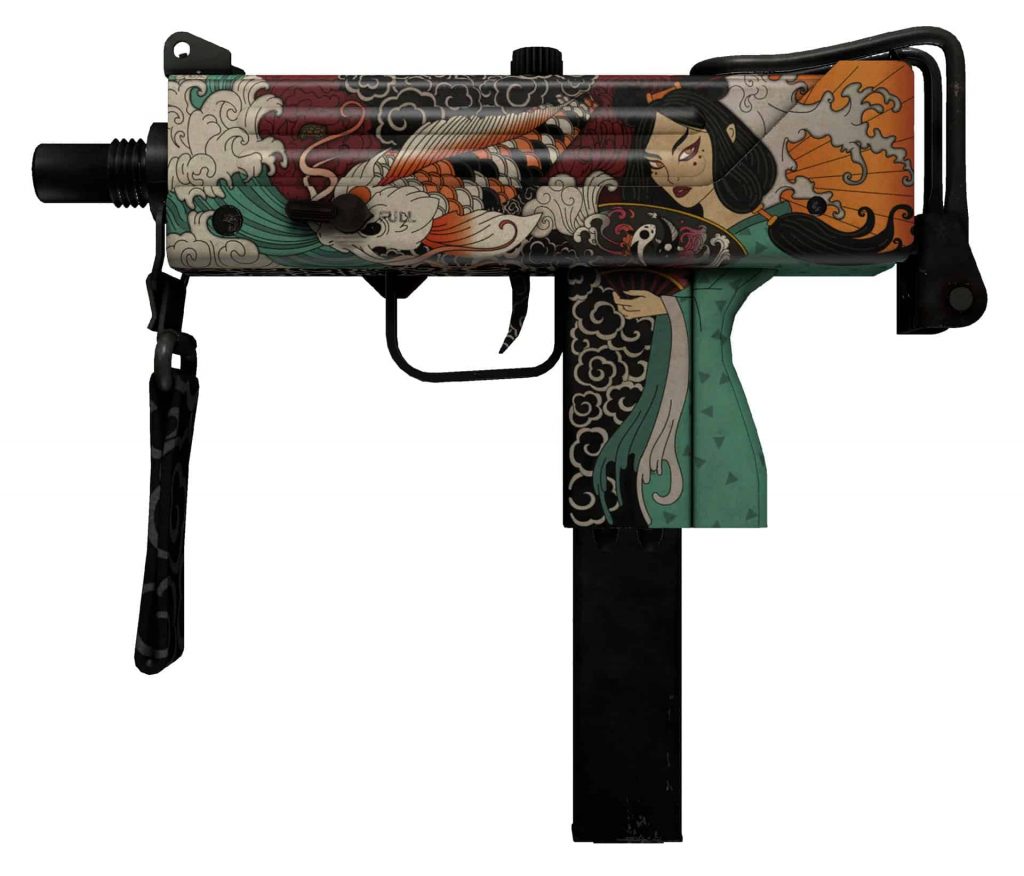 Description: A woman in teal, believed to be iso onna, stands before koi fish and crashing waves on this custom painted MAC-10.
Added: 7 August 2020
Creator: WhoisVac9
Drops from: Fracture case
Inspired by Japanese art, Allure features hand-painted patterns featuring a woman, waves, koi fish, and many more details which aren't easy to notice at first. The only thing we didn't like about this skin was the magazine, while every other part was well designed.
This skin falls into the affordable category and can be bought for only $1.74 on Steam Marketplace.
Toybox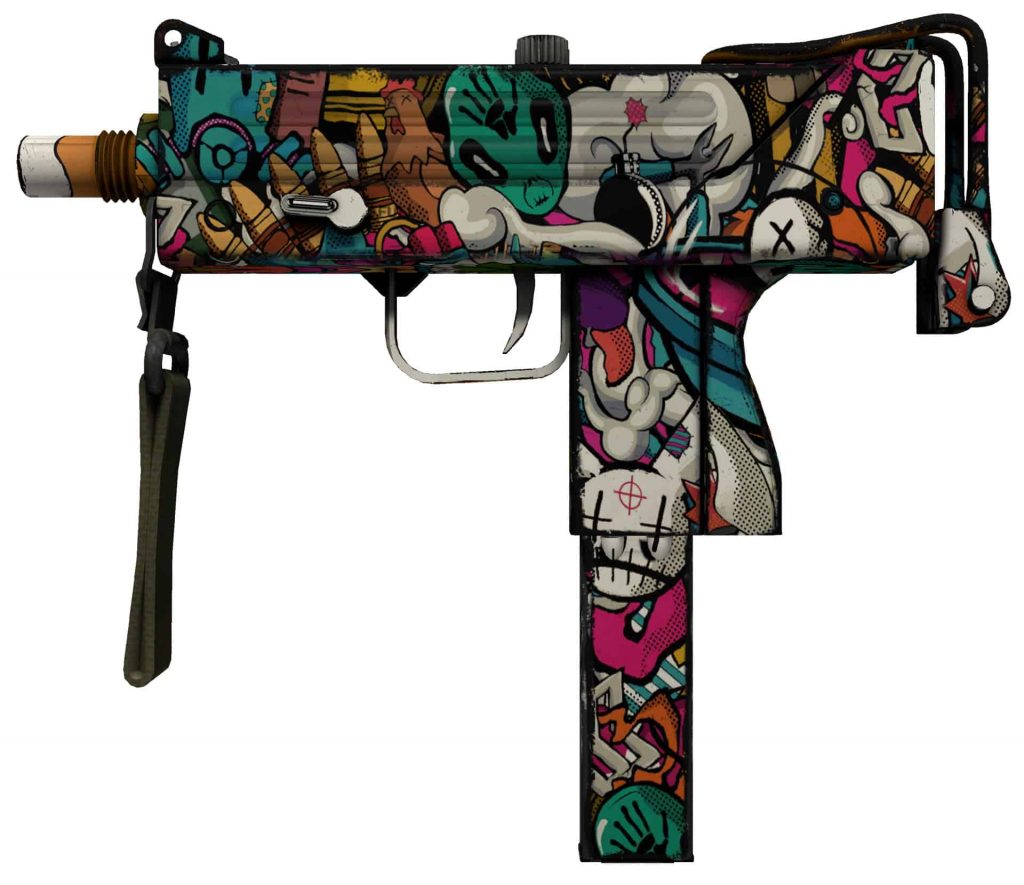 Description: This custom paint job features brightly-colored drawings of chickens, aliens, defusers and more.
Flavor Text: Clean up your mess
Added: 22 September 2021
Creator: (SIC)
Drops from: Operation Riptide Case
If you're looking for as many details as possible, Toybox is the suitable skin for your MAC-10. It has everything; alien, chicken, bomb, bullets, you name it. This skin will definitely hurt the eyes of minimalist lovers, considering the number of details. In any case, its price starts at $8.92 on Steam Marketplace.
Button Masher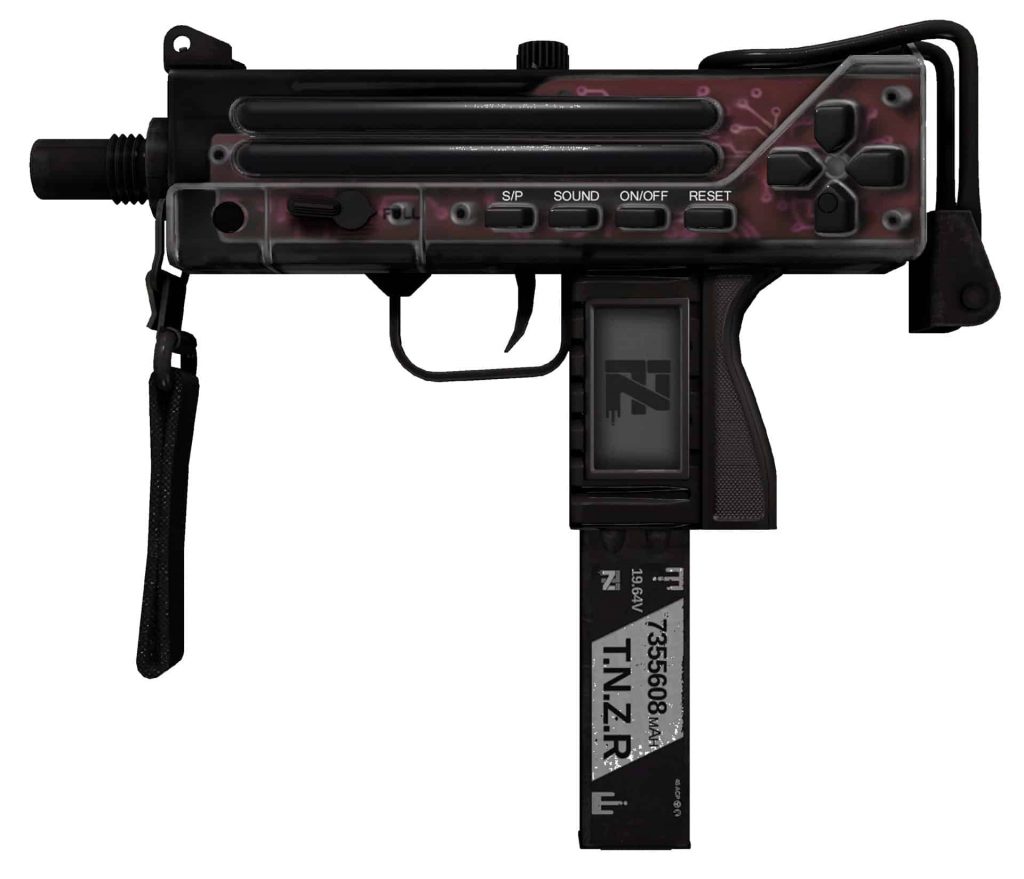 Description: It has been custom painted to resemble a game pad and various buttons poking through a clear polymer casing.
Flavor Text: Giving the phrase "console wars" a whole new meaning
Added: 3 May 2021
Creator: LEFTY
Drops from: Snakebite Case
A MAC-10 that you can also use as a game controller? An interesting concept, we have to admit. It's very convenient because you can kill someone with it and play games after you do the job. This skin features buttons and what looks like a small screen on a handle grip. Its price is surprisingly low, costing only $1.34 on Steam Marketplace.