Counter-Strike: Global Offensive is a worldwide phenomenon. Millions of players around the globe play it, nearly all of them aspiring for greatness. Those who've already reached the top play in some of the most prestigious tournaments ever designed for any piece of entertainment. The CS: GO professional scene is unmatched and full of hopes, dreams, and pleasant things, but also scandals, mishaps, and outrages.
No wonder a tournament of the highest caliber would inspire some of the most expensive cosmetic items in the history of video games. We're talking about Katowice 2014. major, which saw many teams rise and fall and inspired what we will discuss in this article.
Team LDLC (Holo) Sticker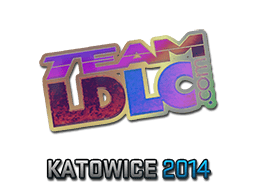 Team LDLC is long gone and forgotten. Surrounded by controversies, and internal and external problems, LDLC disbanded and has entirely disappeared from the scene. However, that one appeared in the ESM One Katowice 2014. Major earned them permanence in the memories of CS:GO players.
This sticker, the holo variant, is worth twenty to thirty thousand dollars and is exceedingly rare. It was obtainable through the Katowice 2014. Sticker Capsule, a chest that's equally rare and very expensive. It is incredible how a simple sticker could etch a team into history, and that's probably the best part about CS: GO's commemorative goodies.
VOX Eminor (Holo) Sticker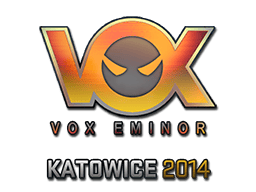 VOX Eminor was a prominent little squad participating in the ESM Katowice Major in 2014. Like all the other teams, they got their own sticker. Its orange color stands out, and the holo effect adds to the already slick look. It is a desired sticker and lists for over 15 grand on most sites.
It also seems to be one of the more readily available ones, but as time goes by: they're becoming quite the rarity. With a keen eye and a lot of money, you might be able to snag one. However, we wouldn't really recommend that.
Team Dignitas (Holo) Sticker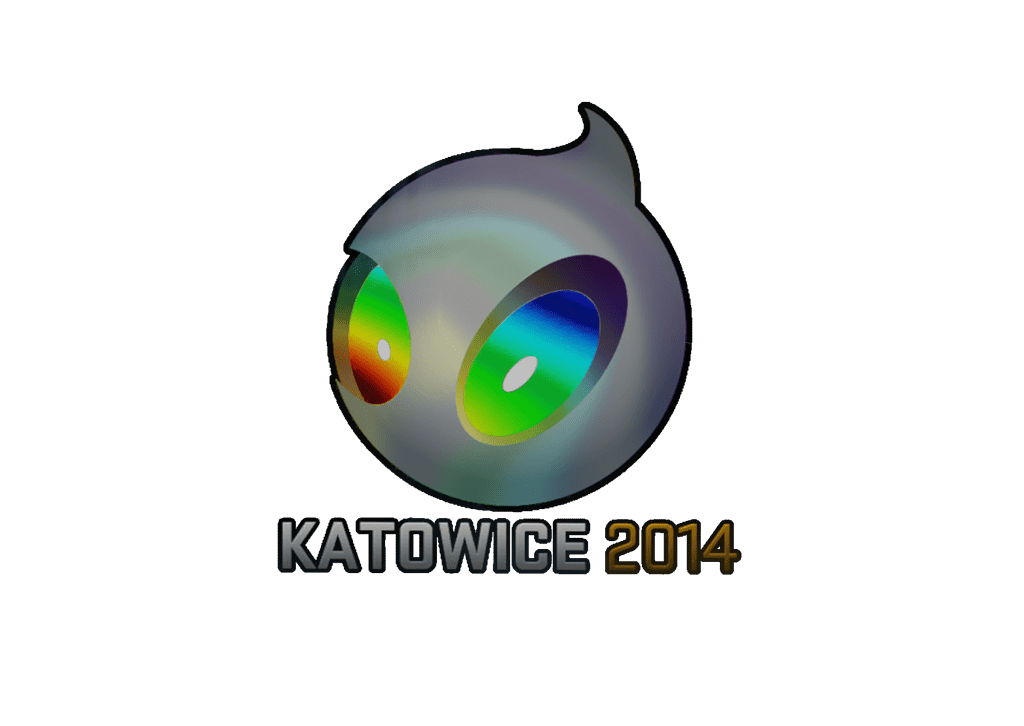 Team Dignitas made moves on the CS:GO scene around 2014. This earned them a spot on the ESM Katowice 2014 event and with that, a sticker. Their logo is remarkable, and designing a sticker around it undoubtedly paved the way to popularity. Even at the time, this sticker saw high desirability, leading most players that had it to stick it on their guns.
Today, this drives its price way up, and you can generally find it listed for 15 to 20 thousand dollars. It's becoming rarer with each passing day, as it beautifully sits on just about any weapon. If you happen upon a sticker capsule, open it and pray for the best. This is one of the rarest stickers, and you should be proud to have it if you do.
Reason Gaming (Holo) Sticker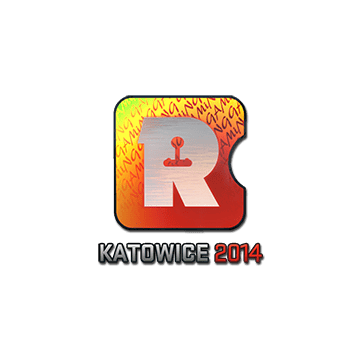 Reason Gaming is an obscure team that was unknown to most players even back in 2014. Today, the majority don't know who they are or were. This led to their stickers being considered worthless, and many applied them to their weapons without thinking twice. This mass consumption of the sticker, especially the holo variant, has rendered it nearly impossible to find.
This insane rarity drives the price so much that you could find this sticker listed for nearly 75 thousand dollars. Yes, you've read that right. Seventy-five thousand dollars for a single sticker in a shooter video game. With that much money, you could buy a house in most of the world or more. It just speaks to how much players value rarities in video games today and of the absolute state of the CS:GO player base.
Na'Vi (Holo) Sticker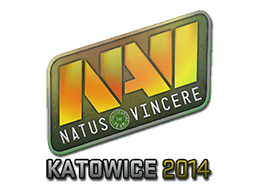 In contrast to the previous team, which no one has heard of, Na'Vi is one that everyone knows. For decades now (yep, you're that old), Na'Vi has remained relevant in CS:GO, and all other games they play. A mega-team filled with superstars like S1mple and Markeloff, Na'Vi was naturally present at the Katowice 2014. Major. They got their skin just like anyone else, now worth around 20 thousand dollars.
Na'Vi being a bit more popular had people valuing the sticker more, and many most likely held on to it for pricing reasons. Those who held on for longer can now sell it for the price of a new car. Sometimes being the most popular team does have its downsides, but who could've predicted the craziness of sticker prices?
Team Titan (Holo) Sticker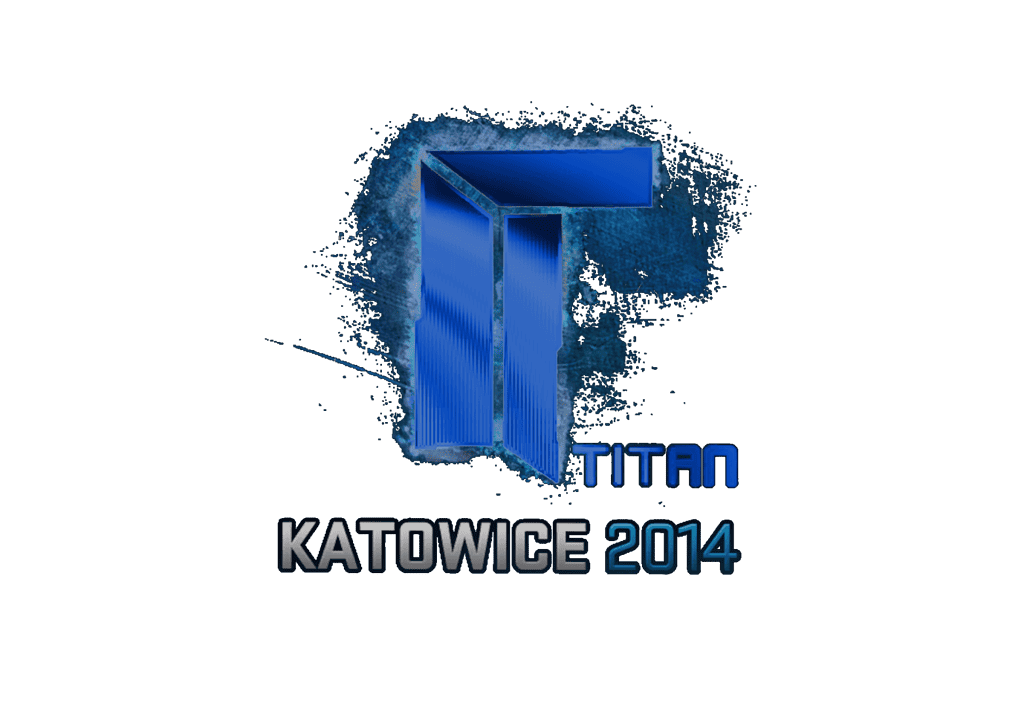 Team Titan was an influential CS:GO team that dominated the scene in 2013. And 2014. Their presence at the ESM Katowice 2014. event gave them a sticker which now reaches some brutally high prices. Many well-known players of today come from Titan. Mix it with the team being disbanded and gone, and you've got yourself a rarity.
The Team Titan holo sticker can fetch prices of around 50 thousand dollars. Like with the Reason sticker, you could buy a house for that much money. And if you happen upon both by any stroke of godly luck? Well, you can probably retire for a few years and not worry a bit.
Related articles:
iBuyPower (Holo) Sticker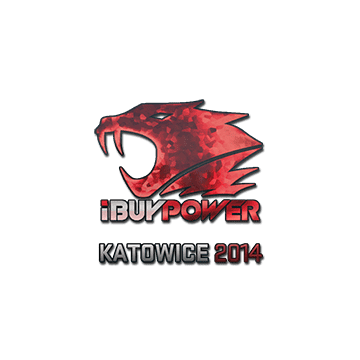 What could've been the best team in the history of North American Counter-Strike turned out to be the biggest disappointment. iBuyPower had a fantastic lineup in 2014. And at the Katowice Major, and were favored by just about anyone.
However, after a short while, they were caught and indicted for fixing matches and subsequently banned from VALVe events. This sad story, the scandal, and the controversy only contributed to the price of their sticker. This sticker is undoubtedly the most expensive one, alongside the Reason holo.
It can fetch prices of nearly 75 thousand dollars and will fill the pockets of whoever finds it. You can't find things like these on Steam, nor will they pop up on significant trading sites. You need to look for them actively, and we advise against spending that much time and money on a red CS sticker. Buy a Dragon Lore if you want some value for your money.
Counter-Strike: Global Offensive has spawned weird stuff. All kinds of controversies, good news, and obscenities come from VALVe's prized title. But nothing comes close to the story of sticker prices, and that, friends, is why we love this game and its crazy community. Only they could come up with stuff such as this.