Although this increases the in-game variety and the number of play styles players can adopt, it also makes it increasingly difficult for beginners to select which Valorant agents are the ideal choice for beginner agents for newcomers.
Since players can only work towards unlocking one agent at a time, it makes the decision all the more important so that no hard-earned experience of yours is wasted. Continue reading this article to read from our list of some of the best Valorant agents for beginners and discover the easiest agent for you!
What Are Some Of The Best Valorant Agents For Beginners?
To generate a collection of the best beginner agents in Valorant, it is important first to define what we mean by 'easy' here. An easy agent would be any agent whose abilities revolve around basic mechanics that are simple to understand and relatively easy to execute.
This will remove any complex agents with hard-to-grasp Signature and Ultimate abilities, narrowing down the list a great deal and making your next choice a much easier decision.
Phoenix
This UK-based agent is one of the easiest agents to play with in Valorant. Phoenix is unlocked from the very beginning of the game, allowing you to get right into the action so you can learn the basics of the game before you move on to the more advanced mechanics.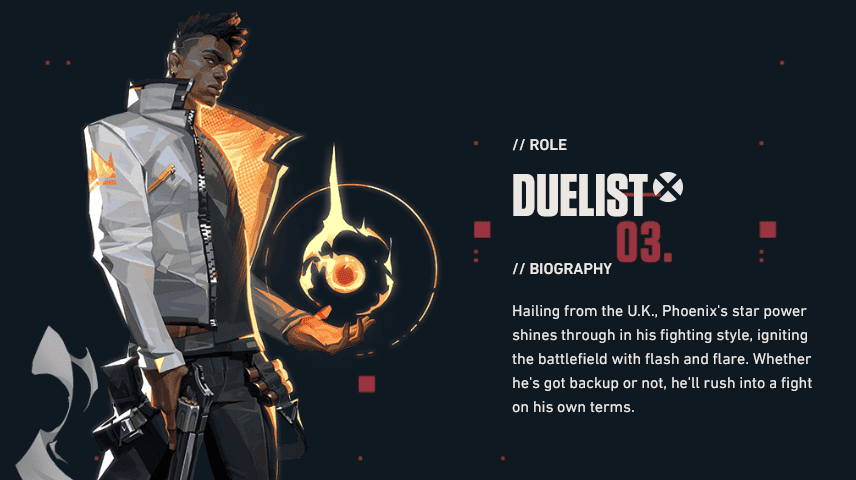 Phoenix's abilities allow him to be an aggressive entry fragger who can initiate fights and gain an advantage over his opponents with his fast-paced combat style. His ability Curveball is a fire orb that can be thrown around corners to flash enemies for a duration of 1.5 seconds.
In addition, Blaze allows Phoenix to create a Fire Wall that damages enemies who touch it and blocks vision, making it a great tool for attacking bomb sites. His signature ability Hot Hands, is basically a Molotov that deals damage to enemies. Moreover, all his abilities have a healing effect on Phoenix himself.
Phoenix's Ultimate ability, Run It Back, allows him to become invincible for 10 seconds to gun down enemies. Regardless of whether he lives or dies, Phoenix returns to the original position of casting the ability after the timer runs out. These abilities are some of the simplest in the game, making Phoenix a straightforward agent to play with when you're just starting out with the game.
Sage
Sage is a Sentinal Agent in Valorant who is popular for her healing ability. She acts as the main healer in the game and is easy to use in both casual and competitive matches.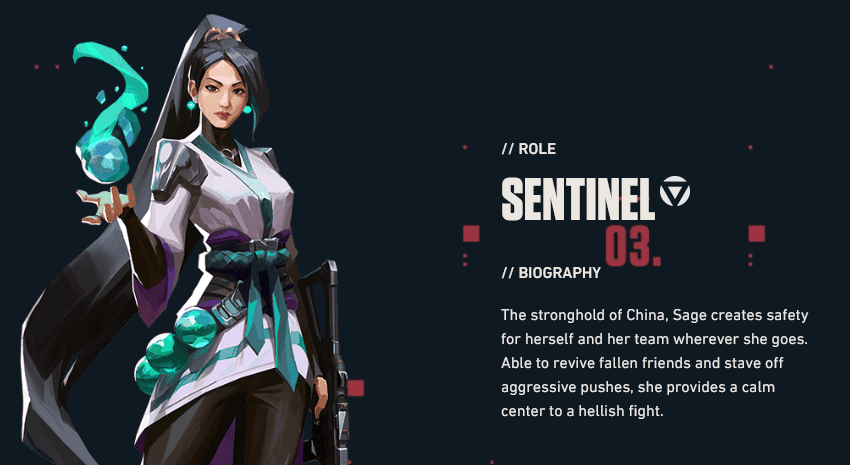 Similar to Phoenix's Fire Wall, Sage's Barrier Orb ability allows her to create a thick wall that can be used to block paths or hinder enemy movement temporarily. Her Slow Orb is another basic ability that allows her to slow down the movement of any enemies in a designated radius by around 50%.
In addition to this, Sage's Signature move is the Healing Orb which can be used to heal teammates or restore your own health. Her ultimate ability, Resurrection, is an extension to her signature, which allows Sage to bring one of her teammates back from the dead.
This shows how Sage is a vital agent in almost every match and plays a significant role in healing teammates and changing the tide of battle in an unfavorable situation. Her simple and easy abilities make her a desired pick for every game and a must-use by all beginners.
Reyna
Another decent agent with a relatively easier learning curve is Reyna. She is widely mistaken to be complicated and difficult to understand, but in reality, it is elementary and easy even for beginners. Reyna is best for players who want to get more frags in every game.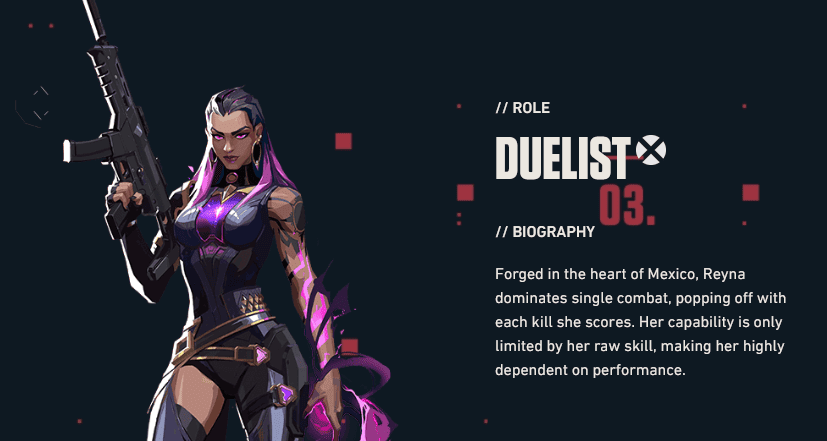 Her basic ability Leer causes affected enemies to become near-sighted, preventing them from holding long and sneaky angles. Her passive ability is Soul Harvest which leaves behind a soul orb for every kill you get. Reyna can consume soul orbs so she can use her alternate abilities.
Soul Harvest is directly linked to her other abilities called Devour and Dismiss. Devour allows her to regain her entire health, and Dismiss allows her to become invincible for 2 seconds. However, only one of these can be executed at a time and hence must be selected carefully.
Related articles:
Reyna has one of the best Ultimate in the game, Empress, drastically increasing her combat statistics, making her even more deadly than before. The ultimate duration is extended with every kill, which in theory, can allow her to kill the entire opposition in quick succession if played properly. Like Phoenix, Reyna encourages players to attack aggressively and take the initiative.
Brimstone
Brimstone is a Controller agent and plays the traditional support role in Valorant. Controller agents are usually slightly more challenging to execute properly, but with enough practice can become extremely useful for disrupting the flow of the enemy team.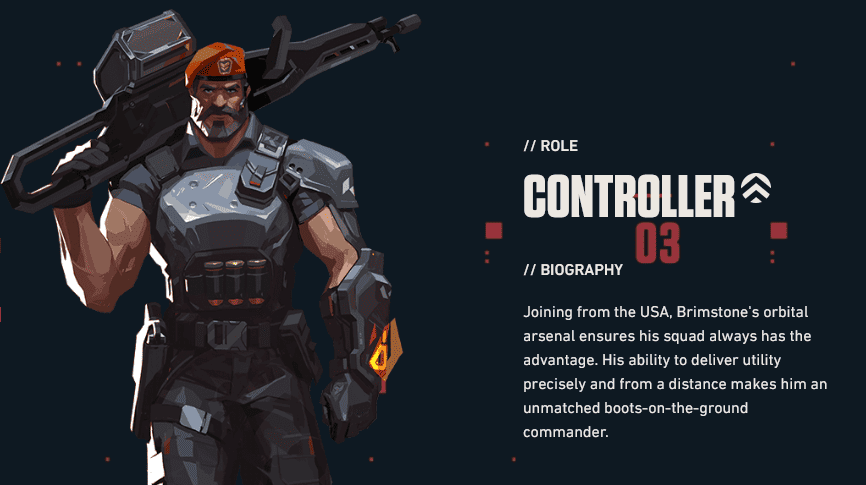 Brimstone's first basic ability is Stim Beacon which provides buffs such as a faster rate of fire, improved reload speed, and quicker movement speed to teammates in a fixed radius. This ability is particularly good for teammates right before pushing chokepoints.
The second of his basic abilities is Incendiary which allows him to launch an incendiary grenade at a designated area to damage enemies or hinder their movement. His signature move is called Sky Smoke which allows him to smoke strategic areas of the map for his team to use.
Brimstone has an ultimate ability called Orbital Strike, which launches large missiles at a specified location on the map. This ability deals large amounts of damage to enemies within the blast radius and can make for some easy kills when defending sites after planting the bomb. Brimstone allows newbies to become better team players and helps improve their general game sense as well.
Killjoy
Killjoy is another agent with an effortless learning curve. She has a unique set of abilities that allows new players to get better accustomed to the world of Valorant. Her ability, Nanoswarm, can be used to drop dormant nanobots over the map, which are triggered by nearby enemy players dealing a decent amount of damage.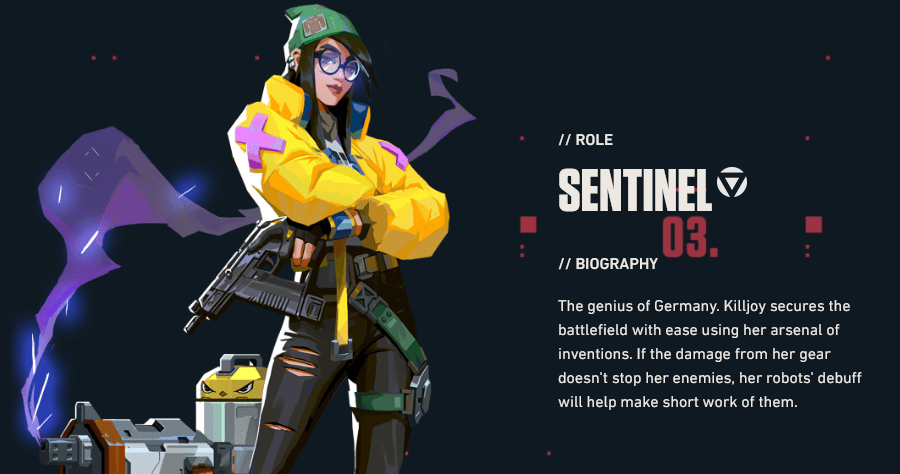 Her other basic Alarmbot can also be placed around the map, which will hunt down enemies, exploding on contact and giving nearby enemies the Vulnerable trait, which will deal them double the damage from all sources for a short duration. Killjoy's signature is the Turret which enables her to place a turret at any strategic point to help your team hold difficult angles efficiently and will also alert you of any enemies lurking nearby.
Killjoy has an extremely useful ultimate called Lockdown, which disables enemy equipment and weapons in a large radius if they are caught in it. This helps Killjoy defend bomb sites and prevents enemies from advancing onto different areas for a short duration. These abilities are, again, easy and fun to use for beginners.
We hope this list of some of the best Valorant agents for beginners helped make your decision of picking an easy-to-play agent simpler. Phoenix, Sage, Reyna, Brimstone, and Killjoy are all excellent choices for beginners as they allow new players to learn basic game mechanics in a fun but easy way.