PayPal has revolutionized the way we conduct online transactions, offering a convenient and secure platform for sending and receiving money. Earning PayPal money is an attractive prospect, providing an opportunity to boost your funds without spending a dime. In this article, we will explore some of the most effective methods for generating PayPal money to help you make the most of this popular payment platform.
Earning PayPal Money - Comparison Table of Methods
| | | | |
| --- | --- | --- | --- |
| Method | Completing Surveys | Completing Tasks | Using Cashback Platforms |
| Minimum cashout | $5 | $5 | N/A |
| Payout speed | Less than 24 hours* | Instant* | N/A |
| Best Trust Pilot review | Survey Junkie | Freecash | Rakuten |
| Average payout per survey | $0.50 - $1 | N/A | N/A |
| Biggest selection of retailers | N/A | N/A | Honey |
How To Earn PayPal Money?
When it comes to earning PayPal money, there are various approaches that require you to complete tasks in exchange for rewards. However, it's important to note that earning PayPal money without any effort is not possible, except for luck-based methods like raffles and giveaways. In this article, we will focus solely on legitimate and proven methods of earning PayPal money. These methods include completing surveys, engaging in various offers such as playing games, watching videos, downloading apps, and more. We will introduce you to reliable platforms that have been tried and tested, and that reward their users with PayPal money. Keep reading to discover our top choices for earning PayPal money.
Completing Surveys
Surveys are one of the ways of earning PayPal money, and they are used by companies to improve their products, services, and advertising campaigns. You can earn anywhere from a few cents to a few dollars per completed survey, depending on its difficulty and length.
Start by registering and creating profiles on these websites, providing as much information as possible to increase your chances of qualifying for surveys. Once you access surveys, be sure to provide honest and thoughtful responses to maximize your earnings and avoid being disqualified.
When you're ready to cash out, simply follow the instructions provided by the survey website to redeem your earnings and transfer them to your PayPal account. This process usually consists of exchanging virtual currency (points) for PayPal money. Below, you'll find some of the best options for survey platforms that offer PayPal money as a reward.
Branded Surveys
Branded Surveys is a highly popular survey platform that caters to a wide range of interests by offering various types of surveys. It allows you to start earning as soon as you register, and there are various incentives in place to reward your participation. In addition to surveys, Branded Surveys also offers multiple avenues for earning points, such as referrals, daily polls, and survey streaks.
Upon registration, you'll receive a bonus of 50 points, and once you complete your first survey, you'll earn an extra 50 points. These bonus points act as a great starting point for your earnings, as 100 points equals $1.
Branded Surveys uses an intelligent engine that matches surveys based on the information provided in your profile, so there's no option to select surveys manually.
| | |
| --- | --- |
| PayPal minimum cashout | $5 |
| Payout speed | Up to two business days |
| Trustpilot review | 4,2 stars from 78258 reviews |
| Average payout per survey | $0,50 |

Source: www.hsurveys.gobranded.com/
PrizeRebel
PrizeRebel is one of the most renowned survey platforms, mostly notable for low threshold, high payout, and reliability in general. Besides surveys, users can perform various other tasks on this platform, as well as daily challenges, raffles, and contests. The payout is nearly instant, and there's an option to check out the estimated payout and time required to complete surveys, which helps users select the surveys accordingly.
| | |
| --- | --- |
| PayPal minimum cashout | $5 |
| Payout speed | Up to 24 hours |
| Trustpilot review | 3,9 stars from 480 reviews |
| Average payout per survey | $1 |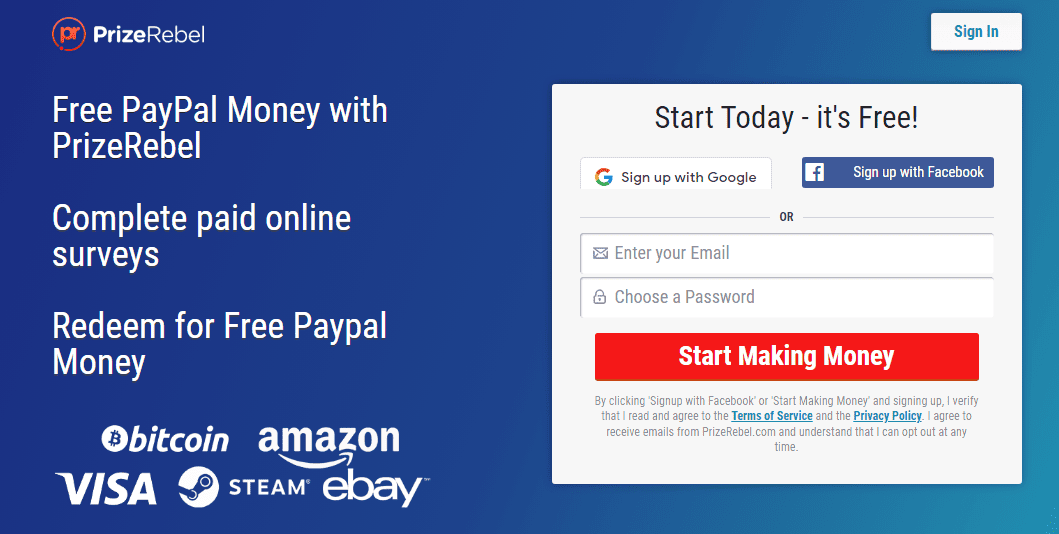 Source: www.prizerebel.com
InboxDollars
If you're looking for another platform to earn PayPal money, check out InboxDollars. Accessible as both a user-friendly website and mobile app for Android and iOS, this platform offers a $5 welcome bonus upon registration, but in order to withdraw it, you'll need to earn an additional $10.
In addition to surveys, InboxDollars rewards users for completing quizzes, redeeming special offers, and crossing off items on their to-do list. Although other tasks are available, surveys remain the most popular choice. They typically take between five to twenty minutes to complete and while they won't make you rich, they're still a great way to earn some extra cash.
| | |
| --- | --- |
| PayPal minimum cashout | $30 |
| Payout speed | A couple of days |
| Trustpilot review | 4,2 stars from 37503 reviews |
| Average payout per survey | $0,50 |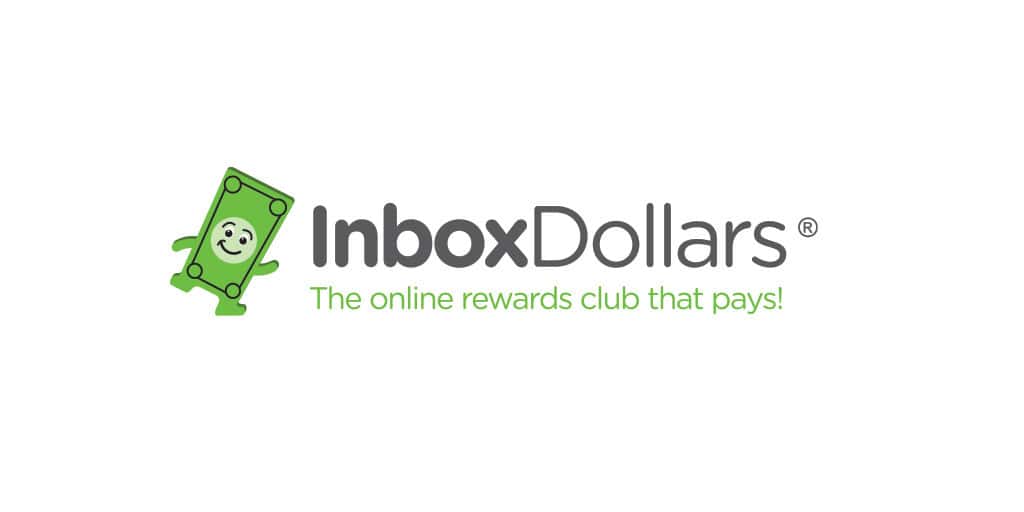 Source: www.inboxdollars.com
Survey Junkie
Survey Junkie is a highly recommended choice for individuals looking to earn PayPal money by participating in surveys. It provides an extensive selection of surveys, making it one of the largest survey platforms available. Boasting a large and reputable user base of over 10 million members, Survey Junkie offers surveys tailored to each user's profile. The platform encourages users to fill out their profiles comprehensively to increase their chances of qualifying for more surveys. However, it's worth noting that Survey Junkie has a high survey disqualification rate, so registering with this platform requires an awareness of this aspect.
| | |
| --- | --- |
| PayPal minimum cashout | $5 |
| Payout speed | Less than 24 hours |
| Trustpilot review | 4,3 stars from 43638 reviews |
| Average payout per survey | $0,50 |

Source: www.surveyjunkie.com
Completing Tasks
Get-paid-to sites offer a wide range of tasks to choose from. These tasks can include watching videos, completing offers, playing games, participating in online surveys, signing up for trials, and more. Tasks are usually offered on get-paid-to platforms by their partners, and the rate of earning may significantly vary from platform to platform.
The majority of GPT platforms have one thing in common - they will require users to complete tasks and award them with virtual currency (points), which they can then exchange for rewards - or in this case, PayPal money. In addition, each platform has a minimum payout threshold, which is different on every platform, so keep that in mind before registering.
In the following section, we've selected the best platforms where you can earn PayPal money by completing tasks.
Freecash
Here at Freecash, we offer various tasks for users to complete to earn PayPal money. Users can choose from a range of offers, including downloading apps, signing up for websites, watching videos, and more. Each completed task rewards users with coins, with 1000 coins equaling $1.00.
Additionally, we offer a wide variety of additional payout options and a mobile app for Android. On top of that, Freecash has a live support team available 24/7 to assist users, should they require it. With quick withdrawal processing and a wide range of tasks available, Freecash.com offers a convenient and reliable way for users to earn extra cash.
| | |
| --- | --- |
| PayPal minimum cashout | $5 |
| Payout speed | Instant |
| Trustpilot review | 4,7 stars from 39078 reviews |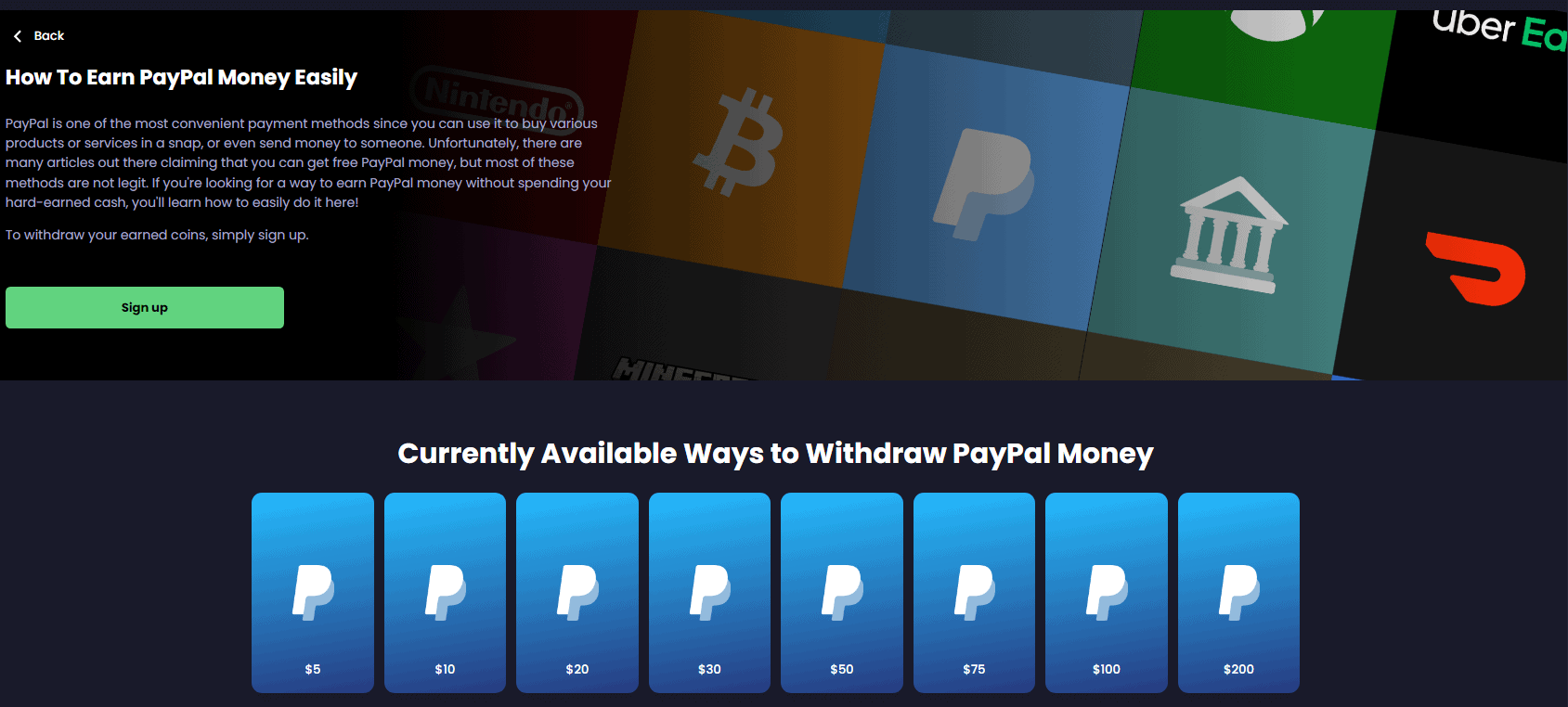 Source: www.freecash.com
Sweatcoin
Sweatcoin is an app that converts your steps into a digital currency called Sweatcoins. It has gained popularity for its innovative approach to incentivizing fitness and has received positive reviews from users worldwide.
Sweatcoin users can earn PayPal money by converting their earned Sweatcoins into real cash. The benefits of using Sweatcoin include the ability to earn rewards for simply staying active, and motivating users to lead healthier lifestyles.
| | |
| --- | --- |
| PayPal minimum cashout | $5 |
| Payout speed | Up to 2 business days |
| Trustpilot review | 4,6 stars from 5747 reviews |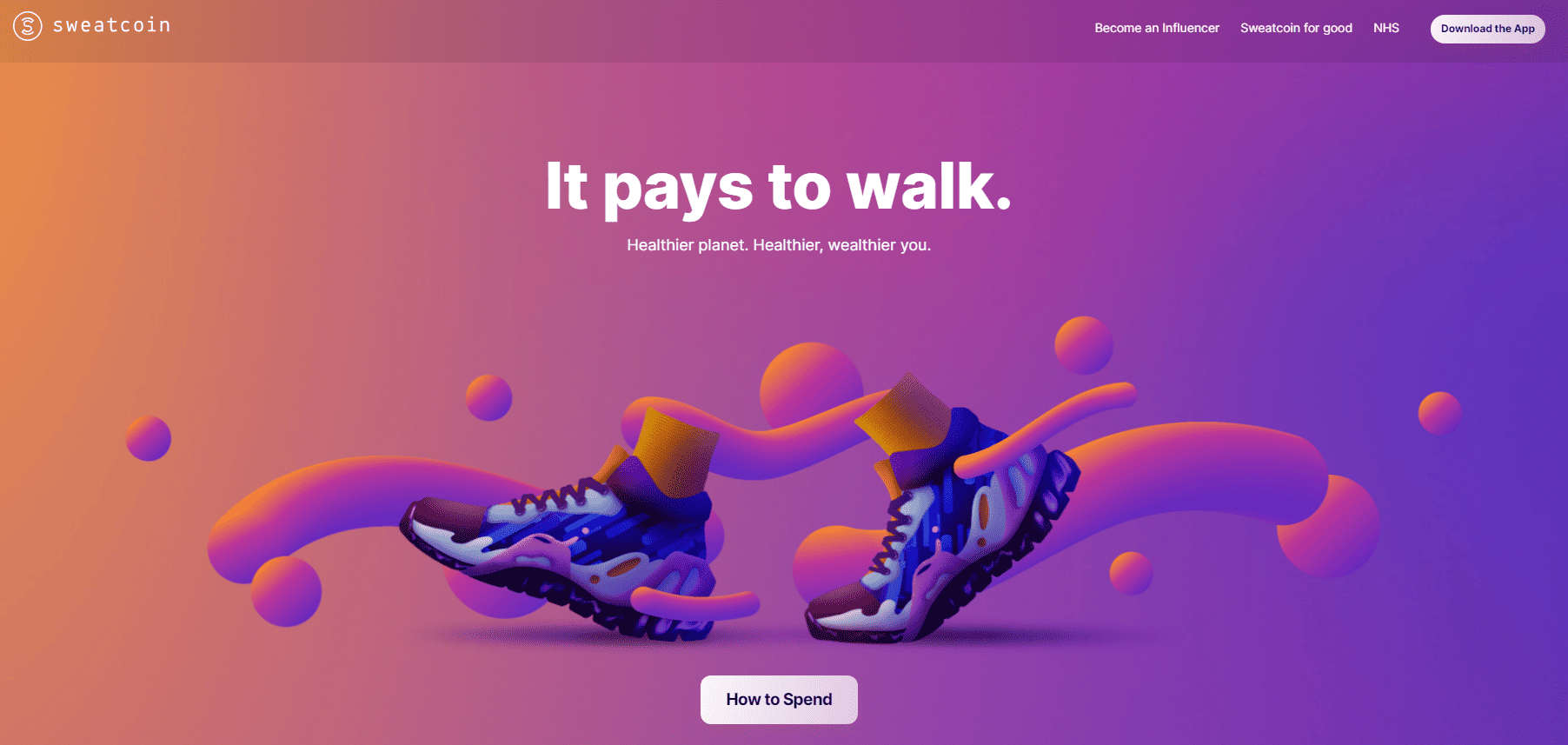 Source: www.sweatco.in
Idle Empire
Idle Empire provides users with a user-friendly platform that presents a unique opportunity to earn PayPal money by completing a wide variety of tasks. This intuitive platform offers a seamless experience through its easy-to-use interface and straightforward navigation. Users can engage in tasks like taking surveys, downloading apps, or watching videos, giving them a diverse range of options to choose from.
| | |
| --- | --- |
| PayPal minimum cashout | $5 |
| Payout speed | Up to a few hours |
| Trustpilot review | 4,5 stars from 9136 reviews |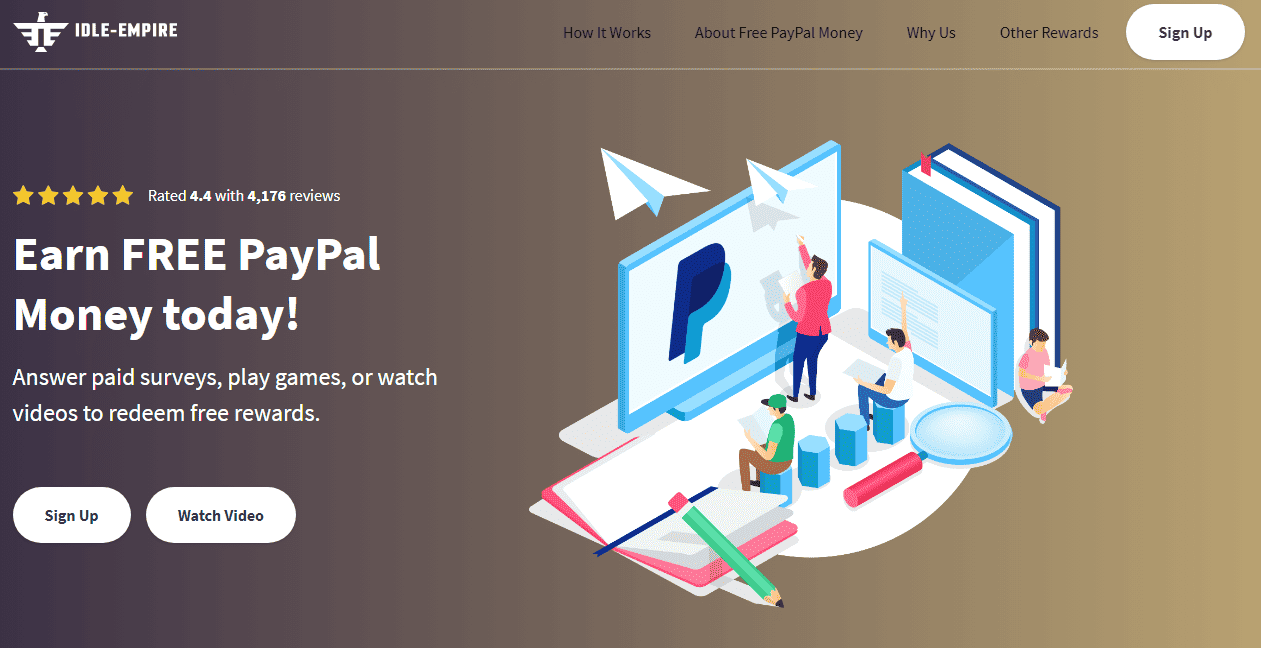 Source: www.idle-empire.com
Mistplay
Mistplay is a mobile gaming platform that offers distinctive opportunities for its users to earn PayPal money. The platform boasts a vast collection of games with a user-friendly interface that provides an engaging gaming experience. Essentially, by playing games through this platform, users accumulate points that are redeemable for various rewards, including PayPal money.
The redemption process is simple, allowing users to conveniently convert their points into PayPal money, turning their gaming achievements into PayPal money.
| | |
| --- | --- |
| PayPal minimum cashout | $5 |
| Payout speed | 2 business days |
| Trustpilot review | 3,9 stars from 831 reviews |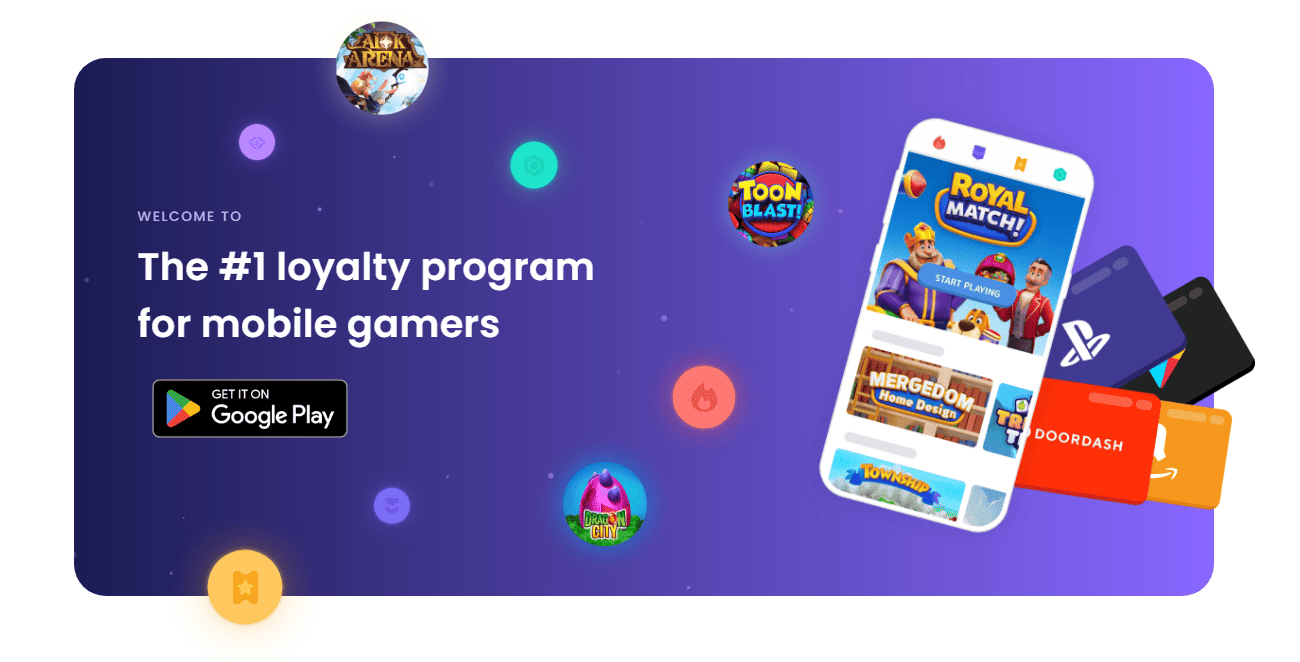 Source: www.mistplay.com
Using Cashback Platforms
Cashback apps reward members with cashback for making purchases through their platform. These apps partner with popular retailers and brands to offer cashback on purchases. Members can earn PayPal money by shopping at these retailers using the app.
All you need to do is register, browse through the available cashback offers from partner merchants, and make your purchases through the platform. As you shop, a percentage of your purchase amount will be credited back to your account as cashback. Once you accumulate a certain amount specified by the platform, you can easily exchange it for PayPal money. Here are the best cashback platforms to earn PayPal money, in our opinion.
Rakuten
Rakuten is a comprehensive online shopping platform that offers a wide range of products and services. What sets it apart is the unique opportunity for users to earn PayPal money simply by shopping through Rakuten. To take advantage of this feature, users can easily sign up for Rakuten and browse through their favorite stores and products. By completing their purchases using the Rakuten link, users can earn up to 20% cashback without any additional fees. Additionally, Rakuten provides attractive discounts and rewards, making it a highly popular choice among savvy shoppers who want to maximize their savings.
| | |
| --- | --- |
| Selection of retailers | 3500+ |
| Cashback savings | 1% - 20% |
| Trustpilot review | 4.5 stars from 23584 reviews |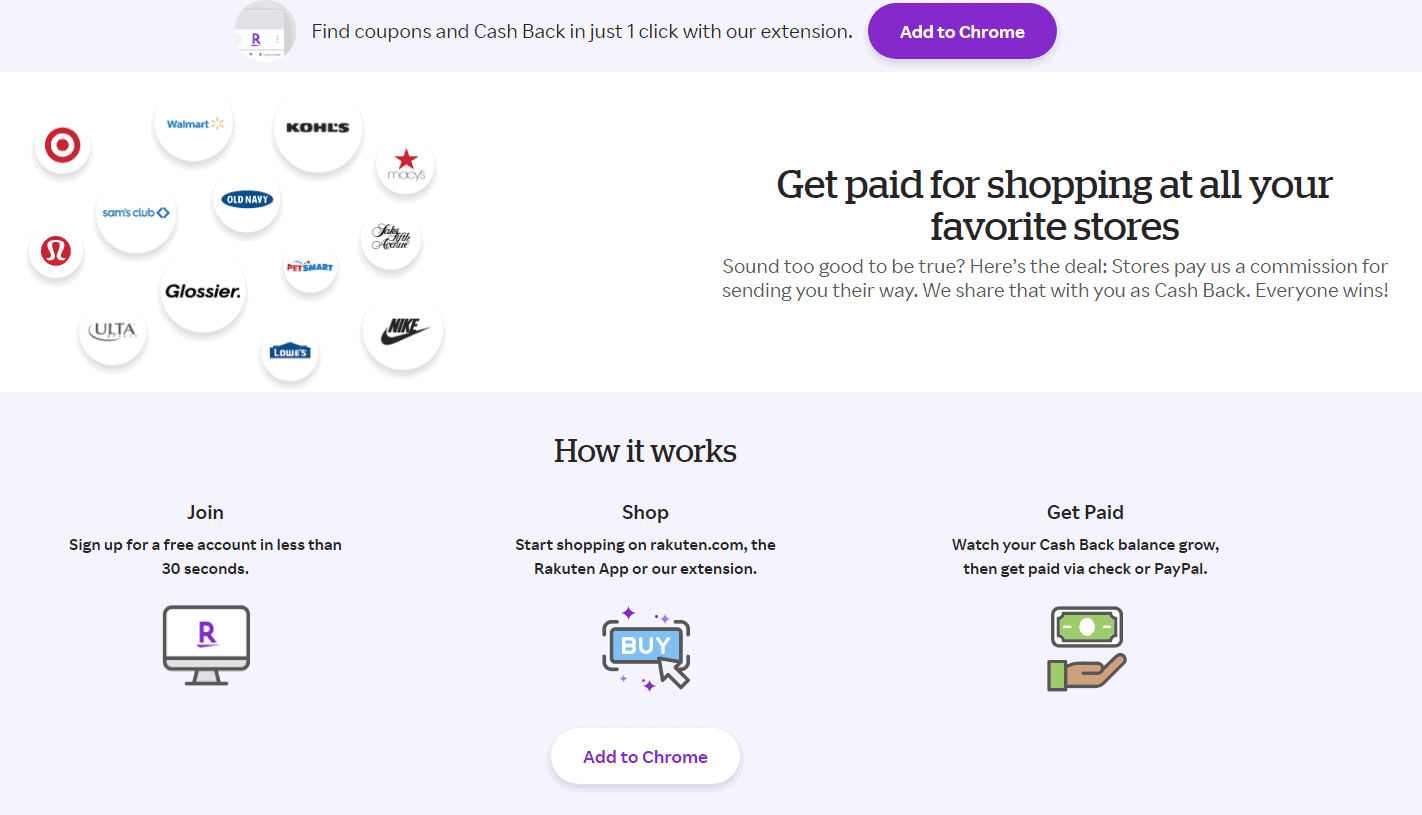 Source: www.rakuten.com
Ibotta
Ibotta is a highly regarded app that allows users to save money on groceries, online purchases, and more. The app functions by providing a certain percentage of cashback on eligible purchases. Unlike other comparable platforms, Ibotta users have the opportunity to PayPal money by linking their PayPal account to the app and meeting the necessary cash-out criteria, making the entire process much more straightforward.
Once a user reaches the required threshold, they can conveniently transfer their earnings directly to their PayPal account. The process of earning PayPal money through Ibotta is simple: users shop for eligible products (online and in-store), redeem offers or submit receipts, and accumulate their earnings within the app.
| | |
| --- | --- |
| Selection of retailers | 2000+ |
| Cashback savings | Up to 30% |
| Trustpilot review | 3,6 stars from 1281 reviews |
Tips for maximizing earnings
Here are some tips and tricks to help you earn more PayPal money.
Take Advantage of Sign-Up Bonuses
When joining a survey, GPT, or cashback platform, look for platforms that offer sign-up bonuses. These bonuses are a great way to quickly boost your earnings. For example, some platforms offer a $5 bonus just for signing up and completing your first survey or task.
Complete Your Profile (for Survey Platforms)
Take the time to fill out your profile completely and update it regularly. Profiles help platforms match you with relevant surveys and tasks that fit your demographics and interests. By providing accurate information, you increase your chances of qualifying for higher-paying opportunities.
Join Multiple Platforms
Don't limit yourself to just one platform. Join multiple survey, GPT, and cashback platforms to access a wider range of earning opportunities. Different platforms offer different surveys, tasks, and cashback deals, maximizing your chances of earning more PayPal money.
Earning PayPal money can be a great way to make a little extra cash from the comfort of your own home. With a bit of research and effort, you can start earning PayPal money through surveys, GPT sites, cashback apps, and freelancing websites.
FAQs
What's the difference between surveys and tasks on these platforms?
Surveys involve answering questions about various topics, products, or services. On the other hand, tasks involve completing specific actions such as watching videos, downloading free apps, or playing games. Both surveys and tasks offer opportunities to earn PayPal money, and it's beneficial to participate in a mix of both to maximize your earnings.
How long does it take to receive PayPal payments?
The time it takes to receive PayPal payments can vary depending on the platform's payment processing timeframes. Some platforms offer instant or same-day payments, while others may have longer processing periods. It's important to review the payment terms provided by each platform to have a clear understanding of when to expect payments.
Can I rely on these methods as a consistent source of PayPal money?
While these methods can provide a steady source of PayPal money, they may not be a consistent source of income on their own. Diversification is key, so consider combining these methods with other income streams. Explore freelance work, online selling, or creating your own digital products to increase your income potential.