Counter-Strike: Global Offensive is one of the most popular first-person games on the market today, especially known for its highly competitive play. Its competitive scene is a sight to behold, with million-dollar tournaments happening yearly! Being cracked at popping heads is nice, but it can be even cooler with some sick skin.
Unfortunately, looking cool is going to cost you a lot. As such, many people use skin changers for CSGO, and we'll go over all your burning questions about skin changers. Let's dive in!
What Is A Skin Changer?
Skin changers are programs or plugins that change what skin is currently being displayed in your hands. Usually, these programs are free, and the changes they make are local to the server or your own application. In the latter case, even those who are spectating you cannot see the skin you've chosen and are instead shown what you own.
The locality of skin changers is important to understand. They do not give you skins permanently, and they (usually) do not change your Steam inventory either. This means you cannot just use a skin changer to gift yourself a Dragon Lore! Skin changes are only for feeling cool and rocking out with skin you cannot afford.
Will Using A Skin Changer Get You Banned?
Valve, the developers of CSGO, have strong opinions about using skin changers. In general, it is not allowed as it invalidates those who have actually paid to have the skin. Furthermore, the Valve Anti-Cheat (VAC) system partially detects malware by examining whether or not some program with insufficient permissions is modifying game memory/files.
This means that VAC classifies a skin changer as malware, and using a skin changer on a VAC-protected server will get you banned.
Furthermore, having a skin changer on your personal device is a bad idea, mainly because if you forget to remove the skin-changer before you hop onto Competitive, you'll get banned.
However, not all is lost if you want to play around with skin. Non-VAC-protected community servers with the skin changer plugin exist and can be used to try out different skins. Furthermore, most of these servers also have a knife and gloves plugin, which lets you try on different knives and gloves too! Be warned; you may find more cheaters on such servers!
Related articles:
Will Playing On A Skin Changer Server Get You Banned?
While Valve doesn't like skin changers, you will not get banned for simply playing on a skin changer server. These servers are usually called "ws servers" and are not allowed by Valve in policy, but little is done against them in practice. Plus, any punitive action taken will be against the server owner, not the user. As such, it is perfectly safe for you to play on a skin-changer server.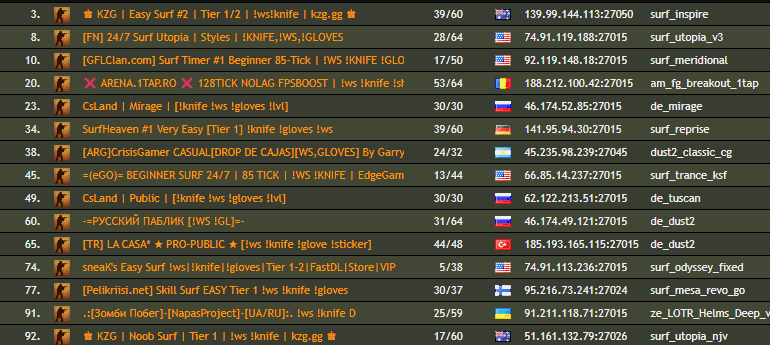 Of course, this does mean that you won't be able to play game modes that affect your Rank, but you can play in a Competitive context with skin changers. Specifically, many skin changer servers offer standard 5v5 match-ups, and these are usually scrim servers.
Finally, you'll have to restart the game after joining a non-VAC-protected community server before you can join any official game modes. It's a little annoying, but that is about the extent of the inconvenience.
In essence, playing on skin changer servers (also known as "ws servers") is excellent, but you should never install a skin changer into your personal device/game. Furthermore, using a skin changer on a VAC-protected server will inevitably get you the VAC hammer. Finally, always remember to have fun and stay positive!