Grand Theft Auto San Andreas was released 15 years ago, and even today, many players enjoy playing this legendary video game.  When it comes to GTA San Andreas, we all know that realism isn't something that fully depicts this video game series. But GTA San Andreas has an epic modding scene with a mod for almost every occasion. 
For that, we can thank several modders and their hard work. In these GTA San Andreas mods, it is all possible - whether you are up to some zombie invasions, or perhaps goofy superheroes, it is all on a plate for you. There are players, though, that are into more down-to-earth stuff.
Why Realism Mods?
Even these days, the modding community continues to add changes, from minor ones, to complete gameplay renovations, so that the game can remain "alive" for everyone to enjoy as the GTA franchise is for many players better than any other open-world game. For players who are into more realism, it is important to note that GTA San Andreas is not on the list of the most realistic games, to say the least. And we all want to play something that looks like real life.
So, we have some good news for you, if you are one of those players who like to keep it real! You are just a few steps away from adding some small, but insanely appreciated realism mods in GTA San Andreas and making your game more alive than ever before.
List of 10 Best Realism Mods for GTA San Andreas
Below is the list of the 10 best realism mods in GTA San Andreas to download 
Bulletholes
When it comes to the early Grand Theft Auto games, they didn't have the option to make realistic bullet holes, which could stay in place.  This GTA San Andreas mod is called "Bulletholes", and you know what that means! 
When you shoot, it creates lingering bullet holes from any shootout. Even though it is a small aspect of realism, it is still important to many players.
V Graphics Mod
The GTA San Andreas V Graphics mod is an ENB series version, which aims to give you a similar atmosphere that GTA 5 has. 
It offers an extensive shadow and some lighting overhaul. If you are a player who wants to roam the streets of a more realistic-looking San Andreas, you should try this one!
First-Person POV Mod
If you are the type of player that seeks a truly mesmerizing experience while playing GTA SA, you should apply the First Person mod to your game, to get an even better glimpse of how it feels to be Carl Johnson.  However, some animations were originally designed for a third-person perspective so that they may look off, but this First-Person mod will be a completely new and fresh experience for you.
Gasoline
Driving cars is probably one of the best things you can do in any GTA series.  However strange it might sound, there was never a gasoline mechanic featured in any GTA series, where you could run out of gas if you drove for too long. 
However, a few mods were featured, which make a player run out of gas if driving for too long.  So, if you need this realism aspect, add this GTA San Andreas mod to your list!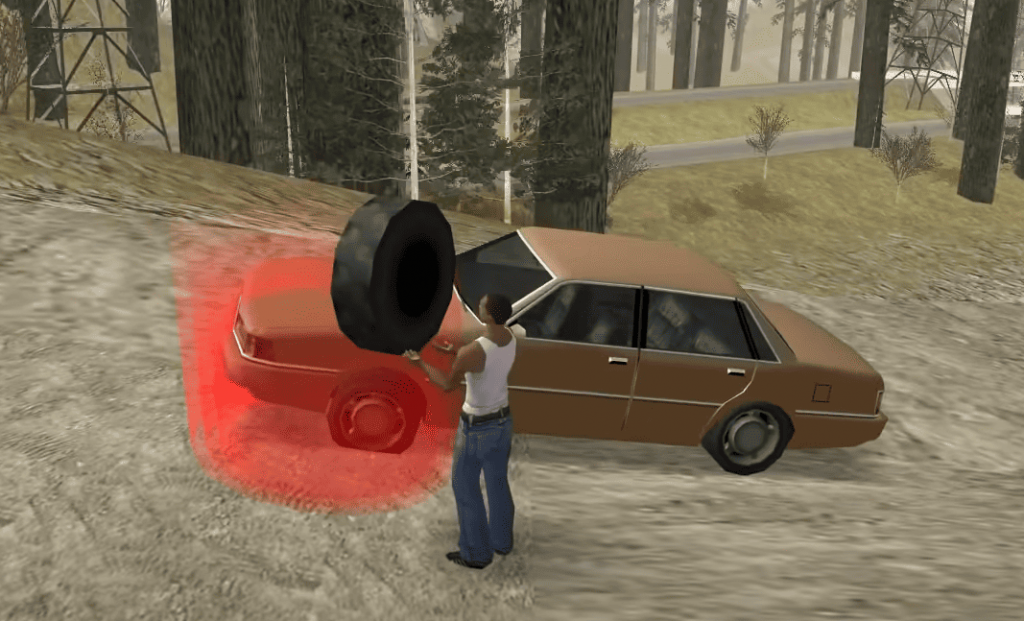 It is worth noting that when your gasoline gets depleted, it is not annoying as some might fear before trying. 
You run out of it slowly, so it seems completely natural, just like in the real world. Also, when you do missions, with this mod you need to be even more strategic at times, as you have to pay attention and stop to get some gasoline, especially if in an expensive car. So, realism lovers, go for it!
GTA SA IV Los Santos Re-Textured
GTA San Andreas's texture and overall tones have a pastel look, which can seem a bit unrealistic, especially today when game graphics have evolved so much.  So, if you import this mod with GTA 4's textures into San Andreas, the game's pastel look completely disappears, and houses, materials, and roads get a much more realistic and grainy sharp look.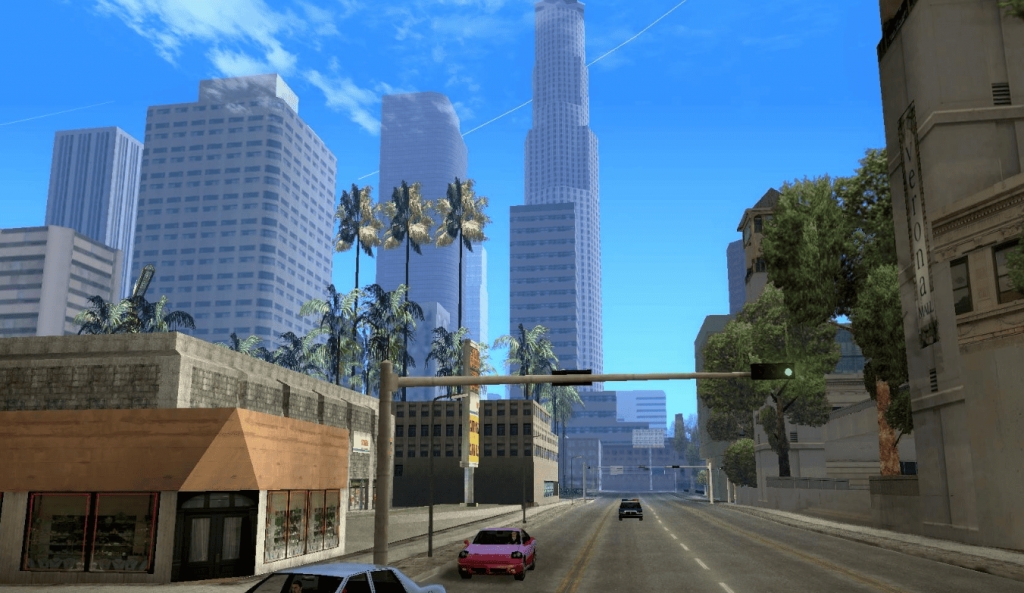 The resolution is also pumped-up as are the textures, so with all that said, the streets and overall look of Los Santos in GTA San Andreas will look different, and much more realistic than ever before.
Ragdoll Physics
The Ragdoll Physics feature was first implemented in GTA 4, and when people experienced how fun it was, it didn't take long for the mod to be replicated in GTA San Andreas.  Even though the mod isn't without flaws and is a perfect copy of an original feature in GTA 4, it is so much more realistic than the original physics engine.
When you enable Ragdoll Physics mod in Grand Theft Auto San Andreas, hitting people with vehicles or weapons feels far more realistic.  You can even alter the content of the .ini file to adjust the overall physics even more, but the default version of the mod works awesomely on its own.
Carl Johnson's Remastered Graphics Mod
When we talk about GTA San Andreas, we can't skip its main star, Carl Johnson.  So, this mod is perhaps the first mod you should try out, as improving the visuals of one of our favorite protagonists in the GTA franchise is a great way to start realistic gameplay.  This mod in Grand Theft Auto brings the textures and details on Carl Johnson's model up to modern standards, and it includes not only his skin and face but also his clothes look a lot better. 
You should try this GTA San Andreas mod, especially if you favor CJ's character.
Insanity Vegetation
If there is one thing that looks bad in GTA San Andreas, it is the vegetation. The Insanity Vegetation mod makes the vegetation in GTA San Andreas look just amazing and fresh and you can feel like it's real life. It improves the look of every single plant texture in the whole game.  Even though this mod can't make Grand Theft Auto San Andreas look like GTA V which is in 4K resolution, it will deliver a lot of improvements.
Related articles:
Cloud Skybox
One thing that made Grand Theft Auto San Andreas look so unrealistic was the sky in-game.  The fact that there were no clouds could easily ruin your impression, especially now.  This Cloud Skybox mod replaces the game's standard sky, which lacks clouds, with one featuring nice and realistic clouds, so say goodbye to the cloudless and dull sky in Grand Theft Auto San Andreas!
One upgrade that you won't get with this mod is the shadows. Sadly, that would need a lot of work, but you get some cloud improvements. But if you want scenery in the game more pleasing to the eye, and also more realistic, this mod will do it for you, even more so if you like to fly!
GTA San Andreas – Definitive Edition
All of the mods listed above are good for something, as they provide you with more realistic gameplay. Some are better than others, it all depends on your preferences. But, sometimes, downloading multiple mods and trying to make them work correctly can be tough.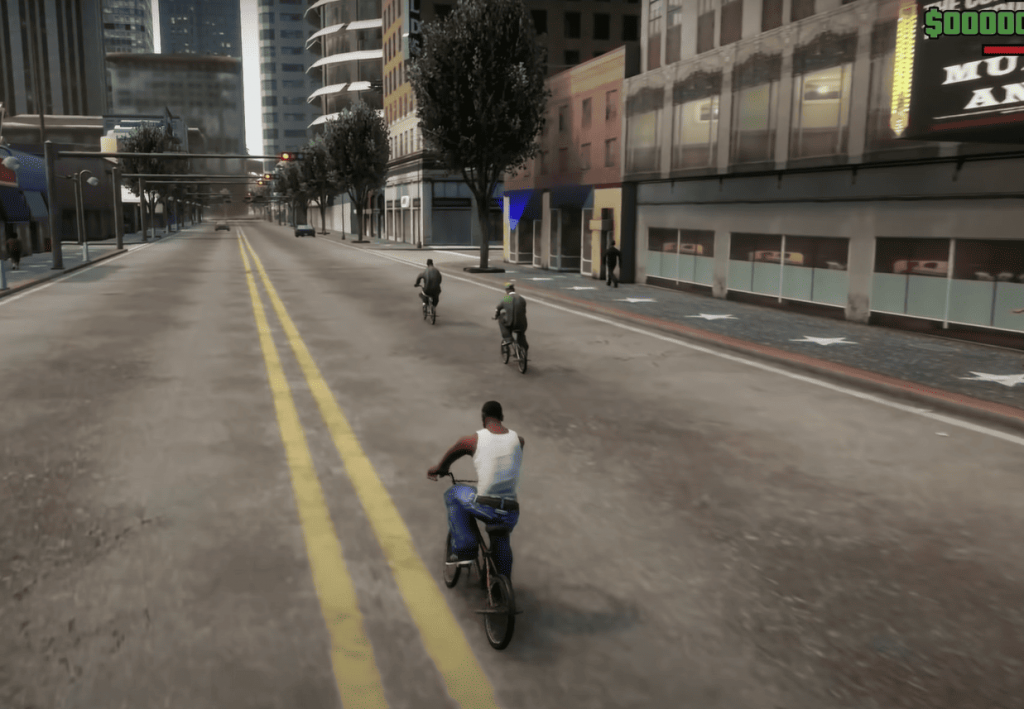 But, we have some good news for you - an all-in-one package makes wonders to the game and molds it into a near-perfect visual worthy of remaster status. While the other realism mods in Grand Theft Auto San Andreas work for one aspect of the game simultaneously, this ultimate graphics mod improves the game in many ways.
It is enough to say that this mod fixes everything that is wrong with the dated PC port while implementing huge improvements such as smoother 60 frames-per-second support, anti-aliasing, and graphics presets that have some notable differences.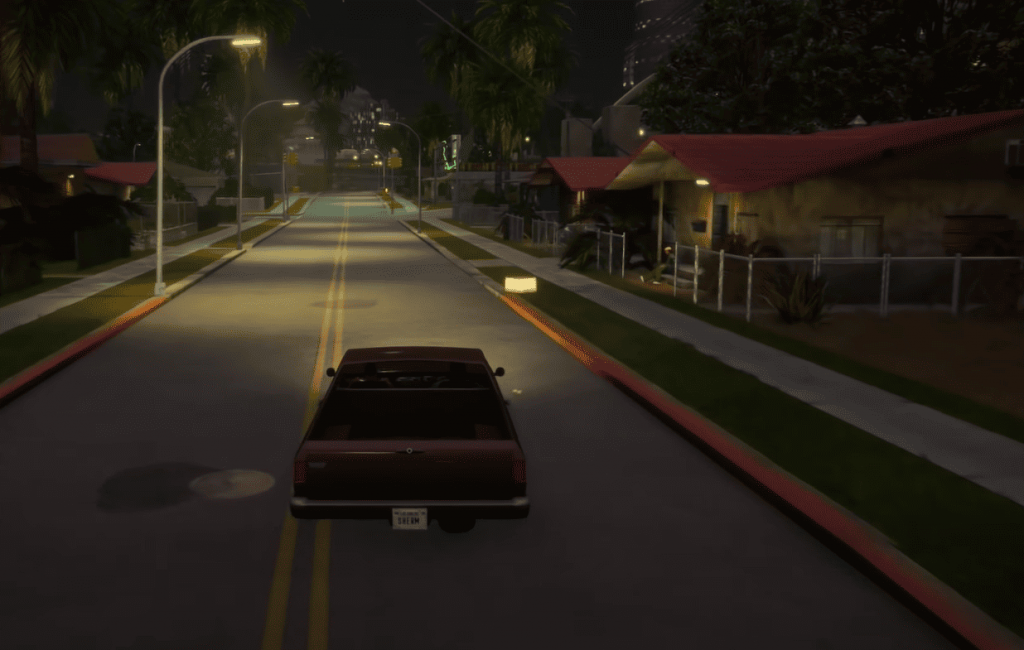 This ultimate graphics mod is our No.1 suggestion as you'll be getting a lot of changes with just one mode so that you can enjoy your favorite game with some pleasant graphics.
When you replay your favorite missions with any of the Grand Theft Auto San Andreas realistic mods listed above, you will feel like you are playing a whole other game, at least for some time. If you love realistic games and enjoy playing your favorite GTA series, these mods will surely be useful to you.