Buying LoL skins with real-life money is, at the very least, an expensive sport. Fortunately, there are ways of getting them at no cost. They include everything from playing the game to the easiest and most reliable one, which is using the options offered by Freecash.
Get Free LoL Skins By Playing the Game
One of the most straightforward ways to get free LoL skins is by simply playing the game. This is done in two ways:
End-of-season rewards
Skin Shards
The end-of-season rewards award all players that managed to end the season in Gold rank or above with a free LoL skin from the Victorious skin line.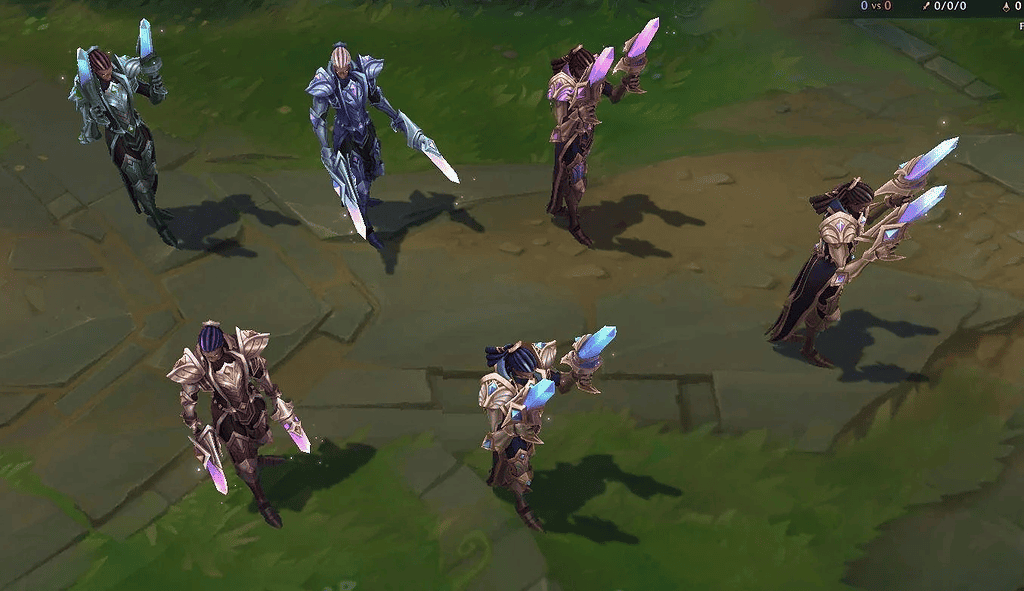 The skin shards work in conjunction with Orange Essence, where players that gen an S-rank while playing a League of Legends match are awarded a Hextech Chest containing Skin Shards and Orange essence. Combining the two allows you to upgrade the Skin Shards into a free Permanent League of Legends skin. In addition, you can also combine three Skin Shards and get a random skin.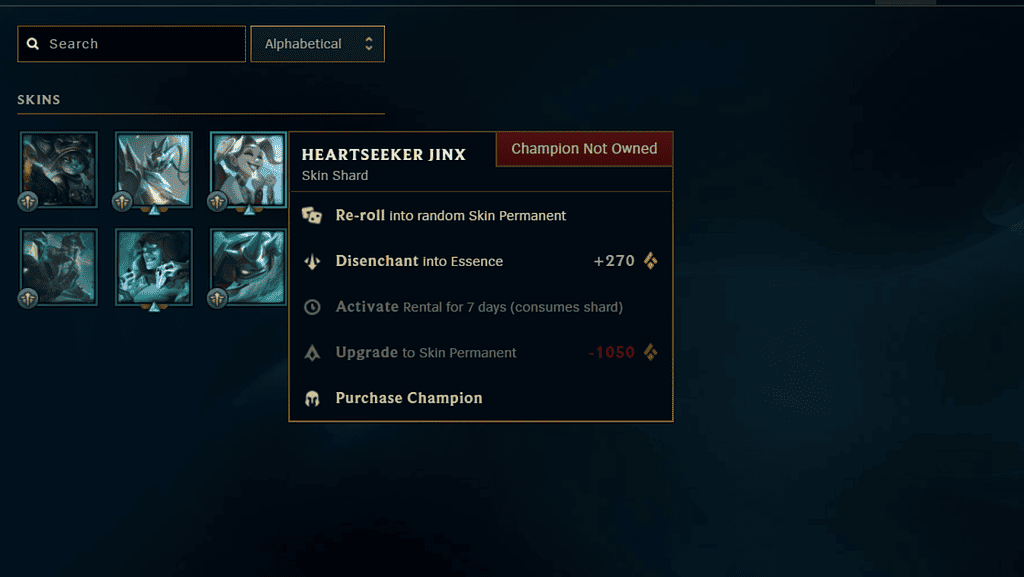 Get Free LoL Skins the Easy Way Using Freecash
While the multitude of League of Legends skins, especially the Ultimate ones, may seem out of your reach due to how expensive they are, we have some big news for you. Freecash is here to take care of that issue!
Login
To start, you have to log in to your Freecash profile, access the full breadth of the features provided at the site, and earn points.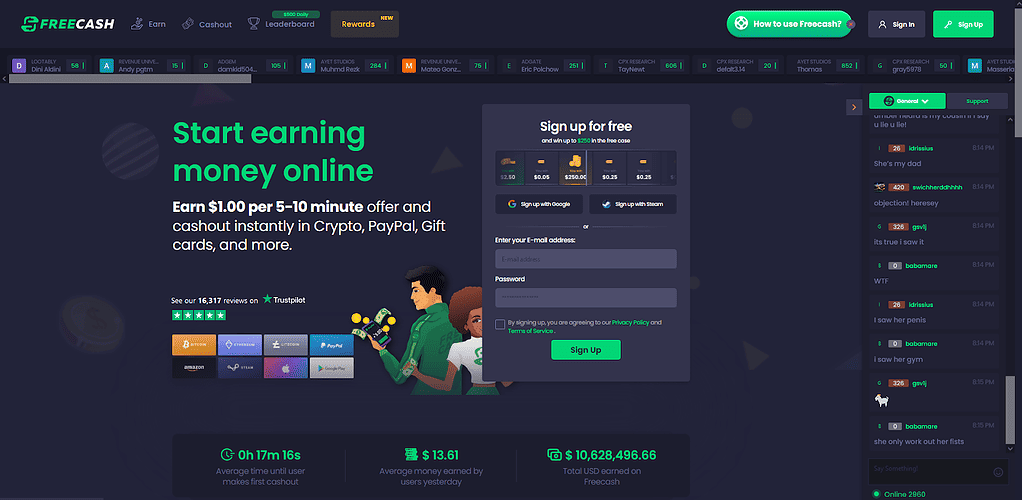 Earn Coins
Proceed to the "Earn" tab, and start completing the various tasks found there, to earn Coins, which are divided to:
Paid Tasks - Choosing different sponsors to complete the various tasks offered
Paid Surveys - Complete the offered surveys to earn Coins upon their completion
These are straightforward tasks to complete, as well as simple surveys to fill out while you are taking some time to rest in between. With the partners of Freecash and hundreds of advertisers, you can be sure never to run out of ways to earn money. After all, watching some videos leisurely to complete offers to earn money is a dream come true!

Some of the tasks will even have you play games. As you are interested in free League of Legends Skins, we can assume that you play games in your free time. For gamers, earning points that get free LoL skins while playing games is accomplishing two things at once. Not to mention the free rewards offered by Freecash to faithful users.
Cash Out
After accumulating enough points, that is, Coins which is the currency of Freecash, proceed to the "Cashout" tab, to convert your Coins into whatever form you desire them to take:
Real-life money - You can choose the "Withdraw Money' option, to convert your Coins into either cold hard cash via methods like PayPal cash out, the Bitcoin cryptocurrency, or other currencies.
Gift Cards - The second option is converting our Coins into value-appropriate Gift Cards with the variety of offered companies, with the "Withdraw Giftcards" option.
In-game Skins - The third option is the most direct one for buying League of Legends skins, under the "Withdraw Skins" option.
Click on the League of Legends banner under the "Withdraw Skins" option to get free LoL skins.

Related articles:
Here you will be offered the option of in-game redeemable free Riot Points gift cards. This option, in essence, offers you to earn unlimited free LoL skins as long as you are completing the tasks and surveys. Should you be able to afford any of the four different options offered, which are: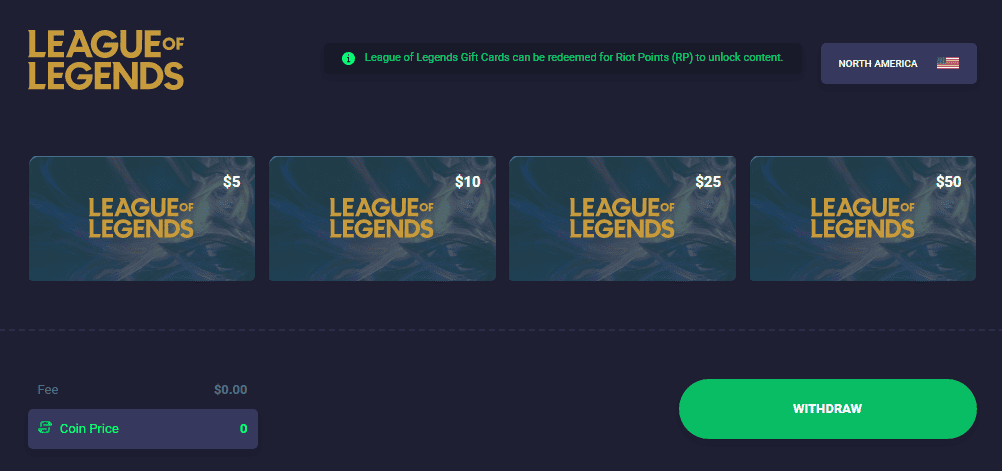 Proceed as follows:
Choose the region your League of Legends account is in, which is the most important step
Pick the gift card you wish to Cash Out
Wait for the Riot points codes in the form of a PIN code to arrive in your e-mail
After this, there is only redeeming them left to get free riot points and then buying whichever League of Legends skin you so desire.
Redeem
With the conversion rate being 1000 Coins for 1$, It is far better than the conversion rate for a single Riot Point.
Proceed to the LoL Client to redeem Riot gift cards to your League of Legends account, and earn those free Riot Points to completion:
Launch the LoL Client
Open the In-Client Store
Click on "PURCHASE RP"
Click on "Prepaid Cards & Codes"
Enter your Riot PIN code
Buy League of Legends Skins for no money out of your own pocket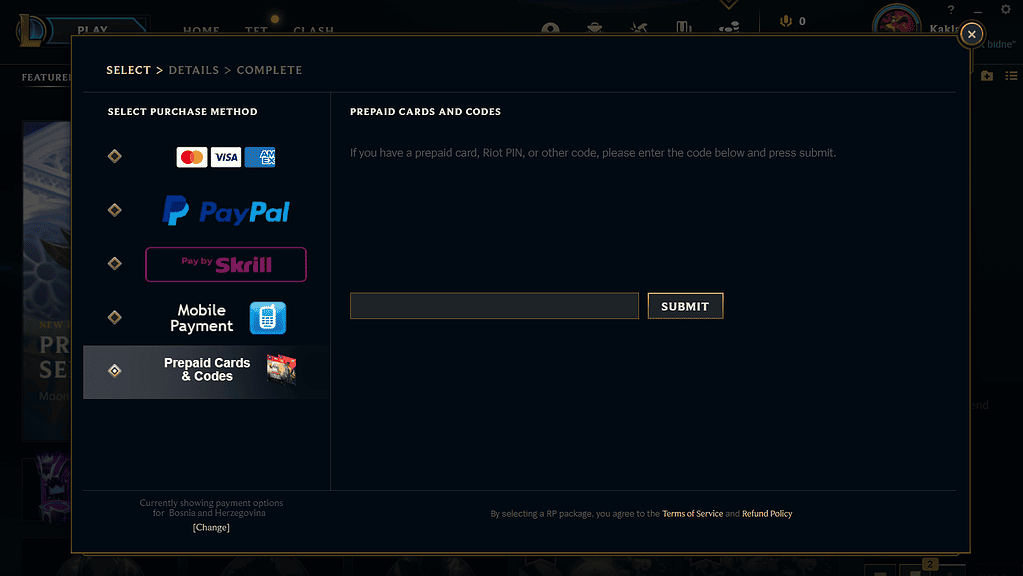 Even the cheapest Gift Card is worth 650 Riot Points, which can get you skin, or even two, if you're looking at the cheapest skins League of Legends has to offer. Of course, more is always better, so keep at it and make of all the opportunities afforded by Freecash!
If you wish to use Freecash for games other than League of Legends, far be it from us to stop you. Freecash is here to help all your gaming needs, with PUBG UC available and just getting some free Pokemon GO coins.
Get Free LoL Skins By Participating in LoL Tournaments
Whether you are participating in a Riot Games organized tournament, getting Clash rewards, or not, the rewards for winning are usually free League of Legends skins. In addition, participating in those organized by Riot Games themselves will net you the Triumphant Ryze skin for free. You don't even have to do all that well.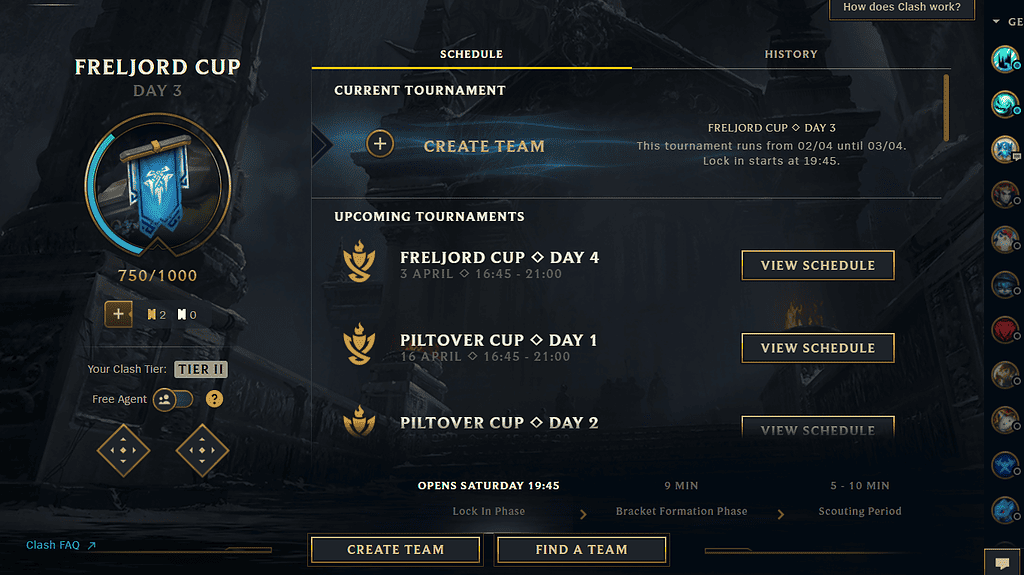 Following the Official League of Legends, social media accounts is the fastest way of finding out about the various giveaways that Riot Games organize for their faithful player base.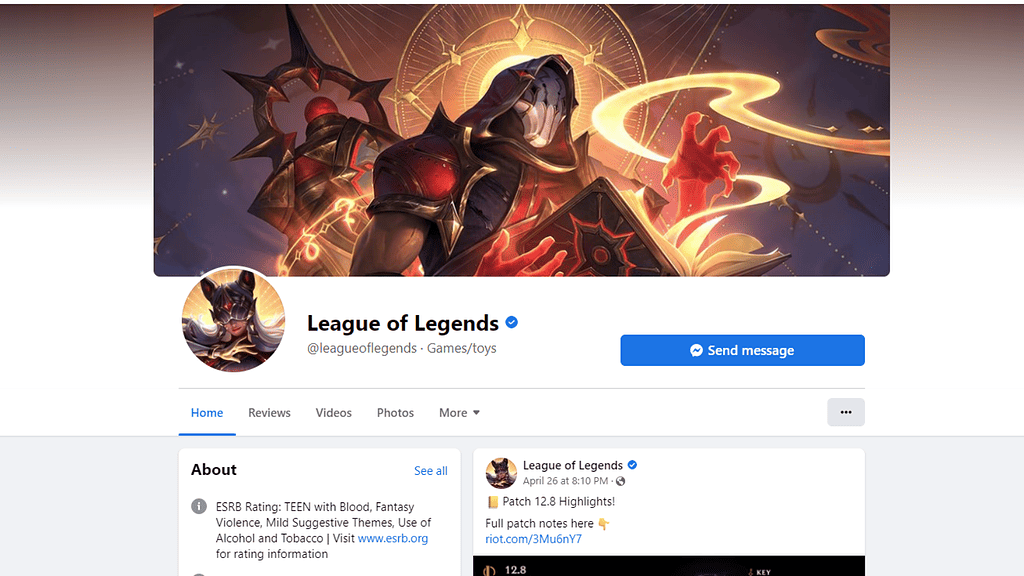 Also, merely subscribing to said accounts will get you free LoL skins, such as the Dreadknight Garen or the Unchained Alistar skin.