Being a decades-old franchise, VALVe's Counter-Strike still uses some online features that were prominent when the game first came out. If you're playing CS:GO, chances are you're playing on a dedicated server. This form of online play is losing market share to the new regional servers that do not host individual matches, which can be connected to and disconnected from at any given moment.
Connecting to servers requires an IP address. Either that or you must manually find the server using the in-game or Steam Server browser. The latter is a tedious process, and with hundreds and thousands of servers popping up, it might also be impossible. Therefore, there are ways of finding the server's IP. Let's see how.
Using the Developer Console
The tried and true way of finding a server's IP address requires one to be on the server itself, and then you can use the good old developer console. The console will also show you extra information about the server. To do so, you'll first need to enable the developer console.
Now you should be able to open the console by pressing the '~' key on the top left of your keyboard. After you've enabled it, find and connect to any server you wish. Then, open the console with '~' and type in the following command: 'status.'
Related articles:
Several text tabs will show up, including hostname, version, etc. Look for the 'Connected to:' part, and the IP address should appear on the right. Now you can copy the said address and share it with friends or note it down somewhere if you wish to return to the server at any given time.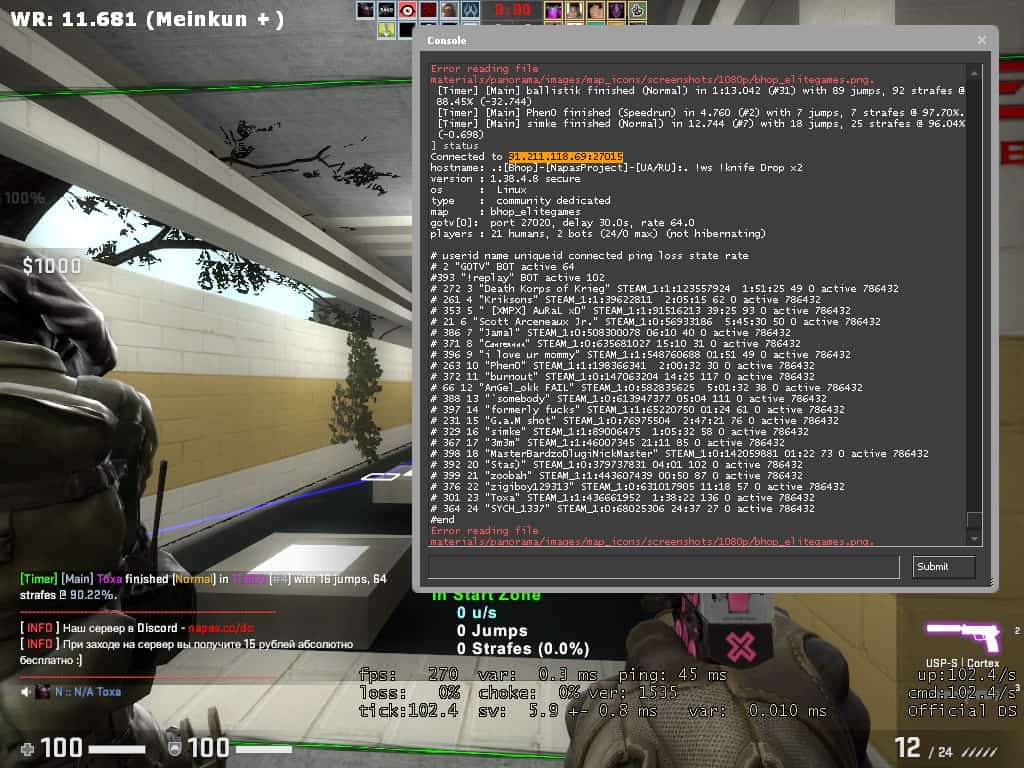 Using the In-Game Server Browser
You can also snatch the IP before you connect to the server. Find the server you wish by opening the Server Browser. Here's how:
1. Hit the 'Play CS:GO' button on the top left of the Main Menu screen.
2. Click on 'Official Matchmaking' and select 'Community Server Browser' in the drop box.
3. Find any server you like. Remember to let it refresh.
4. Click on the server, then right-click and hit 'View Server Info.' The IP will be at the top.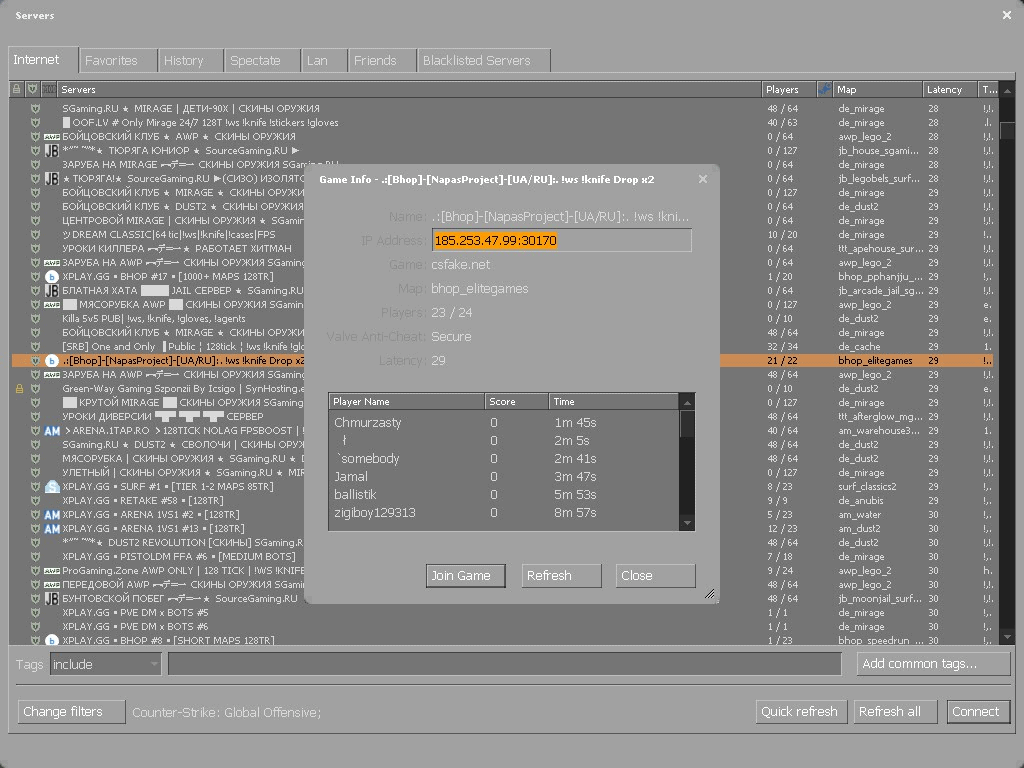 That's an easy way of immediately grabbing the IP you wish to share. Send it to your friend and connect simultaneously. There is no need to wait for the match to load and for your friend to join. You can do it simultaneously by preemptively getting the IP address.
Using Steam's Server Browser
Counter-Strike is a VALVe game and benefits from the integrated Steam server browser. Many other games do as well, but none do it at the scale of CS. Here's how to get the server's IP address by using Steam's Server Browser:
1. Open up your Steam application.
2. In the top-left corner, hit 'View.'
3. In the drop-down box, hit 'Servers.'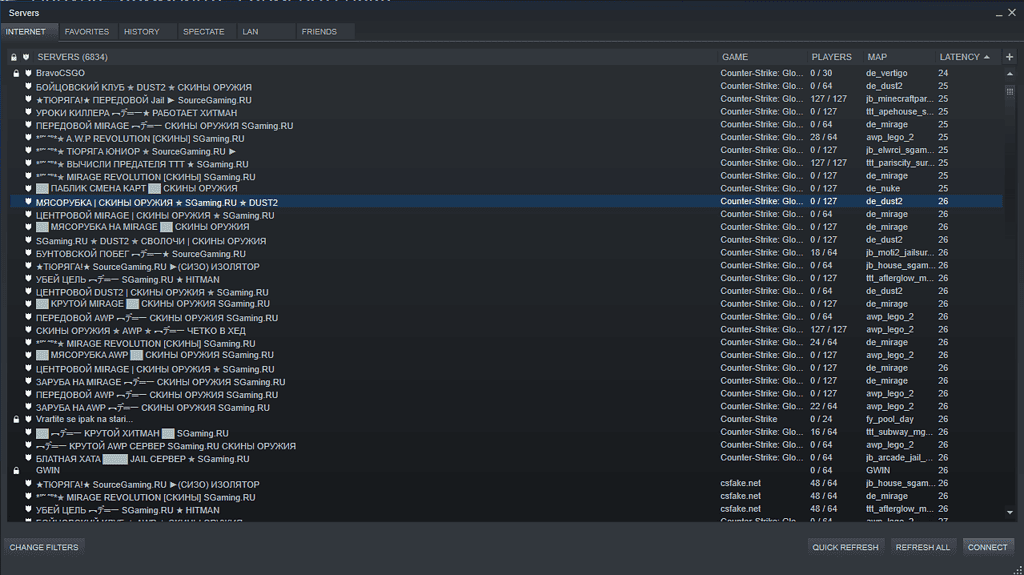 4. Find any server you like. It takes a second to load all of them.
5. Right-click a server and press 'View Server Info.'
6. The IP should appear at the top.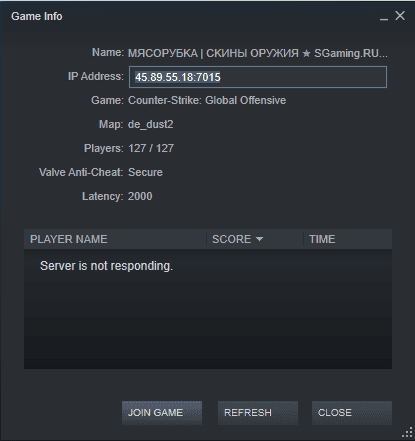 And that's it. Somewhat similar to the in-game option and just as easy. This allows you to grab the IP before launching the game, speeding up your gaming process. Excess waiting does tend to get boring, especially when you anticipate some high-class action shooting.
How to Connect to a Server With an IP Address?
Knowing the IP is one thing. Using it is another. You will need to use the trusty developer console to connect to any server with an IP. We've explained how to enable it above, so all you need now is to open it using the '~' key. Then, use the following command:
'Connect <IP>' where <IP> indicates the Server's IP address you've grabbed beforehand.
Connecting to a Password-Protected Server
A password might protect some servers. Hosts may do this for several reasons, most notably for private matches. To connect to a server that has password protection put in place, enter the following command in the developer console:
'Connect <IP>; password <password>'
Here, <IP> is the server's IP, and <password> is the required password. Make sure you use these two commands in unison, placing the semicolon between them.
Counter-Strike: Global Offensive is an online game, but it's also very old-fashioned. The dedicated server system has been around for decades and is a dying breed. Though that may be unfortunate, CS is there to light its path. Knowing a server's IP allows you to connect to it anytime without having to do obsessive searching and scouring.