The GTA community has estimated the time taken to complete the story to be 31 hours, without including exploration and side missions. Average players and those who would like to enjoy all aspects of GTA would take around 81 hours to complete almost everything. However, GTA Online can technically be played forever because new events, heists, minigames, and other modes can be played indefinitely.
Many can lose track of the hours and days they spent playing this masterpiece of a game, so we will help you check how many hours you put in GTA. There are multiple ways to check hours played in GTA, and we will be starting with PC users.
How to Check Play Time in GTA for PC Users
Method 1 — Checking Through the Steam Client
Launch your steam application. Enter your account details and Log In.
Once steam checks for updates and opens, locate the "Library" tab and click on it.
You will find a list of all games you currently own on the left. Scroll through the list to find Grand Theft Auto V, or simply write it inside the search bar.
Once you find GTA, simply click on it, and the steam page will show you details about the game like Cloud Status, Last Played, and Play Time.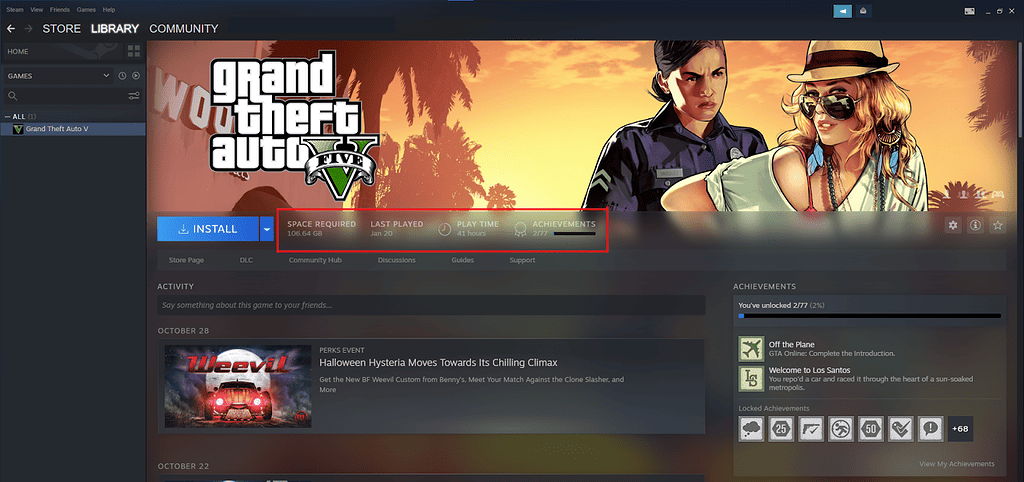 Steam sums up the hours of any particular game upon running it. Meaning you don't even have to play the game for steam to count the Play Time as long as it's running in the background. However, this might prove to be an inaccurate method for many players but don't be worried. There are other ways to view your play time easily.
Method 2 — Checking Through Epic Games
When Epic Games started releasing games for free, the Client faced multiple crashes, and millions of users around the world heavily visited the servers, especially when GTA V was given away for free. Therefore, if you have downloaded the game through Epic Games, you can use this method to check the hours played. This is how you can view time spent through Epic Games.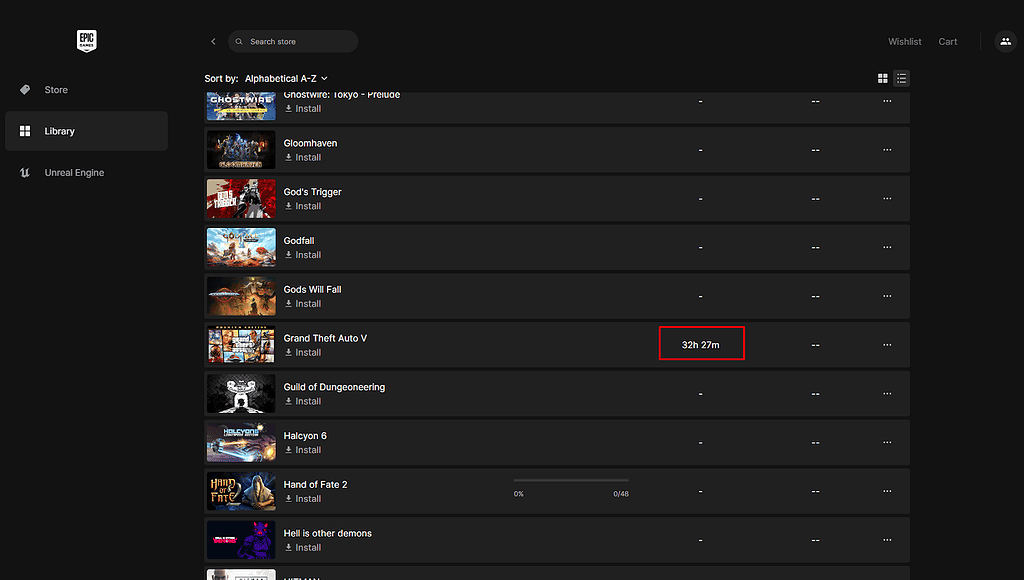 Launch Epic Games on your computer and login through your email.
On the left, you can find the Library tab, click on it and locate Grand Theft Auto.
Total hours played can be easily viewed now. All you have to do is click the List Icon instead of the Grid Icon to see both the size of the game and the time spent.
Check Individual Hours for Each Character Through Social Club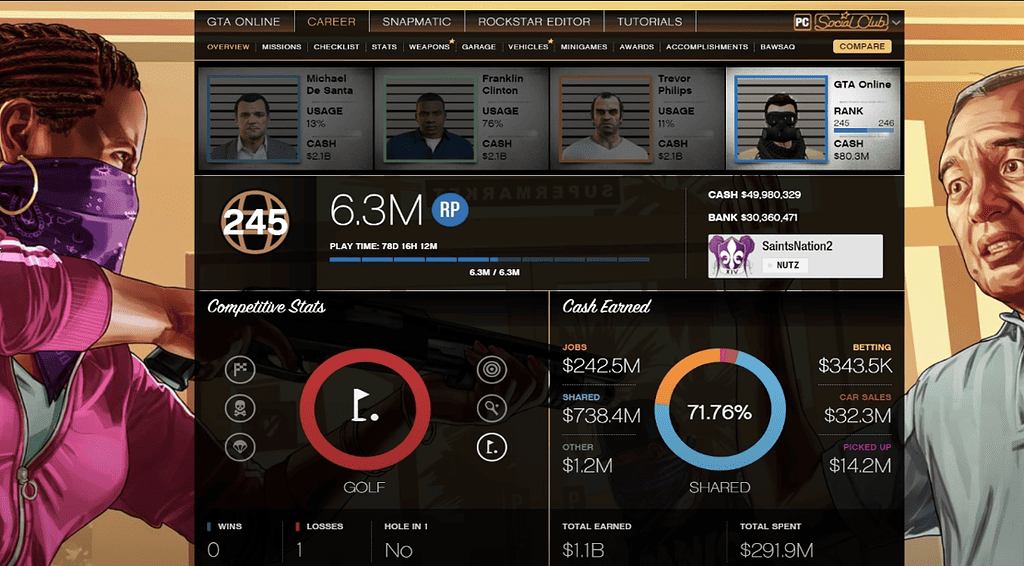 Search for Rockstar Games Social Club and enter the website using any Browser.
The web page will prompt you to either create an account or log in to an existing one. Simply choose to log in and enter your email and password.
Occasionally, the web page might ask for confirmation through your email. If that happens, you can quickly open your email and check the inbox, where you can confirm that it was you trying to log in.
After successfully logging in, you might find yourself immediately in the career section. All kinds of data and statistics can be found there that are related to you. Missions, Weapons, General stats, and many others can be easily viewed.
Because GTA has a Story mode and Online mode, you will see the three main characters of the story, Michael, Franklin, and Trevor, alongside your Online Characters.
Your online character Play Time can be seen after you click on them. The hours will be right under your experience points.
Single-Player characters' play time can be seen counted in hours and days at the bottom of the page, right above criminal rewards.
Related articles:
How to Check Hours Spent in GTA Through The Game
Whether you're a PlayStation player, an Xbox player, or a PC player, this method will allow you to check the time spent regardless of the platform.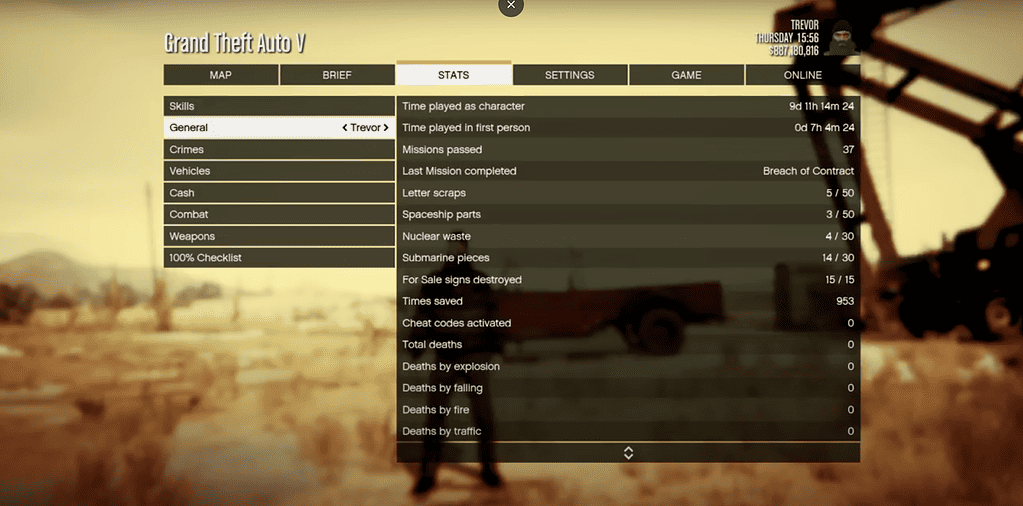 Open Grand Theft Auto V.
Switch the game into Story Mode and allow it to load. After you finally spawn in the world, simply press the Escape button on your keyboard or the Start button on your controller to open the menu.
In the Menu, you can see multiple tabs. Select Stats.
You can view hours played for all three main characters, mission passed, and other statistics from there.
If you wish to find out the total hours played, simply sum each character's play time and you will end up with the result you want.
For Gta Online, Follow the Steps Below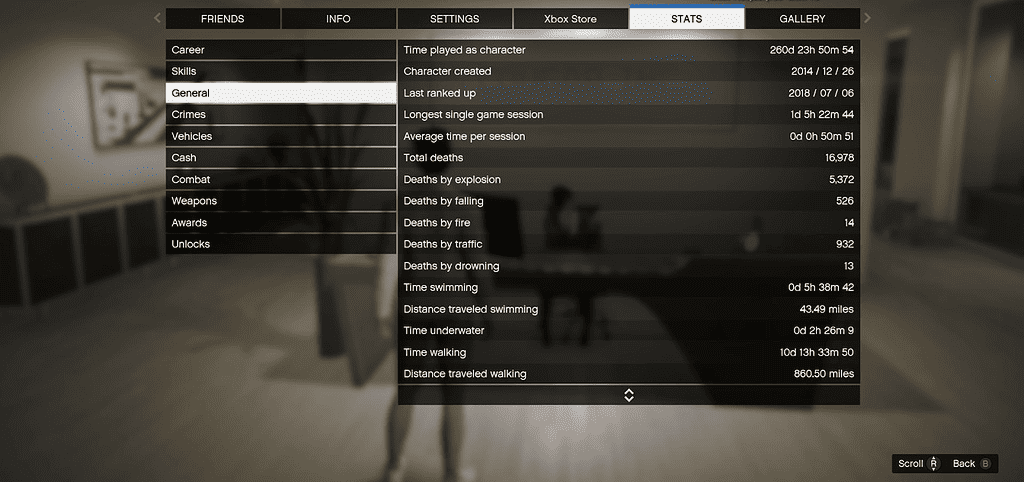 Launch the game into Online mode instead of Story mode. If you're a PC user, a message will prompt you to choose which one to load up. You can access the switch feature after launching the game if you're a console user.
After the game loads, press the ESC or Start button, depending on your input device.
In the menu, find the Stats tab once again and click on it.
The career tab will be shown, similar to the one on the Social Club web page. This will show you the number of hours spent on your online characters. You can keep track of your hours by accessing this menu at any point in-game.
How to Check Hours Spent Through the Console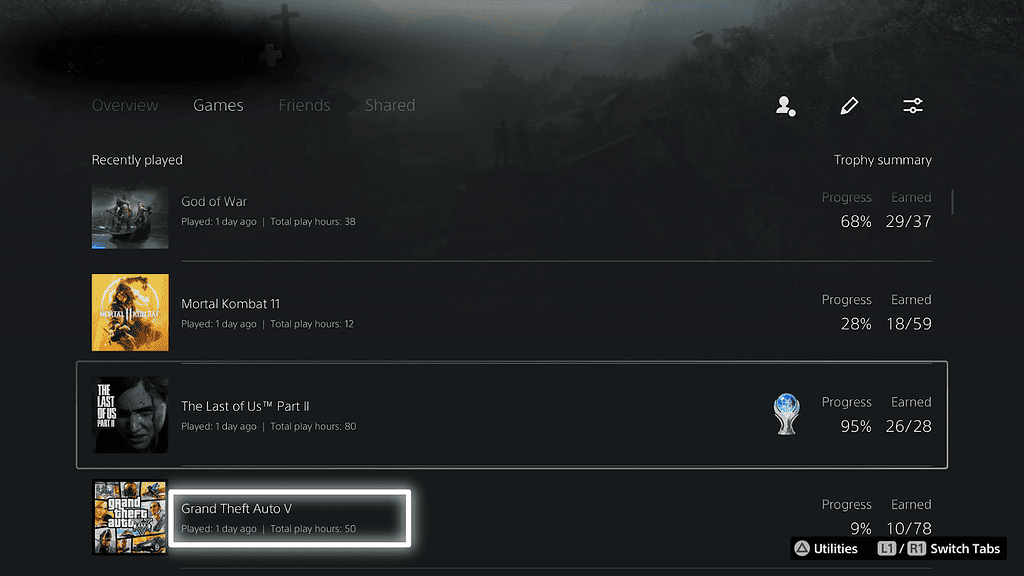 If you're a PlayStation user, you can easily check your gaming hours from the PlayStation Library tab.
Click on the game library tab or the purchased games tab.
From there, find GTA V and click on it.
You will find all achievements along the date they were earned. But most importantly, you will also see your time spent on the screen.
This method can also be applied to Xbox Consoles. It is fairly easy and quick to follow.
Why Is Tracking Total Hours of Any Importance?
Many players might not even care about how many hours they, or others, have in a game. However, for Speedrun players, tracking time can be super important. And for hardcore competitive players, the number of hours put into your game can show how much experience and knowledge you have.
You can also track your hours to compare the time spent with the progress. Or perhaps you might want to view your playtime because you seek to decrease it. Nonetheless, you can now easily find the hours spent not just on GTA but on other games as well.