Ethereum mining is a thing of the past, because it's no longer profitable, and nowadays, there are several ways of getting Ethereum for free. This article will look into various methods through which you can earn free Ethereum, and we'll also show you how to use these methods in a step-by-step guide.
Using Freecash
You won't need to jump through hoops in order to earn free Ethereum - you can easily earn it right here at Freecash! All you need to do is register on our platform and perform any online tasks of your choice, to earn Freecash points. After that, you'll be able to exchange them for Ethereum - directly on our platform, without having to do exchanges and such.
Moreover, withdrawals are nearly instant, and you'll be able to withdraw very low amounts of ETH - even $2! So if you're looking for a simple, fast, and effective way of earning free Ethereum, register on Freecash and start earning it right away.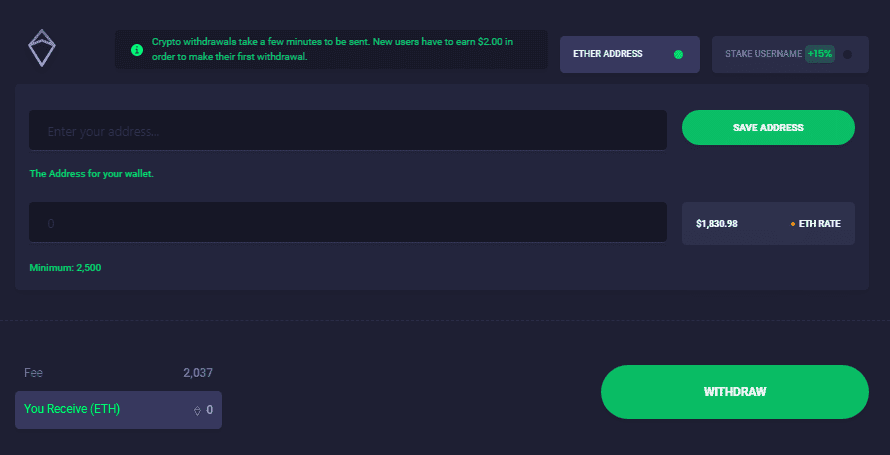 Cryptocurrency Faucets 
In the cryptocurrency world, Faucets are nothing but applications or websites which offer to pay a small number of cryptocurrencies like Ethereum if the user performs simple tasks. There are plenty of websites available out there where you can earn ETH effortlessly. However, in most of the platforms, you require a FaucetPay account to accept micro-payments. 
ClaimFreeCoins.io is a web-based platform that claims to offer 50 Gwei or nano-ether every 5 minutes. Users are required to solve captchas to earn and they can leverage their earnings through referrals with a chance to earn a 50% bonus on their payments.
FireFaucet.win is another web-based platform that supports multiple cryptocurrencies including Ethereum. It claims to provide the best rates in the industry and has a level system in which users are rewarded with experience or EXP, allowing them to earn more. Users can claim free ETH every 30 minutes.
AutoFaucet.org supports payment only through BTC and ETH, but it provides various options to its users. Users can simply sign in and start earning. There are tasks like playing games, opening advertisement links, watching videos, etc. 
Faucetoshi.com is also a trusted web-based faucet. It supports 12 significant cryptocurrencies including ETH, BTC, DASH, BNB, BCH, etc. You can withdraw a minimum of $0.01 and support instant transfer through FaucetPay.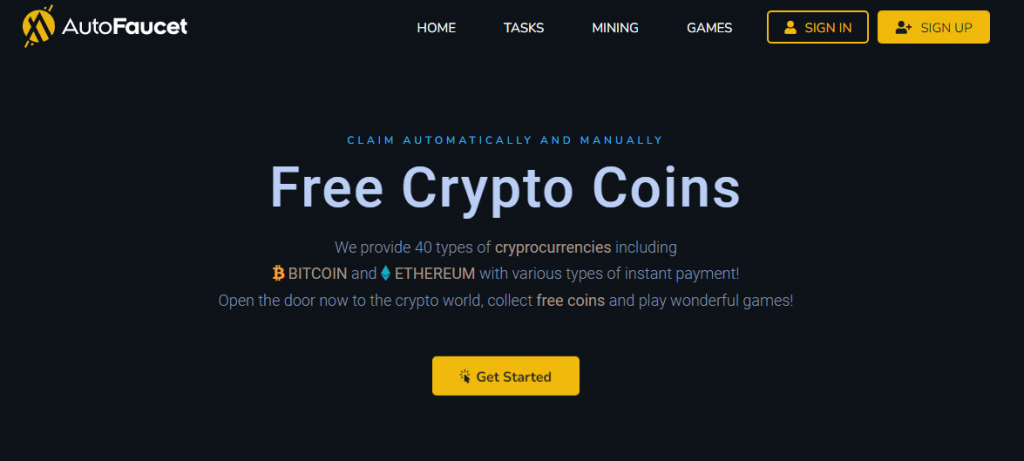 Using Airdrops 
Airdrops are a popular medium to promote new ventures in the crypto space. They are a marketing scheme aimed to promote upcoming tokens or coins by sending them to the eligible user's wallet. The only thing you are required to do is to identify new programs and complete their eligibility in order to receive a new token. Although most airdrops are legit and trustworthy, some are scams and waste time.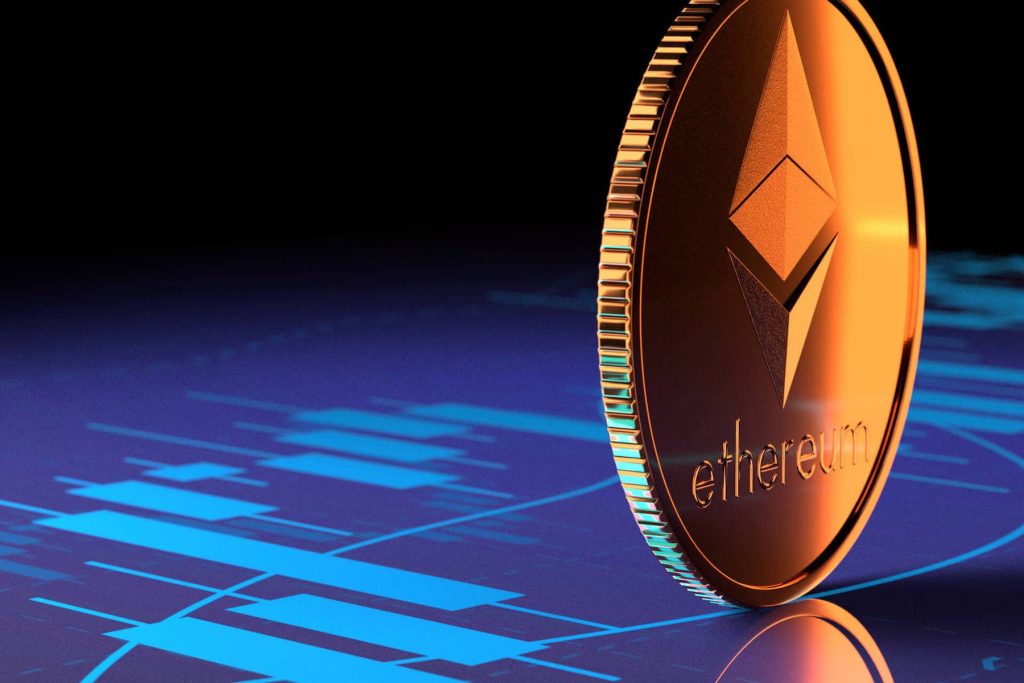 A reputable cryptocurrency airdrop will never ask for money to invest in the currency. Its sole purpose is promotional. On the other side, a type of cryptocurrency scam known as a dusting scam involves delivering tiny amounts of bitcoin or other cryptocurrencies to unknowing receivers. Users need to look for unauthorized deposits into their cryptocurrency wallets constantly.
The main idea behind Airdrops is to raise awareness and add multiple enthusiasts so that the value of the token or coin increases. In general, users are required to do the following tasks.
Follow certain individual or community pages on social media like Twitter or Reddit.
Sharing or retweeting the upcoming drop using hashtags.
Sign up for the updates and open a wallet address for the drop
Ultimately, after the whole process, the companies will airdrop the token on your wallet without any further conditions.
You can check various airdrop schedules for Ethereum and other tokens by following these websites.
Airdrop.io
Airdropalert.com
Playing Crypto Games
One of the options to earn free Ethereum is by playing P2E (Play-To-Earn) games that reward players with free ETH. This is a great option for gamers, especially since there are both mobile and PC (browser) games, so you can play both and the go or at home. There are plenty of games of different genres to choose from, but they all function the same or similar way - your goal is to claim an in-game item or asset as a reward for completing in-game activities, which you can then trade or sell for Ethereum.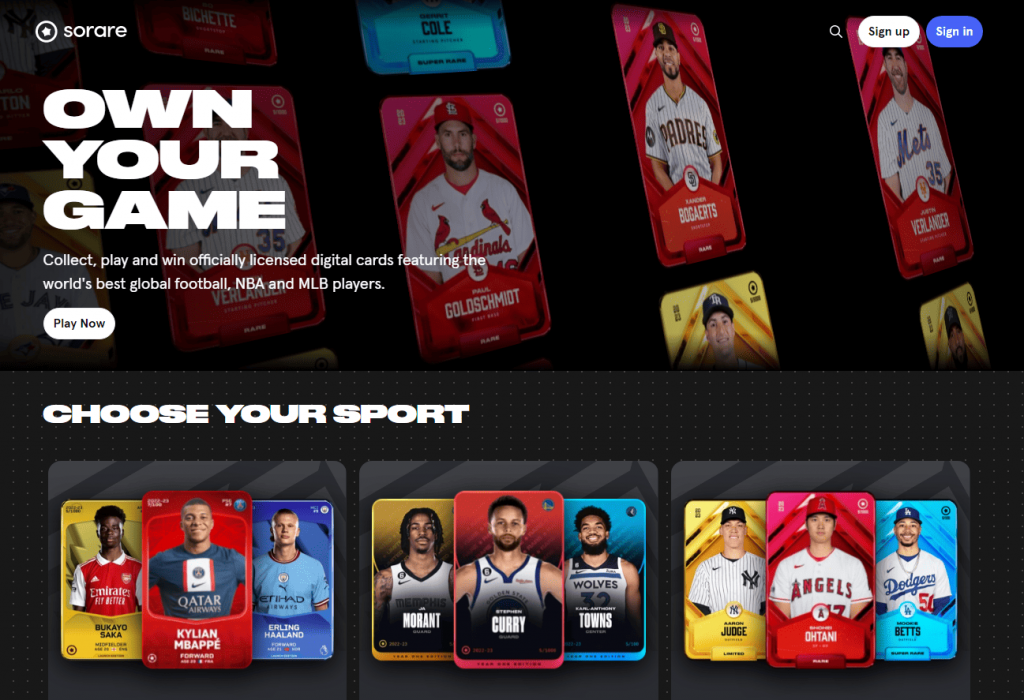 Bounty Hunting
Blockchain initiatives use crypto bounties as tokenized incentives and reward systems. The individuals that carry out these bounty programs are referred to as bounty hunters, and they are rewarded handsomely for each program they successfully complete.
Bounty hunting is a legit way to earn a handsome amount of cryptocurrencies in the crypto world. According to ethereum.org, you can earn up to $250,000 worth of Ethereum if you complete the tasks. The tasks include finding bugs in solidity (programming language for the development of decentralized applications on a blockchain), and smart contracts of different clients.
Related articles:
1. Bounty Hunting programs on Ethereum.org
However, this kind of program requires coding, programming, and technology skills to find bugs in the code of clients. The Bug Bounty Program only applies to the in-scope targets. This indicates that things like our infrastructure—websites, DNS, email, etc.—are not covered by the bounty scope. Bugs in ERC20 contracts are often excluded from the bounty's coverage. However, in such circumstances, we can assist in contacting the impacted parties, such as writers or exchangers. The ENS foundation is responsible for maintaining ENS, which is not covered by the bounty.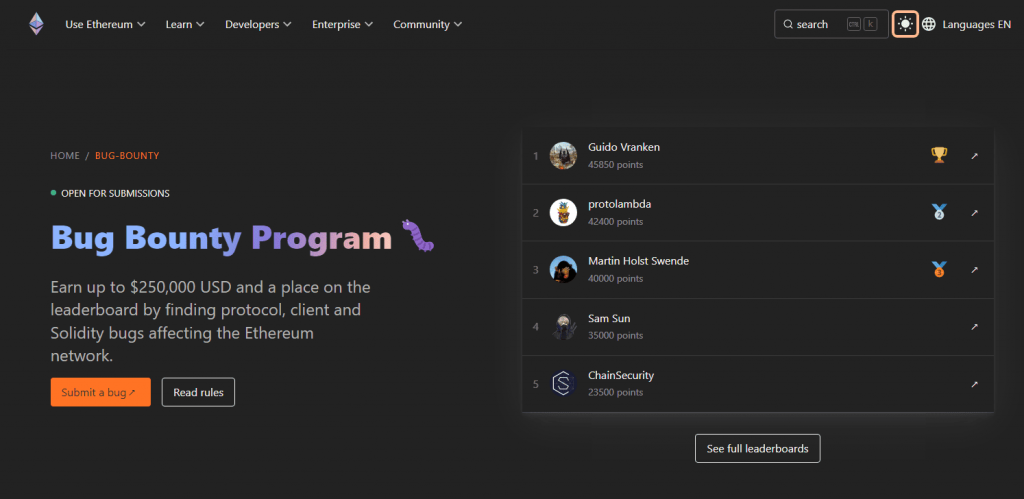 2. Other Bounty Hunting programs
There are multiple websites that provide bounty-hunting programs on their platform. Many of them are legit and some of them are scams. The best websites to earn bounty are Immunefi.com and hackenproof.com.
Immunefi.com is a platform for bug bounties with an emphasis on Web3 and smart contract security. They offer blockchain and smart contract project hosting, advice, bug triage, and program management services for bug bounties.
Hackenproof.com is a specialized bug-fixing and bounty-hunting program for Web3 development. It is highly rewarding for hackers to find bugs and earn rewards on their platforms. They support payment through ETH.
In order to safeguard projects and their users, bug bounty programs are open invites to security experts to find and report any flaws in projects' smart contracts and applications. Security researchers are compensated for their hard work according to how serious the vulnerability is as evaluated by the project impact.
Referral/Affiliate Programs 
The referral programs are also a simple and hassle-free way to earn a small amount of ETH. There are various websites that run these referral programs, however, the biggest offering is provided by crypto exchanges.
All you have to do is register with the exchanges, provide your KYC details, and refer someone. You can earn free Ethereum every time you add a new member to the exchange. Also, you earn Ethereum whenever they make a buy/sell as a percentage of the brokerage fees. 
This is one of the easiest methods to earn Ethereum. However, the amount is a little low but, there is no limit on how many new accounts you can open with different brokers.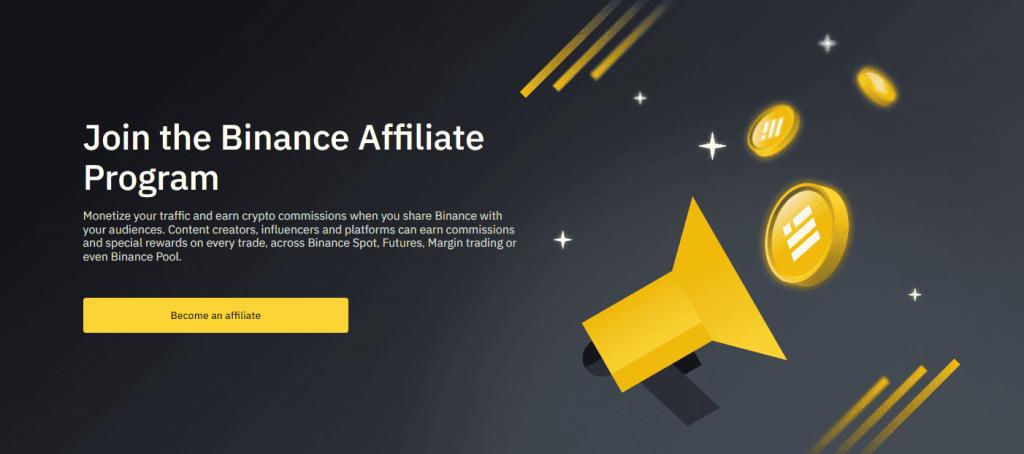 Ethereum Liquidity Mining
All the abovementioned methods are easy but generate a small amount of Ethereum. If you have already invested in Ethereum, you can earn Ethereum by investing it into a Liquidity Mining pool or Yield Farming.
What is Yield Farming?
Utilizing decentralized finance (DeFi) in order to maximize profits is known as yield farming. On a DeFi platform, users can lend or borrow cryptocurrency and receive cryptocurrency in exchange.
Farmers who are interested in increasing their crop production can use more sophisticated strategies. For instance, yield farmers can continuously switch their cryptocurrency holdings between several loan platforms to maximize their profits.
By investing money or tokens in a decentralized application, or dApp, yield farming enables investors to earn yield. Cryptographic wallets, DEXs, decentralized social media, and other applications are examples of dApps.
Decentralized exchanges (DEXs) are typically used by yield farmers to lend, borrow, or stake coins in order to earn interest and speculate on price fluctuations. Smart contracts, which are pieces of code that automate financial agreements between two or more parties, enable yield farming throughout DeFi.
Best Yield Farming platforms for Ethereum
MakerDAO is the biggest CDP platform with a Total Value Locked or TVL of around $8 billion. The Annual Percentage Yield or APY varies from 4-7%. CDP platforms or Collateralized Debt Platform provides liquidity by locking ETH in MakerDAO to enable the mining of new stablecoin.
AAVE is one of the best Defi platforms with a high APY of 7.5%. The total value locked is about $5 Billion.
Uniswap is a DEX with no trust system. Liquidity providers provide liquidity to the traders to trade against the liquidity pool. The liquidity providers are then paid a fee by the traders for making the market. Due to this frictionless trading system, Uniswap has become the world's biggest trustless token system. It also has its own DAO governance token called UNI.