It's still a long way to St. Patrick's day, but we can always start preparing. Let's fill your inventory with green skins and advocate for a green CS! There are several unique skins you'll find throughout the game, and we've listed the best green skins that you can find at relatively lower prices in the steam market.
Desert Eagle Emerald Jörmungandr
If you've got $200 (Field New, probably less for other models) lying around, then there's no expensive skin better than the Desert Eagle Emerald Jörmungandr that shows off the Midgard Serpent on the entirety of your hand cannon in a green theme. You'll notice the Norse design and ornaments plastered all over the gun with a unique pattern that gives it life.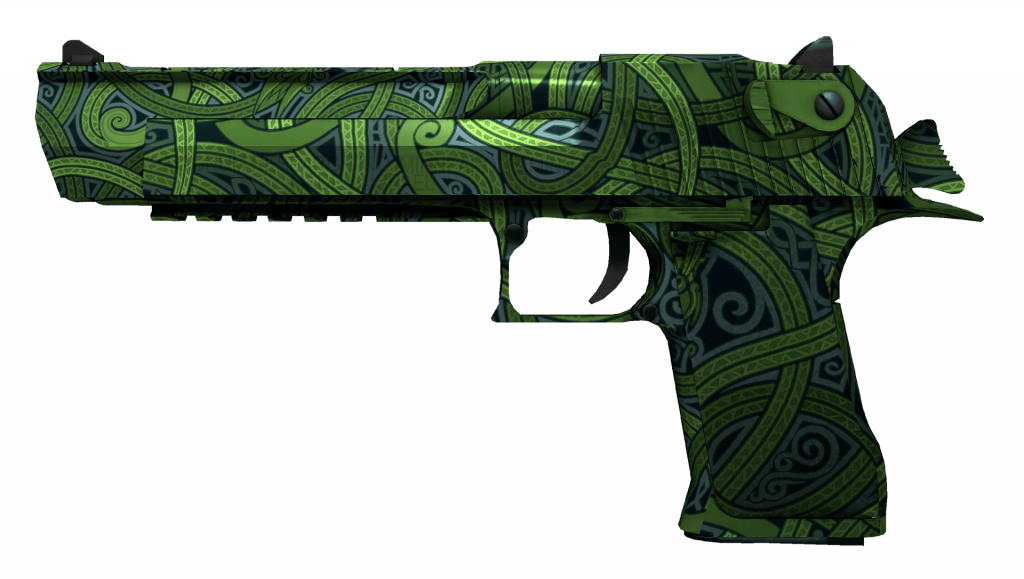 P2000 Turf
P2000 Turf is an old classic that boasts a shade of green over its barrel and grip with a hint of gray and white texture that enhances the overall look of the pistol. Who doesn't like to whip out the good ol' P2000 every now and then, so it might be a good idea to buy yourself the good ol' P2000 Turf to add to your green arsenal.
You should be able to find the skin for extremely cheap at around $0.13 for the field-tested version on the community market.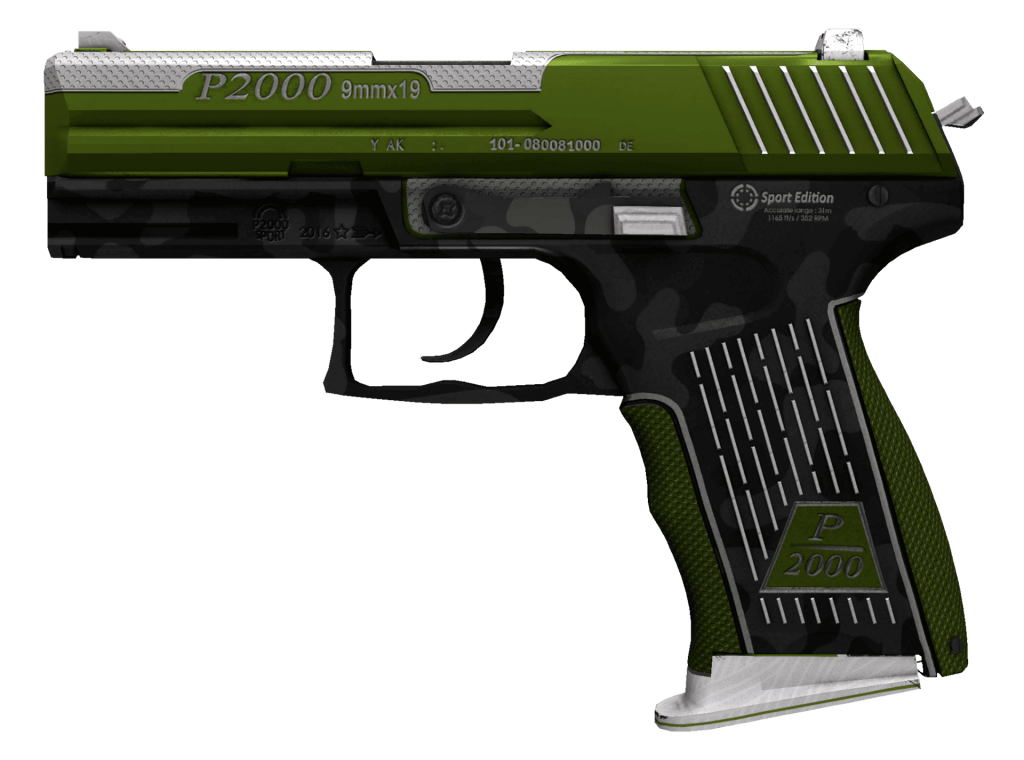 AWP Containment Breach
When it comes to green skins, you're definitely going to need one for your AWP when you whip that bad boy out for a few quick scopes. AWP Containment Breach is a community favorite that boasts a fairly unique design on its body featuring a radioactive forest along with a monster that has glowing eyes. The main color for the AWP skin is neon green in mind that really makes your inventory glow.

USP-S Overgrowth
The USP-S is a fairly preferred weapon in eco rounds, thanks to its accuracy. You might want to pimp your arsenal one out with the USP-S Overgrowth skin with a camouflage pattern with three colors; yellow, brown, and green with green largely dominating the body of the USP-S.
You can grab the Factory New version of this skin from the steam market for a nifty $65 at this point in time. Also, if you have an Operation Bravo case lying around, you can always try opening it to get your hand on this or a variety of other skins that offer similar designs.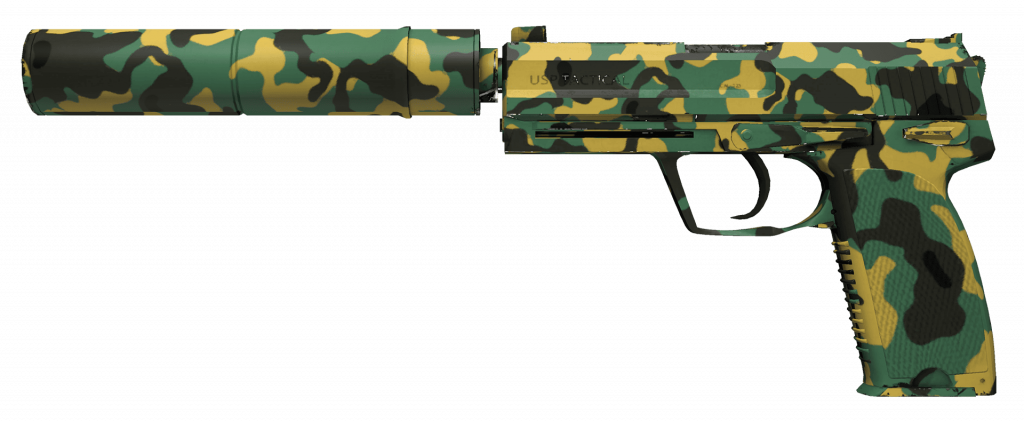 PP-Bizon Fuel Rod
The PP Bizon Fuel Rod offers a simplistic vanilla design with a radioactive symbol on the left side of the gun and a glowing green canister-like magazine attached at the bottom of the PP Bizon. It is a part of the Revolver Case collection and is often used due to its great design, and cheap price. You can grab the Factory New version of the PP Bizon Fuel Rod from the steam market at a low price of $3.74 USD.

P90 Emerald Dragon
You'll find the P90 Emerald Dragon with one of the more unique designs on its body. It's the normal P90 body embroidered with a Chinese dragon, surrounded by gray clouds. You'll find that other than the more dominant green color on this skin. There are also hints of white and blue.
As for the value of the skin, you can grab it for roughly $200 from the steam market for yourself, or acquire it from the Operation Bravo case if you'd like. Personally, this is one of our favorite skins because there are no excessive colors that would otherwise distract from the main theme of the skin.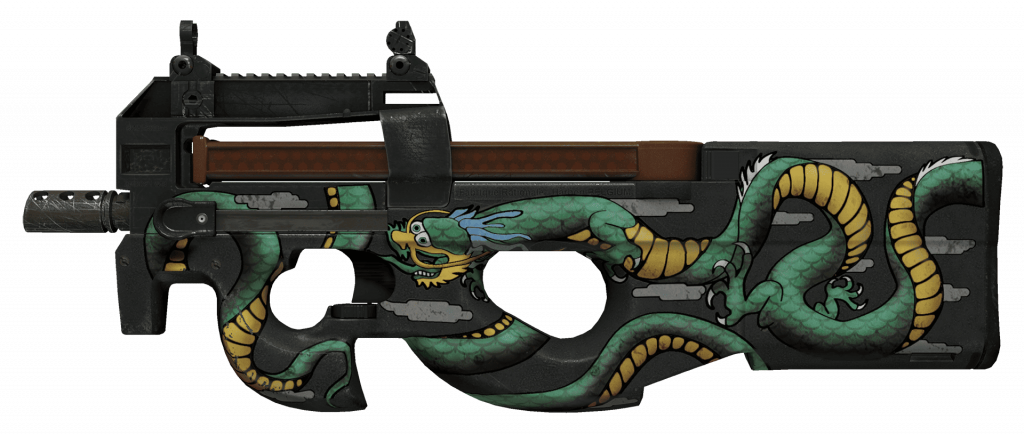 Related articles:
Five-SeveN Neon Kimono
The Five-SeveN is a popular choice amongst most players due to its high damage, decent fire rate, and accuracy, making for easy headshots. With the Five-SeveN Neon Kimono skin (part of the Rising Sun collection) by your side, you'll have a clean design with white lines forming diamonds on the skin's barrel in a bright neon green background the rest of the gun being mostly graphite.
You can grab the factory new version of the Five-SeveN Neon Kimono for around $200. It's definitely an expensive green skin to add to your green loadout, but definitely worth it.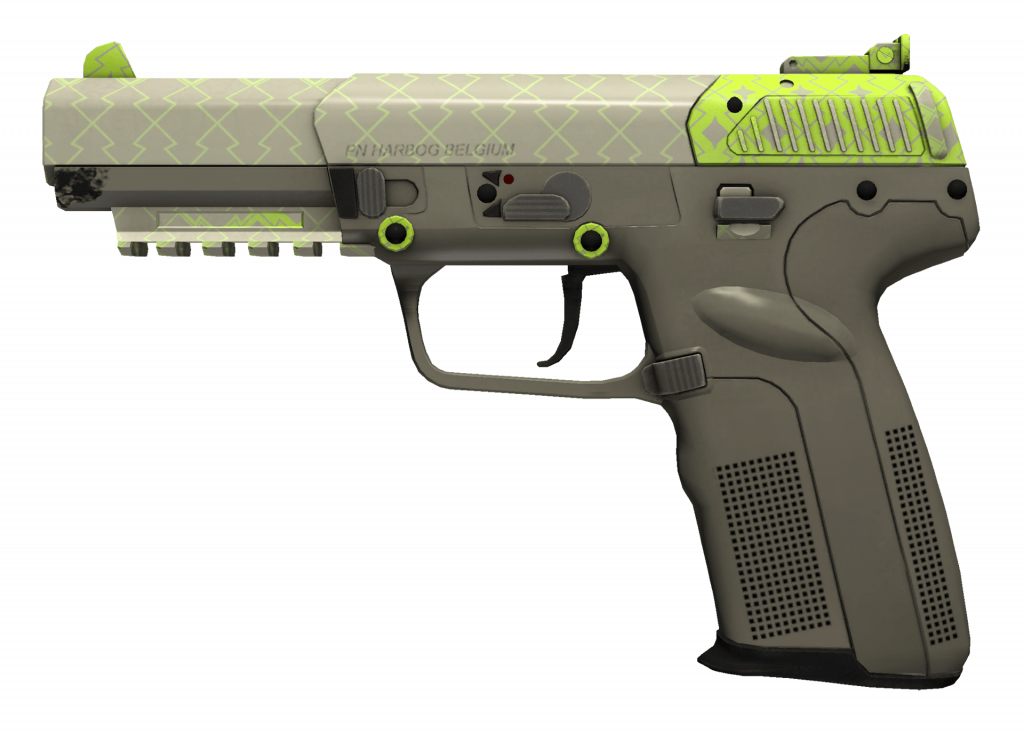 USP-S Para Green
That's right; another USP-S green skin makes it to our list. This green skin offers a darker shade compared to what you've seen in the other green skins on this list. The USP-S Para Green is a popular choice and part of the Chop Shop collection. It has a dark green (khaki green) frame that goes all the way to the grip and the trigger with a black barrel, and black silencer if you will.
You can get the Factory New version for cheap at about $10 from the steam market. It's not that expensive and will feel very premium to have in your inventory as a part of your collection of green skins.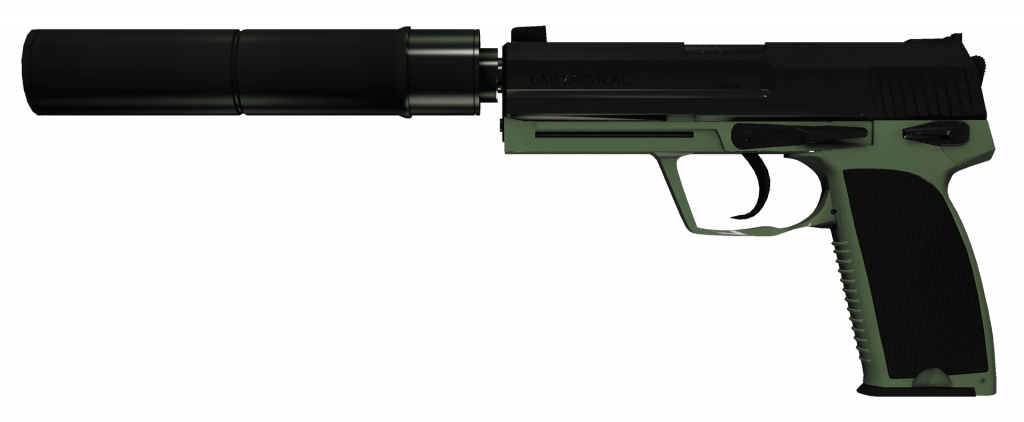 MAG-7 Counter Terrace//Rising Sun Collection
The MAG-7 may not be a more 'meta' weapon to use, but when you're running a little short on cash, you might consider rushing into B with this bad boy every now and then. With the Counter Terrace skin, you get a green skin with large portions of white and black as its secondary color.
If you're a big fan of the MAG-7, we definitely recommend getting your hands on this particular skin as it offers a unique geometric design that looks and feels good. You can grab it for $230 off the steam market.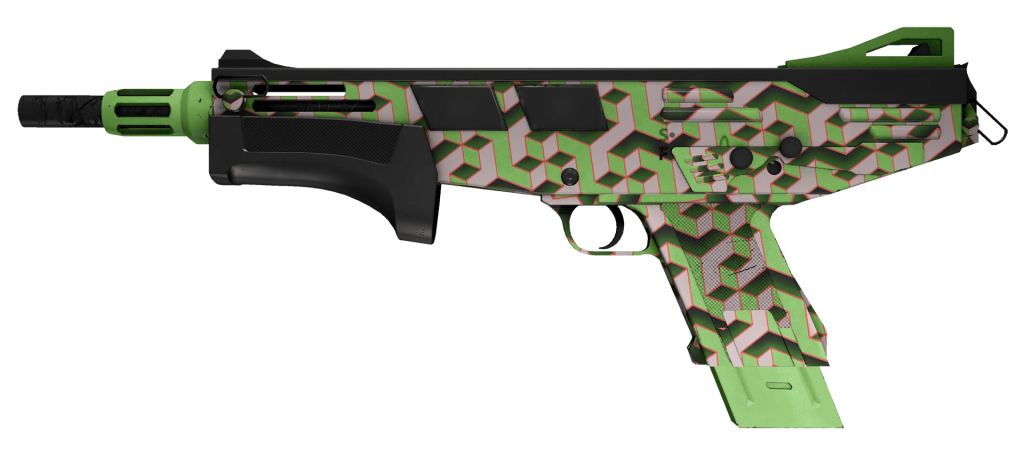 Tec-9 Bamboo Forest //Rising Sun Collection
There ain't no terrorist going about an eco round without their good ol' trusty Tec-9. What better way to do it than cladding it with the Bamboo Forest skin that is painted white and green with a design of bamboo branches on it, as would be otherwise evident by the name. You can see a hint of red on the receiver as well.
You can grab it from the steam market for about seven fiddy ($7.50). It's cheap and ensures you remain in style in a fashionably competitive CS:GO.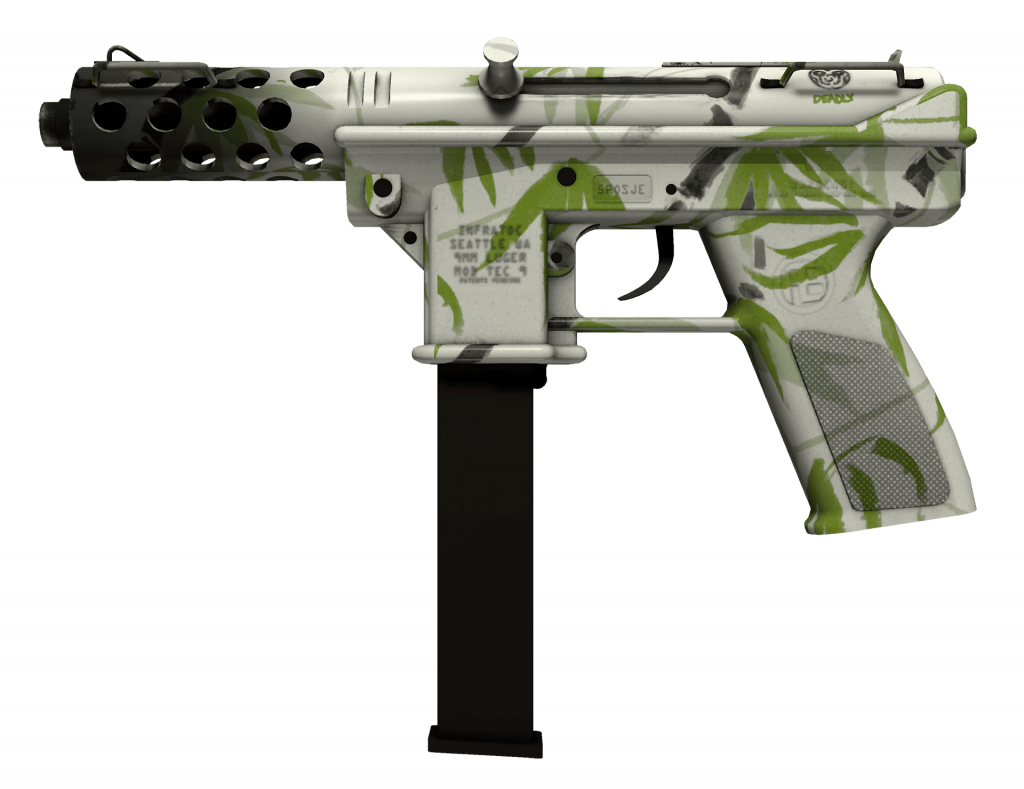 You can add those skins to your inventory and force the color green down your enemies' line of sight as you mow them down! Some of the more famous designs might be expensive, but they're well worth it. Hopefully, your inventory will be filled with green skins by the end of this post!