Counter-Strike: Global Offensive remains one of the most popular multiplayer shooter games, even after a decade since its release. The game is as much about style as it is about skill. Who wouldn't want to eradicate terrorists in Ancient glamorously? One of the best ways to make your gameplay aesthetic is the trendy pink inventory/loadout in Counter-Strike: Global Offensive.
A pink inventory is a name given to a loadout with only pink skins on your weapons. It looks badass and is proof of a player's dedication to the game. Among the plethora of options, it can be hard to pick favorites. Here are some of the best pink CSGO skins for your pink inventory in 2022.
Best Pink CSGO Skins: Pistols
Light weapons in Counter-Strike games are staples that have been around forever. Be it your handy Glock-18 or a badass Desert Eagle. Pistols have some of the best pink skins that are bound to spice up an inventory with minimal effort. This is a compilation of the best pink skins for all pistol weapons you can access in-game. Let us get right to it!
USP-S Cortex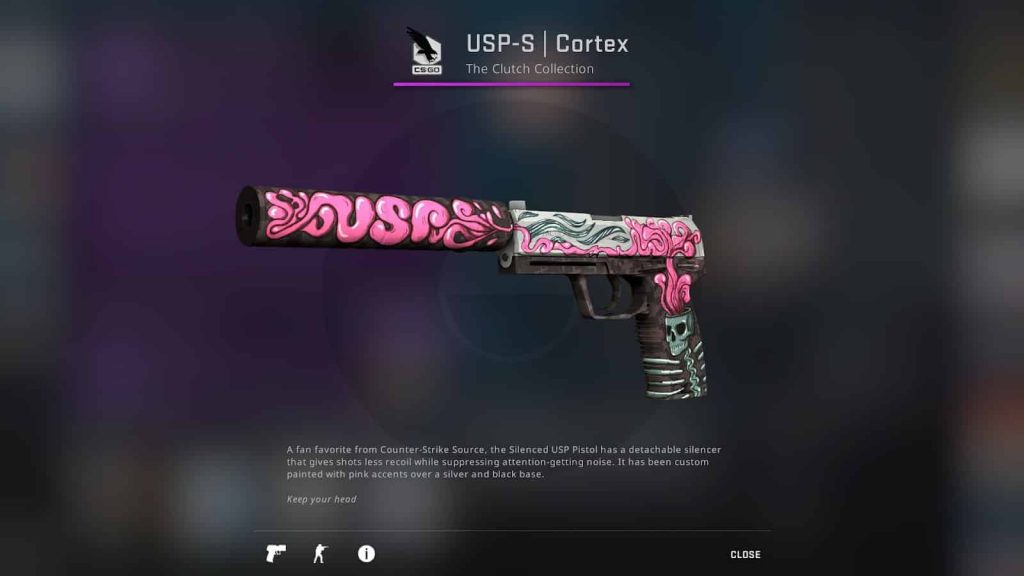 Kicking off our list with the USP-S, we have the pink Cortex skin. It is one of the fan-favorite pistols in CSGO and for a good reason. With minimal recoil and decent shooting speed, the USP-S resonated with players who quickly became fans. The Pink Cortex skin on the USP-S gives it an aesthetic look, with the grey and pink skin greatly complimenting one another.
The best part is the sticker customization which will give your pink USP-S a more personal touch. This is a must in your inventory if you are a pink-skin connoisseur.
Glock-18 Neo-Noir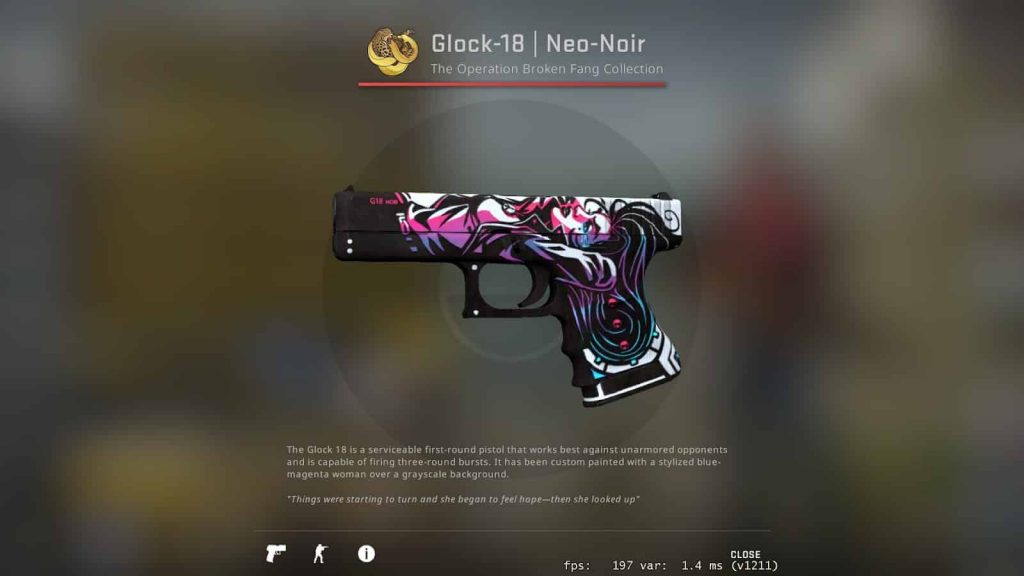 While the Pink DDPAT is the pinker of the two, the Neo-Noir skin looks gorgeous with its wavy hypnotic patterns that make your Glock-18 look amazing as you are shooting your way to the bomb defusion site. All of the Neo-Noir skins are lauded to be amazing, but the Glock-18 variant, in particular, comes to mind due to its relatively affordable price, the aesthetic glare, and how awesome it looks in an all-pink loadout.
The lines cut through and spiral in chaotically regular patterns, making it a treat to look at.
Five-SeveN Fairy Tale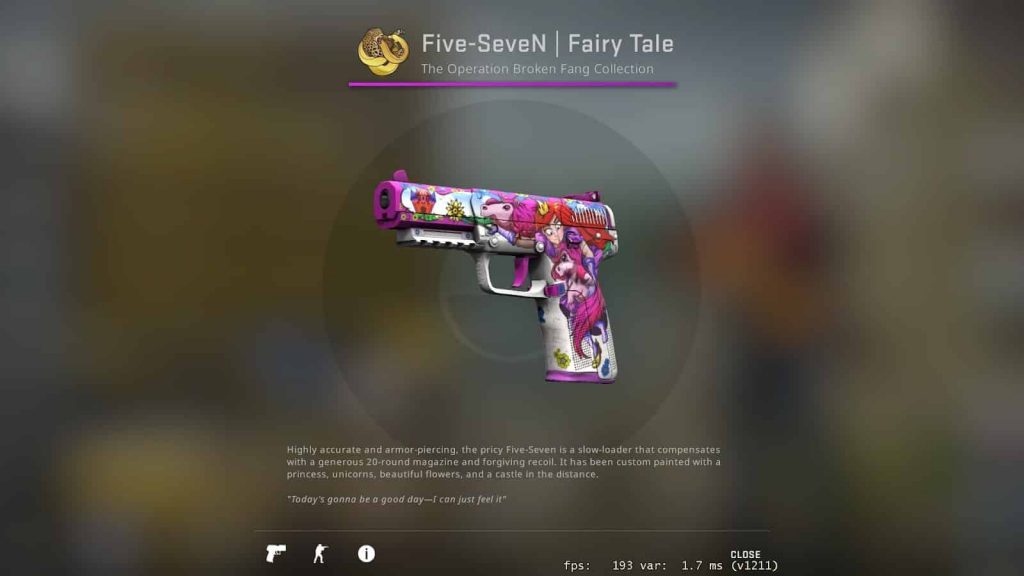 This stunning skin is perfectly deadly on its own, but its killer looks are nothing to scoff at, either. The Five-SeveN's Fairy Tale skin looks like a well-done custom paint job with a touch of graffiti. Players will notice that this skin has a softer pink look that makes it great for female CSGO players who were on the hunt for something cute.
Best Pink CSGO Skins: SMGs
CSGO would not be what it is without the awesome variety of sub-machine guns that it offers players to shoot their hearts out with. Fans of the SMG will be happy to know that these deadly guns have some of the best pink CS skins that will look superb in your pink loadout. Let us take a look.
MAC-10 Neon Rider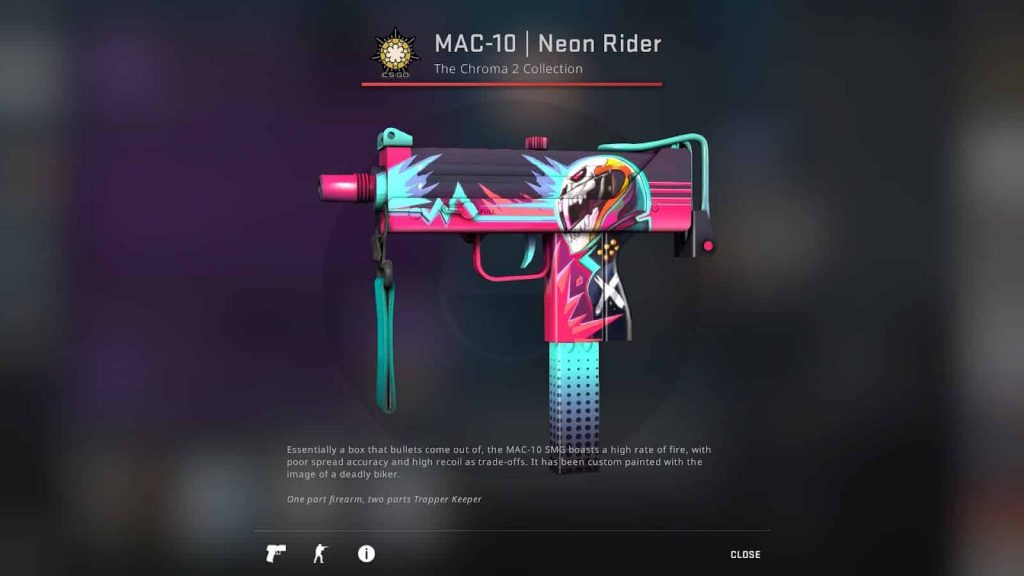 The MAC-10 is a brilliant SMG that comes with some great pink skins as well. The Neon Rider beautifully marries cyberpunk and metal to produce this futuristic-looking SMG skin that fans cannot get enough of. It is a colorful skin with a vibrancy equally as deadly as its bullet.
MAC-10 Curse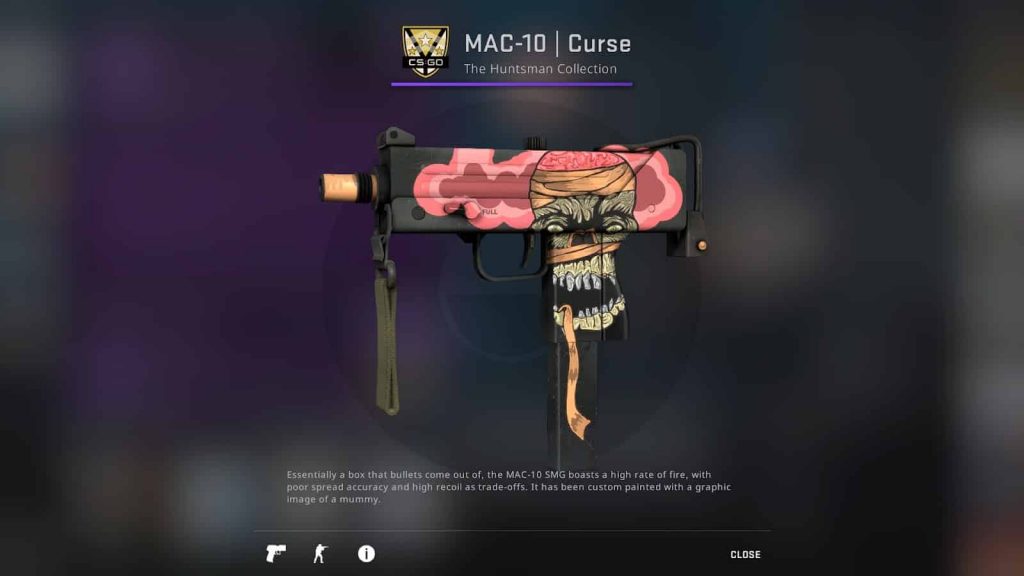 If you wanted a slightly mellower MAC-10 skin without compromising on the cool factor, Curse is the best you can hope for. The pink Curse skin is a simplistic cloud of sakura pink with a badass skull sticker that amps up the coolness through the roofs. The black background provides a solid base that makes the pink more prominent.
MP9 Mount Fuji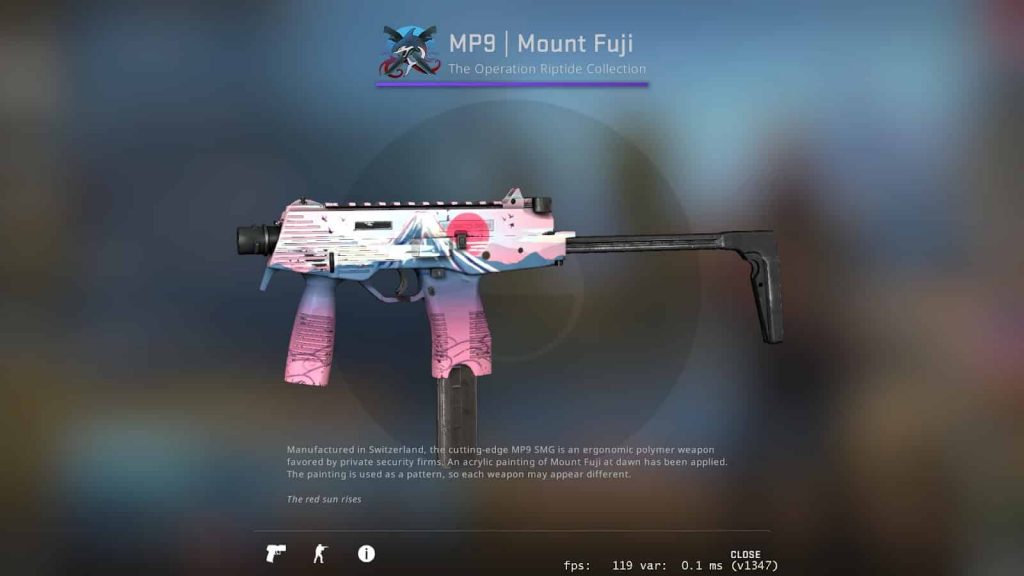 Arguably one of the best pink skins in the game, Mount Fuji is a cotton candy pink skin with an artistic Japanese-style illustration of the titular mountain. There are about three different pink accents at work here which complement each other beautifully and coat the entire body. The blue and pink look amazing together and this is a skin you do not want to skimp out on in your pink inventory.
Related articles:
Best Pink CSGO Skins: Heavy
Everyone loves a little boom once in a while. The heavy guns ranging from sawed-off shotguns to the Nova 10 deliver exactly that. The pink color is generally associated with softness and harmlessness. These bad boys are here to prove that theory wrong... in style!
Sawed-Off Wasteland Princess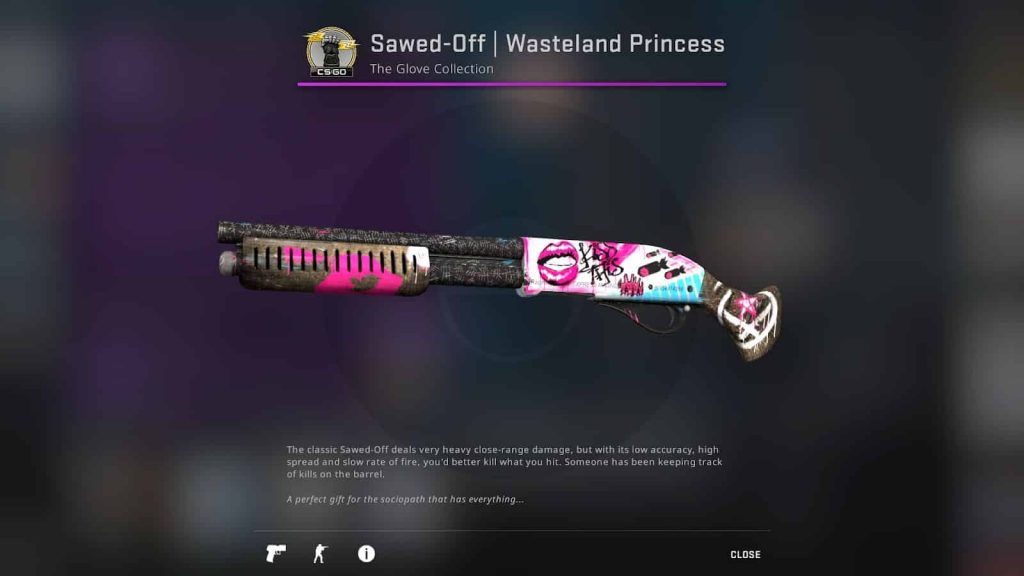 Believe us when we say that the skin is as cool as the name. Wasteland Princess is as if Grunge met Barbie with a touch of 1950's nostalgia. The beautiful skin has an edgy yet refined and artistic look that sets it apart from other Heavy pink CS skins. The striking colors are bound to enhance the gaming experience and make a worthy addition to any half-decent pink loadout.
Sawed-Off Kiss Love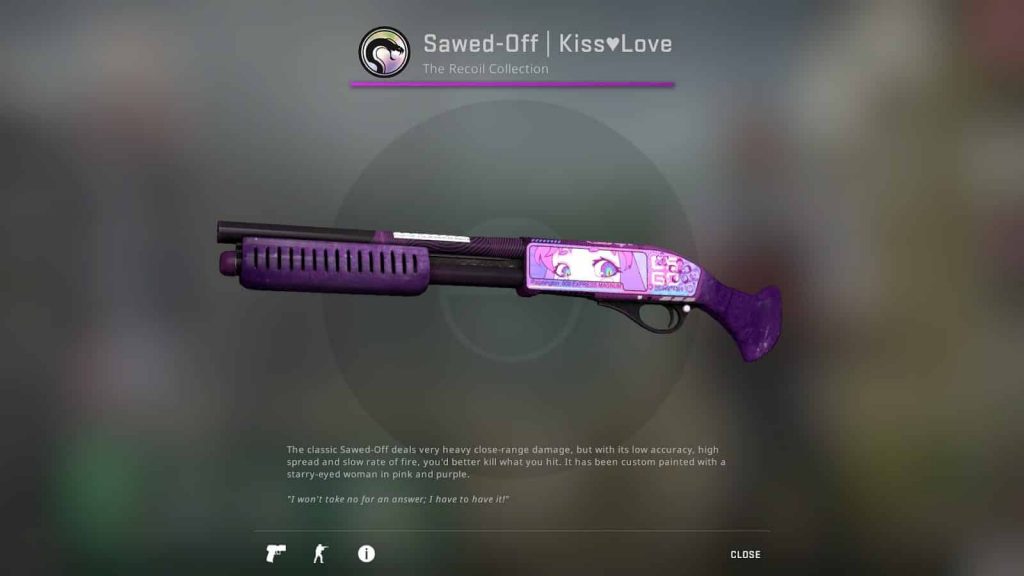 This bad boy is a fusion of pink and purple that screams retro neon greatness. The Kiss Love skin is great because of its distinct anime-inspired look targeted toward the respective otaku demographic. The Sawed-Off Kiss Love skin is especially popular among gamer girls and the skin market has been bustling ever since streamers took to Twitch to show off this stunning pink skin.
Best Pink CSGO Skins: Rifles
Rifles pack the boom of the heavy weapons and the agility of the lightweight ones, making them the perfect companion in heated shootouts to declare the champions of the match. If you want to create a good pink inventory in CSGO, then some pink rifle skins are a must. Here are our favorites:
AK-47 Neon Revolution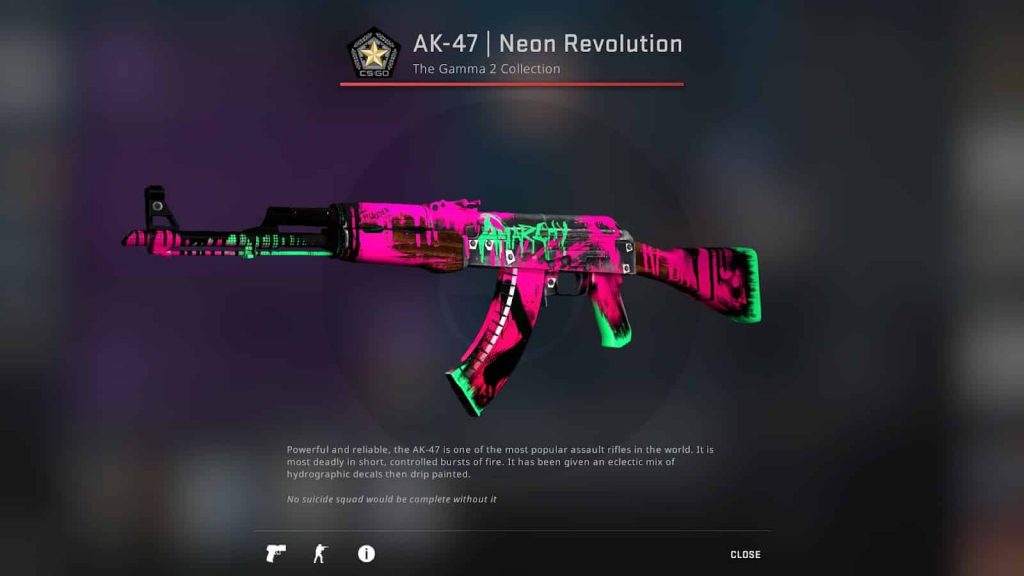 The Neon Revolution is a chaotic and epic skin designed with pink splatters and the word ANARCHY spelled out in green. Not only does this add more symbolic value to the skin, but the cool feel alone is worth it. The Factory New version will set you back $61.98. The cost is worth it.
These pink skins can get costly. Luckily, Freecash users can acquire CSGO skins for free using our service. The best part is that you can choose how you earn your rewards. Play games, complete surveys, and participate in community events to your heart's desire!
AWP Fever Dream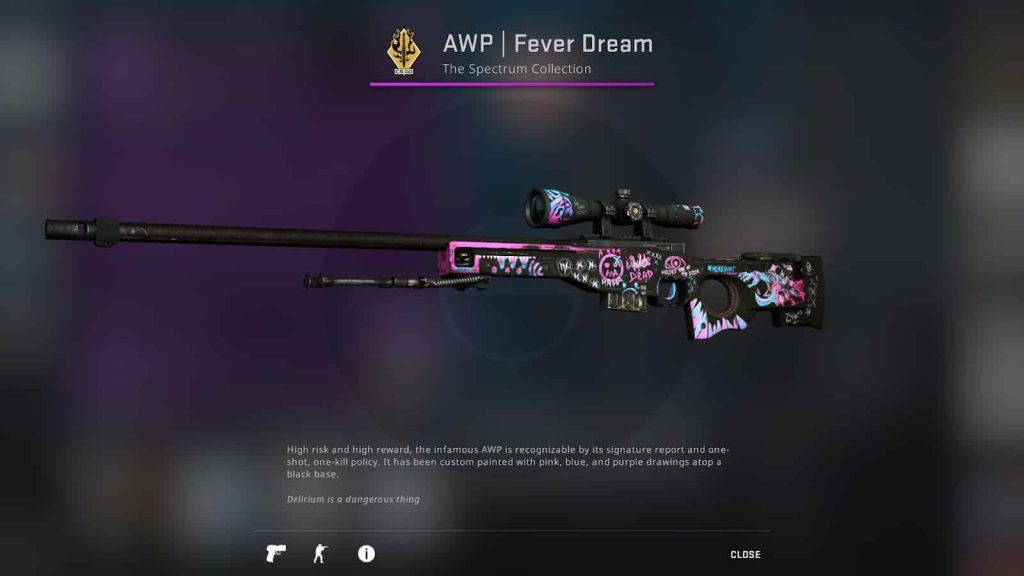 Moving on to the AWPs, we have the Fever Dream skin. It combines elements of graffiti and street art on a black base. The hints of blue significantly help the pink color in popping out to become the star of the show. If you want something low-key with a distinct aesthetic approach, the Fever Dream is a great choice. It is one of the best pink CS skins in general.
Best Pink CSGO Skins: Knives
The guns may be the star of the show, but you cannot leave for battle without a trusty knife by your side. Never forget your humble roots as you are lodging bullets into your foes. To truly make your pink inventory feel complete, you need some nice skins on your knives.
Karambit Fade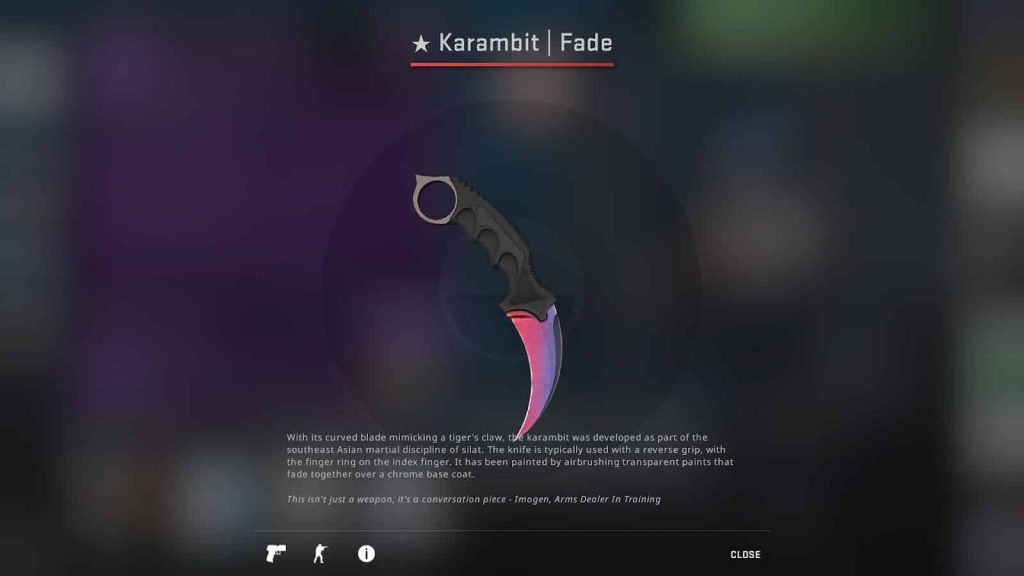 The Karambit looks beautiful with this skin. The name is pretty self-explanatory with the knife having balanced tints of magenta and pink that complement each other wonderfully. The curved knife may not always be in the spotlight, but it makes sure to leave a killer impression when it is.
Shadow Daggers Fade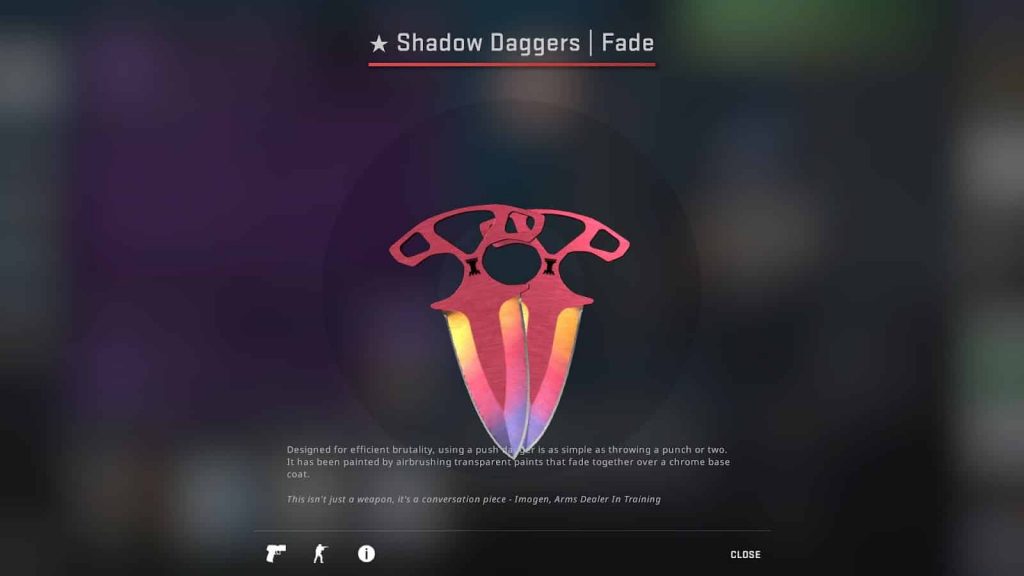 The Fade skin will look even more stunning on a pair of Shadow daggers due to the hot pink handles and the spectrum collection of pink and other warm shades. It reminds the player of a relaxing sunset by the coast. If that seems like something you are interested in, give the skin a look. It is a great skin that is a steal, even at its steep price.