The CZ75 is a pistol that can be used on both teams. It is well known for its ability to penetrate armor, making it a good choice for close-range combat. However, this gun has high recoil and long reload time, so it's not the best choice for long-distance fights.
Nevertheless, the CZ75 works well for eco rounds or when defending a position because of its excellent spraying ability. If you'd like to customize your CZ75-Auto with a new skin, here are ten options you might want to consider.
Xiangliu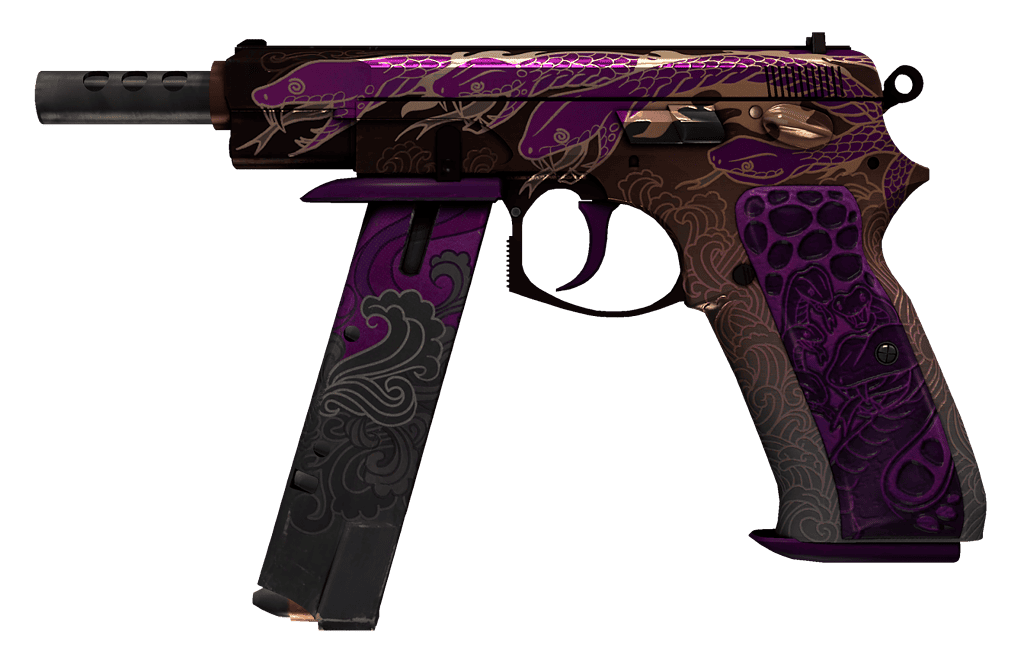 Inspired by traditional Chinese artwork, Xiangliu is a skin that features a coat of paint made up of a blend of two colors—gray and brown. The background is decorated with a pattern of wavy lines and curls, which form a gradient transition, and are present on the entire weapon, and the slide features images of four snakes painted in purple and gold.
The handle grip features a dark purple insert, on top of which there are engraved snakes. Lastly, the only unpainted part is the barrel. Xiangliu can be yours for $11.09 on Steam Marketplace.
Yellow Jacket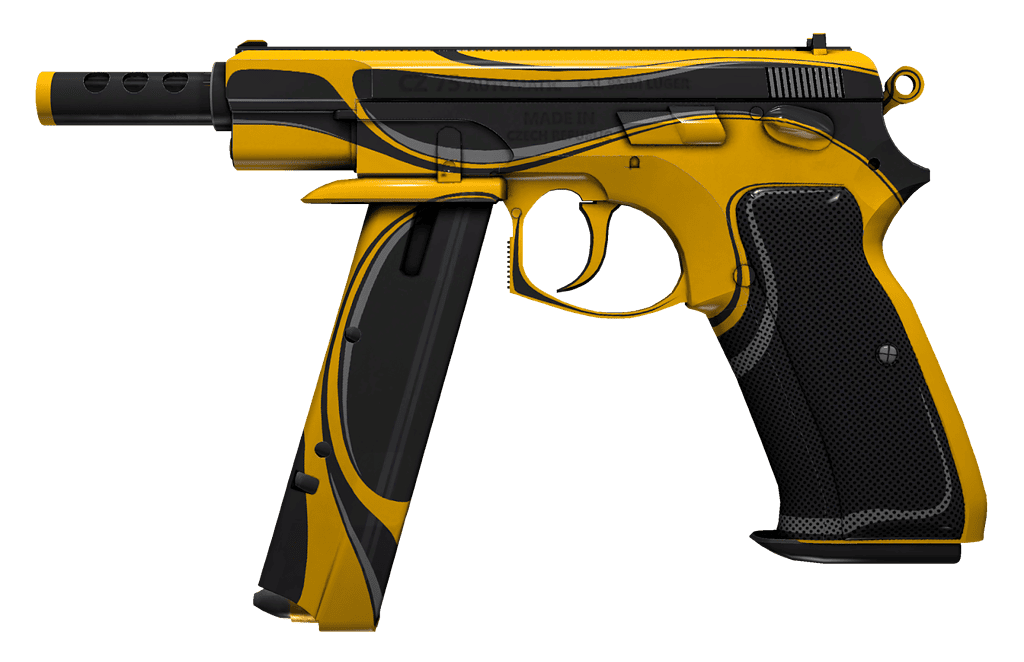 This awe-inspiring skin for CZ75-Auto features black as the main color, combined with a pattern in shiny yellow. The patterns cover the entire weapon, and they also feature gray curved outlines. On top of that, the handle is entirely covered in a perforated insert in black. Here's what you need to know about this skin: The current Steam Marketplace listing for this skin starts at $11.70.
Eco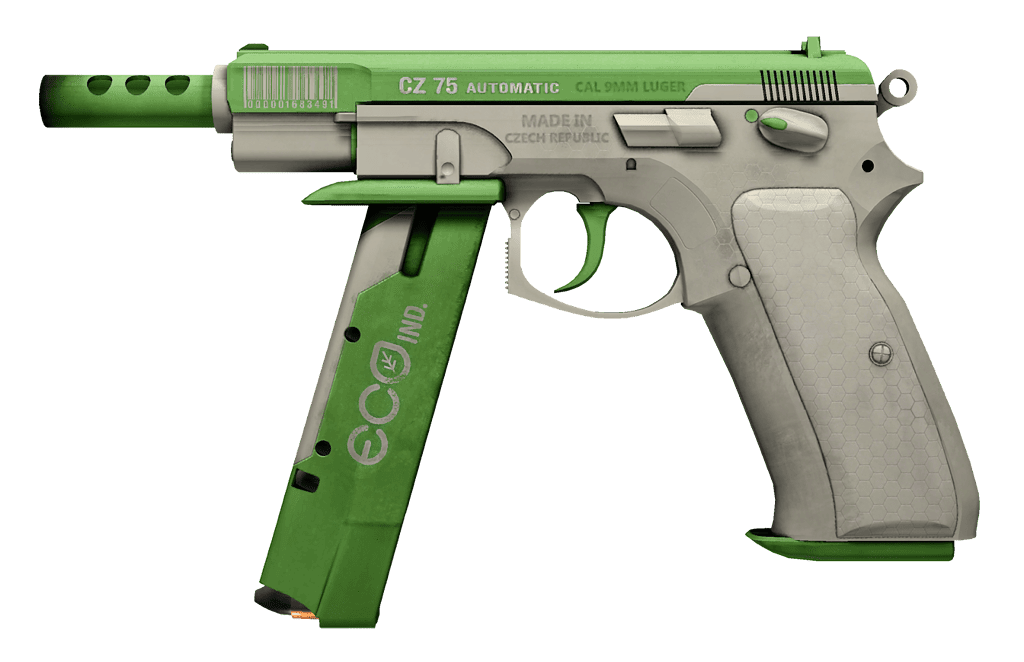 Inspired by environmentalism, Eco is a CZ75-Auto skin with a completely white background combined with bright green. The white parts of the weapon (except for the magazine and trigger guard) feature hexagonal grid engravings. In addition to this, the magazine features a logo of a fictional company: "Eco Ind." as well as a barcode located behind the barrel. Eco is currently being sold on Steam Marketplace for as low as $2.85.
Syndicate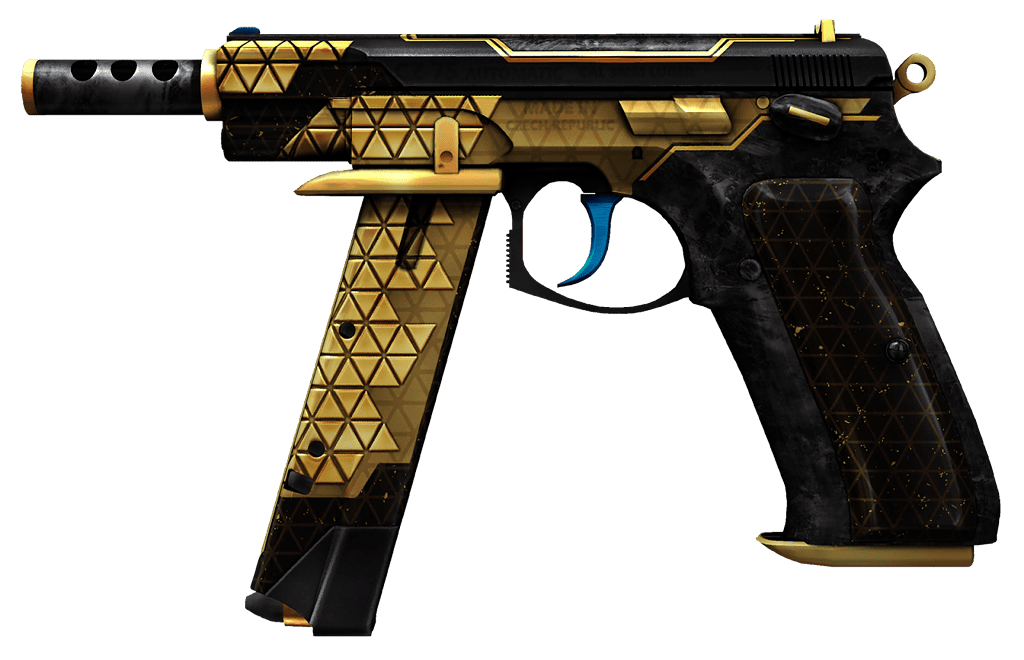 Syndicate is a futuristic-looking skin for the CZ75-Auto and emphasizes geometric patterns, colors, and textures. The primary color is black, which features a cloud-like texture in gray. Gold triangular patterns are present mostly on the magazine, slide, as well as handle grip, and bottom. Blue can be found only on the trigger and front sight. As of right now, Syndicate is priced at $3.41 on Steam Marketplace.
Tacticat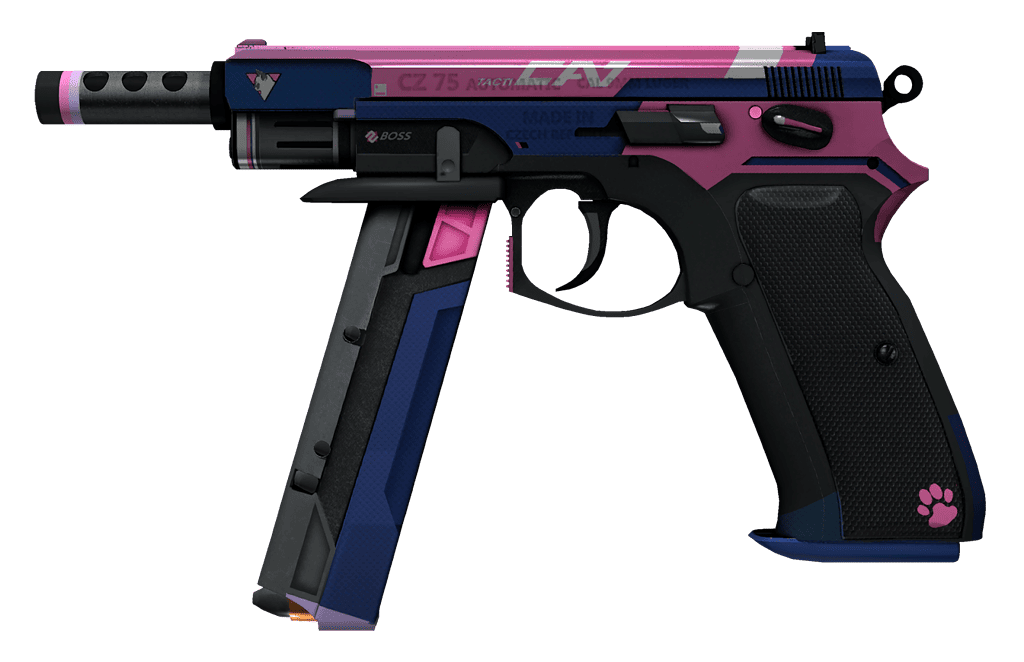 Tacticat is a cat-inspired skin for CZ75-Auto that features a combination of pink, blue, black, gray, and white. The base color of this skin features black, and the combination of pink and blue is found mostly on the magazine and the slide. Moreover, this skin features various logos and inscriptions, such as the cat's head logo behind the barrel and the cat's footprint on the handle grip. Lastly, there are stripes at the top of the slide and the white lettering reading "CAT." Tacticat starts at $1.35 on Steam Marketplace.
Related articles:
Chalice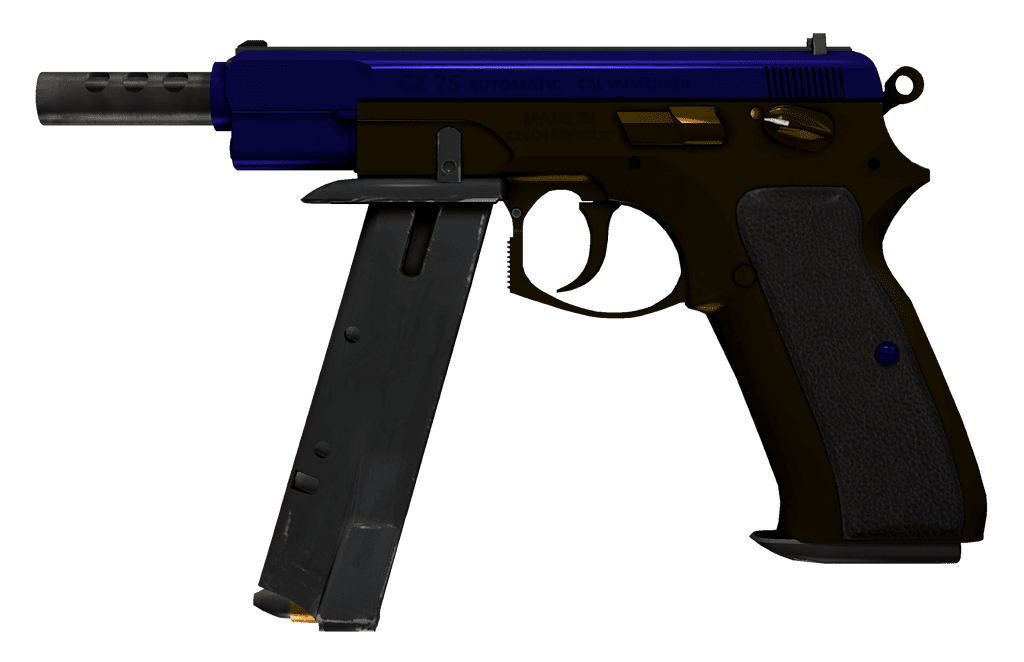 Inspired by the gleaming golden chalice with blue sapphire, Chalice is another simple-looking CZ75-Auto skin. Although it lacks detail in some areas and has unpainted parts, the golden metallic paint on the pistol's main components and the metallic blue coating on the slide make up for it. Starting at $344.11 on Steam's marketplace, this is one of the most expensive pistol skins in CS:GO ever.
Victoria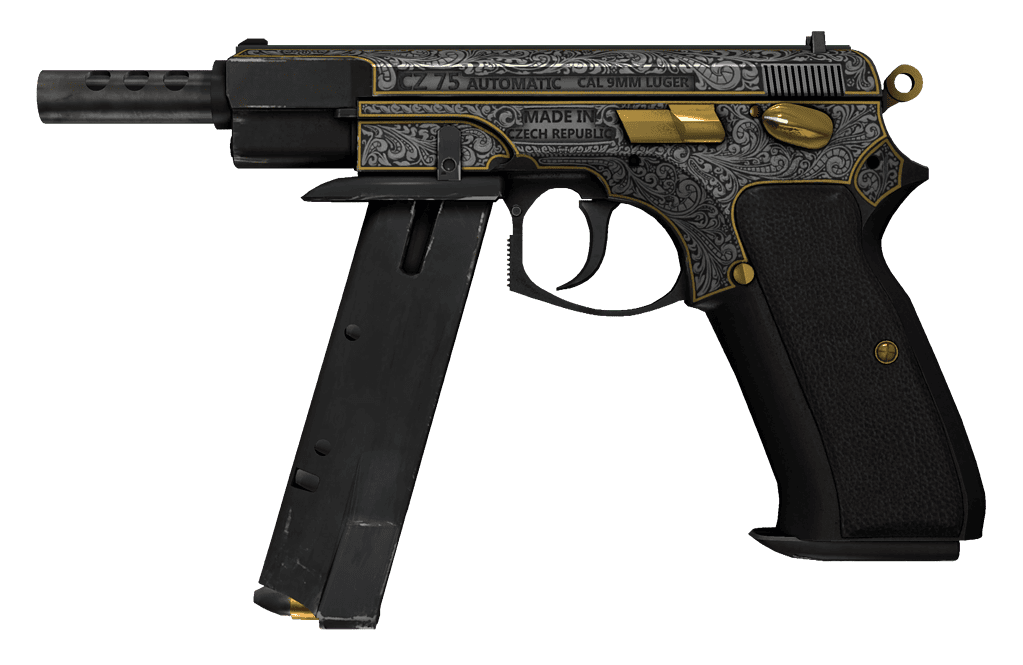 Victoria may appear to be a simple skin from a first look, but if you look closer, you'll notice the elaborate engraved floral pattern in metallic gray, as well as golden lines and parts completely coated in gold. In addition, there's one small red part, and the magazine, handle grip, and barrel are left unpainted. This CZ75-Auto skin is currently sold at a starting price of $7.99 on Steam Marketplace.
The Fuschia Is Now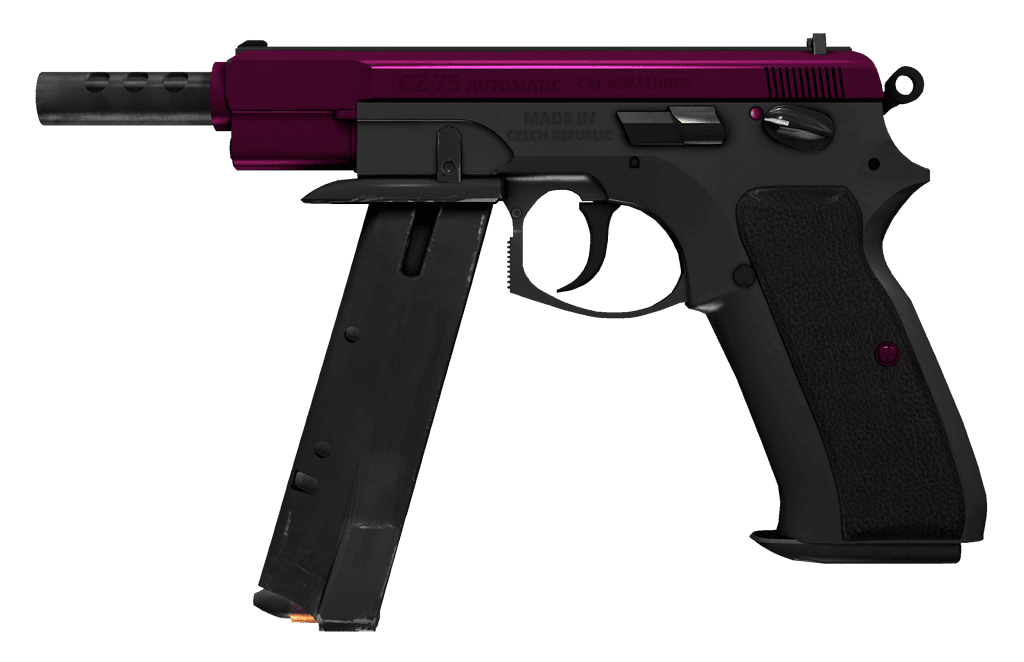 The Fuschia Is Now features a pink metallic coating on the upper part of the pistol, as well as one screw on the handle grip. The central part of the weapon features gray metallic coloring, while the handle grip, magazine and barrel are left unpainted. Apparently, details don't matter when it comes to price: This skin is being sold for $57.44 on Steam Marketplace.
Pole Position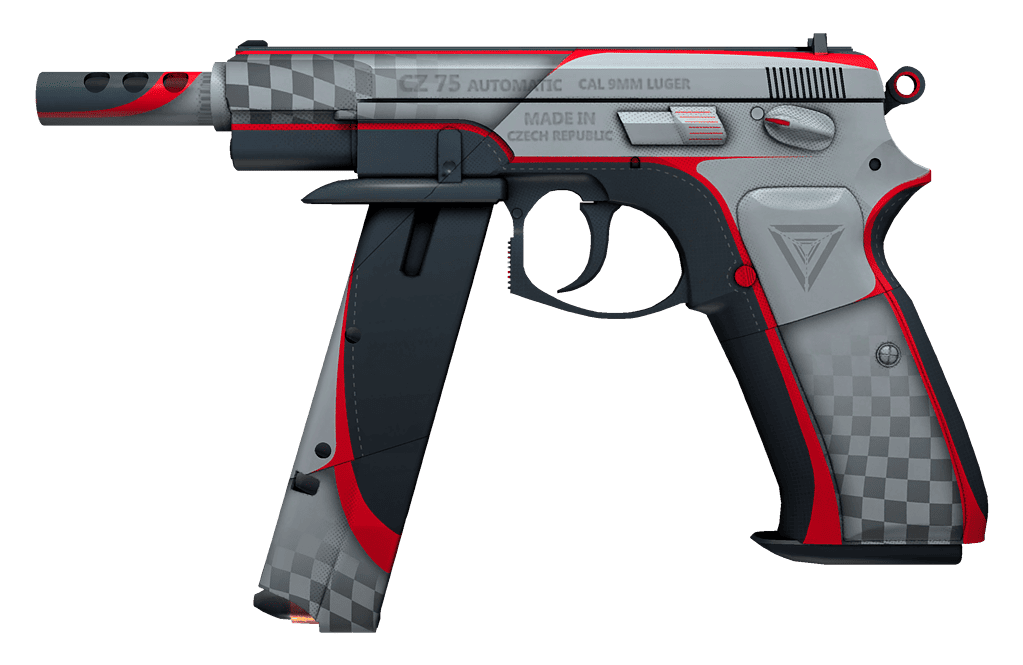 The design of Pole Position is inspired by F1 racing, as indicated by the checkboard pattern in gray and white, found on the magazine, handle, and shutter. In addition, this design is combined with red curved stripes and outlines found on the edges of the weapon.
The upper part of the handle grip features a triangle logo in gray. Pole Position currently costs $1.96 on Steam Marketplace.
Circaetus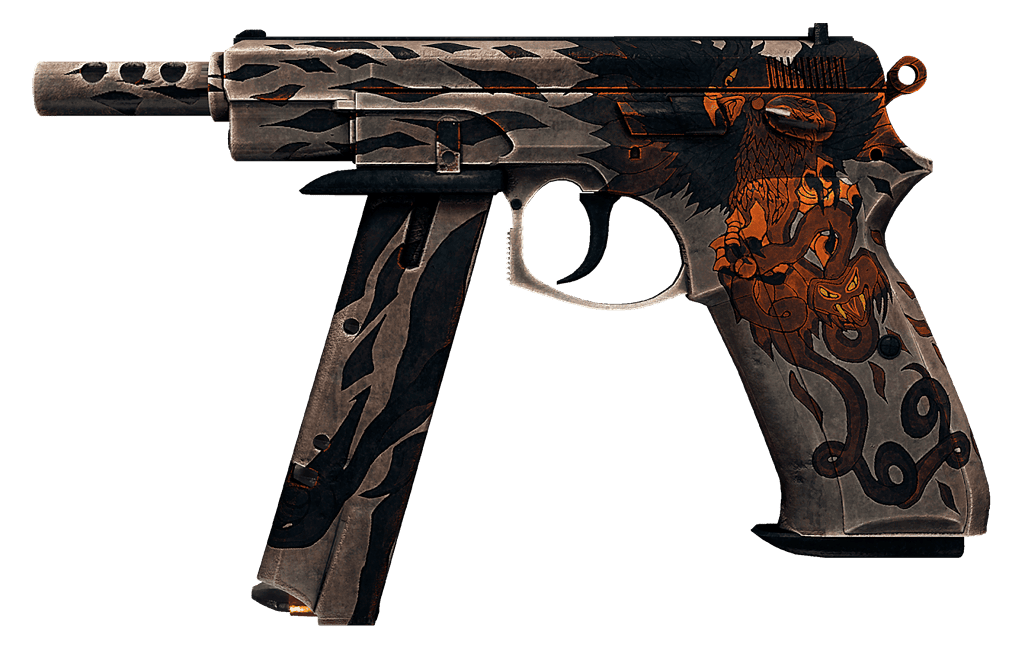 Circaetus is inspired by the species of a snake eagle and features a black and beige patterned coating that covers the entire weapon. The main emphasis on this image is an image of an eagle in flight carrying a snake in its claws, located above the handle grip. Colors present in this skin include black, orange, and shades of brown. Circaetus is one of the least expensive skins on our list, costing only $0.51 on Steam Marketplace.