Overwatch 2 has numerous characters and heroes to pick from, and each character has a diverse set of skins. Echo is one of the characters of Overwatch, with a versatile damage hero with great power and the ability to fight off the enemy.
Ranging from simple classics to intricate butterflies and dangerous hot-red skin, the wide variety in the skin range of Echo makes her an easy favorite of the overwatch fandom. This article will look into some of the best Echo skins ever.
What Are the Best Echo Skins in Overwatch 2?
Surf's Up Echo Skin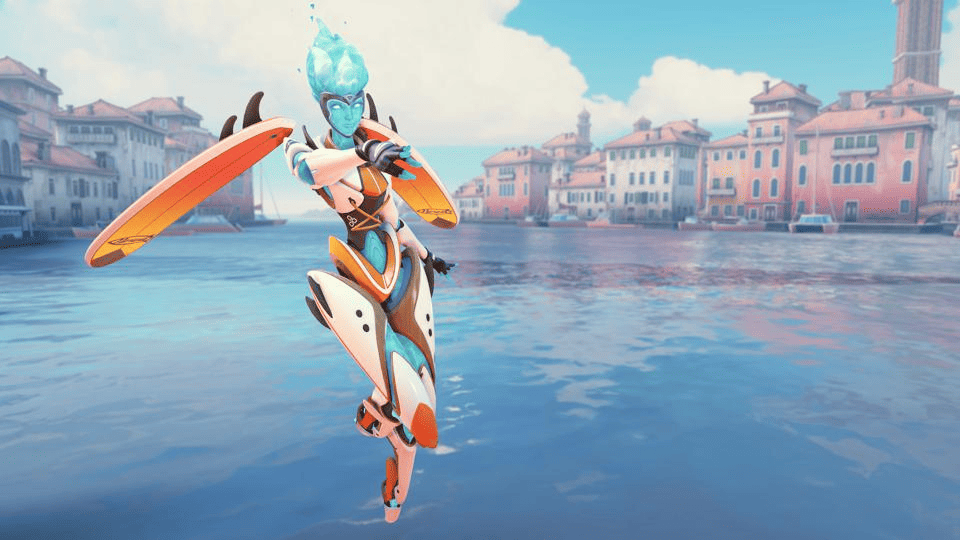 One of the coolest Echo skins in Overwatch 2, it was first introduced as part of the 2020 Summer Games. In this skin, surfboards have replaced Echo's wings, making her look the badass of all characters. Not only surfboards but also the colors and the design come together to produce one of the best skins.
So unlike the rest of the skins, Echo in surf up uses her surfboards instead of wings to wipe out the enemy. Being a legendary skin, surf's up can be found in summer game loot boxes or can be purchased for 1000 store credits.
Evil Echo Skin
Another magnificent skin that deserves to be on our list today, Evil Echo shows two different sides of this character - good and evil. While one side features red and black color, the other one is white, blue, and golden, making a big contrast.
Moreover, great effort is put into the wings by executing the details of both good and evil in her wings. But this skin is rare and was only available for 200 league tokens. Evil echo, the last of MVP skin, is produced in the best way, as seen in its colors, details, and the unique execution of two sides in one character. Therefore, it is one of the best Echo skins to date.
Butterfly Echo Skin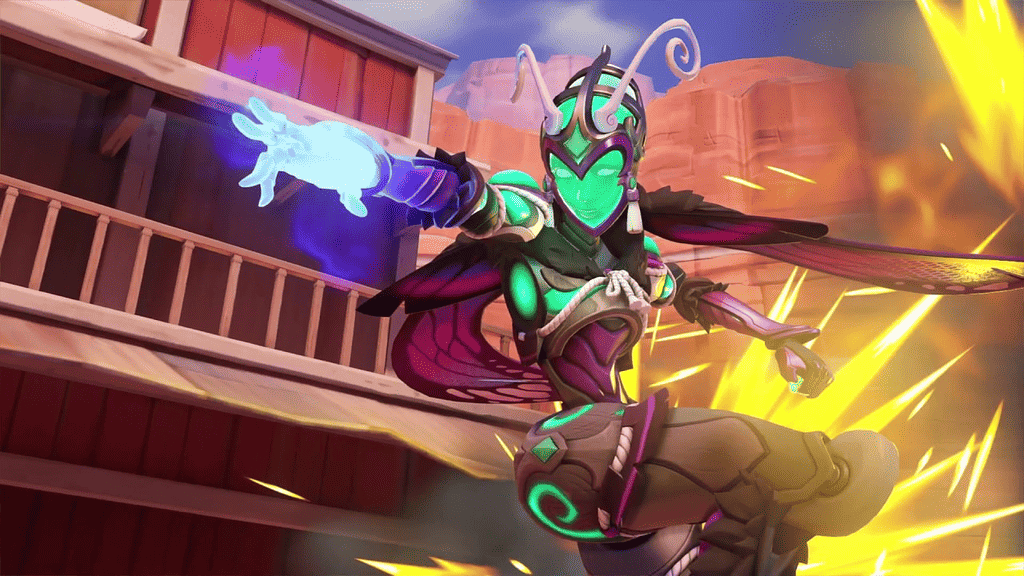 Next, we have skin that is adored for its unique colors and magnificent patterns. The hues of blue and purple give Echo a magnificent butterfly-like appearance. The antennas, together with her wings, give a dreamy vibe. It looks as if Echo is straight out of a fairytale to give the enemy their well-deserved end. It is beautiful but dangerous. This beautifully vivid skin costs only 1000 Overwatch credits, so it is a deal worth buying.
Ragdoll Echo Skin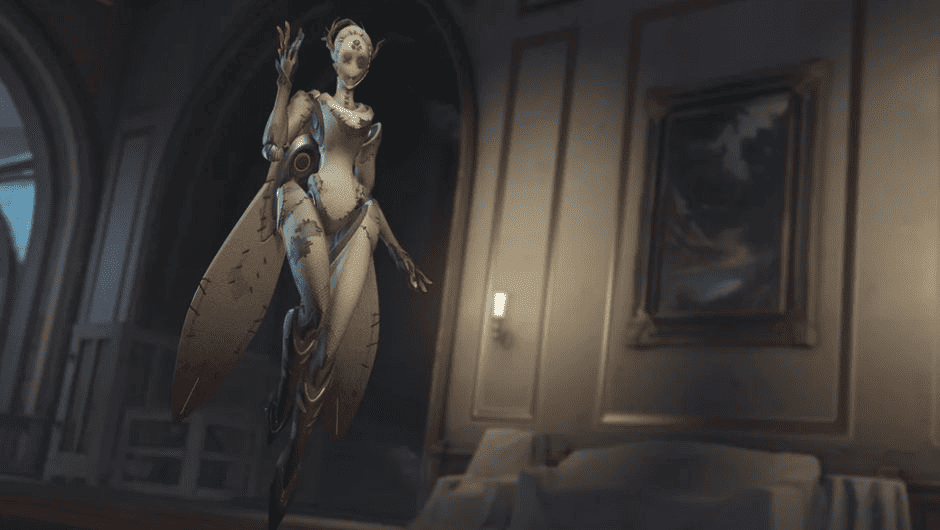 Going up, we have ragdoll, another great skin that gives Echo a unique appearance. The skin is simple in hues of light brown with red touches on her fingers, heart, and eyes. Her huge, spiky wooden crown makes her look like a queen of death. Her red fingertips look like they dipped in the enemy's blood.
A skin with such interesting details and color contrast can easily top the list of best Echo skins, but it is rare and was offered as a reward during the Overwatch Halloween Terror 2020 season. So, like other Echo fans who desperately want this skin, you will have to wait to know if it will be up for purchase.
Moth Echo Skin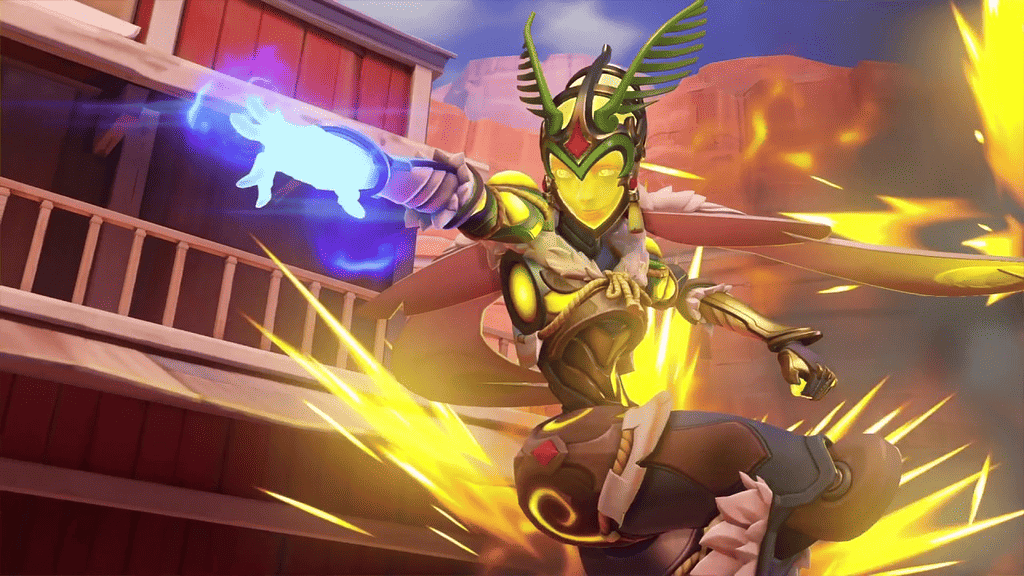 Coming up next is another unique Echo skin called moth. It is an epic skin in green and gray colors that make her look like a moth, hence the name moth. In addition, yellow lights coming out of the skin makes her look appealing. She shoots bright lights from her fingertips and like a diva of destruction, shoots at the enemies using her fingertips.
The giant antennas and her grayish wings add to the skin's beauty. It is soft skin compared to the showy ones but still makes it to the list of best Echo skins due to its subtlety, color, and pattern. It can be found in loot boxes or purchased for 1000 store credits, which is no great amount for the beautiful skin you will get.
Related articles:
Hot-Red Echo Skin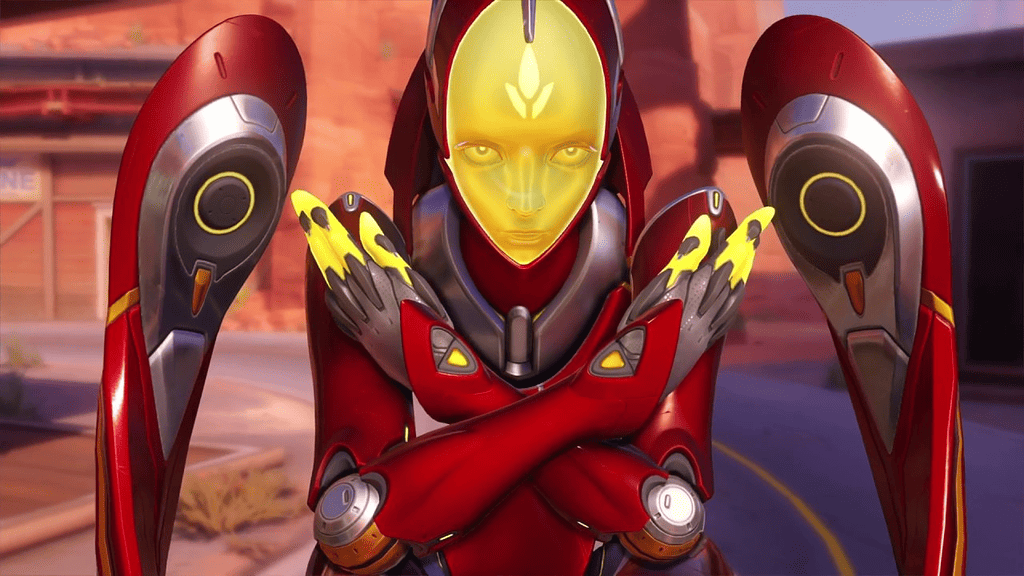 Another stand-out skin for Echo is Hot-Red. It is an epic skin that gives Echo a sporty look. The combination of red and silver details creates a powerful look. The yellow lights add to the appealing colors and, together with red, turn Echo into a god of destruction. Overall, the red gleam is something to be fearful of and so brings a torturous end for the enemies.
This skin can be found in loot boxes. Moreover, for the awesome skin that it is, hot-red is not as expensive as you think. You can purchase it for just 250 overwatch credits.
Carbon Fiber Echo Skin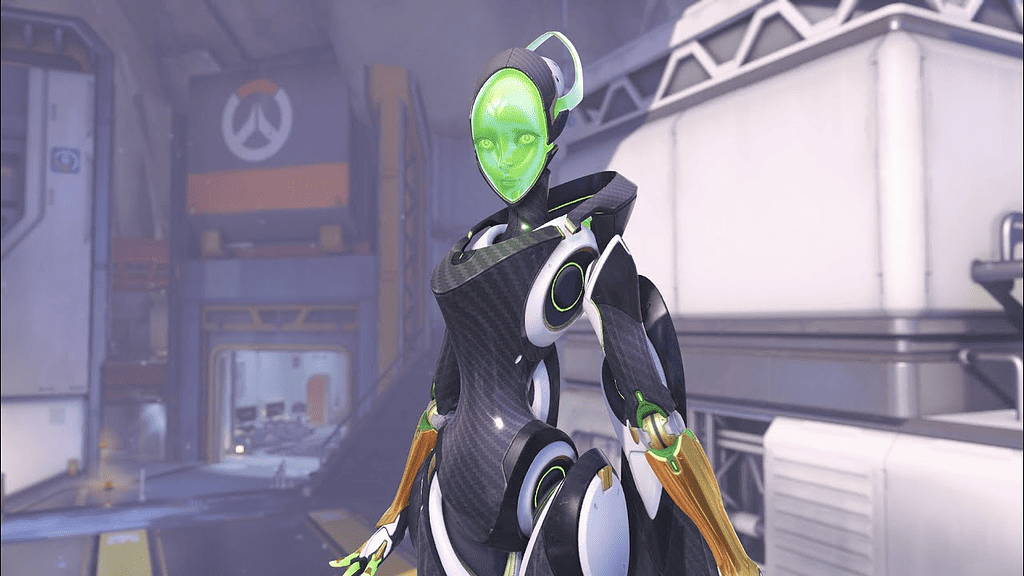 Carbon Fiber is another simple yet appealing skin that was available since the initial release of the Echo. It combines black and white with green hues added to give her a tech glow. Textured in carbon fiber, her wings look magnificent, as if ready to wipe out the entire enemy with a single shot.
She looks empowered with black and white contrast and the green light giving her a unique look. This skin can be found in loot boxes or can be purchased in stores for 250 overwatch credits.
Camo Echo Skin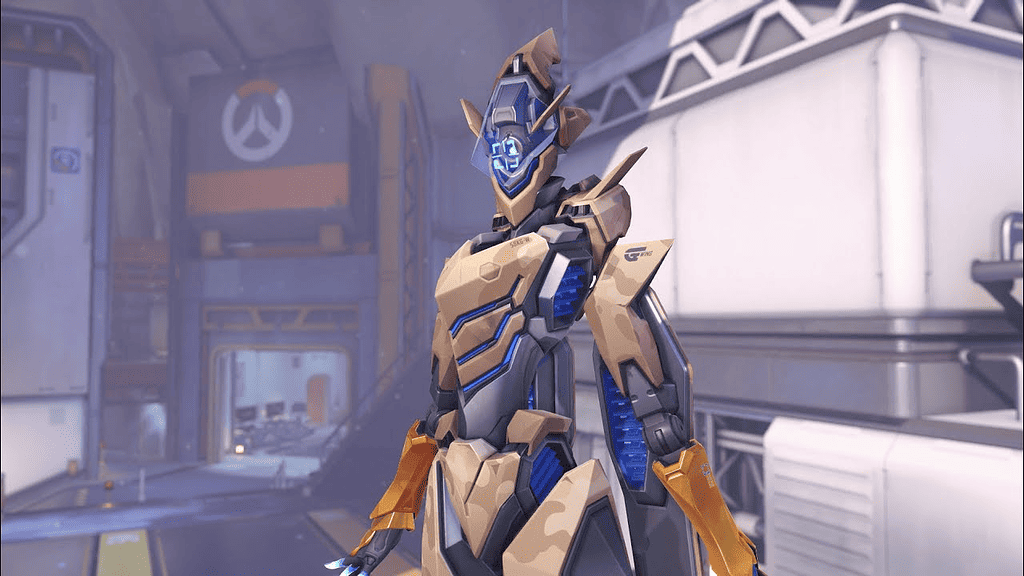 Next is Camo, a beautiful brown and black recoloring that gives Echo a robotic look. Unlike other skins that look more friendly, this skin gives Echo a military style with a non-friendly exterior, making her look like a giant flying fighter jet ready to engulf the enemy.
The skin screams destruction in all its ways. Camo is a legendary skin. It can be found in normal loot boxes or can be purchased for 1000 store credits.
Vanda Echo Skin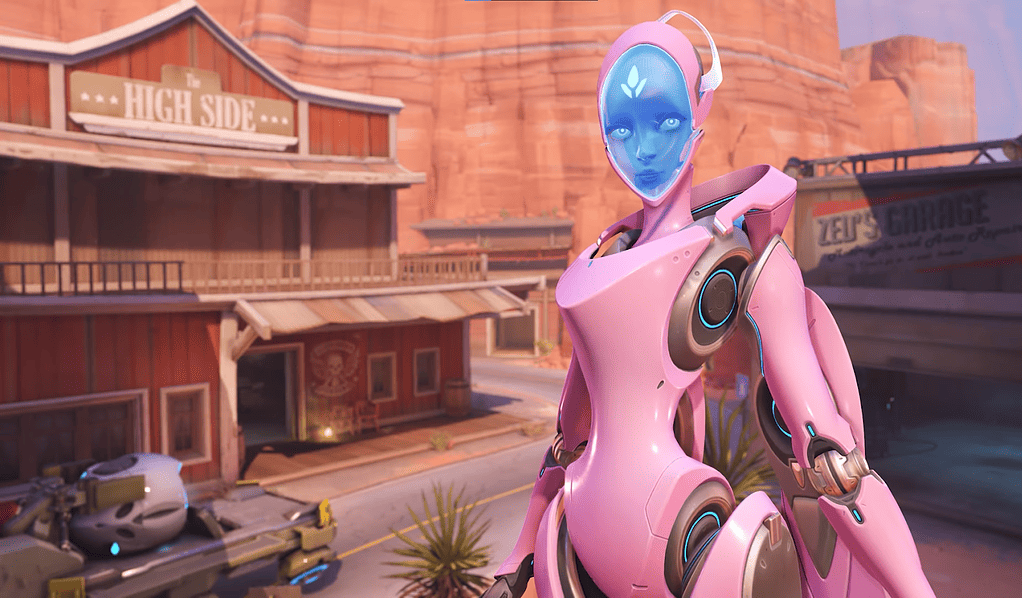 Coming up next is Vanda, the beautiful skin that gives Echo a perfect pink look. She looks the coolest in this skin as it offers the best contrast to her blue face. So, if you want to bring the enemy a deadly defeat in style, Vanda is for you. It is easily available in normal loot boxes or can be purchased for 75 credits in stores. For those who want to spend less and get the best look for Echo, Vanda is a good deal.
Classic Echo Skin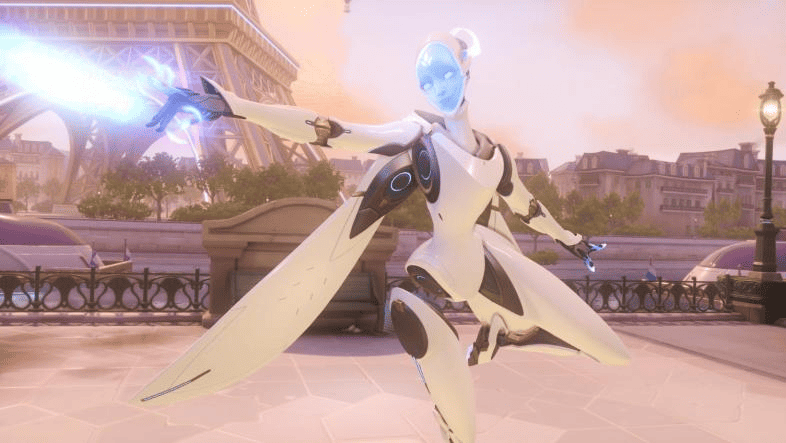 First up, we have classic skin. It is a simpler and more subtle skin in the white and blue color scheme. It is a timeless design and is best for those who want a simpler look for Echo. Dressed in simple gray and white, she looks like a deadly creature filled with the power to destroy.
So if you see Echo in classic skin, you realize that simpler designs can also be deadly if only you know how to use them. It can be availed easily by the Echo fans for free.