Junker Queen is a great addition to the front lines. Perhaps she lacks shields and armor, but her passive compensates for that. We believe many players will try picking her up, so today, we will be rating the best Junker Queen skins in the game so far.
Executioner Junker Queen Skin
Junker Queen is heavily armored and covered with chains. Her face is covered with a silver steel helmet, and the spikes fixed on her shoulders are replaced with more fitting shoulder armor. Becoming an executioner, Junker Queen must also look like a prison guard of medieval times.
This can be seen through the chains, the disconnected handcuffs, and the multiple keys hanging from her belt. For a new Hero, this skin isn't bad at all. Players can easily associate her Axe with this theme. This is a Legendary skin that can be bought for 1900 Credits once available in the store.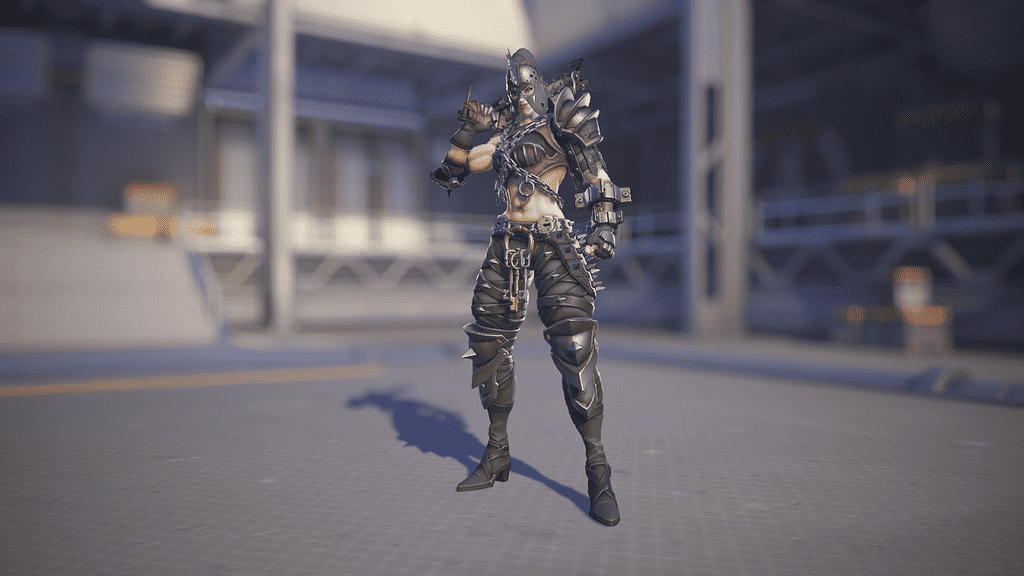 Circuit Breaker Junker Queen Skin
Junker Queen doesn't have many Legendary skins, and this one isn't particularly too different from her original skin. However, it does bring new aesthetics. The change in clothing, the green colors, the new hairstyle, and most importantly, the marking on her face, do play a huge part in players' preferences. For example, players can see Junker Queen's eyes without them being marked, giving them a more personal look at her.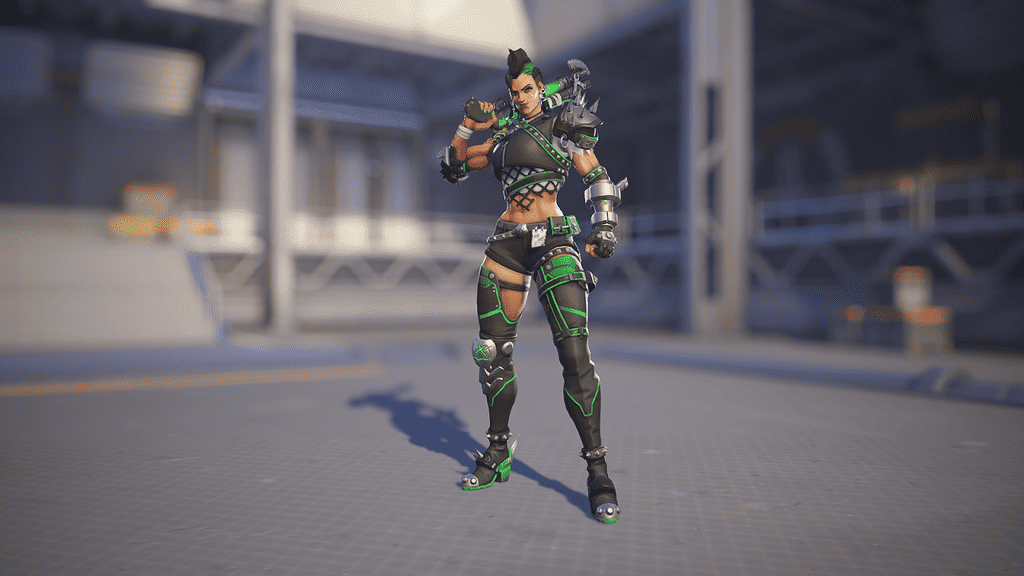 Zeus Junker Queen Skin
This is the newest Junker Queen skin in the game, and by far, it is the best one. Getting a Mythic skin this early is more than a luxury for a new hero. Most of Junker Queen's skins have kept the same theme: exposing her abs and wearing a crop top. Zeus Junker Queen replaces her outfits with crop-top leather armor and greek white bottom wear.
Her gloves and her shoes are golden-colored, while her hands are surging with lightning power. This can also be seen in her hair and her eyes. Being Zeus means she is also the God of Thunder. A lightning symbol can be seen on her skin coming from beneath the armor. And, of course, we can't ignore the prideful eagle piece on her shoulder.
Mythic skins are obviously rarer than Legendary ones. Unfortunately, this skin can't be purchased directly, but on the good side, it can be obtained for a price cheaper than a Legendary skin!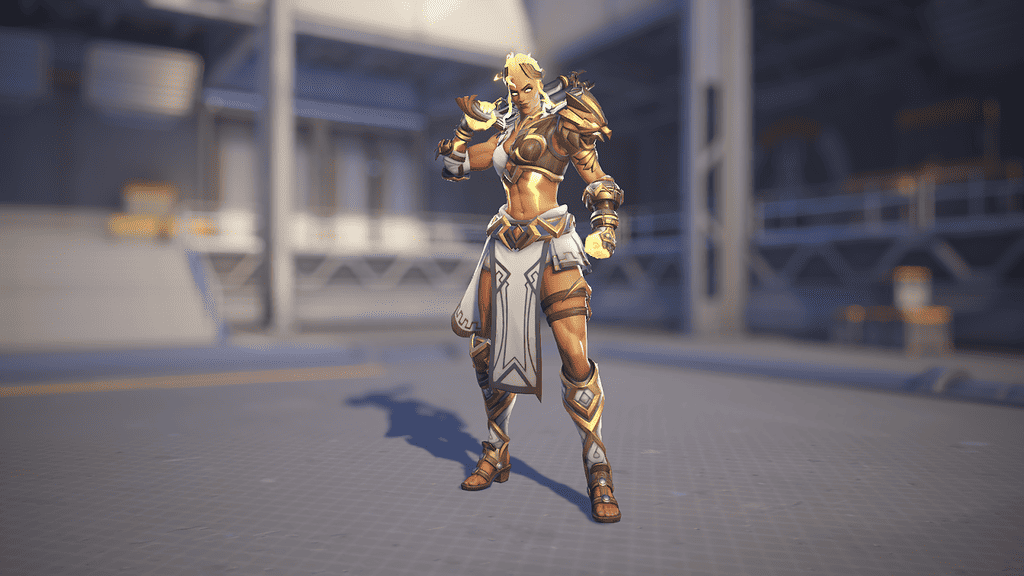 To obtain Zeus Junker Queen, you must unlock Battle Pass Premium for 1000 Overwatch Coins, which is the equivalent of $9.99. Although it will take some grinding, this is one of the best deals you can take. Not only will you be unlocking this amazing skin, but tens of emotes, skins, titles, and other content will be unlocked Via Battle Pass and the new Hero Ramattra.
Related articles:
Punker Queen Skin
Beast Hunter Junker Queen takes the hero into more of a Rock n Roll style. She is wearing black leather boots with a few spikes pointing at the end. She is also wearing web leggings over her ripped skirt. Junker also wears a black crop top with three skulls on its fabric. For her hair, she completely shaved the sides and got rid of her pigtails.
Her hair color has been changed to purple mixed with black roots. More piercing can be spotted on her face. Thicker eyeliner is used alongside black lipstick. Surprisingly, this Epic skin is better than one of the legendaries. It screams Rock n Roll, which is what Junker Queen is all about. This skin can be instantly purchased for 1000 coins.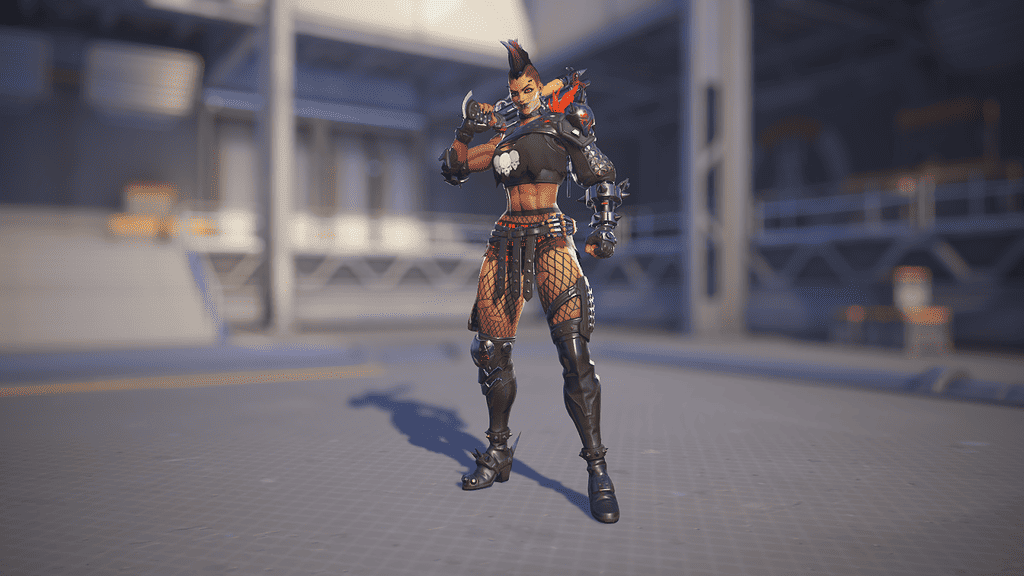 Wastelander Junker Queen Skin
Similar to Circuit Breaker, this skin is nothing but a recolor with few changes. For a Legendary Skin, this one isn't worth the rarity. Most Overwatch heroes have received new free skin as "Classic Overwatch 2", but Junker Queen didn't because she was only introduced in Overwatch 2.
However, if Junker Queen were to exist in Overwatch 1, then Wastelander skin would probably come close to how her new Classic skin would look like. This skin can be instantly bought for 1900 coins.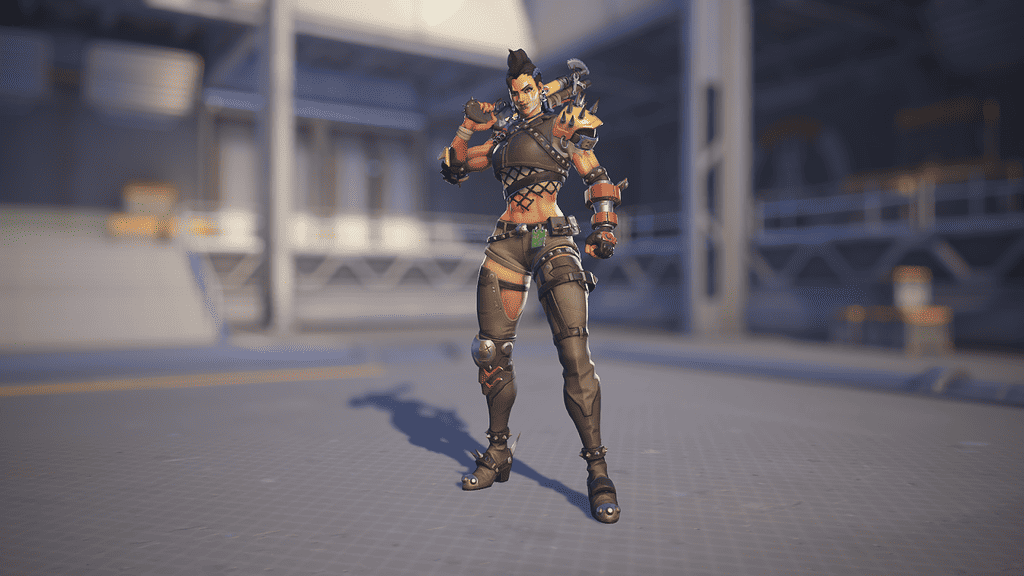 Beast Hunter Junker Queen Skin
The last skin on our list is Beast Hunter Junker Queen. It is an Epic skin that will sometimes be available in the store. This skin changed a lot about Junker Queen; starting with her hair, it remained the same as the original, but the only change was black.
We can see that a few parts of her outfit have been replaced with leopard skin, hinting at her hunting a predator. The jaw of a beast can also be seen worn at her right ankle. Her cheeks have two lines to imitate the marks predators have, like tigers and leopards.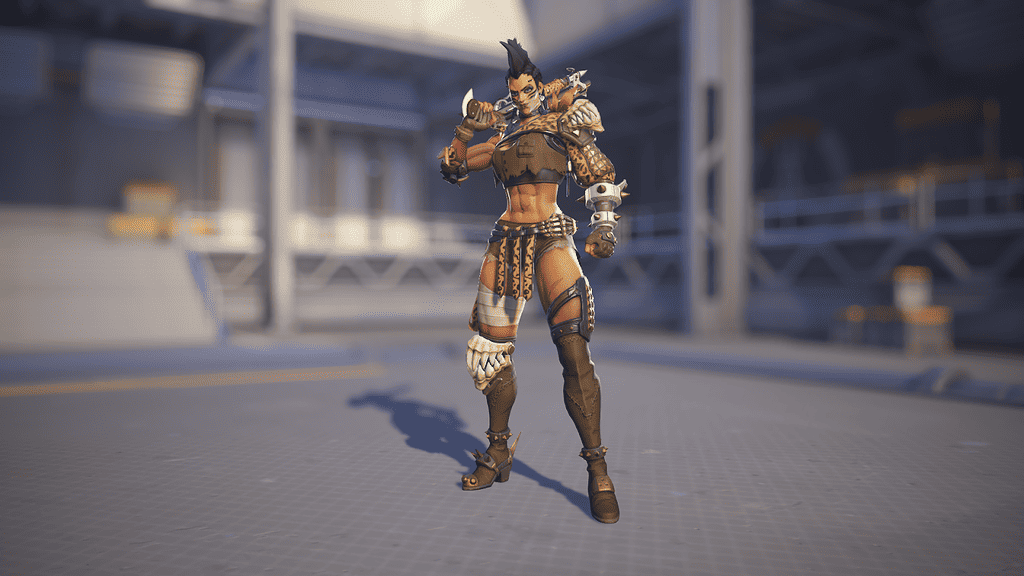 Junker Queen has 10 skins overall, excluding her classic skin. However, The Rare skins are not worth buying, and they are but a cheap recolor of her original looks. Players should invest in her Legendary, Epic, and Mythic skins.
She is a new Hero, so it is expected not to have that many skins, but that only makes it easier to figure out which one is currently the best, and there is no doubt that it's the Zeus skin.