Unlike more popular cryptocurrencies, such as Bitcoin and Ethereum, getting Litecoin for free is much more challenging, as there aren't many options to do that. Despite that, we have still managed to find the legit methods of earning Litecoin for free and decided to share them with you, so stick around to learn how to accomplish that.
Earn Litecoin Using Freecash
Freecash is the ultimate online platform that lets you earn free Litecoin by doing simple, quick tasks. Litecoin is amongst the most profitable cryptocurrencies that are being traded on the market today, so sign up with Freecash to start collecting those valuable Litecoins right away!
With Freecash, earning your first Litecoin is quite straightforward. Follow these quick steps for you to enjoy your first Litecoin reward right now:
1. Register/ Sign Up
At the top-right corner of the Home page, click on the 'Sign Up' button to register a free account with Freecash.
You will also be provided an option to automatically link Freecash with your Google profile or Steam account, skipping many of the beginning steps.
2. Login/ Sign In
After your Freecash account has been activated, click on 'Sign In', which is located just besides the 'Sign Up' button earlier.
Fill in your details, then start using Freecash's features right away!
3. Complete various tasks
At the Home page, click on 'Earn' located at the top-left corner of the screen.
Select any of the provided offers/ tasks that are available (depending on region) for you to collect Freecash Coins immediately.
4. Redeem your rewards
Once you've accumulated loads of Coins, browse to 'Cashout' to convert your Coins into actual rewards.
For Litecoin, simply find the LTC logo on the 'Cashout' page and fill in your cryptocurrency wallet information.
Set your preferred amount of Coins to be converted into Litecoins.
Press 'Withdraw', and done!
It's that easy! Make a habit of completing tasks on Freecash every single day, and you're sure to profit from consistent Litecoin income instantly.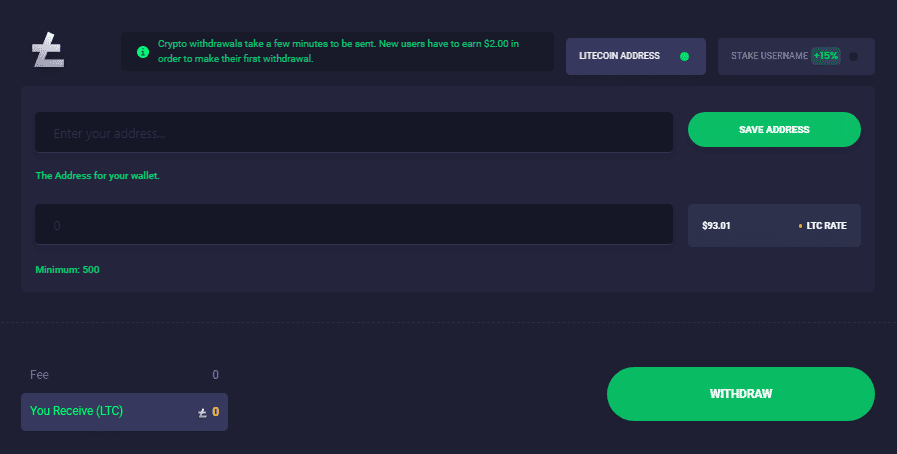 Earn Litecoin using Freeward
Freeward is a GPT website where you can also earn Litecoin by completing tasks, but it has low rewards and lacks a mobile app. If you have no issues with that, you can register and perform tasks offered from offer walls, survey walls, and daily raffles on their website. Another option to earn Freeward coins is to watch videos and invite your friends to join using the personal referral link.
Keep in mind that you will need to earn 1000 coins for $1, and most of the offers will award you with only 20-50 coins.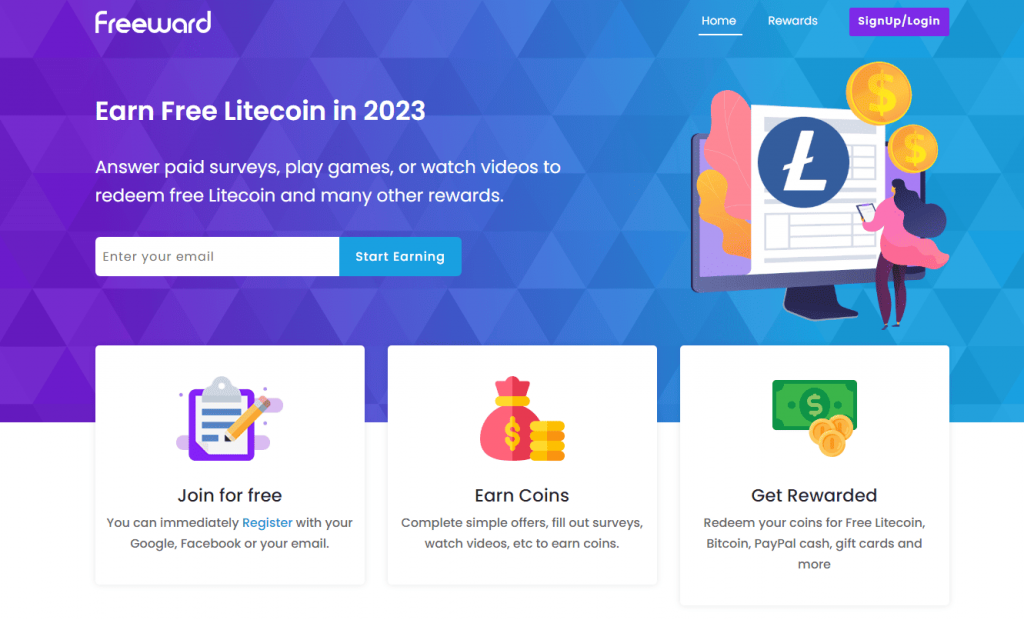 Playing Play-To-Earn Games
Probably the most interesting, although not the best option for earning free Litecoin, is by playing P2E (play-to-earn) online games that reward players with digital assets - in this case, Litecoin. These games are similar to any other online games out there, except for the fact that instead of virtual currencies, players can actually earn Litecoin (and other cryptocurrencies) instead.
This is mainly done by completing in-game tasks, which depending on the game, can be quests, points, goals, etc. There are games for everyone, from trading card games to strategies, so you can choose whichever game works best for you.
Some of the most popular games are Axie Infinity, Blankos Block Party, Thetan Arena, CryptoKitties, Plant VS Undead, and more.